Clear Stamping 101 with Amy Tangerine
Amy Tangerine x Erin Condren have teamed up to combine the creative power of clear stamping and planning. If you haven't tried clear stamps before, you're in for a treat! This colorful collection combines the unique stamping style Amy's known for with unique designs and colors on signature Erin Condren products!
Amy Tangerine is an award-winning designer and founder of the popular handcrafted t-shirt line Amy Tangerine. Her collections have been featured in hundreds of retail outlets, including Bloomingdales, Neiman Marcus and Barneys New York. Her love for fashion designing has expanded into paper crafts and has given her the opportunity to teach creative classes all over the world. She also stays busy with creative collaborations, including the new, exclusive clear stamping collection designed with Erin Condren.
Amy shares about clear stamping below, including what it is, how it differs from rubber stamping, what you can do with it, plus tips for stamping your way to a more colorful day!
Clear Stamping 101 with Amy Tangerine
I fell in love with stamping when I first started scrapbooking. The idea that you can take an image, color it (with ink) however you'd like and use it multiple times on various projects not only provided great value but opened up a world of possibilities!
If you're just getting started with clear stamps, get excited because it's a whole new way of customizing and adding a fun twist to your Erin Condren products.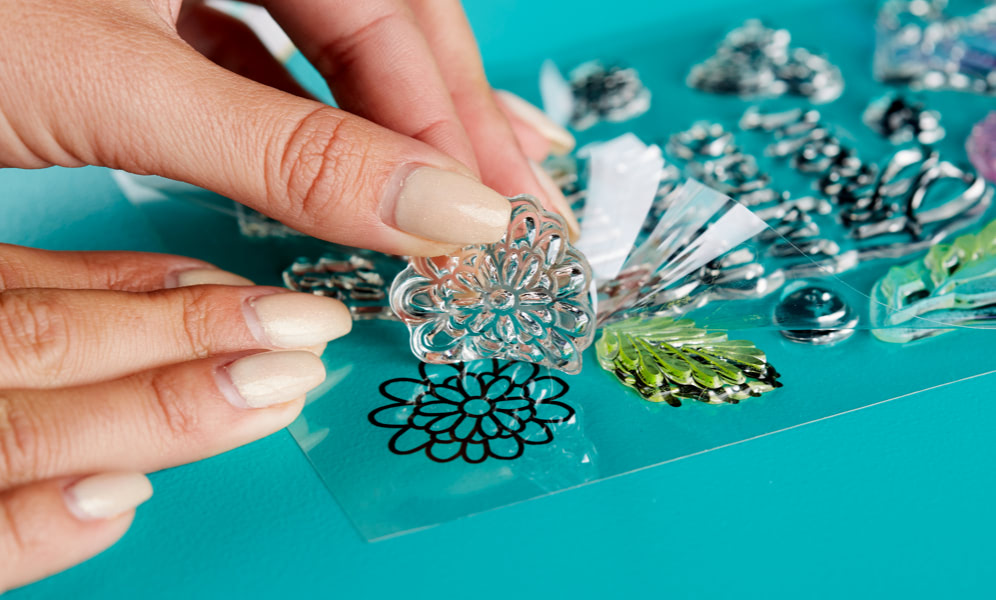 Clear stamps can be used the same way as rubber stamps, however, they are stored on a clear acetate to save space. The clear stamps get temporarily mounted to a clear acrylic block. I prefer thicker blocks with the grids printed on them. The stamps themselves typically come on plastic sheets. They're made of high-quality photopolymer, allowing you to use them over and over again.
How do clear stamps differ from traditional stamps?
Traditional stamps are made of thick rubber (usually red) attached to a wooden stamping base. The drawback to these, especially when bullet journaling or planning, is that you can't see through the wood base to know if the stamping is lined up exactly the way you'd like. With clear stamps, you can see where you are stamping for more accurate placement.
What is the most surprising thing you can do with clear stamps?
Customize them! You can add different ink colors to the same stamp to create ombre effects. You can also put more than one clear stamp on an acrylic block, which leads to an endless number of opportunities and possibilities for unique looks and layouts.
Tip #1) Peel your stamp from the clear sheet like a sticker.
Tip #3) Place your stamp (sticky side down) on top of the stamp block, using the grid to ensure it is aligned, so it sticks to the block.
Tip #4) To ink your stamp, remove the ink pad from the Ink Color Wheel & gently dab your stamp several times with the ink pad. (Careful not to overthink it.)
Tip #5) Test your stamp by pressing it firmly down on a piece of paper on a flat, solid surface.
Tip #6) Gently lift the stamp block while holding down the paper with your hand. You did it!
Tip #7) Allow ample drying time for rich, vibrant ink. You can use a heat tool to speed up the process if you like.
Tip #8) The best time to clean clear stamps is right after using them. Use a gentle, non-abrasive wipe like our Well-Kept Wipes.
Tip #9) After cleaning your clear stamps, place them back on the clear sheet & store them in a box like our Stylish Storage Box.
Tip #10) Repeat and enjoy as often as you like!
Whether you're new to stamping or you're a pro looking to expand your collection, you'll love the new Amy Tangerine x Erin Condren stamp collection and bundles! Browse them all here!