Best Wedding Planner Books and Planning Tips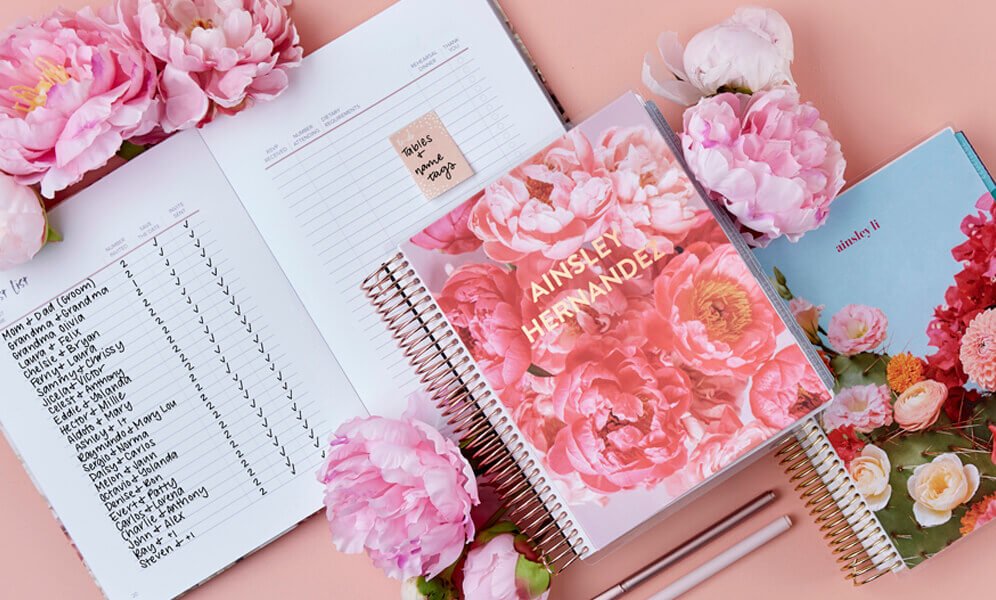 Planning a wedding is no easy feat.
It's a huge undertaking, and you have to make sure that every detail is just right.
But what if there was a way to make your planning process easier? What if there was a tool that could help you organize every aspect of your wedding day, down to the tiniest detail? What if there was a planner that had been created specifically for weddings, so all you had to do was use it?
Start with the best Erin Condren Wedding Planners. Plan your big day with less stress and more style, with the help of the perfect planner customized for all your wedding planning needs!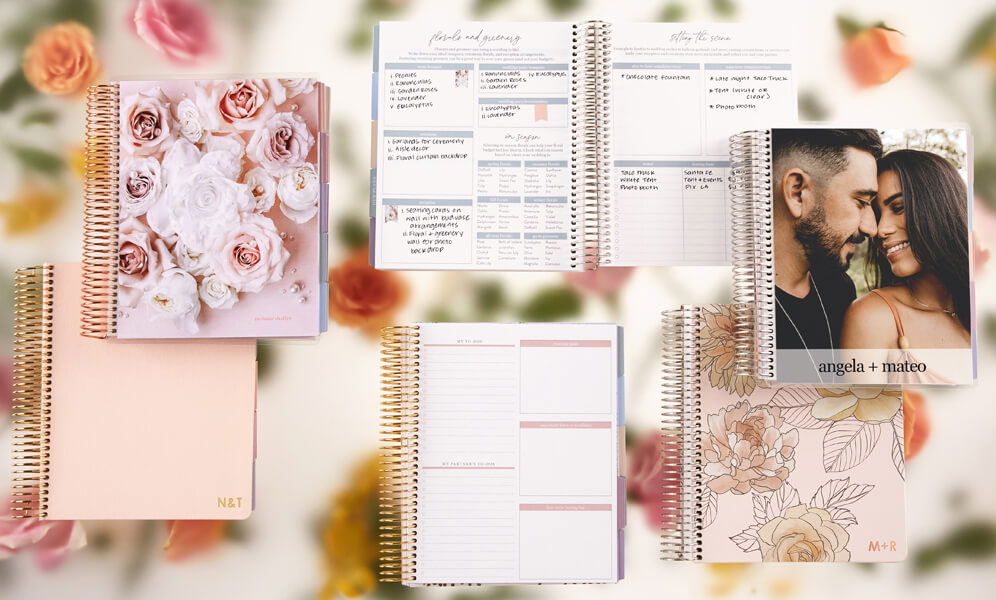 1. Stay on track with our Wedding Planner top 10 tips.
Brainstorm your wedding colors, favorite styles, and wedding-must haves with our best-selling Create Your Own Wedding Planner. Customize and personalize your cover with your photo, name, and wedding date (or whatever you like!). Choose a 12-month or 18-month option and never miss a step with pages and pages of monthly checklists that easily itemize what must be done from a year before, all the way to the week of your big day!
A convenient day-of timeline helps break down what needs to be done on the actual day so you can stress less and celebrate more!
2. Keep track of important dates (the easy way).
Keep track of important dates and deadlines in our spiral Wedding Planner book, or opt for our lay-flat Green Wedding Shoes Softbound Wedding Planner with additional guided wedding planning content. Whichever planner you choose, enjoy stylish calendar spreads and space for jotting notes and tracking goals along the way!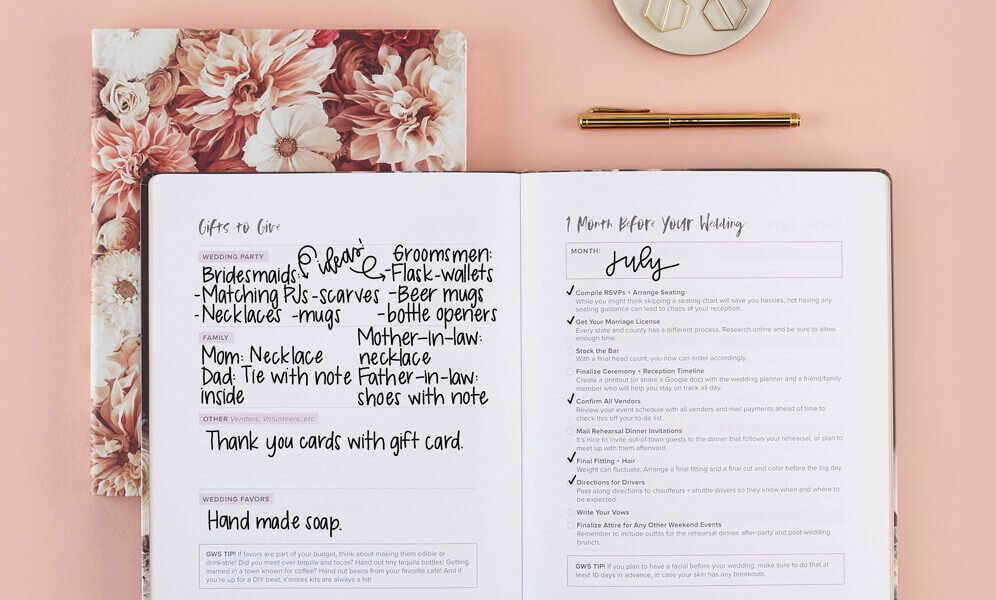 3. Enjoy every day of planning your wedding.
Celebrate the excitement of planning the best day of your life, especially all the days leading up to it. Did you know that planning something you look forward to can reduce stress and boost your mood long before you even enjoy the actual event? Use your wedding planner book to plan, journal, memory-keep, and savor every moment.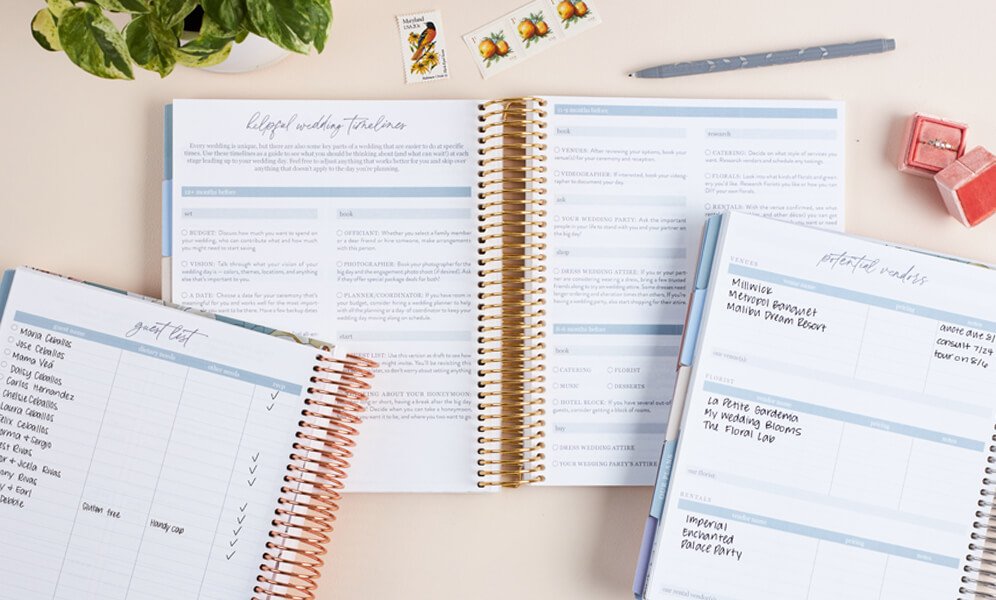 4. Keep track of all your to-dos with wedding planner checklists.
Planning a wedding can be stressful, but using a wedding planner book helps you break it all down into handy checklists, charts, schedules, and cover all your to-dos leading up to your big day.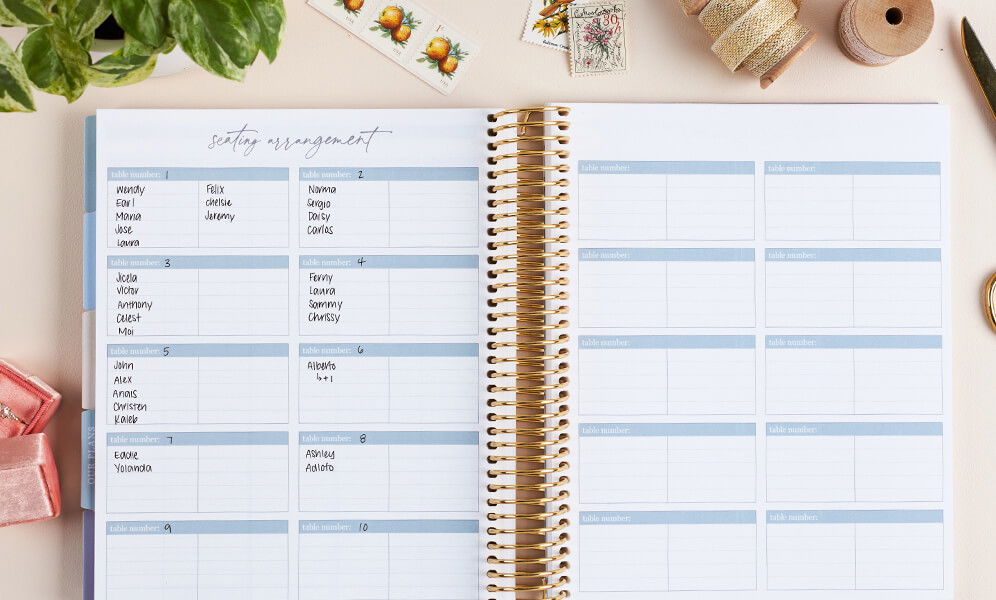 5. Save time with wedding planner seating charts.
Our Wedding Planners cover all your wedding needs from A to Z, including stylish seating chart spreads. Dedicated sections for seating arrangements let you coordinate each table and note any special arrangements, such as special diets or seating preferences.
6. Use the budget planning feature in your wedding planner book.
There's so much spending to track for any wedding. Stress less and save more with easy-to-use budget planning in our spiral and softbound Wedding Planners. From vendors to venues, flowers to food, your wedding planner book will help you stay organized and on budget.
7. Organize wedding dream shots, song lists, and ideas all in one place.
Using a wedding planner book gives you the space you need to plan it all out and keep it organized in one convenient place. Sections for photography and music let you assemble your dream shots and ideal song list so you can provide the photographer or DJ with it well before the night of! And plenty of note pages are included in our Wedding Planners perfect for sketching your dream dress, journaling, noting important info, and collecting ideas for the big day!
8. Stay organized after your wedding.
With our spiral Wedding Planner, you have two pages for planning your honeymoon, with tips for the thank-you notes to write when you return. The thick Mohawk paper resists ink bleeding through and gives you a luxurious planning experience! Stunning tabs set the stylish tone so you can design a custom Wedding Planner you'll save and reflect back on long after the big day!
9. Customize and accessorize your wedding planner book.
Create your own wedding planning system by customizing your own spiral wedding planner book cover, calendar, and add on accessories like a planner folio, sticky notes snap-in checklists, stickers, and more. Or, opt for a ready-to-go Wedding Planning Bundle!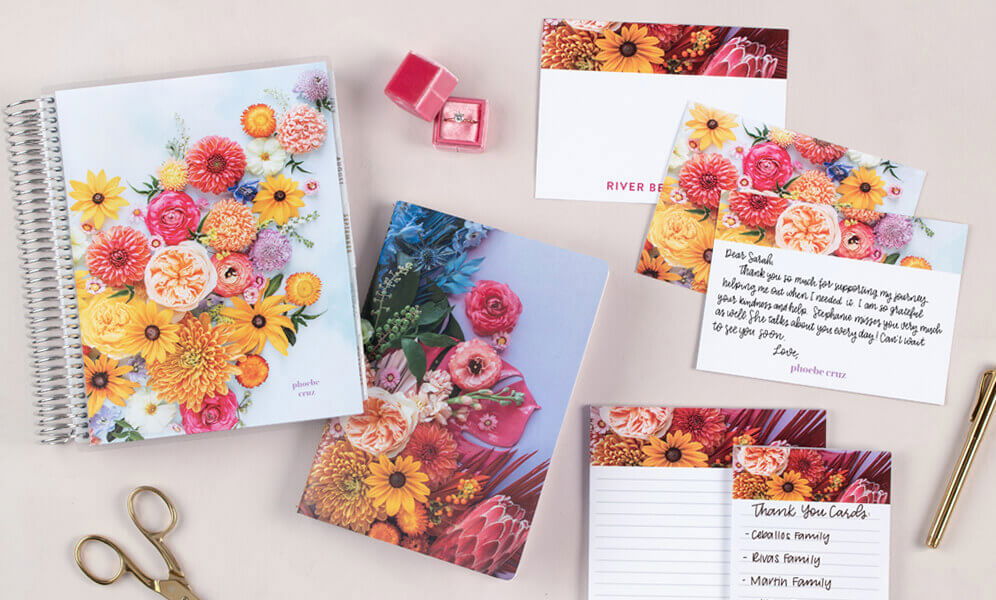 10. Turn your wedding planner book into a keepsake book to treasure forever.
Beyond planning, use your wedding planner book to capture precious memories leading up to your wedding and the big day itself, travel highlights from your honeymoon, married-life firsts, and all of the precious moments in between. Your custom Wedding Planner doubles as a beautiful keepsake book that memorializes your entire wedding experience.
It's your special day. Plan it YOUR way! Explore our full Wedding Planning line.