BEST WEDDING PLANNERS & PLANNING TIPS
There's so much to do before you say "I do!"
Start with the best Wedding Planners of 2021. Plan your big day with less stress and more style, with the help of the perfect planner customized for all your wedding planning needs!
<!–– Image ––>
<!–– Tip ––>
1. Stay on track with our team's top 10 wedding tips in the updated signature Wedding Planner!
Brainstorm your wedding colors, favorite styles, and wedding-must haves with the bestselling Wedding Planner. This classic bestseller is now available with metallic date dots and customizable monthly tabs so you can start planning whenever you like. Choose a 12-month or 24-month option and never miss a step with pages and pages of monthly checklists that easily itemize what must be done from a year before, all the way to the week of your big day! A convenient day-of timeline helps break down what needs to be done on the actual day so you can stress less and celebrate more!
<!–– Image ––>
<!–– Tip ––>
2. Keep track of important dates.
Keep track of important dates and deadlines in the bestselling Wedding Planner, with two calendar options: 12 or 24-month. Or use the new PetitePlanner Monthly Customizable Calendar for portable, date-driven wedding planning on the go! Whichever planner you choose, enjoy stylish calendar spreads and space for jotting notes and tracking goals along the way!
<!–– Image ––>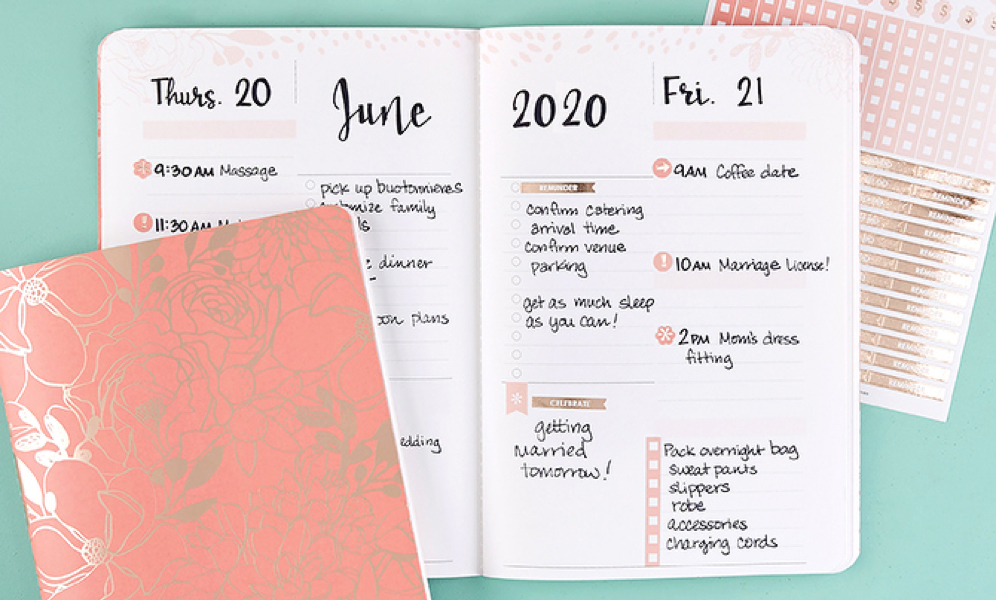 <!–– Tip ––>
3. Enjoy every day of planning your wedding.
Celebrate the excitement of planning the best day of your life with the new PetitePlanner Daily Customizable Agenda! Structured pages for each day allow you to log wedding to-dos, jot notes and increase productivity. Stunning details and 111 included stickers help you to remember to have fun while staying on task!
<!–– Image ––>
<!–– Tip ––>
4. Keep track of all the to-dos before the I do's with the New Wedding Checklists & To-Dos PetitePlanner!
<!–– Image ––>
<!–– Tip ––>
5. Get strategic with seating with the ultimate wedding planner.
The bestselling Wedding Planner covers all your wedding needs from A to Z, including stylish seating chart spreads. Four pages of seating arrangements let you coordinate each table and note any special arrangements, such as special diets or seating preferences
<!–– Tip ––>
6. Stress less with the help of the most comprehensive budget list.
Keep track of your bridal party's important information such as addresses, phone numbers, dresses, shoe sizes, and more with the classic Wedding Planner! Its two-page budget checklist itemizes spending from the music to the flowers & transportation so you don't have to worry about busting your budget!
<!–– Image ––>
<!–– Tip ––>
7. Assemble dream shots, song lists & ideas for the big day.
In the bestselling Wedding Planner, you have a page for each photography and music lets you assemble your dream shots and ideal song list so you can provide the photographer or DJ with it well before the night of! And a full 70-page notebook is included behind the to-do lists. We've included a mixture of lined and blank pages that are perfect for everything from sketching your dream dress to collecting ideas for the big day!
<!–– Tip ––>
8. Stay organized after your wedding.
With the classic Wedding Planner, you have two pages for planning your honeymoon, with tips for the thank you notes to write when you return. The thick Mohawk paper stock of the Wedding Planner allows you to plan for your wedding in luxury! Stunning white tabs set the stylish tone so you can design a custom Wedding Planner you'll save and reflect back on long after the big day!
<!–– Image ––>
<!–– Tip ––>
9. Create a keepsake book of your best wedding moments to remember.
Capture precious memories from weddings to firsts & all of life's unforgettable special occasions in the poignant PetitePlanner Moments to Remember! Stunning designs and a flexible layout of lined & blank pages, plus space to paste photos make a beautiful keepsake you'll treasure forever!
<!–– Image ––>
<!–– Tip ––>
10. Why choose just one way to plan your wedding when you can have it all?!
Create your own wedding planning system by combining your choice of the best wedding planners of 2020 for your wedding in the stylish On the Go Folio that holds up to four PetitePlanners—from wedding essentials to health & wellness goals, financial planning & more!
Or snap up the Wedding PetitePlanner Bundle that has all the essentials for pretty, practical and portable wedding planning on the go! You can even pair any number of them with the classic Wedding Planner to have your cake and eat it too!
It's your special day. Plan it YOUR way!

SHOP NOW. ENJOY NOW. PAY LATER!
SHOP NOW. ENJOY NOW.
PAY LATER!
4 EQUAL INSTALLMENTS, EVERY 2 WEEKS, AVAILABLE AT CHECKOUT
Have more questions? Read our FAQS for additional information.