Wedding Planning Tips + Ideas for Your Wedding Planner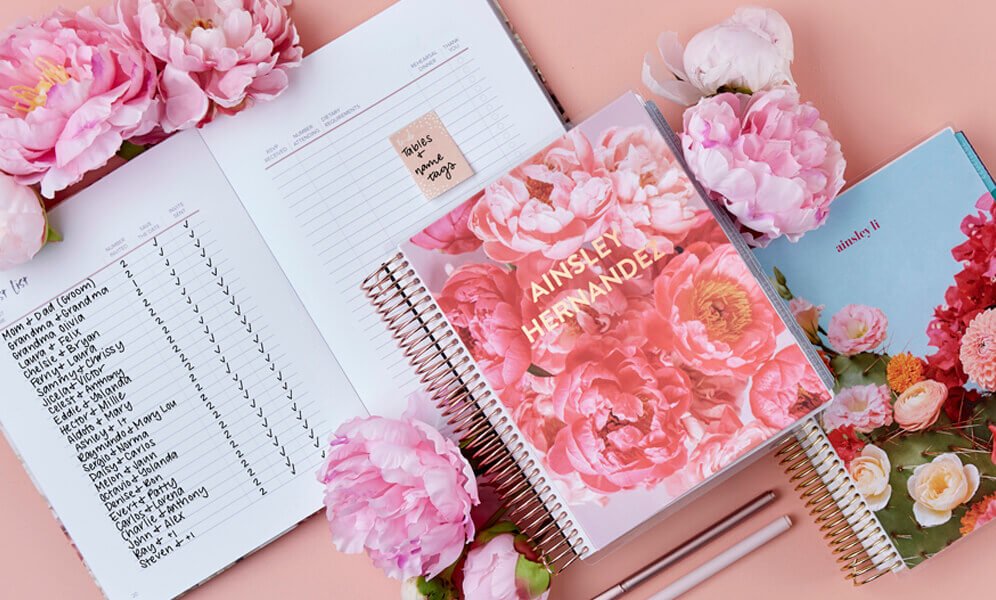 Your wedding day is on the way, and the excitement is palpable for you and your partner! As you start the thrilling journey toward your big day, having a well-organized wedding planner book will be your secret weapon. In this comprehensive guide, we will provide you with essential wedding planning tips and creative ideas to make your wedding planner not just a practical tool but also a treasured keepsake of your path to the altar.
Essential Wedding Planning Tips
Use a Wedding Planner Book
Let's start with the cornerstone of a well-organized wedding day – the wedding planner. Think of it as your trusty companion during the planning process for all things wedding-related. This essential tool will help you navigate the labyrinth of wedding planning, from the initial ideas to the big day itself. It's your roadmap, your repository of vital information, and your source of sanity in the whirlwind of planning.
Start Early
The early bird catches the worm, and in the world of weddings, the early planner catches the perfect wedding venue, the dream vendors, and the tranquility of a well-paced planning process. Starting early allows you to secure your preferred choices and explore various options. It grants you the luxury of thoughtful decision-making, ensuring your big day reflects your unique vision without the stress of a last-minute rush.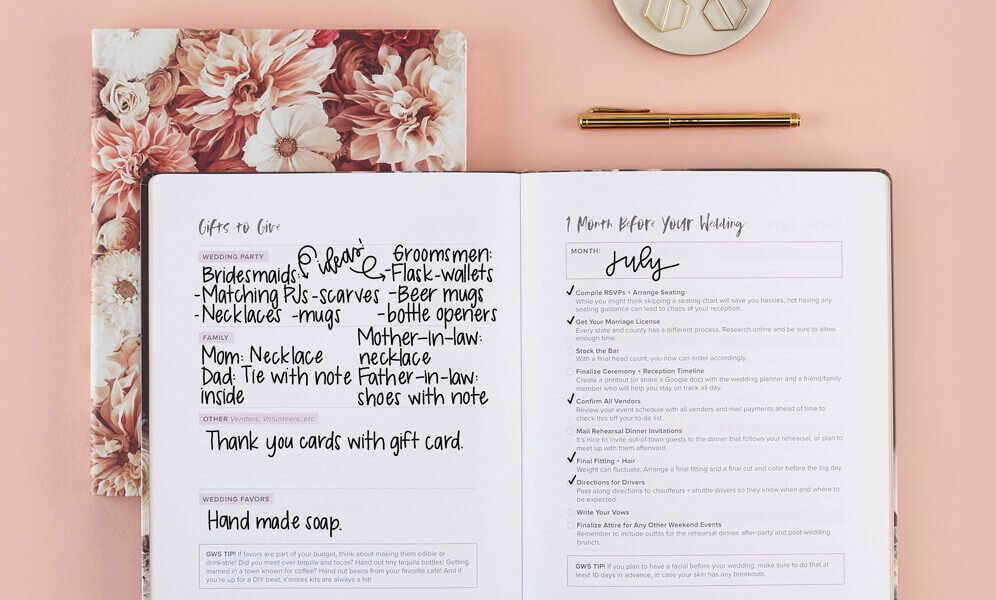 Establish Your Priorities and Budget
Your wedding day is a reflection of your love story. Sit down as a couple and establish your priorities. What aspects of your wedding day mean the most to you? Is it the enchanting wedding venue, the memories being captured in photos, the beautiful flowers, or the delicious catering? Once you've defined your priorities, create a wedding budget that aligns with them. This step ensures that your resources are allocated where they matter most, preventing budgetary surprises later on.
Delegate Tasks
Remember, you're not alone on this journey. Delegate tasks to trusted friends, family members, or members of your wedding party. Sharing responsibilities not only lightens your load but also cultivates a sense of involvement and shared joy among your loved ones. It truly takes a village to plan a wedding.
Communication is Key
Effective communication is the foundation of a smooth wedding planning process. Maintain open lines of communication with your partner, family members, closest friends, wedding vendors, and anyone involved in your wedding day. Regular updates, discussions, and check-ins ensure that everyone is on the same page, reducing the likelihood of misunderstandings and last-minute surprises.
Enjoy the Planning Process
Amidst the logistics and decision-making, don't forget to savor the journey itself. The wedding planning process is a unique chapter in your love story, filled with beautiful moments and exciting discoveries. Attend bridal shows, enjoy cake tastings, and take part in dress fittings – these experiences will become cherished memories in the tapestry of your relationship.
Setting Up Your Wedding Planner
Choosing the Best Wedding Planner for You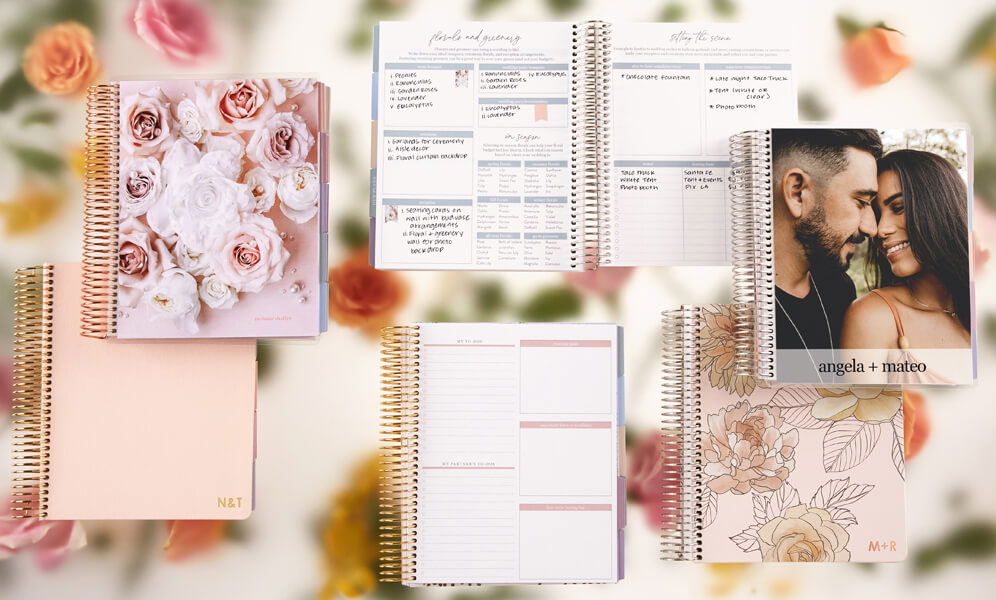 Selecting the right planner is an important part of the planning process. It's all about the small details and this wedding planner should resonate with your style and needs. Consider factors like size, layout, and overall look of the book. Your wedding planner should be an extension of your wedding vision and facilitate your planning process. Here are some key points to keep in mind while making this important decision:
1. Size Matters
Consider the size of the organizer book. Do you want something compact that can easily fit in your bag for on-the-go planning, or do you prefer a larger format with ample space for notes and details? Your choice should align with your personal preferences and planning style.
2. Layout and Organization
Examine the layout of the planner. Does it offer dedicated sections for crucial aspects of the wedding planning process like budget tracking, vendor contacts, and wedding guest lists? The organizer should provide a clear structure that complements your planning process.
3. Durability and Quality
Your wedding organizer book will be by your side throughout the planning process. Ensure that it's well-made and durable, capable of withstanding months of use. A quality organizer will protect your valuable planning information.
4. Aesthetics and Style
Your organizer book should reflect your taste and style. Whether you prefer a sleek, modern design or a romantic, vintage-inspired look, choose an organizer that resonates with your wedding theme, color scheme, and personal aesthetics.
5. Additional Features
Some organizer books come with extras like pockets for storing loose papers, tabs for easy navigation, and even a matching pen. Consider these additional features, as they can enhance the functionality of your organizer.
In essence, the best wedding planner for you is one that feels like an extension of your vision and personality. It should make the planning process smoother and more enjoyable, keeping you on track and organized as you move closer to the wedding of your dreams.
Sections to Include in Your Wedding Planner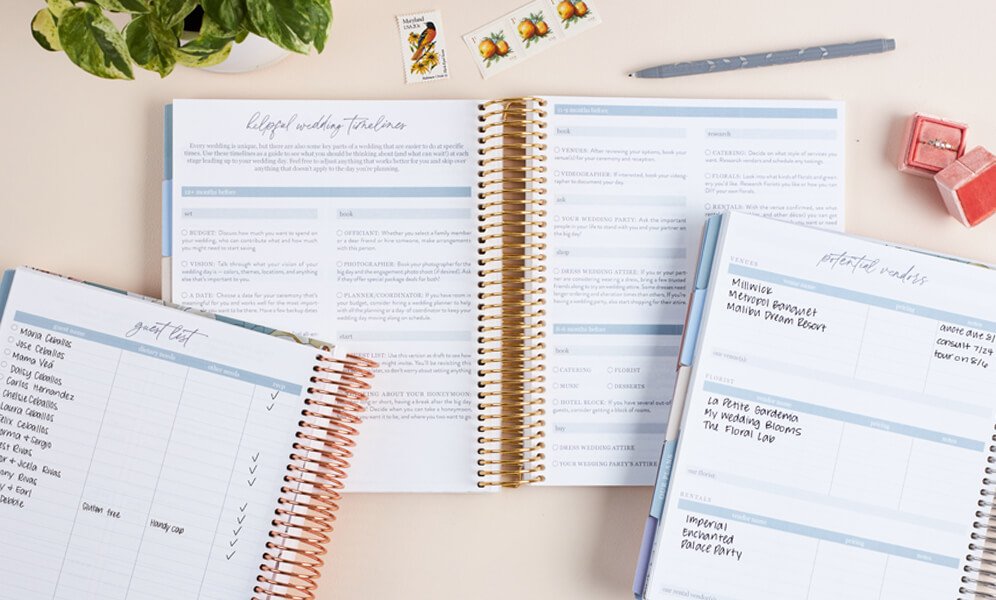 To ensure your wedding planner is a beacon of organization, structure it with key sections:
Guest List
Maintain a comprehensive record of invitations, RSVPs, and any special requests from your guests.
Vendor Contacts
Compile contact details for all your wedding vendors, from florists to photographers.
Venue Details
Include floor plans, seating arrangements, and any setup instructions to ensure a seamless event.
Budget Tracker
Use a Budget Tracker to keep meticulous records of your expenses and payments to stay within your budget.
Timeline
Create a detailed timeline of your wedding day and any pre-wedding events to ensure everything unfolds flawlessly.
Inspiration and Ideas
Dedicate a section for storing inspiration, ideas, and clippings to help you visualize your wedding aesthetic.
Record Important Dates
Keep a sharp eye on your calendar and record essential dates. This includes vendor meetings, tastings, fittings, and payment deadlines. Having a clear timeline ensures that nothing falls through the cracks, keeping you well-organized throughout the process.
1. Vendor Meetings
Schedule dates for all your vendor meetings. This includes initial consultations, follow-up discussions, and any venue walkthroughs. Having these dates at your fingertips ensures you stay in sync with your chosen professionals.
2. Tastings and Fittings
Don't forget the delightful aspects of being a bride – tastings and fittings! Record dates for cake tastings, menu samplings, and dress fittings. These are moments to savor and make decisions that align with your vision for your special day.
3. Payment Deadlines
Keeping tabs on payment deadlines is paramount. Late payments can lead to unnecessary stress. Note down when deposits and final payments are due for each vendor to stay financially organized.
4. RSVP Deadlines
Managing your guest list is crucial. Record the RSVP deadline you've set for your guests. Knowing when to expect responses helps with seating arrangements, catering counts, and overall event planning.
5. Dress Pick-Up or Delivery
If your wedding attire requires alterations or special arrangements for pick-up or delivery, include these dates. You wouldn't want any last-minute surprises when it comes to your wedding attire.
6. Rehearsal and Pre-Wedding Events
Schedule rehearsals and any pre-wedding events, such as rehearsal dinners or bridal showers. These gatherings are an integral part of your wedding celebration and should be well-planned and coordinated.
7. Marriage License Appointment
Don't overlook the legal aspect of your wedding. Note the date of your marriage license appointment and any requirements for obtaining it in your jurisdiction.
8. Special Milestones
If there are any significant milestones or anniversaries that coincide with your wedding day, consider including them. It adds a personal touch to your wedding story.
Having all these important dates in one place ensures that you're well-prepared and organized for every step of your bridal journey. It minimizes stress and allows you to focus on the joyous moments that come with planning your special day.
Wedding Planner Personalization Tips
Add an Index or Table of Contents
As your wedding planner fills with information, an index or table of contents becomes your guiding star. It enables you to quickly navigate to specific sections, saving you time and helping you locate information with ease.
Utilize To-Do Lists, Checklists, and Charts
To-do lists and checklists are the wedding planning companions. Break down complex tasks into manageable steps, creating lists for each month leading up to the wedding. Charts are excellent for tracking RSVPs, meal preferences, and seating arrangements, ensuring no small detail goes unnoticed.
Incorporate Timelines and Calendars
Visual aids like timelines and calendars provide a clear overview of your planning process. Include a detailed timeline of your wedding day, highlighting key moments from the ceremony to the reception. A calendar format helps everyone involved understand the schedule and flow of events.
Track Your Budget and Expenses
Money matters in wedding planning. A detailed wedding budget tracker is essential. Record every expense, from flowers to decorations, and compare them against your allocated wedding budget. This not only prevents overspending but also offers a transparent view of your financial status at any given time.
Creative Wedding Planner Ideas
Add a Collage or Vision Board
Elevate your wedding planner into a special keepsake by incorporating a collage or vision board. Collect magazine images, print photos, and create a visual masterpiece that embodies your wedding aesthetic. This creative touch keeps your vision alive and inspires you throughout the planning process.
Use a Color-Coded System
A color-coded system is both practical and visually pleasing. Assign distinct colors to different categories, such as vendors, tasks, and deadlines. This simple strategy allows you to quickly identify specific information and stay organized at a glance.
Add Inserts, Pockets, and Other Accessories
Enhance the functionality of your wedding planner by incorporating inserts, pockets, and other accessories. These additions can hold business cards, fabric swatches, and other small items you collect during the planning process. Keeping everything in one place streamlines your wedding planning efforts.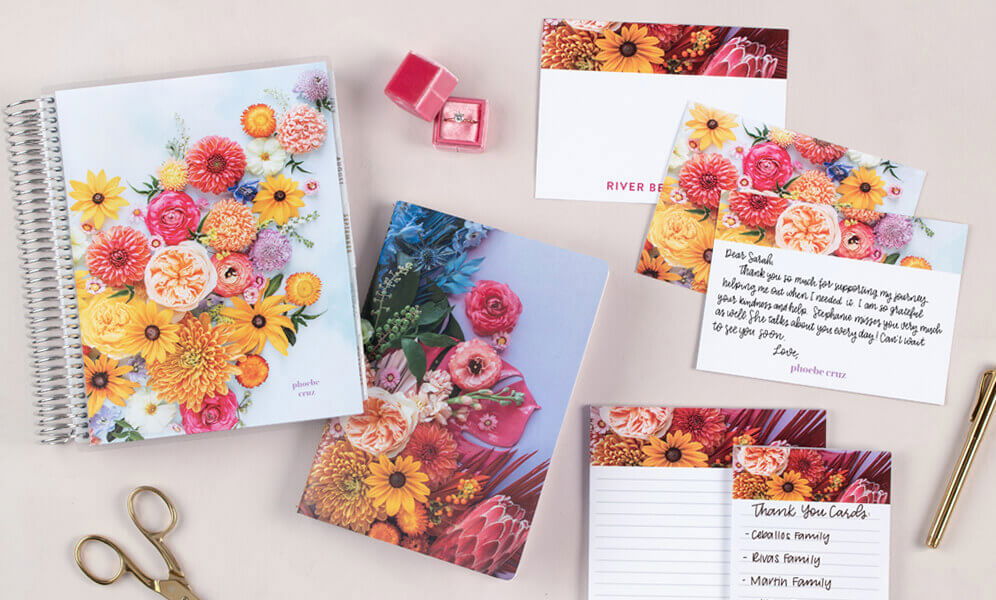 Turn Your Wedding Planner Into a Keepsake Book
After the big day has come and gone, your wedding planner doesn't need to be thrown out. Instead, transform it into a cherished keepsake. Add pages dedicated to wedding photos, guest messages, and special moments. Your wedding planner then becomes a time capsule of your journey and the love that surrounds your wedding day.
Your wedding planner is your loyal organizer, your informational guide, and the best way to reach your perfect day. With these tips and ideas, it's not just a tool for the job; it becomes a precious memento of your incredible journey. So, start this adventure with enthusiasm, stay organized, and treasure every moment as you bring your dream wedding to life with the help of your must-have wedding planner.