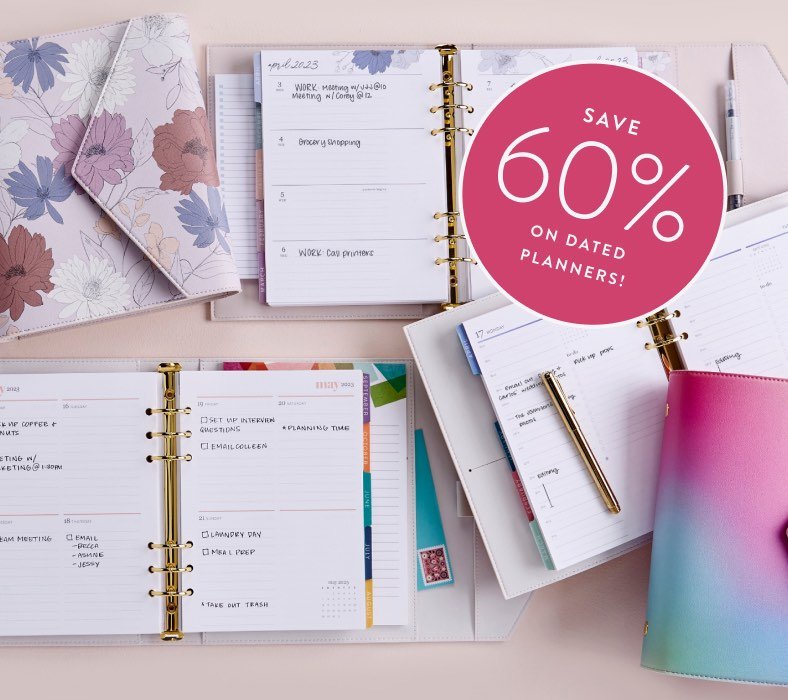 A5 Ring Agenda
Our best-selling daily and weekly planners in a stylish, portable A5 vegan leather ring agenda. The perfect planner + folio combo, now with a new layout and new designs!
•

Compact A5 Size

•

6-Ring Format (Fits Industry-Standard Accessories)

•

Built-In Pockets for Storage & Organization

•

Add, Remove & Rearrange Your Pages
BUILD YOUR PERFECT RING AGENDA:
•

3 Layout Options: Daily, Weekly Horizontal or Weekly Compact Vertical

•

Multiple Vegan Leather Cover Options
Filters
Frequently Asked Questions
Your planner should fit your lifestyle, not the other way around. If you've been relying on a smartphone app to schedule your days because standard planners are too large, we've got an option for you — an A5 planner. This 6-ring planner is compact enough to fit in your tote bag, briefcase, or backpack while offering you all the features of our Erin Condren LifePlanner™. As you've come to expect, this planner option is fully customizable; you can choose your A5 planner binder, your calendar options, and interior design. The folio binder with its magnetic closure keeps your calendar safe, clean, and secure as you carry it with you.

Our A5 planner inserts are designed to help you make the most of your planner. They include monthly calendar spreads, productivity pages, sticker sheets, pages for taking notes, and storage pockets that you can use to collect business cards, receipts, and other important information. These features make the A5 planner a fantastic option for business travel. Other customization options include clip-in productivity accessories (we have a range of dashboards and lists that fit our A5 planners!), stickers, sticky notes, and writing tools that can help you make this planner truly your own.