Organization & Productivity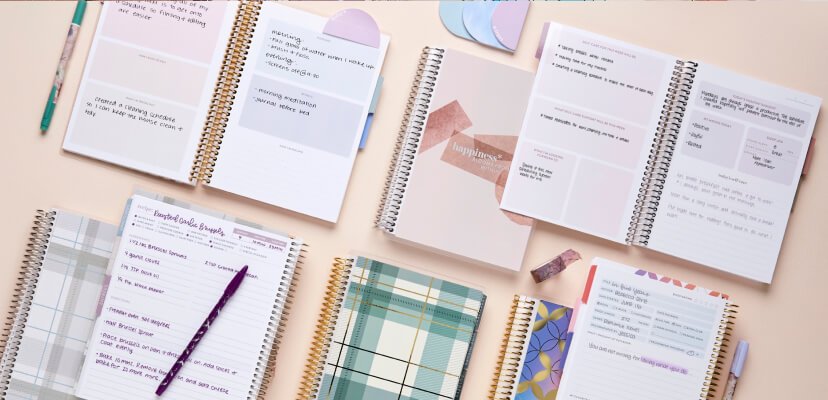 Get organized, reduce stress, and reach your 2023 goals with new arrivals and best sellers for New Year goal setting, wellness and self-care, organization, productivity, and more!
NEW YEAR WELLNESS & SELF-CARE COLLECTION:
•

NEW A5 Fitness Planner & Wellness Notepads

•

NEW A5 Self Care Notebook

•

NEW Budget-Friendly Wellness & Self Care Bundles
NEW YEAR GOAL SETTING & ORGANIZATION COLLECTION:
•

NEW Goal Setting Planner & Budget-Friendly Bundle

•

Best-Selling Budget Planners & Budgeting Tools

•

Best-Selling Meal Planning, Daily Routines & Organizational Tools
LEARN MORE
Filters
Getting organized and becoming more productive can be challenging for us all. That's why Erin Condren offers a full range of goal planners and other products to help you identify, set, and achieve your goals. Whether you're looking to manage your money, develop a wellness plan, or get more done at home or work, we have organization options for you.

Use one of our personalized notebooks or journals as a goals planner. Need some help saving for an expensive purchase, meeting the expenses required to achieve a goal, or getting control over your finances? A budget book or budget planner may be what you need to get your money matters on track. Other options include using a budget or bill management snap-in dashboard in your weekly LifePlanner™ or A5 ring agenda planner.

We also offer a full range of functional stickers, sticky notes, and accessories that you can use in any of our journals, notebooks, or planners to increase accountability and ensure that your goals remain within reach.