How to Set Goals
Goal setting is not just for the beginning of a new year. We all know too well how priorities and circumstances can shift at any time. That's why it's important to know how to set goals, adjust your plans, and stay on track, week to week, month to month, year to year.
How do you set goals?
While goal setting can be a rather personal process with room for customization and creativity, there are key elements to setting goals that will help you achieve them and stick to them. From reflection to prioritization to execution and self-motivation, here are our top tips for easy, effective goal setting:
1. Start goal setting by reviewing the past year.
Reflection is a smart and effective way to jumpstart goal setting. Think about the past year … what worked, what didn't work, and why. You can do so by quiet reflection, free journaling, or, if you're not sure where to start, using a guided Year in Preview Planner
2. Write down your goals.
After reflection, write down the things you want to achieve (your goals!) on paper. Use a notebook or journal, vision board, or paper planner. 42% more likely to achieve your goals just by writing them down, and there is no better way to keep track of your life and stay organized than with a planner.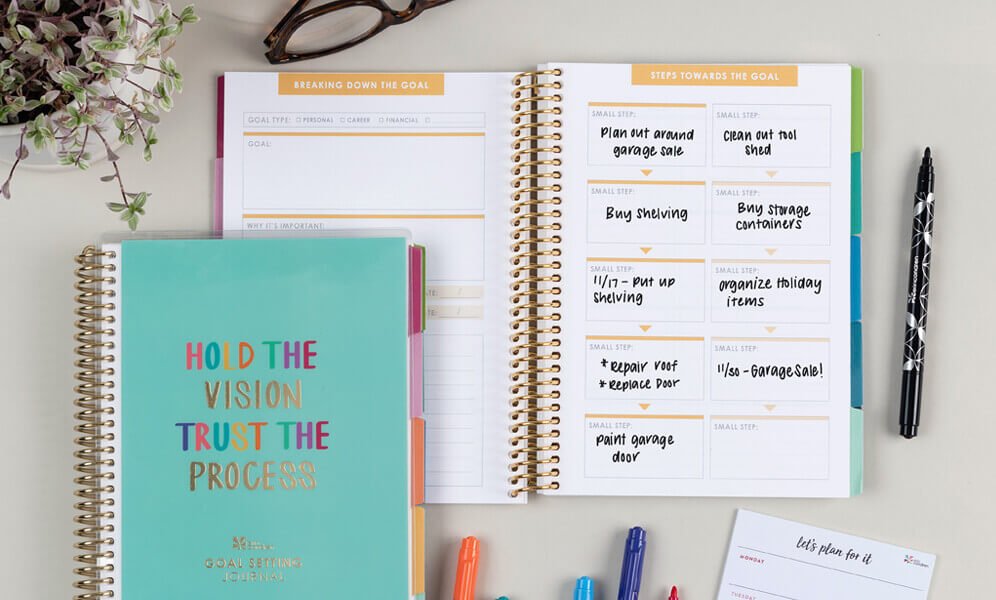 What is the best goal setting planner?
For strictly setting and achieving goals, we recommend guided planners for your specific goal-setting needs, whatever they may be. From budgeting to wellness, even goal setting itself, there's a prompted planner designed to help you make it happen.
For higher-level, map-your-life planning, the LifePlanner™ is the best EVERYTHING planner to organize (and live!) your best life. Whether you're setting financial, professional, or personal goals, or all of the above, it's easier to stay on track with everything in one place.
3. Keep it simple with one or two main goals.
Don't overwhelm yourself by setting an unattainable wish list of goals you'd love to see happen. Prioritize one or two main goals, then develop action items to accompany them. After writing down your goals in your planner, organize and actualize them with realistic action steps.
What are action steps?
Action steps are small things you need to do to progress toward your goal. They can be a series of progressive steps that lead to your goal or repeated steps that form a habit that is (or helps you reach) your goal.
4. Make your goals specific and tied to a deadline.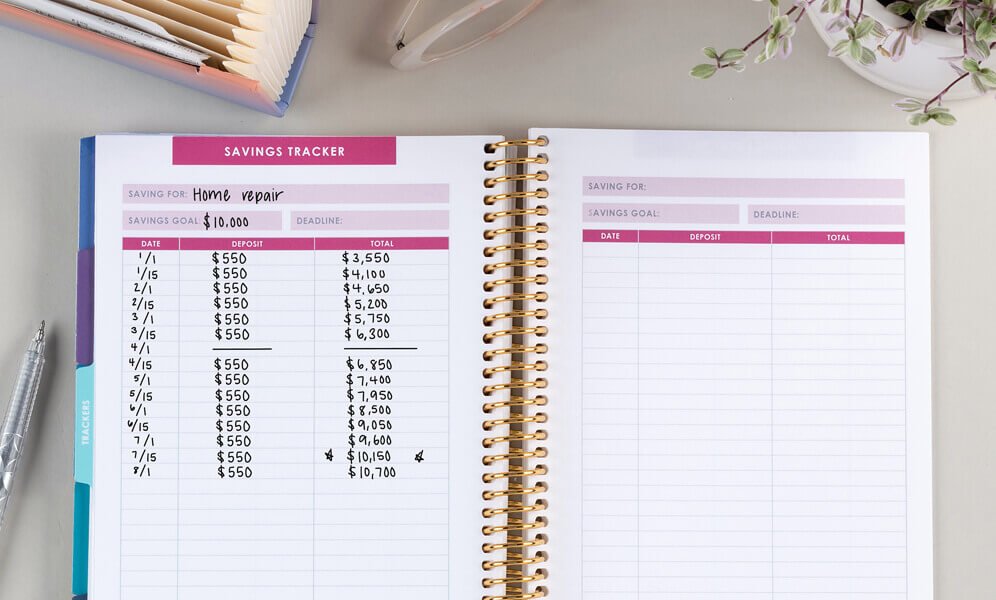 Specifics bridge the gap between an aspiration and a goal. Make your goals specific, with a completion date, if you want to turn them into a reality. For example: turn "save more money" into "direct deposit $200 per paycheck into my savings account starting on (insert date here)."
5. When goal setting, set achievable and measurable benchmarks.
If you're focusing on wellness goals, make them about improving overall wellness and then set achievable and measurable benchmarks to accompany that goal. For example, if you're new to working out and you're not a morning person, avoid setting yourself up for failure with "go to the gym every day at 5 a.m." Instead, try "go to the gym twice per week after work." By defining and writing down measurable, attainable ways you can reach your goals, it will be easier to track your progress and reach those goals.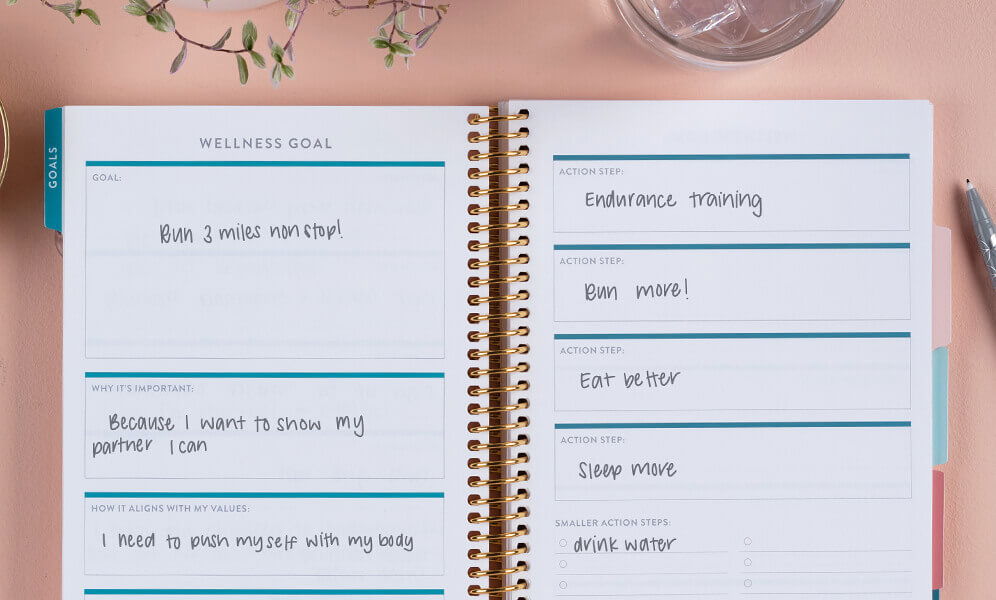 6. Be prepared. With goals come obstacles.
It's easy to feel discouraged or beaten down, so prepare for and anticipate bumps on your path to achieving your goals. Plan ahead and schedule ways around obstacles and time to recharge or recover when things don't go as planned.
For example, set aside time to meditate, socialize, reset your mindset with a motivational conference, or simply get more sleep! If you anticipate and prepare for moments of discouragement, you can readily get your goals back on track!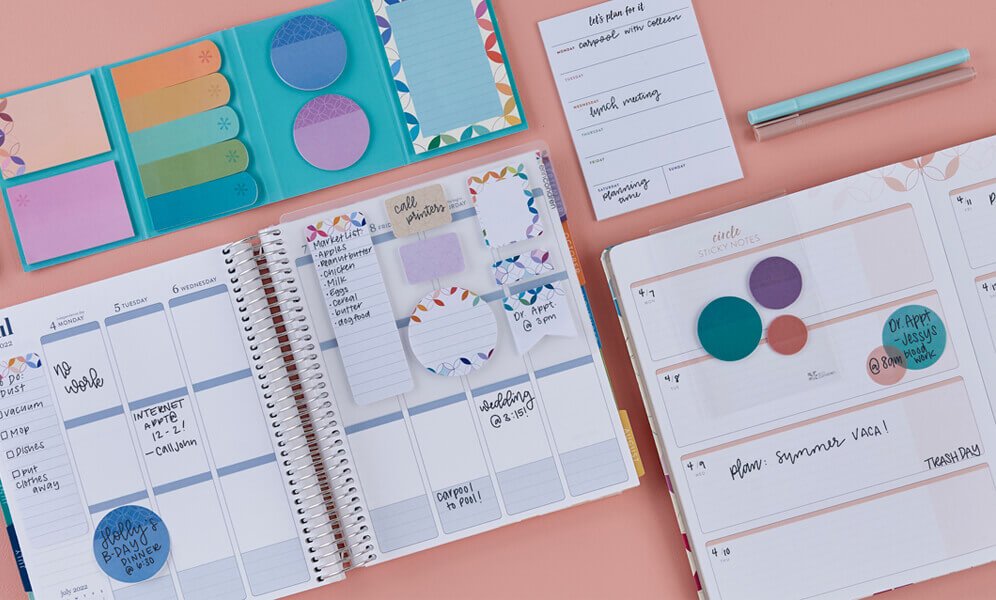 7. Infuse your goals with inspiration to stay motivated.
Setting goals is one thing, but sticking to them is another! Add pops of your favorite colors, inspirational quotes, motivational stickers, and pictures to your goal planning so you can stay motivated, energized, and focused (while having a bit of fun!).
Explore our full Goal Setting Collection to discover the tools you need to set and achieve your goals. GOAL for it!

SHOP NOW. ENJOY NOW. PAY LATER!
SHOP NOW. ENJOY NOW. PAY LATER!
4 EQUAL INSTALLMENTS, EVERY 2 WEEKS, AVAILABLE AT CHECKOUT