Page markers & Tabs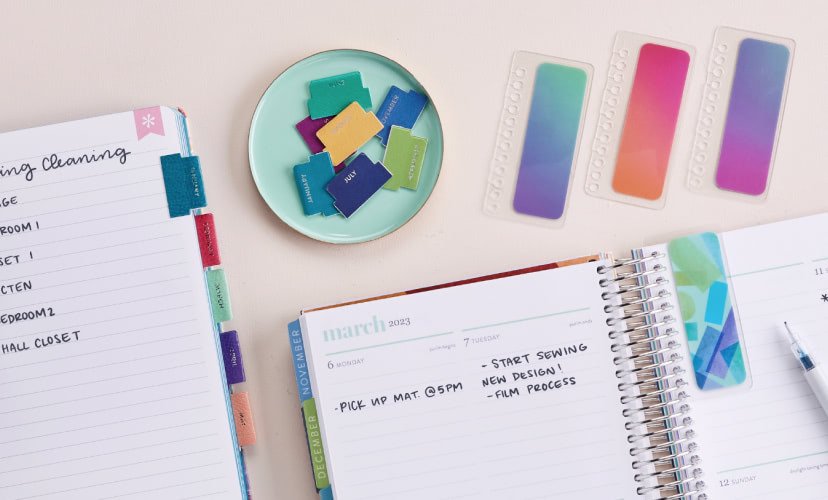 Filters
Tired of losing your place in your planner, journal, or notebook? You aren't alone! That's why Erin Condren offers a full range of bookmarks, page markers, and page tabs. Each option works a little differently, so you can choose the style that works best for you. Many items in our bookmark collections also coordinate beautifully with our covers, making them an excellent addition to your planning or journaling system. We designed these bookmarks to securely attach to your notebook, journal, or planner pages, so you don't risk them falling out while you are on the go.

If you prefer a traditional bookmark, our snap-in bookmarks may be just the thing for you. Each set of bookmarks can be matched to your planner or notebook design, and the bookmarks snap onto the coil binding. Want to get creative with your bookmarks? Our CoilClip™ Connectors are customizable. Simply remove the adhesive strip and connect them to your own photos, artwork, notes, or other items to use as bookmarks. If you'd like to organize your journal, planner, or notebook by month, our monthly adhesive tabs are an easy solution.

To mark important sections on each page, check out our metal bookmarks, which stick to wherever you put them on the page. Need to mark a group of pages? Try our metal bookmarks or magnetic bookmarks, which can clip onto five pages at once. To securely hold your planner or journal together — along with any loose items that you may have stored inside — our elastic bookmark keeps your notebook securely closed. No matter how you need to organize your planner, we can help!