New Accessories
Organize & Accessorize Your Planner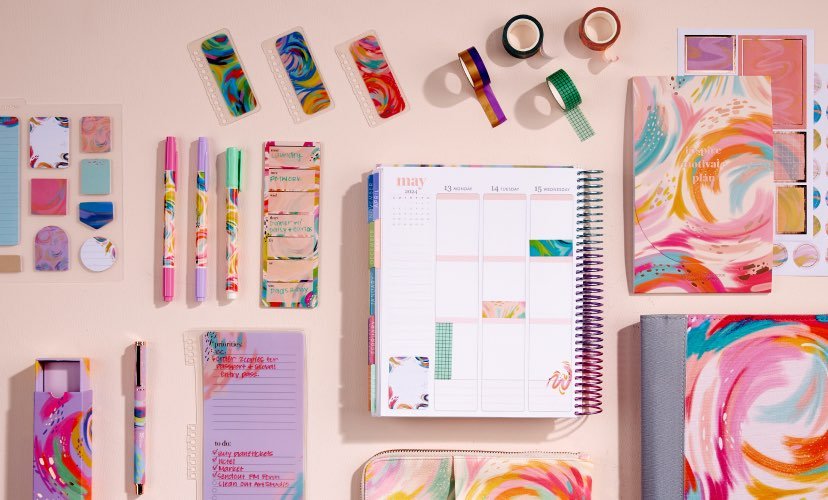 Filters
Frequently Asked Questions
Treat yourself to our very latest assortment of Erin Condren planner accessories. So many of our customers tell us how they love our custom, coordinated accessories for planners. Planner stickers and accessories make time management fun and engaging while also reinforcing your personal style. New accessories include habit tracking sticker tape, new snap-in dashboards (including budget trackers) and bookmarks, sticky notes, and gorgeous desk organizers. Your planner and accessories should be as unique as you are, which is why you can take your pick of multiple colors and designs!

Accessorize your planner with planner sticker sets, and go wild with colorful markers for bullet journaling, color-coding, custom goal tracking, planner decorating, and more. When you are done, put your writing tools and other accessories in a color-coordinated holder or pouch! Our pouches keep your pens, markers, and office supplies together so that they are always accessible and don't spill out in your bag or backpack. Other options include page tabs and placeholders that can help you instantly turn to the page you need in your notebook, planner, or journal. These come in a range of styles, materials, and colors so you can stay coordinated. Alternatively, you could choose these accessories in contrasting colors so that they stand out.

We've also expanded our offering of A5 planner accessories. You'll find plenty of options, including stickers, interchangeable covers, and snap-in accessories, that enhance the style and function of your planner or notebook (our planner accessories fit our spiral notebooks, too)!