Writing Tools
Colorful, Multi-Functional Pens, Markers & More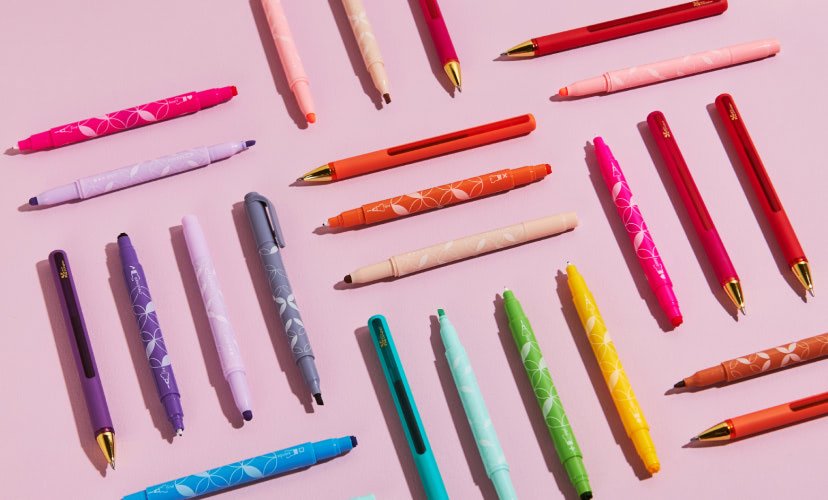 Frequently Asked Questions
Dual-tip markers are ideal for calligraphy, hand lettering, and stenciling. Practice with the fine and chisel tips all in one tool or if you're a traditionalist, we have a large selection of ballpoint and gel pens in a variety of different styles and colors.
Gel pen ink is thicker than traditional ball point pen ink. Therefore, scrapbook experts recommend gel pens be stored with the cap on and tip down to prevent pens from drying out or forming air bubbles.
We have a large variety of high-quality, colorful dual-tip markers, gel pens, highlighters, fine-tip markers, and more writing tools to use on your favorite Erin Condren planner. Complement your writing tools with planner stickers that match your planner design and colors.
No planner, journal, or notebook is complete without a corresponding writing tool. But why stop at a basic blue or black ink pen? Make your planning, journaling, scrapbooking, or goal-setting come to life with high-quality, colorful dual-tip markers, gel pens, highlighters, crayons, and more. Whether you prefer to map out goals and plans with colorful graphs, color-code your calendar entries, or unwind with a carefree doodle, we've got the writing tools for you.

Our wide variety makes it easy (and fun) to find what you need. Interested in giving calligraphy a try? Dual-tip markers are perfect for practicing with fine and chisel tips all in one tool. Or maybe you love our snap-in planner accessories and need a few wet-erase markers to mark them up — we have those, too! Ever wish you could have the convenience of a checklist stamp and fine tip marker all in one?

Our innovative Dual-Tip List Markers™ is your new go-to tool for easy and elevated checklists! And if you're a traditionalist in need of a classic ballpoint pen, we offer a beautiful selection that you can coordinate with your favorite planner or notebook. We even provide beautiful pen pouches and clutches and convenient pen refills, so you can enjoy your favorite writing tool for years to come.

Don't let your creativity stop with your planner or notebook! Find the writing tool to suit your needs and spark inspiration at Erin Condren.