Organizers
For Your Home, Office, Commuting & Traveling.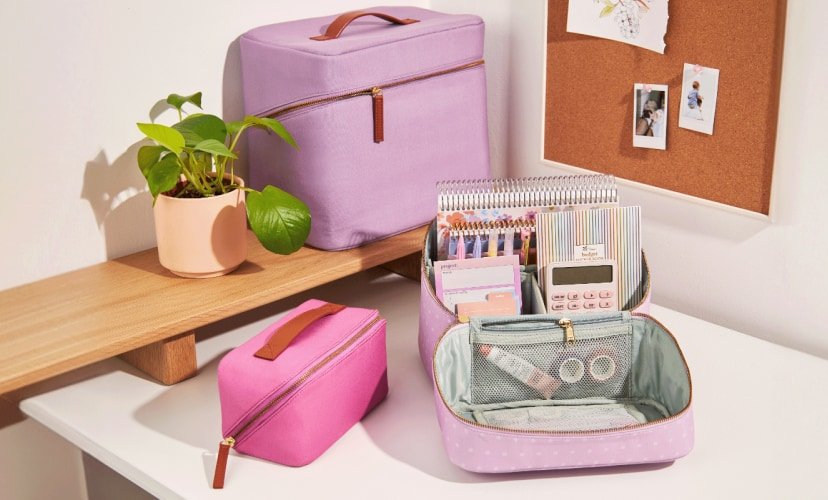 Reclaim your favorite spaces and keep all your essentials organized with stylish, versatile, durable organizers.
Enjoy Effortless, Stylish Organization, Anytime, Anywhere
Our top-notch organizational tools are designed to help you save time and create more space for streamlined, stylish living. We don't stop at organizer cases, caddies, and accordion zipper pouches; we offer a comprehensive suite of products designed to streamline your daily routine.
Organizer Cases and Caddies


Discover the power of on–the-go organization at its best. These organizer cases and caddies will help you keep it all together along your entire organization journey. Keep your essentials neatly sorted, easily accessible, and protected. Choose from a wide array of stylish designs, forms, and sizes to match your unique style. Crafted with quality materials, they're built to last.
Accordion Zipper Pouches


Our accordion zipper pouches are the perfect companions for those who need versatile and expandable storage solutions. With their multiple zippered compartments, you'll always know where your items are. As durable as they are portable, these all-in-one pouches pack a lot of organization and storage in a cute, compact package.
Desk Organizers


Declutter your desk, declutter your mind. Take charge of your workspace with our line of best-selling desk organizers. Designed for ultimate functionality, versatility, and aesthetic quality. Whether you need to keep your pens, papers, or gadgets in check, our desk organizers provide a tidy and stylish solution.
Planner Folios


Stay on top of your schedule and tasks and keep everything together with your planner with personalizable planner folios. Portable, durable, and with lots of style and storage, our planner folios are your planner, journal, or notebook's best friend. Say goodbye to missed appointments, unfinished to-do lists, and missing pens and pencils.
Backpacks and Work Bags


Your on-the-go lifestyle requires the right companions. Our work bags and backpacks are designed with structured organization in mind. From dedicated laptop compartments to handy pockets for your gadgets, books, and essentials, organization is in the bag!
Other Organization Best Sellers You May Like
Explore our full line of matching and complementary organizational tools for all areas of your life. From family organization to work planners, we have custom organization solutions that meet you where you are and make your life easier.
View More Organization Best Sellers


Complete your organization system with complementary customer-favorites like custom LifePlanners or custom Wall Organization Centers. And get organization inspiration and tips like Desk Decor and Organization Ideas, How to Organize and Store Your Planner Stickers, even How to Organize Your Calendar for Ultimate Efficiency.