HOW TO DECORATE YOUR DESK
Simply and quickly give your desk décor a complete makeover!
Whether you're starting a new job or just looking for an office refresh, you've come to the right place! If you work a full-time job, you're likely spending 40+ hours at the same desk or office, so why not spruce it up and make it a space you want to visit?
We love how sophisticated photos on acrylic look on your desk, but even adding a few fun polaroids, ticket stubs or other mementos will do wonders for transforming your space! Simple frames can be painted bright colors or loose pics can be tacked on a cork board (see #7).
2) Get some greenery in there!
We're not saying you need to bring fresh flowers to work every day, but add a pop of something green! Buy a trio of succulents (they're very inexpensive and require little attention) or invest in some high quality fake flowers that can live year-round on your desk! Limited space? Hang art prints that bring nature to a new dimension!
We're all for organization, so add some colorful coordination in there! Add an acrylic tray or acrylic box to store office supplies and infuse your desk with style!
4) Desk Calendar or blotter
Keep track of important dates and meetings and add glamour to your desk with a personalized, colorful desk pad! It's both a functional calendar and a fashionable decoration!
Make a pop with a bright colored pattern and add personalization to your file folders! Find a fun way to display them, whether it be a wire or acrylic holder!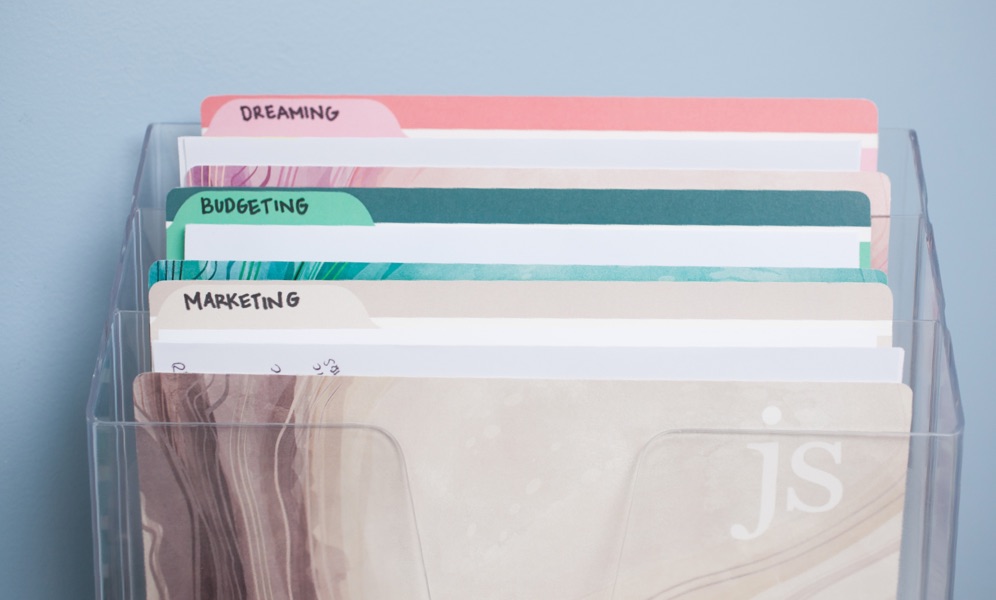 Corral like-colored pens and markers in mason jars, get excited about metallic staplers and tape dispensers and don't miss out on push pins with fun shapes! Combine fashion and function!
7) Cork Board or "wallpaper"
Make the most with what you go! Ask permission to put a cork board behind your desk and decorate with fun photos, colorful push pins & inspirational quotes! Not allowed? Tape wrapping paper around your cube for a wallpaper feel and give new life to your white walls!
8) Download a fun background or add a bright mousepad!
Don't opt for one of the default images on your office computer! Show some personality and have fun selecting from the innumerable FREE downloads out there! Spread the love to your mouse and find something festive.
Turn your weekend into Sun-D-I-Y! Have fun creating fun décor that boosts your office space. Create fun tassels and hang them on your wall! Spray paint containers, like used berry baskets a fun metallic or bold hue to store loose office supplies! Cut out washi tape to use on the keypad of your computer. The options are endless!
10) Add a colorful throw or blanket
Does your coworker love to run the office A/C? Serve a dual purpose with a stylish throw that adds style to your seat while still giving you plenty of heat!
11) Make sure to display your new business cards
Make a bold statement and have on hand to show everyone who walks by what a boss you are!