10 Desk Decor Ideas to Boost Your Productivity and Creativity
What you see in front of you on your desk might affect the way your brain works. Did you know that the right desk decor can help you organize your WFH setup and transform your home office to impact your focus, creativity, mood, and productivity?
Let's be honest: Our desks are also a reflection of our personalities. So aligning your desk decor to reflect a decluttered mind and your personal style can make getting into a productive workflow state easier and more enjoyable!
10 Office Desk Decor Ideas
Whether you want to upgrade your work desk organization or simply refresh your home office desk decor, enjoy these 10 easy office desk decoration ideas for elevated practicality and productivity!
1. Personalize your workspace.
Customized and personalized stationery, notebooks and planners add a touch of personality and sophistication to your desk. Personal photos in decorative frames are an easy way to instantly boost your mood while adding a little love to your workspace. Mementos, art prints, decorative flourishes, go for whatever brings you joy without distracting or cluttering your desk!
2. Use plants or flowers to bring nature indoors.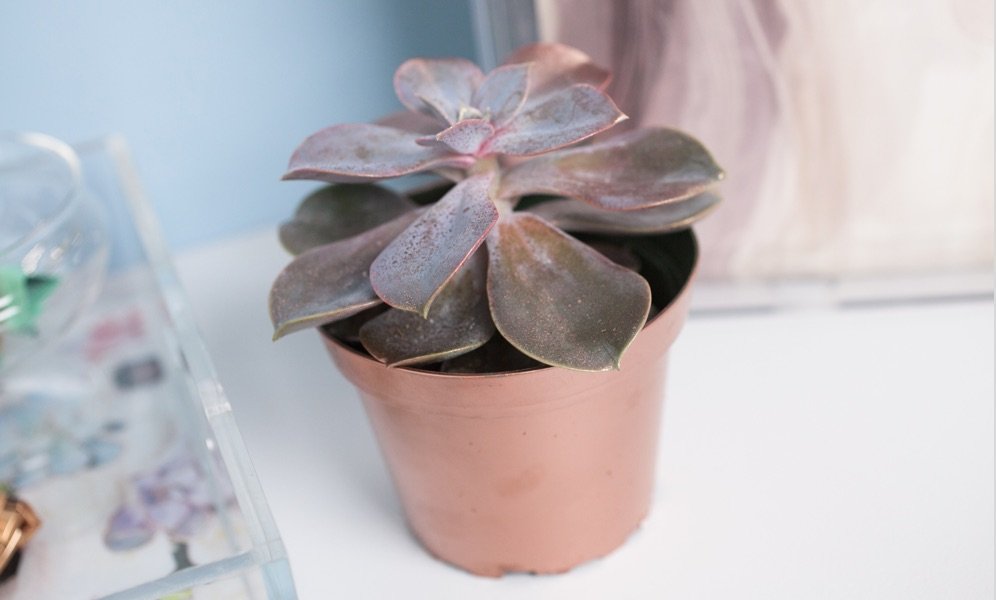 Adding living plants to your workspace or office decor can help reduce stress and increase a sense of well-being. We're not saying you need to add fresh flowers to your desk every day. Just add a pop of something green (and low-maintenance)! Buy a trio of succulents (they're very inexpensive and require little attention).
3. Organize with desk storage solutions.
Declutter your desk with space-saving storage solutions. When decorating your office desk, use space-saving office supplies to keep it clutter-free. From desk organizers to stand-up notepads, explore smart tools for keeping your work desk organized, decluttered, and stylish.
4. Incorporate art and inspiration.
We're all for desk organization; so, add some color coordination in there! From a custom planner or journal with a beautiful printed cover design to colorful writing tools, trendy desk organizers, and more – there are so many fun and functional ways to deck out your desk or home office!
5. Use lighting to set the mood.
Lighting around your desk is one of the most underutilized yet effective ways of setting the tone for your workspace. Bright lights and desk lamps tend to stimulate productivity while dimmer lights can help relax and increase creativity. Natural light, however, is the best workspace lighting for focus, creativity, energy, and mood. If working after sundown, consider using a daylight lamp to extend that natural light effect.
6. Add a Bluetooth sound machine.
When you're working on creative projects, silence in your work or office space is key for concentration. But when you need to create your own "silence" by blocking out ambient noise, distractions, and racing thoughts, turn on a white noise machine. Or, when it's time for a break or reset, choose relaxing ocean sounds to help you recharge your batteries.
7. Incorporate color to enhance your mood and productivity.
When it comes to decorating your desk, it's all about combining fashion with fun. Fashionable and functional desk accessories check all the boxes. Color coordinate pens and markers in designer desk organizers. Brighten your space with pen holders, paper sorters, and more that clear the clutter while adding dimension (and fun!) to your desk.
8. Create a cozy space.
One of the most important things to do when setting up your workspace is to create a comfortable working environment. This can include setting up a nice-looking desk area with a comfortable chair, a cozy and stylish sherpa throw, some photos and art on your walls, and maybe a candle for warmth and ambiance.
9. Choose a theme that inspires you.
If you need to increase productivity and creativity in your workspace, try decorating your desk with a theme that inspires you. Whether it's a floral theme, relaxing zen theme, bold color scheme, or artistic vibe, you can use your imagination to find the right theme that will motivate and inspire you.
10. Incorporate a calendar to help you stay on task.
From a desk calendar to a wall calendar, use this productivity tool to keep important dates, meetings, and appointments top of mind. Add a daily or weekly calendar function via a planner, notepad, or desk pad to prioritize your to-dos, stay focused, and boost productivity.
How Can I Make My Desk at Work More Comfortable?
The best way to make your desk more comfortable is to get a new chair. If you are working on a laptop, then that is all you need, but if you have a desktop computer, you should invest in a monitor stand and a separate keyboard tray. You can also adjust the height of your desk with risers or legs. These are especially useful if your chair cannot be adjusted high enough or low enough for your height. A wrist pad is also great for preventing wrist pain and carpal tunnel syndrome.
How Can I Make My Office Desk Look More Professional?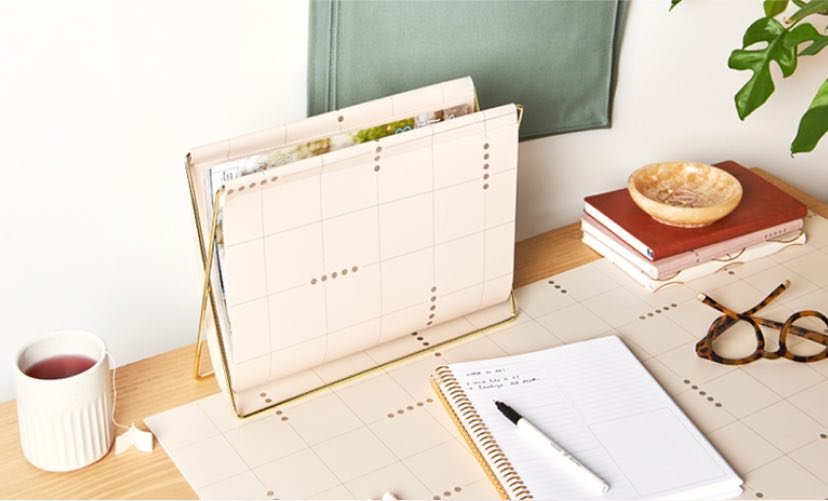 Whether you're in the office or at home on a Zoom call, your desk says a lot about you to your colleagues and boss alike. A quick way to make your desk look more professional is to eliminate the clutter and put everything in its place. Take it a step further by using coordinated desk organizers, desk trays, and pen cups. Then pull it all together with tasteful personal touches we talked about like a plant, artwork, or framed photos. The trick is to not overdo it. For that professional look, streamlined organization is key.
How Can I Make My Work-From-Home Desk More Functional?
In addition to keeping your desk tidy and organized, consider using a portable desk organizer to make your desk more functional (also great for hybrid workspaces).
If you have the space and equipment, you can also make your desk more functional with multiple monitors. By splitting up tasks across multiple monitors, we automatically break down complex problems into smaller to-dos, which can help increase productivity and creativity by up to 42%.
Explore fun and functional desk accessories to organize and decorate your desk for increased productivity, creativity, and inspiration!