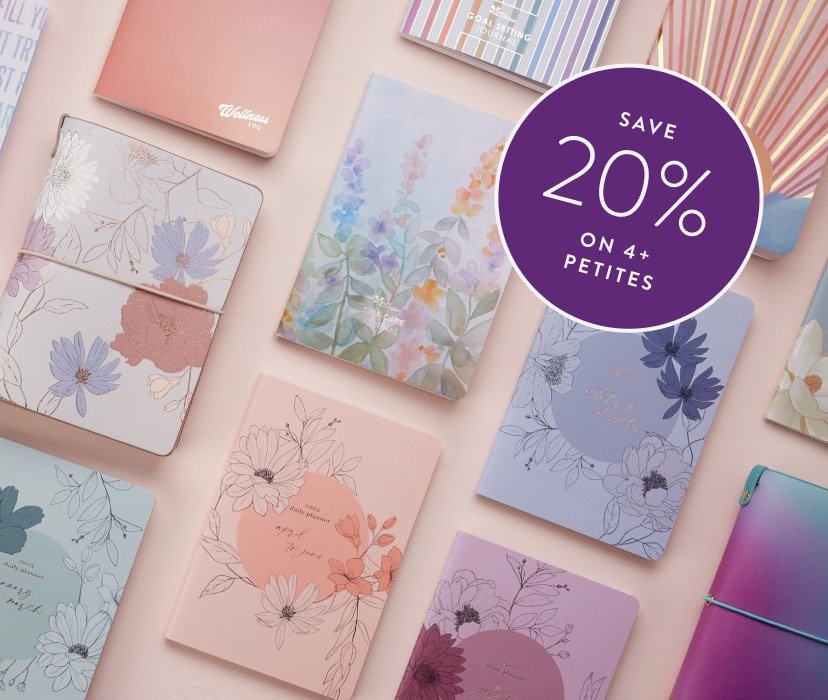 PetitePlanners + Folio System
Portable, goal planners for budgeting, wellness, meal planning, all the things! Add a stylish folio to keep it all together!
•

NEW Budget-Friendly Bundles: SAVE 20% with PetitePlanner Kits

•

NEW On the Go Folios: Carry up to 4 PetitePlanners

•

NEW Daily PetitePlanners & Specialty PetitePlanners for Budgeting, Pet Care, Travel & More

•

NEW Petite Journals & More
BUILD YOUR PERFECT PLANNING SYSTEM:
•

Choose Your Stylish Vegan Leather Folio (12+ Designs)

•

Choose the PetitePlanners & Journals That Fit Your Style & Needs

•

Carry On & Stay Organized On the Go!
Filters
Planning is personal, which means that planning tools can and should come in a range of sizes. If you are often on the go and need a small, lightweight planner that you can tuck into a purse or backpack, our PetitePlanners are ideal. Whether you need help with meal planning, travel planning, pregnancy planning, or just managing your day-to-day schedule, these planners get the job done without weighing you down.

PetitePlanners are softbound, stitched-binding planners that measure 5.7" X 8.25". While they may look like any other small planner, don't be fooled. These full-featured planners are available in 12 different formats, including a wellness planner, a budget book, and a gratitude journal. Each also includes an interior pocket for holding documents and a sticker sheet that you can use to call out dates, goals, and achievements.

Our PetitePlanner On the Go Folio Planning System takes things a step further by providing you with a convenient folio case where you can store and carry up to four PetitePlanners at once. This allows you to use separate planners for different goals while keeping them together for easy access. You can also change up planners in your portable folio anytime, making it the perfect system for portable, offline planning.