Wedding Planner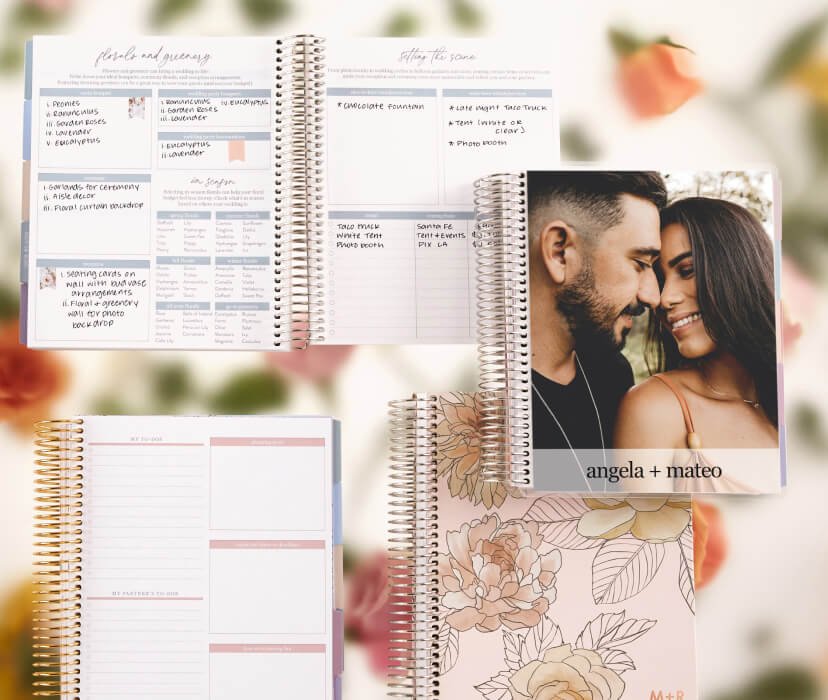 Thoughtfully designed with wedding checklists, tips, charts, and trackers to help you organize all your wedding plans—from wedding budgets to wedding guests, wedding vendors, and more.
•

NEW Interior & Exterior Designs

•

NEW Budget-Friendly Wedding Planning Bundle

•

Premium 80 Lb. Paper (Resists Ink Bleeding)

•

FREE Metallic Monthly Tab Stickers + Date Dots
BUILD YOUR PERFECT WEDDING-DAY PLANNER:
•

Undated Wedding Calendar Options: 12 or 18 Months

•

Choose Your Coil Color & Personalize Your Wedding Book Cover

•

Lay-Flat, Softbound Options Also Available!
LEARN MORE
Filters
Frequently Asked Questions
The best-selling Erin Condren Wedding Planner book is the perfect wedding organizer and to-do list for all your wedding-planning needs (from backyard weddings to destination weddings)! The ideal wedding checklist for brides (or the ultra-organized groom), bridesmaids, wedding guests, wedding vendors, and wedding budgets of every size. This custom wedding-day planner will help you organize all of your wedding plans -- from your guest lists to wedding vendors, wedding budgets, and every wedding checklist in between. Also perfect for coordinating wedding dates, bridesmaids, wedding events, and more. If you're stressed just thinking about wedding planning, an all-in-one wedding to-do list, calendar, and journal lets you stay on top of important dates, deposits, and confirmation details. When there's more written down on paper and less swirling around your head, you'll feel calmer and better prepared for the big event.

Available in both 12- and 18-month formats, the Erin Condren wedding calendar organizer incorporates features designed specifically for engaged couples. If you've already been struck by the inspiration bug, go for a personalized wedding book that matches your wedding theme! You can select your planner's color, pattern, and binding and even imprint your names across the front. Use the planner's "I Do" list section to stay on track of what you need to get done and when. Monthly spreads allow you to check key dates at a glance, and a helpful folder gives you a place to store invoices, brochures, and business cards. Add stickers and a snap-in bookmark to remind you of important dates and vendor appointments.

The best part? Your planner also provides a scrapbook section for preserving treasured memories. One day your wedding-planning book will be a cherished keepsake that lets you relive those special months leading up to the big day.

You may also like a Travel Journal and Vacation Planner for all the couple's trips you'll enjoy together, a Meal Planner for easy, healthy meal prep for you and your partner, and a Fitness Planner so you can look and feel your best for the big day and every day of married life!