Desk Accessories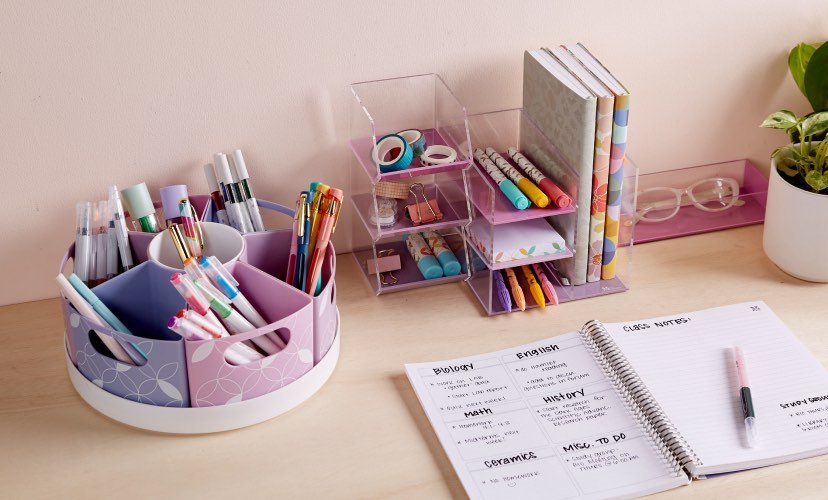 Declutter, organize & accessorize your desk!
•

Free Up More Space with New Desk Organizers, Mats & Trays

•

Extend Your Workspace with Wall Calendars & Wall Organizers

•

Refresh Your Desk with Quality Office Supplies, Desk Decor & More!

•

Upgrade Your Desk with New, Fun & Functional Desk Accessories!
LEARN MORE
Filters
The Erin Condren designer Desk Accessories Collection takes desk organization to the next level—at home, in the office, even classrooms and dorm rooms! Full of high-quality, beautiful, and multi-functional desk organizers, desk storage, desk decor, and more. It's designed to help you keep your WFH desk, home office, hybrid workspaces, and study spaces stylish, organized, and clutter-free. Our desk accessories are perfect for keeping office supplies and school supplies such as pens, push pins, papers, planners, books, and more organized and neatly stored so you can find what you need when you need it. Our stand-up products like stand-up padfolios, book holder planner stands, and vertical acrylic organizers help free up more desk space without sacrificing access to your school or office supplies. Enhance your desk organization and WFH setup with our best-selling planners and calendars, writing tools, sticky notes, notebooks, and notepads. Elevate your desk organization game and make your workspace your happy place (no matter where it is) with Erin Condren desk accessories, productivity tools, and full line of organization best sellers.