Daily LifePlanner™ Duo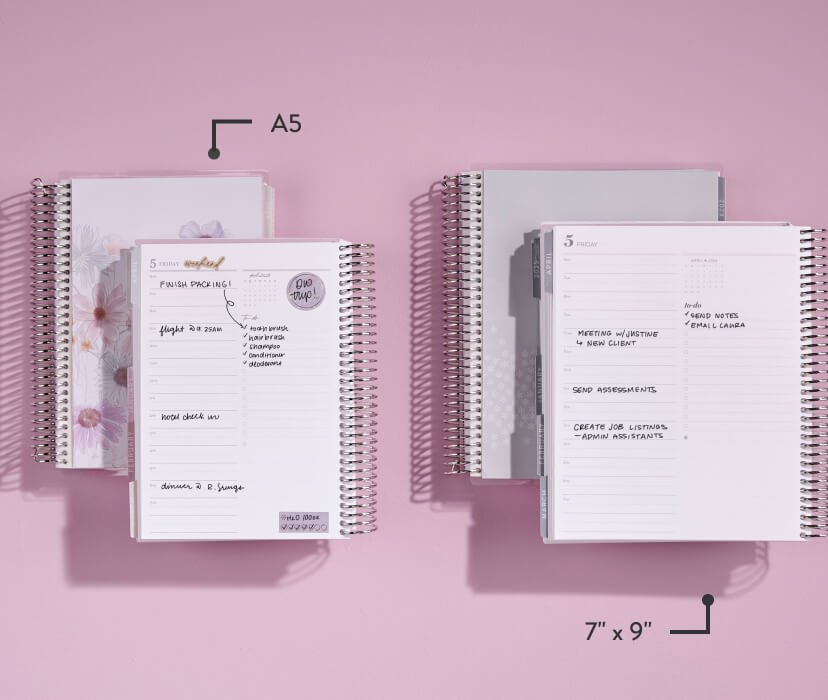 Simplify and enrich your life with our daily EVERYTHING organizer for only 22¢/day.
It includes 12 months of hourly, daily, and monthly planning, plus weekly note pages, productivity to-do lists, goal setting, and more! It's the ultimate all-in-one day planner.
•

80 Lb. Mohawk Paper (Resists Ink Bleeding)

•

12-Month 2023-2024 Dated Monthly Calendars

•

A Set of 2 Six-Month Daily Planners (12 Months Total)

•

Includes 4 Sticker Sheets, 1 Personalizable Cover & 1 Non-Personalizable Cover
BUILD YOUR PERFECT DAILY PLANNER:
•

Choose Your Planner Design, Custom Cover & Coil Color to Fit Your Needs & Style
LEARN MORE
Filters
Frequently Asked Questions
Busy people often need the detailed tracking that only a daily planner can provide. Whether you're trying to schedule meetings with clients, picking the kids up from soccer practice, planning your next book club meeting, or setting reminders for important dates, daily planners can help you stay on track and keep your commitments.

Think of a daily planner as a daily calendar that you can carry around with you. At Erin Condren, we've adapted our popular LifePlanner™ into the Daily LifePlanner™ Duo to better serve your needs. It comes in two volumes, each covering six months of the year. This keeps the planner to a manageable size while providing you with plenty of space for the detailed notes and tracking you love. We even include separate weekend planning pages!

We also make managing your daily agenda fun with our customization options. Choose between A5 or 7" x 9" daily planners, interchangeable covers, and the color of your coil binding. Personalize the front cover of your Daily LifePlanner™ Duo with your name or text of your choice. Further customize your daily calendar with snap-in accessories, such as to-do lists and bookmarks, stickers, sticky notes, and our range of writing tools, including pens and colorful markers. And if you prefer to plan by the week, we recommend our best-selling weekly LifePlanner™, which combines the functions of a monthly calendar, weekly checklist, and journal! For big-picture planning, you may want to try our Monthly Planner, which is the ultimate calendar and notebook combo, perfect for light planning, work, and special projects.