Lifeplanner™ Hacks & Planning Tips
There's a reason the LifePlanner™ is a best seller with over 3 million sold. In addition to our signature spiral weekly LifePlanner™, the full collection offers multiple planning layouts, planner sizes and binding options, new designs, planner accessories, and more ways to plan!
Whether you're new to planning or a planner pro; love vivid colors or subtle neutrals; want to plan by the hour, day, or week, there's something for everyone! Each custom LifePlanner™ is designed to help you get organized, reduce stress, and achieve your goals, leading to a more joyful, meaningful life through organization.
"Using the Erin Condren LifePlanner™ is an essential tool for preparation and organization of our days, months, years, and life."
– Laquisha Hall, Artist & Advocate, @confidentcanvas
Explore the full LifePlanner™ Collection to see all your planning possibilities.
There are so many ways to customize and use your planner to stay productive, manage your time and have fun at the same time. Here are a few LifePlanner™ hacks and planning tips to get you started.
>LifePlanner™ Hack #1: Jump right in.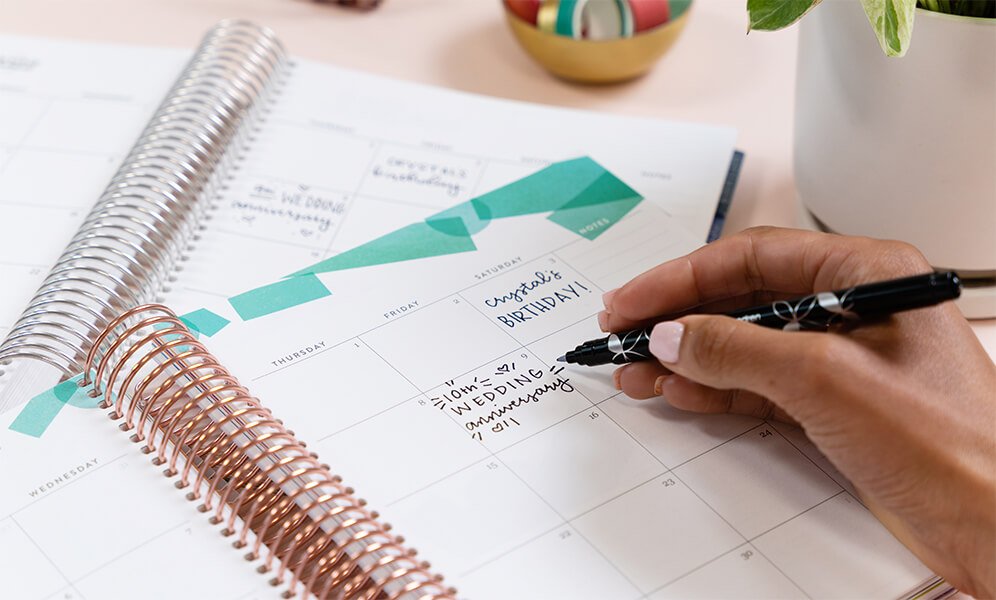 Starting is the first step towards setting yourself up for a more organized, productive life. Start small and set up your new LifePlanner™ by transferring important information from your old planner and digital calendar to your new one (events, appointments, birthdays, etc.). Make it fun by using washi tape and stickers to make priority dates pop. Don't forget to include downtime and self-care in your schedule!
>LifePlanner™ Hack #2: Make planning a habit.
Set aside 10-20 minutes for yourself to plan ahead. It helps if you plan at the same time every day and/or the same day every week. However you like to plan, make it a habit so you can consistently benefit from its positive impact on your mood, productivity and life!
>LifePlanner™ Hack #3: Make it personal.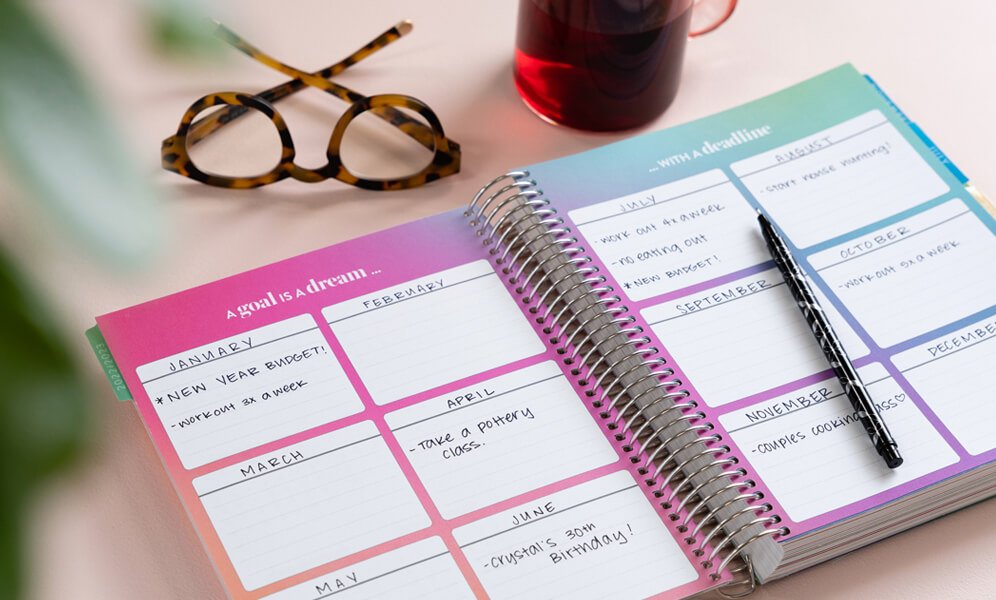 There are virtually countless ways to use the spread of customizable boxes in your LifePlanner™. You may want to use them to set monthly goals or intentions, log reading for book clubs, track fitness milestones or record memories and silly things that kids say! Whatever you do, make this section work for you!
>LifePlanner™ Hack #4: Make a plan, but stay flexible.
Getting organized when the whole world is in a state of chaos can feel overwhelming, but it doesn't have to be. Whenever things don't go as planned and you feel flustered, remember you can always make an adjustment! Always make a plan—it helps you reduce stress, improve productivity and reach your goals—but stay flexible. When circumstances shift, adjust your plan, not your goals.
LifePlanner™ Hack #5: Use sticky notes for floating plans and pop-up tasks.
When you make a planner mistake or have to move things around in your schedule, use sticky notes. They make it easier, faster, and neater to adjust plans, events, meetings, and all those floating to-dos.
Take your sticky note game to the next level by creating your own color-coding system based on priority level, time of day (morning, afternoon, night), or type of to-do (for work, family, or yourself).
LifePlanner™ Hack #6: Customize your planner to fit your life.
Different LifePlanners offer different customization features that you can tailor to fit your planning style and schedule. With spiral LifePlanners, you can personalize your cover (and you can swap those that are interchangeable to change the look of your book), choose your interior design, coil color, and more.
With LifePlanner™ A5 Ring Agendas, you can rearrange your planner pages to fit your style and add on inserts like additional planning pages, note pages, and more.
You can also enhance your planner with accessories that clip into your planner to support your evolving planning needs. From productivity dashboards that are double-sided, wet-erase, and reusable to sticky notes, bookmarks, and more.
>LifePlanner™ Hack #7: Know when it's time to try a new planner layout.
If you've recently changed careers or taken on added responsibilities and feel overwhelmed or less in control of your schedule, don't give up. Try a new planner layout that better suits your new planning needs. LifePlanner™ layouts range from hourly to daily to weekly, with multiple options for weekly planning (see them all here).
For example, if you're used to weekly planning in a linear or horizontal layout, but you feel it's not as effective or fulfilling as it used to be; try a vertical weekly layout. Experiment with reshaping your linear, full-sentence plans into a vertical, listicle style (or vice versa). Restructuring how you plan can restructure your perspective and help you discover a new way to organize that helps you live your best life.
LifePlanner™ Hack #8: Make the most of the white space in your planner.
Whether you use a weekly or daily LifePlanner™, leverage the white spaces to decorate your planning pages or use them for reminders, notes of encouragement, to-do lists and more. Use washi tape and stickers to make dreaded tasks seem more fun and doodle, draw or sketch in the margins to relieve stress and stay on task!
LifePlanner™ Hack #8: Use the "write" writing utensils.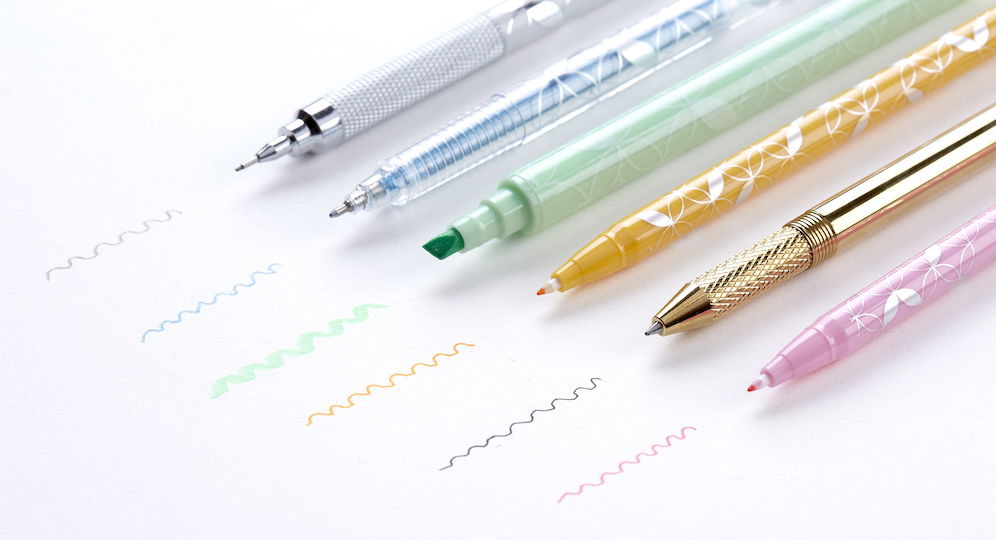 Pens, pencils, markers, highlighters … which are best for planning? If you're new to planning or your schedule changes often, plan in pencil. If you love the contrast and confidence of classic black ink, use black fine-tip or dual-tip markers.
For color-lovers, color-coders, and creatives, multi-colored gel pens, markers, and highlighters are the way to go. And for avid list-makers, our Dual-Tip List Markers™ will bring you the planner peace you seek.
If you're not sure or you love experimenting with all kinds of pens, pencils, markers, and highlighters, explore our extensive writing tools collection and see what feels "write" to you!
Shop our full LifePlanner™ Collection to find your ideal planner or to try a new layout.