Best Self-Care Tips and Tools + How to Create an Ideal Self-Care Routine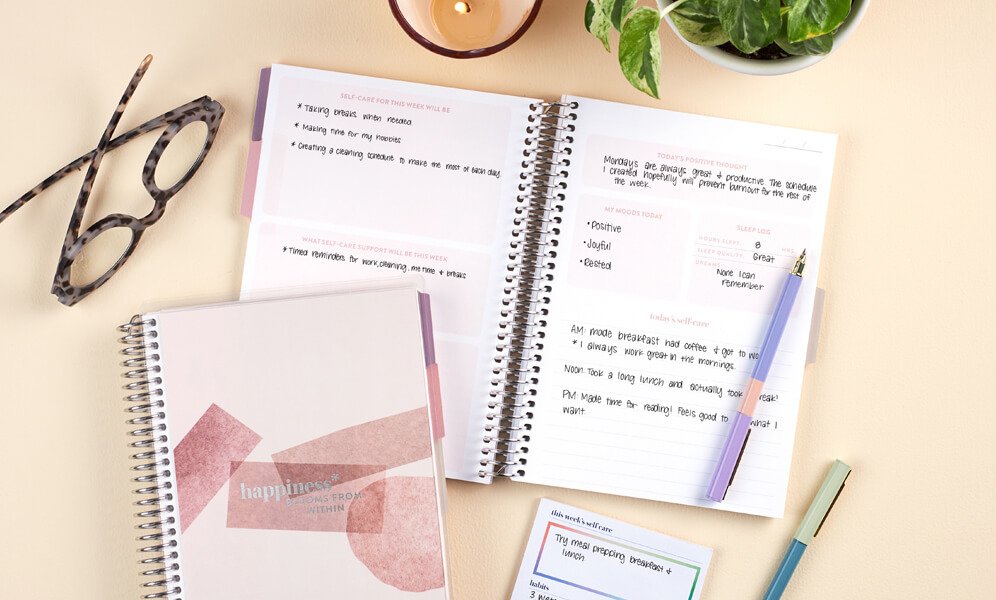 Now more than ever, self-care and stress management are essential to our physical health, mental health, and overall well-being. That's why we've collected our best self-care tips, including new essentials for 2024 self-care + we'll show you how to create your ideal self-care routine. Now is the time to get the tools you need to prioritize your health and wellness so you can renew your energy, strength, and joy!
Best Self-Care Tips and Tools
Use a Prompted Self-Care Journal.
Did you know that journaling can help reduce stress, increase mindfulness, and improve your mood? Guided journaling (or prompted journaling) is a great way to relax before bedtime for a better night's sleep. It's also an excellent way to jumpstart emotional self-care, mindfulness, and creativity, anytime, anywhere. Learn more about what is a guided journal + why you need one.
Try prompted journaling before you go to bed or the next time you start to feel overwhelmed or need a little "me time." Top prompted journals for self-care include the Self Care Journal and the A5 Self Care Notebook.
Use Habit Trackers for Self-Care and Wellness Goals.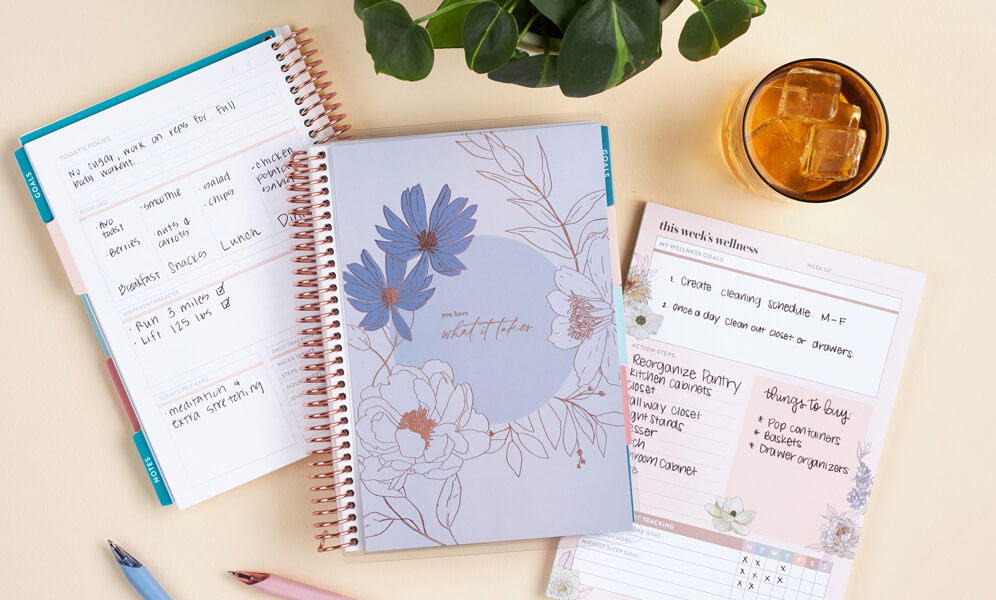 To change your habits, it helps to understand them and how they're triggered. Start by tracking your habits with habit-trackers, a dedicated wellness log, or wellness planner so you can turn your health and wellness goals into a reality.
These self-care tools help you not only understand habit patterns and triggers, but they also help pinpoint what's working and what's not, track your progress, log results, and set and achieve your wellness goals.
Boost Your Self-Care and Mood with Daily Gratitude.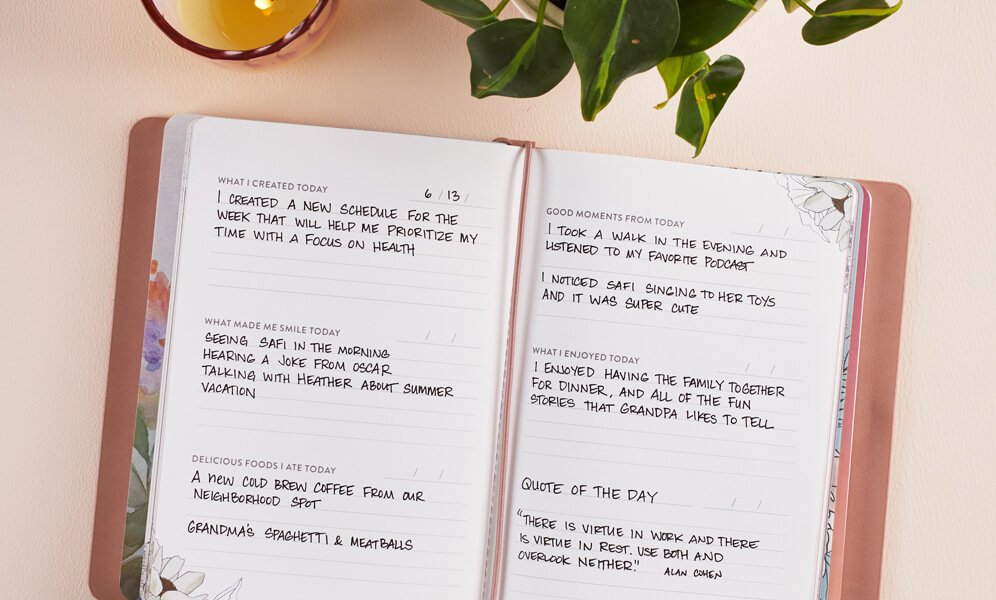 Psychology Today reports that practicing gratitude can improve mindfulness, your mental and physical health, even your relationships. Learn more about how to start a gratitude journal and unlock the power of positivity
.
Develop an attitude of gratitude and enjoy its stress-busting, health-boosting benefits using a gratitude journal or gratitude notebook. Both feature guided prompts, inspirational quotes, and reflection spreads that make it a healthy part of any self-care routine.
Reduce Stress and Increase Self-Care by Planning on Paper.
Reducing stress plays a big part in self-care. What if we told you that you can help reduce stress with just two things: pen and paper? You read that right! Planning on paper is one of the most effective stress management techniques. It feels good too!
Try using a paper planner, goal-setting journal, or even a notebook to plan out your day or week, and see how it can reduce stress while increasing your productivity, organization, and motivation!
Need help getting started? Check out How To Start Planning.
Prioritize Self-Care by Scheduling "Down Time" in Your Calendar.
Take the time you need to take care of yourself. In this busy climate, that's way easier said than done. One way to ensure you get a little more time for yourself is to schedule it in your planner or calendar. That way, no matter how busy your day gets, you have time set aside to rest, reset, and recharge. Learn more about how to use a calendar for time management and plan for smoother, calmer, more productive days!
Reduce Noise Pollution in Your Home for a Better Self-Care Environment.
You may be surprised by how many times we alarm ourselves or fatigue our senses with all-day, intermittent alerts, notifications, timers, and more. This is especially important if you're working from home or in a bustling environment. Consider choosing time windows to silence phone notifications, alarms, kitchen timers, and unnecessary sources of noise that can undermine your concentration, inner calm, and ambient peace. If you rely heavily on timers, try unplugging and using simple, tranquil timers like an hourglass instead.
How to Create Your Ideal Self-Care Routine
Daily life can be chaotic, which is why creating an intentional self-care routine and finding little moments of mindfulness each day can make all the difference (for your peace of mind, health, and productivity).
Mindful Planning for Blissful Days
Since we've established the powerful, stress-busting benefits of planning, be sure to take advantage of it by using a thoughtfully designed planner to organize your days, set your intentions, reach your goals, even journal for your mental health, and track your daily well-being.
Slowing down a moment to plan out your day with intention can infuse your routine with purpose and clarity (and a surprising mood boost!). Learn more about the surprising benefits of planning + how to use a planner to manage stress.
Hydration and Nourishment for a Happy Body
Nourishing your body is a fundamental act of self-care. Sip from your favorite water bottle regularly throughout the day, infuse your water with refreshing fruits, and indulge in happy, healthy snacks that fuel your well-being. Embracing hydration and nourishment is a simple yet profound way to show love to yourself. Get more tips for a healthier lifestyle.
Journaling: Unveiling Your Inner World
Beyond mere blank pages, journals beckon you to explore your inner thoughts, dreams, and more. Incorporate journaling into your routine to foster self-discovery and bring a sense of calm to your mind. Allow the pages to capture your imagination, inspire your creativity, and offer you a quiet space for reflection and relaxation. Learn more about how to start mindfulness journaling.
Creative Escapes: Nurturing the Soul
Embrace the power of creativity as a form of self-care. From adult coloring to sketching and planning (a creative outlet any planner enthusiast can attest to!), design a custom notebook to fit your needs and let your imagination flow freely. Engaging in creative pursuits is a delightful way to nurture and express your inner self.
Embracing Tech-Free Moments: Unplug for Inner Peace
Take reducing noise pollution in your home one step further and unplug completely to enjoy peaceful, tech-free moments in your self-care routine. Designate specific times to disconnect from electronic devices, allowing your mind to unwind and recharge. Whether it's a quiet cup of tea, a leisurely stroll, or a few minutes of mindful breathing, these tech-free interludes offer a precious opportunity to connect with yourself and foster inner peace that tends to get drowned out by daily digital noise. Make it a conscious choice to embrace the simplicity of the analog world, cultivating a deeper sense of tranquility in your daily life.
Quality Rest and Sleep: Building Your Sleep Sanctuary
We all know a good night's sleep is foundational to well-being, but the more we learn about sleep, the more it's apparent how critical it is to our physical and mental health (on a daily basis). Set yourself up for daily success by establishing a bedtime routine that signals relaxation.
From getting sunlight and exercise during the day to reducing your exposure to blue light after sundown, setting aside a wind-down time to relax and prime yourself for a sound night's sleep, journaling before bed, even using your favorite sleep accessories like cozy blankets and sleep masks. Transform your sleep space into a sanctuary, promoting restful and rejuvenating nights (it just might become your favorite part of each day!).
Consider each day like a brush stroke in the portrait of your life. The quality of your daily self-care directly affects your picture of health and the overall quality of your life. We hope you use our self-care tips and tools to prioritize yourself and create a self-care routine that is uniquely yours (and brings you as much joy as it does peace, health, and productivity).
Keep in mind, crafting and maintaining the best self-care routine is an ongoing, evolving process – so be patient with yourself and leave room for adjustments, as no two days are the same. Make self-care your priority and make it easy and joyful with our full line of self-care tools. Here's to your new journey of self-discovery, health, and wellness!
Shop now. Pay in 4.
Always interest-free.
You must be over 18, a resident of the U.S. and meet additional eligibility criteria to qualify. Late fees may apply. Estimated payment amounts shown on product pages exclude taxes and shipping charges, which are added at checkout. Click here for complete terms. Loans to California residents made or arranged pursuant to a California Finance Lenders Law license.
© 2020 Afterpay
Pay in 4 interest-free payments
No impact on credit score and no late fees.
Available for purchases of $30 to $1,500.
Choose PayPal at checkout to pay later with Pay in 4.
Complete your purchase with a 25% down payment.
Use autopay for the rest of your payments. It's easy!
Pay in 4 is available to consumers upon approval for purchases of $30 to $1,500. Pay in 4 is currently not available to residents of MO or NVMissouri or Nevada. Offer availability depends on the merchant and also may not be available for certain recurring, subscription services. When applying, a soft credit check may be needed, but will not affect your credit score. You must be 18 years old or older to apply. PayPal, Inc.: Loans to CACalifornia residents are made or arranged pursuant to a CACalifornia Financing Law License. GAGeorgia Installment Lender Licensee, NMLS #910457. RIRhode Island Small Loan Lender Licensee. NMNew Mexico residents:
Find more disclosures related to Pay in 4.