10 Tips for a Healthier Lifestyle
Whether you're sticking to your New Year's resolutions or trying to achieve year-round health and wellness goals, here are 10 actionable tips to help you design a happier, healthier lifestyle you love.
1. Climb, baby, climb!
That's right, take the stairs. If you're able (and whenever feasible), avoid elevators and escalators. It's a small change with big benefits that will give you a quick burst of energy and help you make your way to a healthier, fitter you, one step at a time.​
2. Find an accountability buddy.
Workout with friend, in person or virtually, to keep yourself accountable, motivated, and on target. It's a smart way to stay fit while getting your social fix!
3. Use habit trackers to measure your progress and stay motivated.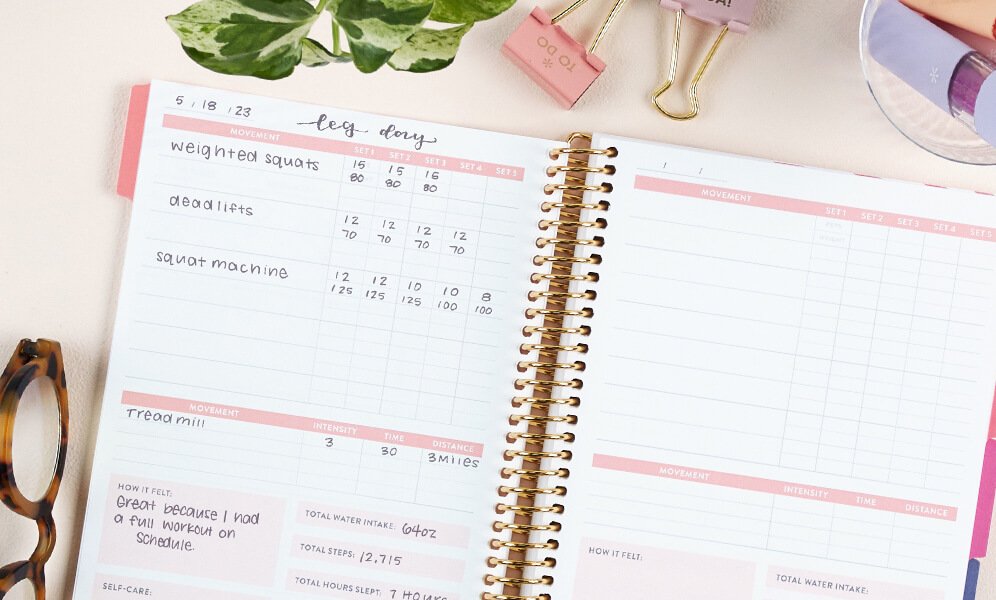 An effective way to build healthy habits is to use a habit tracker. Whether you create your own tracker in a notebook, use a dedicated wellness planner or fitness planner, or you use an app, habit trackers can be helpful tools in creating your new, healthy lifestyle, one healthy habit at a time.
4. Plan small, non-food-related rewards.
Reward yourself with something other than food! If you crush that test, nail that interview, or simply survive the work week, plan a fun treat like a stress-busting bath or new organization accessories for your home or office as a fun and functional reward!
5. Swap soda for water and tea.
Exchange that daily carbonated, sugary beverage for water or tea. Whether you're making spa water at home with fun fruit enhancers or brewing a cup at the office, this quick switch can make a long-lasting difference!
6. Use a meal planner before shopping so you have healthy foods on hand.
It's harder to make time to make healthy food choices at the last minute when you're both tired and hungry. Hack your hunger while saving money with a meal planner. On Sundays, or your favorite day to plan for the week ahead, organize your weekly menu and grocery list so you have healthy food choices lined up and a meal plan that's easy to follow. Bonus: save time by making enough for healthy and hearty lunch leftovers!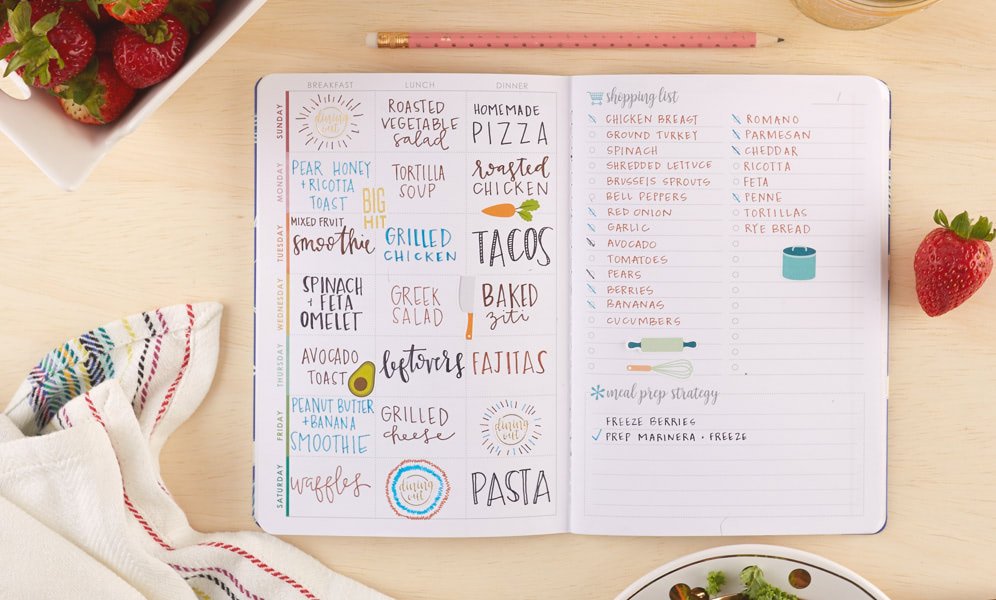 7. Carry healthy snacks.
Write out a grocery list of healthy snacks to pack and carry with you on the go so you're less likely to make impulsive, less nutritious choices! Fruits, veggies, trail mix, and the like are healthy, tasty alternatives to vending machine munchies.
8. Park farther away from building entrances for added steps.
Resist the temptation to take the first spot outside the entrance to your office, local stores, and more. Parking farther away ensures you add more steps to your daily total! (Plus, you'll likely save time by avoiding cruising for a coveted close spot.)
9. Stop eating after 8 pm.
If possible, cut down on late-night snacking by eating an earlier dinner and not eating after 8 pm. Not only does this allow your body to burn fat while you sleep, but it can also prevent heartburn and indigestion!
10. Practice daily self-care and gratitude.
Whether you love to start your day with mindfulness meditation or you set an alarm at work to take some "me time," don't forget to schedule time to prioritize your self-care.
Self-care doesn't need to be a big project or lofty goal; make it a part of your daily routine until it becomes automatic. From setting your daily intentions each morning to journaling in a Gratitude Notebook each night, small, healthy habits can add up to a fuller, healthier lifestyle.
Ready to start building healthier habits? Discover guided journals for mindful, organized, healthy living.