Stickers
FUN & FUNCTIONAL STICKERS FOR PLANNING & DECORATING
• Custom Stickers for Your Routines & Events
• Designer & Collectible Sticker Books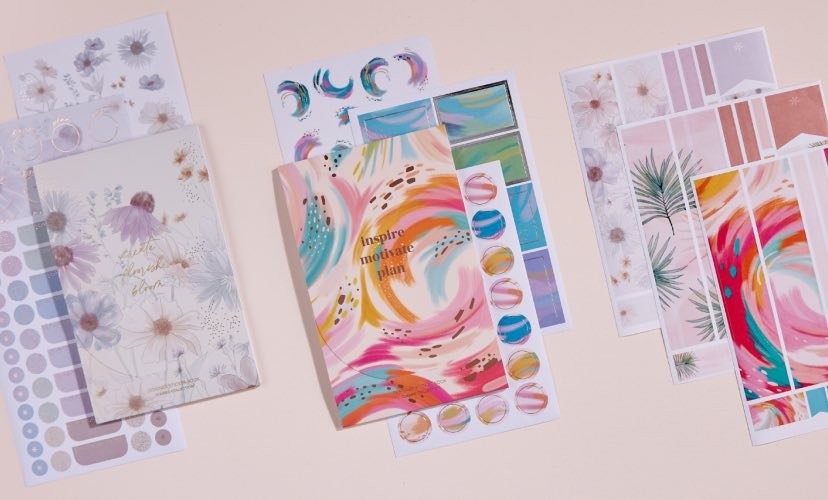 Filters
Frequently Asked Questions
We have a large variety of planner stickers that are perfect for adding the right pop to your plans. Shop our pretty planner stickers, functional stickers, inspirational and seasonal stickers and more. View our inspiration center for more examples on how to use stickers in your planner.
Keep your planner stickers organized with our sticker albums, planner folios, desk organizers, sticky pockets, storage solutions, or simply store your stickers within the pockets of your favorite Erin Condren planner or notebook. We have many options to help you organize, protect, store, and display your planner stickers, including our pre-curated planner sticker books!
You can visit one of our three store locations in Austin, TX, Fairfax, VA, or Irvine, CA to purchase planner stickers, decorative stickers, custom stickers, sticker books, and other planner accessories to keep you organized from home to work, the gym, on vacation, and everywhere in-between. While you visit, join our virtual and in-store workshop events to help you stay organized and increase productivity. Discover the latest events and products at an Erin Condren store near you!
Stickers aren't just for kids! Our huge selection allows you to express yourself, mark dates, and take your organization and planning skills to the next level. Use our planner stickers to call out special dates, mark achievements, track goals, and celebrate special occasions. You can add them to virtually any section of your planner or notebook! If you prefer a freestyle approach to organization, our stickers still work great in a lined, grid, or blank notebook or journal. Our calendar stickers allow you to add a pre-printed calendar to any notebook page, so you can track dates and goals with plenty of blank pages in between. Choose from a range of themes, including hand-painted artwork, signature designs, and fan-favorites like Wonder Woman, Star Wars, and Hello Kitty. You can even enhance your planner or notebook with designer stickers matching our signature patterns and designs you'll see only in our planners, notebooks, and journals. Have a specific journaling project in mind? We have stickers for wellness journals, travel journals, gratitude journals, and more, so you can always select a sticker with a purpose. If you need a way to make chores, habit tracking, or budgeting more fun, we have stickers for that, too! Mix and match themes, create custom stickers or choose one pattern across the board to build a beautifully coordinated collection. Not sure where to start? Begin by perusing our wide selection, and remember to get creative and have fun!