How To Use Stickers In Your Planner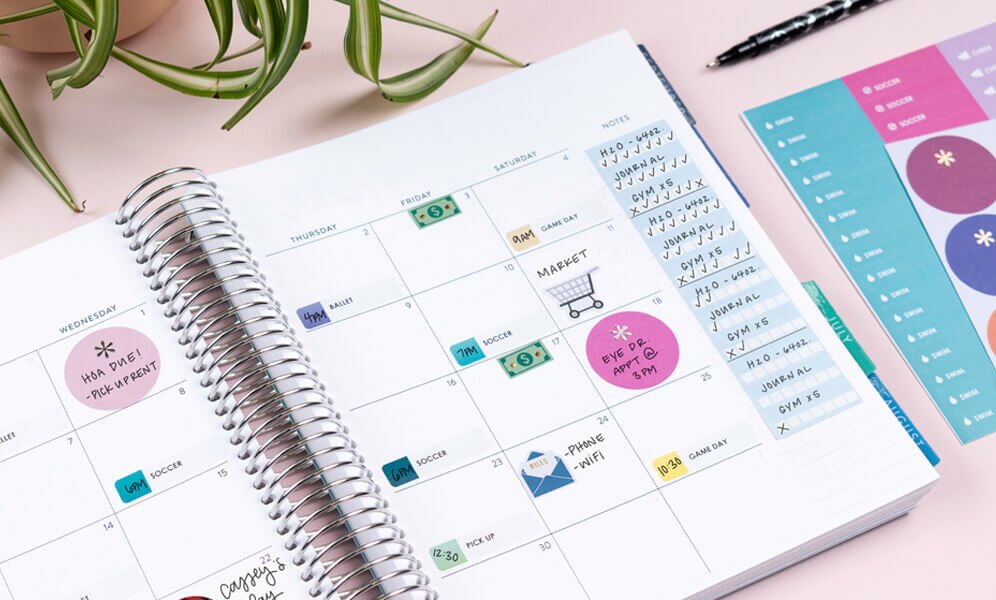 Here are our top tips for how to use planner stickers and find your unique sticker style! We'll guide you through all of the top Erin Condren stickers and show you how to use them based on your organization (and decoration!) needs.
First, you'll want to develop a sticker strategy!
To do so, simply ask yourself how you want your stickers to work for you? Do you want them to add extra pops of color to your planning? Do you want them to decorate blank spaces on your pages? Need to hide planner oopsies? No matter what your sticker strategy is, we have all types of stickers for all kinds of reasons (and seasons)!
1. Sticker Starter Pack
We like to think of our Classic Sticker Books as perfect starter packs for new sticker enthusiasts! These must-have sticker books feature colorful, high-quality stickers in an assortment of sizes, quotes (the motivational quote stickers fit perfectly in weekly vertical and horizontal LifePlanner™ spreads!), metallic foil, functional shapes and flags, and dimensional doodles! It's your one-stop sticker shop!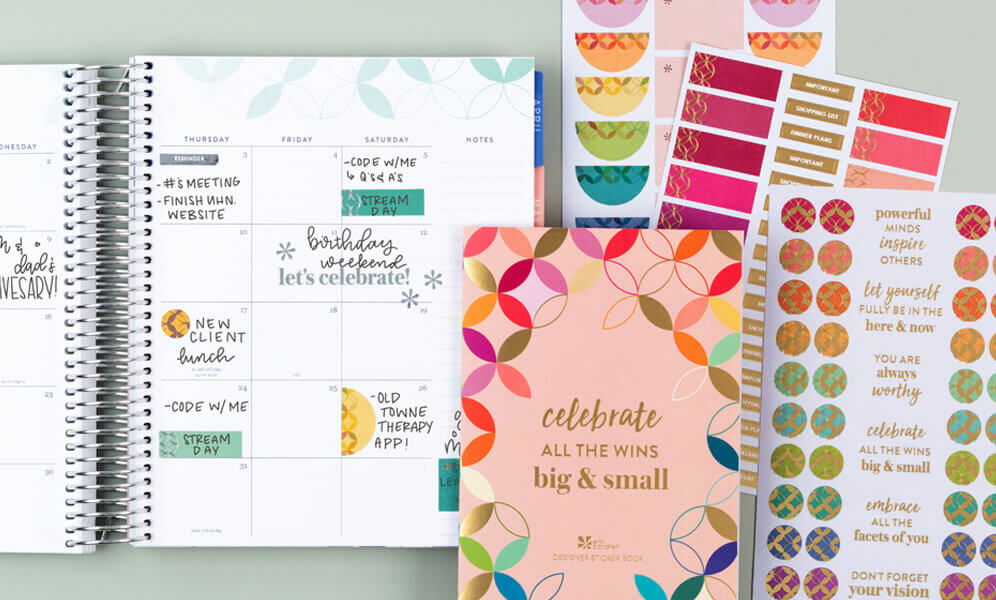 2. Decorative & Pretty Planner Stickers
We love pretty, playful, and practical stickers that are perfect for adding a pop to your plans! Shop thousands of colorful, designer stickers and brighten up any blank planning space!
3. Functional Stickers
Planner stickers and calendar stickers (also referred to as functional stickers) are a great tool for color-coding your plans, marking important dates and tasks, and more. They come in a variety of formats, from blank flags and circles to write and highlight what you like to pre-printed stickers with planning themes (e.g., due today, reminder, meeting, etc.).
A great example of functional stickers are school stickers. From class subject stickers to teacher planner and student planner stickers, these are colorful tools that make organization easier and more fun.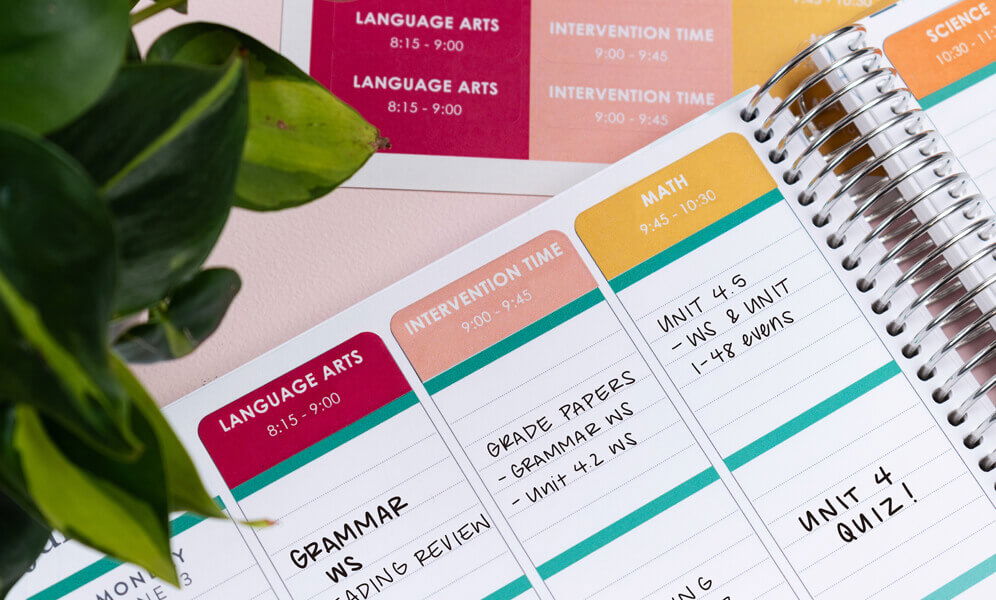 4. Custom Stickers
If you're juggling multiple schedules and/or both personal and professional goals in one planner, personalization is the way to go! With custom stickers, you can save time while streamlining (and color-coding) an organization system that fits your schedule and style. Best-selling custom stickers include event stickers, routine stickers, productivity stickers, and more. Best of all, they're designed to fit conveniently in your favorite Erin Condren planner.
Event Stickers
Customize your own set of event stickers so you can easily juggle multiple activities! You can create a set of stickers to help organize your family schedule (e.g., stickers for soccer practice, pet groomer, date night, etc.); you can block out work commitments (e.g., client meeting, reports due, conference); you can even carve out some time for yourself (e.g., self-care, book club, unplug). Whatever you've got going on, make it easier with customizable stickers!
Routine Stickers
Routines are an important part of managing stress, staying organized, and reaching your goals. Keep track of your routines at any time of day with routine stickers. Customize these handy stickers to match your unique routines, or order the default set with customer-favorite routines. No matter what you choose, you can't lose!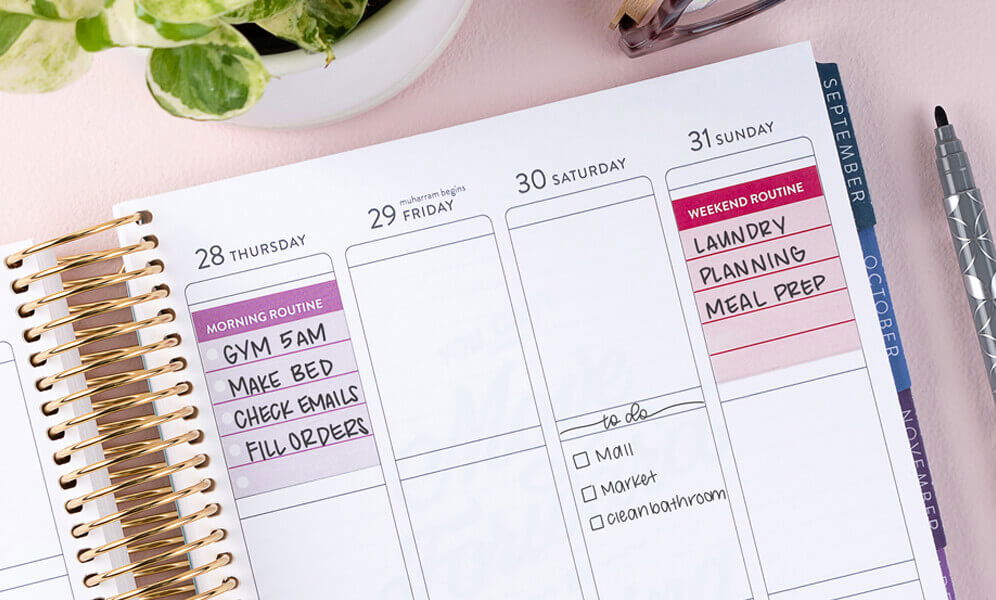 Productivity Stickers
With so many ongoing notifications, online distractions, competing priorities, and global shifts, it's hard to stay focused and productive! A simple productivity hack is using productivity stickers in your planner. This is a color-coded, easy, and fun way to remind yourself of your daily priorities. You can even customize these stickers to get as specific as you like.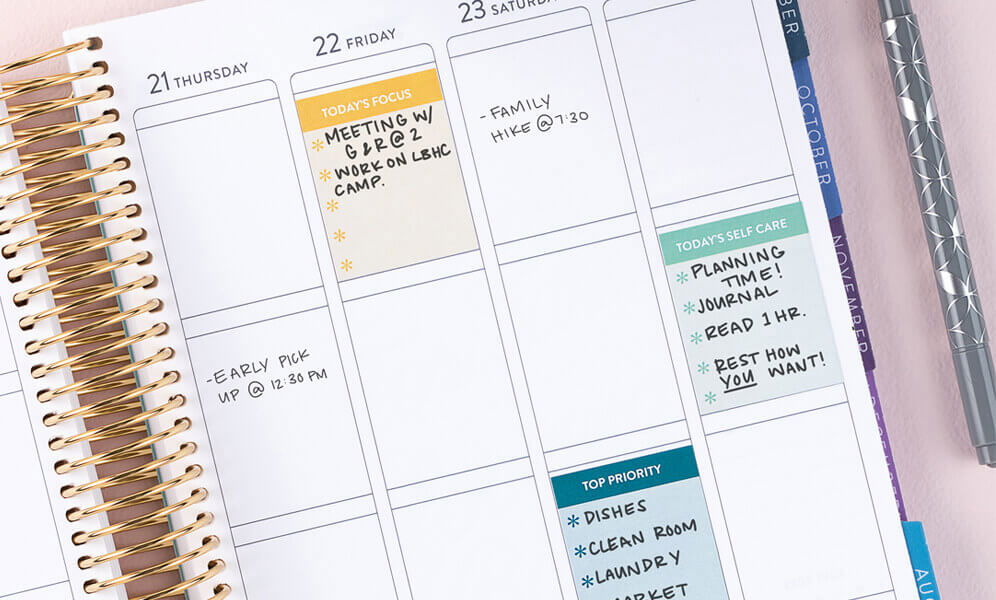 Habit Tracker Stickers
Trying to develop and stick to a routine? Build your own sticker schedule with our Habit Tracker Stickers! Customize your colors and select the habits you most want to stay on top of! Great for kids ("make the bed"), or as a way to monitor your own success ( "drink 8 glasses of water" or "go to the gym"), these stickers are exactly what you make them!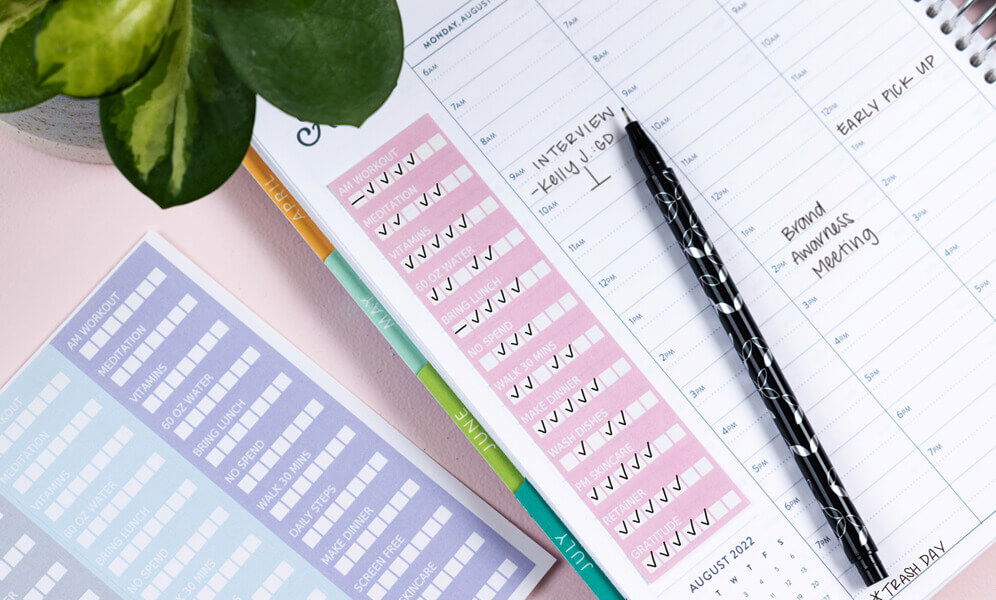 Photo Stickers
Customize your own photo stickers for managing multiple schedules and teams (from families to work groups, sports teams, sororities and fraternities, and more!) or for visual memory keeping! Photo stickers are also a fun and functional tool in the classroom (for reward charts, attendance, classroom duties, and more).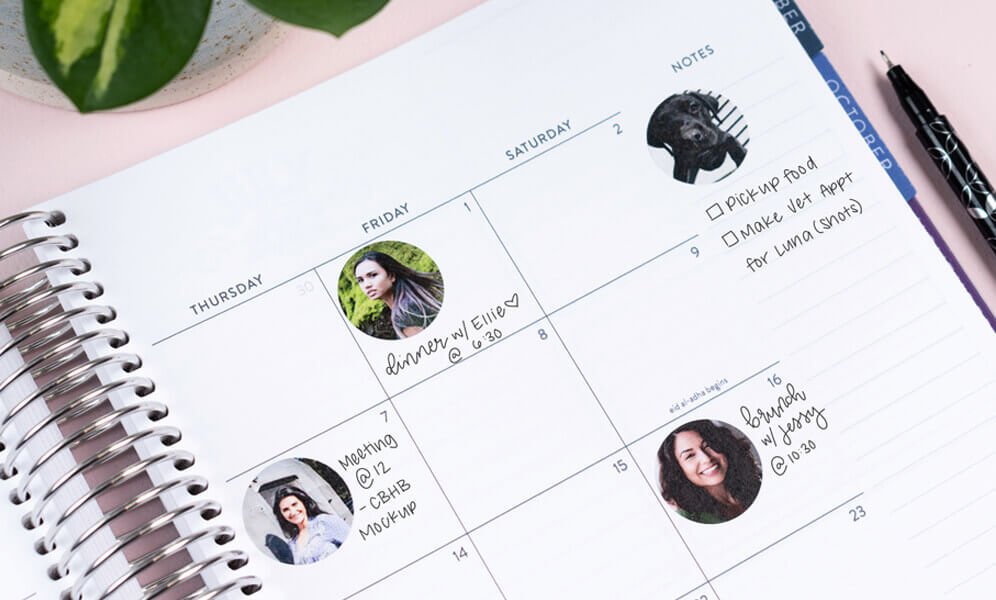 5. Collectible Stickers
If you have a sticker collection (or know someone who does), then you'll love our oh-so-collectible stickers and sticker books featuring Hello Kitty and Friends, Star Wars, and other fan favorites! They feature a mix of popular characters, fun sayings, and functional planner stickers, which makes them perfect for fans and sticker collectors of all ages.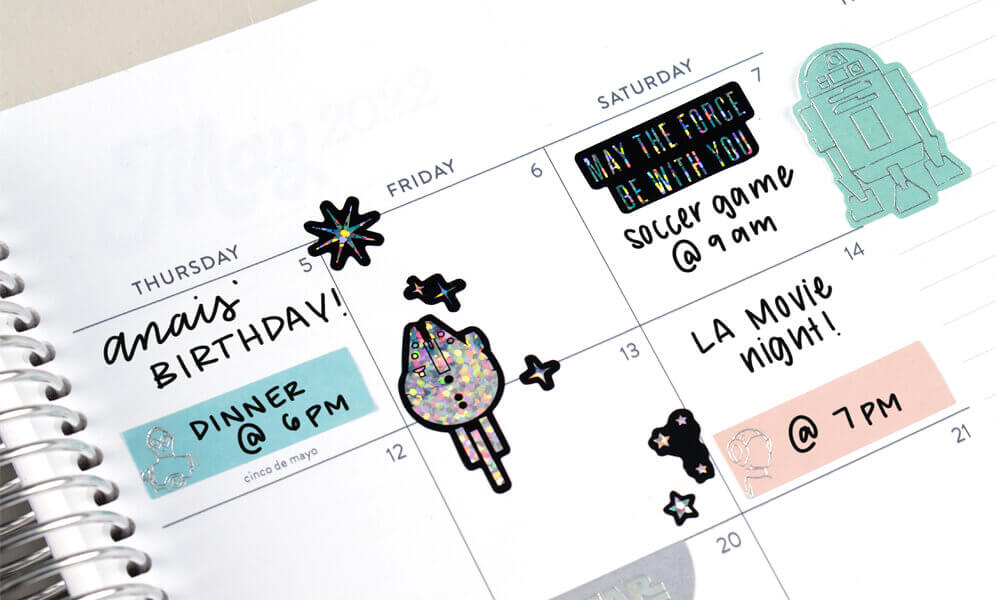 6. Matchy-Matchy Stickers
If you have a favorite Erin Condren design, there's a good chance we have stickers to match! Whether you're switching your interchangeable cover by the season or the month, stick to your style with matching stickers!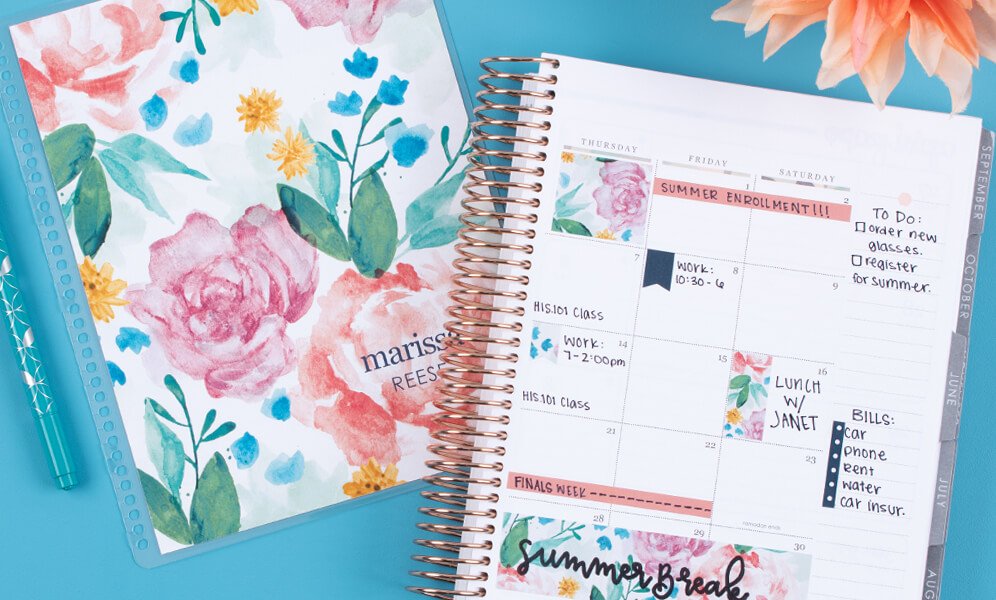 7. Sticky Notes
Our fave sticker and notepad hybrid, our stylish sticky notes are the perfect solution to your on-the-spot stickering needs! From portable and adorable sticky note booklets to handy stickies you can snap right into your planner or notebook, you'll always have a sticky note for whatever, wherever!
8. Themed Stickers
Need a specific sticker for a particular purpose? Good news: our classic PetitePlanners come with illustrative and functional stickers! From meal planning to gratitude journaling, self-care to budgeting, we've got on-trend and on-theme stickers for it all!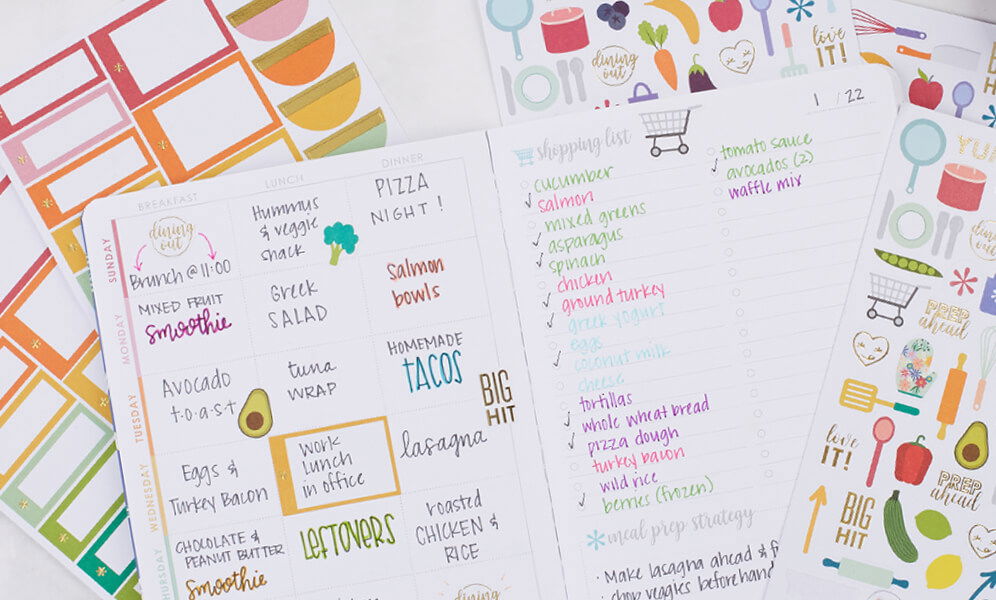 9. Stylish Sticker Storage
Sticker storage is an essential part of any sticker collection. From our new Sticker Album to our Stylish Storage Boxes, there are so many EC ways to keep your stickers perfectly organized and stored in style, whether you're at home or on the go.
Discover more ways to stick to stylish organization with our full line of planner accessories and organizational best sellers designed to inspire, reduce stress, and set you up for success.