How to Use a Planner to Reduce Stress and Reach Your Goals
Sometimes something as simple as organizing your thoughts and to-do list in a planner can help prepare you for the day ahead while reducing stress and helping you reach your goals, one step at a time.
When you're focused on achieving both personal and professional goals, it's natural to feel a little stress along the way. If you find yourself stressed out more than usual, you're not alone. NBC News reported on a survey in which adults anticipate higher levels of stress this year. That's no surprise given the state of global affairs, economic uncertainty, and political polarization.
The good news is we don't have to accept stress as something that's out of our control. In fact, there's a simple and effective solution within reach proven to help manage stress: using a planner. It may seem too good to be true, but planning is scientifically proven to help prevent stress before it even starts. By keeping track of your life in a planner, you can stay on track, set healthy boundaries, and alleviate stress.
How does a planner help reduce stress?
The power of planning has been proven time and time again. Being proactive and using a daily, weekly, or monthly planner allows you to make time for the tasks and the activities that are most important to you.
​
Sets Realistic Expectations
Getting in the habit of using a daily planner can help you realistically determine what's possible to get done in a day and what's not. According to Richard Brouillette, LCSW, that firm grip on reality is one of the most significant benefits of having a planner. The more you practice planning, the more you learn about what you do — and don't — have time to get done.
Maintains Boundaries
A planner can help you establish boundaries with both others and yourself, ensuring you schedule time for things that help you relax and recharge. Without dinner plans or exercise time concretely recorded in a planner, you may be less likely to make time for those types of activities — and more likely to overcommit to others. A planner can help you stay committed to time for yourself. That personal time is essential to preventing stress and helps your mind and body align. If you reserve time for things you enjoy, you'll relieve stress and improve your mood, making you more productive in the long run.
Keeps You Mindful
Brouillette also suggests using your planner to set reminders for mindfulness or a daily check-in with your body and emotions. Taking just a minute or two to breathe deeply and concentrate on quieting your mind can be hugely beneficial. Mindfulness practices have been shown to reduce anxiety, boost memory, and improve focus.
How does a planner help you reach your goals?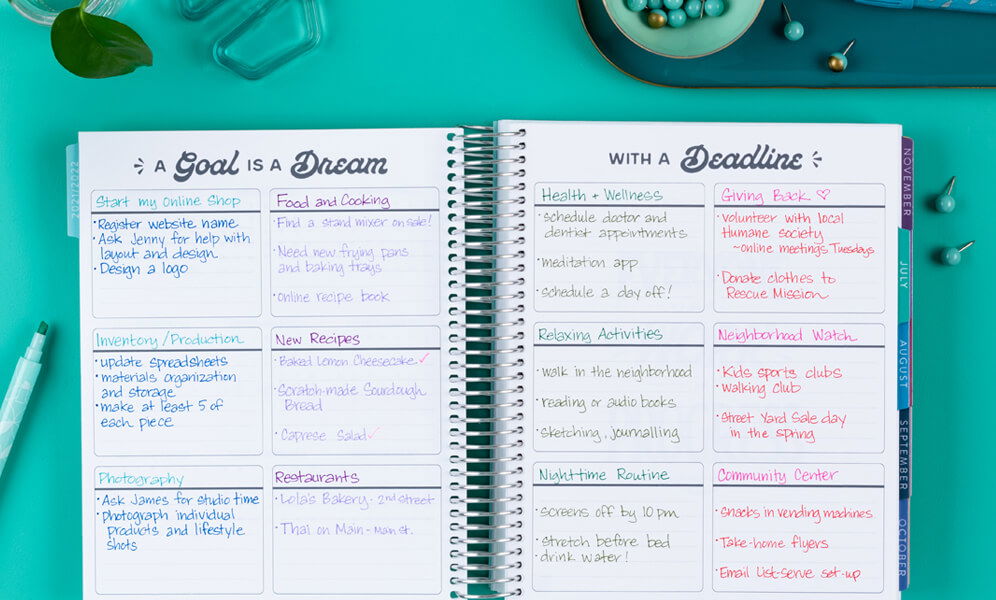 When setting goals, it's important to start small and work your way up. A planner provides you with the perfect starting point for becoming a high achiever.
Reframes Your Approach
Begin by writing down your daily to-do list in your planner, but reframe how you view this list. Consider that each to-do, no matter how small it may seem, is a goal that requires a plan. To ensure you achieve each goal, E.J. Masicampo, an associate professor of psychology, suggests making your goals well-defined and doable in a short time frame. Taking this sort of approach ensures your to-do list helps decrease anxiety and makes you more productive.
Prevents Conflicting Goals
The more easily you find yourself completing these small goals, the more of an expert you'll become at planning and reaching goals that require more in-depth planning. A planner helps you break up a long-term goal into smaller, more manageable parts. By setting a goal months in advance, you can work backward in your planner to assess how much time you'll need to set aside each day, week, or month to make the goal happen. If you want to apply to graduate school but the deadline conflicts with your friend's upcoming wedding, a planner can help you determine if you have the time to complete your application early and keep you on schedule to make it happen.
Facilitates the Benefits of Writing by Hand
By writing down your goals in a planner, you're more likely to get them done. One study found that those who wrote down their goals were 42% more likely to achieve them. A planner with note pages provides a great space to brainstorm and think through the nuances of your goals. The benefit of planning through every detail will boost your productivity and mindfulness, ensuring you are mentally ready to tackle your goals.
How can different planners help reduce stress in different ways?
Erin Condren offers different planners for different purposes. The most useful planner is the one tailored to your needs, which is why we offer a variety of custom planners.
Daily LifePlanner™
The Daily LifePlanner offers you 365 individual date pages to plan each day to its fullest. Use sticker sheets to track and mark goal progress. If you love paying close attention to details and knowing how you're spending each hour of your day, go with the Daily LifePlanner™ to achieve your daily goals (big and small) and those important long-term goals.
Weekly LifePlanner™
The Erin Condren LifePlanner™ is made for customization. Ideal for planning pros and goal-setting beginners alike, this best seller is fully customizable and comes tabbed, with lots of options. You can choose a 12-month or 18-month calendar, daily or weekly planning layouts, your cover, interior design, and more. The point is to customize the perfect planner that fits your style and keeps you motivated. Use this option as a goal planner for big ambitions and everyday intentions.
Monthly Planner
The Monthly Planner is an all-in-one organizer, notebook, and calendar. It's the perfect companion to the LifePlanner™ for all your special projects. From budgeting to work projects, managing teams and clubs, house renovations, fitness routines, and everything in between, the Monthly Planner is your go-to big-picture organizer.
Academic Planner
For those in school, the Academic Planner can help you log classes, assignments, and projects. School can be stressful; so, why not reduce stress with a planner that helps you stay on task and prioritize deadlines? This school agenda is available as a custom spiral planner or a softbound, lay-flat organizer. An ideal companion for meticulous note-takers, the Academic Planner comes with plenty of note pages throughout (plus, you can add more pages to the custom spiral school agenda if you need it)!
When it comes to studying, reference your planner for notes, dates, source materials, and other helpful items to help you pass with flying colors. Have a paper due? Jot down topics and ideas in your planner as they come to you to help reduce stress before it begins, giving you a head start on the project.
Let your planner help you be your best self. By beginning to plan and organize, you can make time for yourself and plan ahead, allowing you to breathe a little easier and stress less. As you slowly integrate small goals into your daily life — and make plans for tackling big ones — you'll get more done than ever before, boosting your confidence each day. Get started today by finding the right planner for you and your lifestyle.