How to Reduce Stress and Achieve Academic Goals with the Academic Planner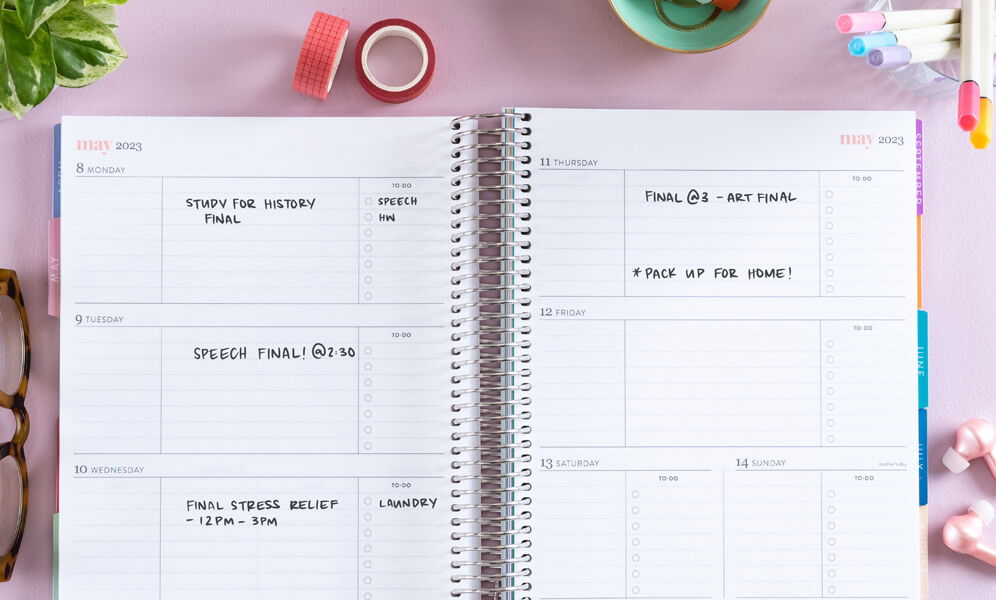 Studying can be stressful, but it doesn't have to be! Planning is one of the best stress management techniques, and writing your plans, notes, school projects, and more in a paper planner helps you retain and remember more information! Here are eight easy ways to reduce stress and achieve academic goals with the Erin Condren Academic Planner.
1. Use a school planner that fits your style.
You're more likely to be motivated to get organized and stay on task if you have an academic planner that fits your style and schedule. When choosing a school planner, make sure you look for one with colors, layout, and features that work best for you.
"I took my daughter back to school shopping ... She wants a basic planner for school. She thought she would be able to find one at Target. After searching two aisles of planners, I told her none of them are what she needs. She needs an EC academic planner. Y'all have hands down the best academic planner. Nothing else compares. It's exactly what is needed for students." -Kristin Morgan, The Gold Project Sticker Shop Owner @thegoldproject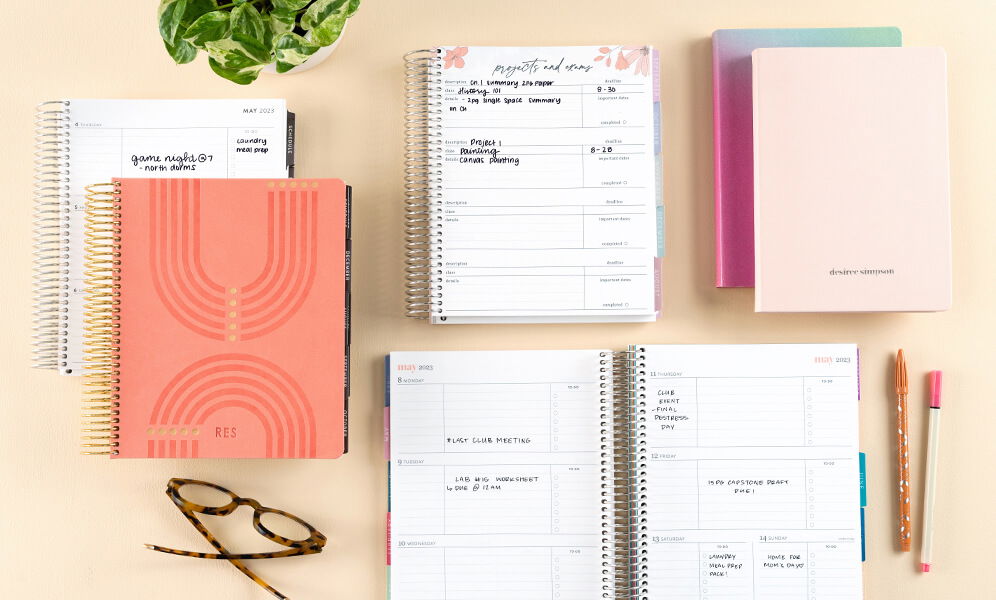 2. Write notes by hand to improve learning and memory.
Writing by hand may seem slower, but it offers far more benefits to students' learning and performance than typing on a computer.
When you write notes, your brain naturally processes, edits, and distills the information more efficiently. Whereas, when you type notes, you're transcribing virtually every word to read and process later.
Pro tip: take learning to the next level by practicing explaining the material to someone else. Test your studying habits by describing what you studied to friends, family, or just record yourself. Use the note pages in your planner to jot key takeaways and improve your ability to learn and recall the information!
3. Find a study playlist that inspires you!
Thousands of students around the world stay focused with custom playlists. Explore the best playlists for studying and find your inspiration. Pro tip: find a playlist for planning too and set aside 10-20 minutes every week to plan the school week ahead.
4. Use the exams tracker in your planner to lower test anxiety.
Test anxiety affects students of all ages and using the "projects & exams tracker" in the Academic Planner can help reduce test anxiety and project deadline dread. Another way to reduce scholastic stress is to practice, practice, practice! Rehearsing the material helps you feel more relaxed on exam day. If you search for "practice test examples" within your subject, you'll find plenty of helpful practice materials to help you prepare for your exam.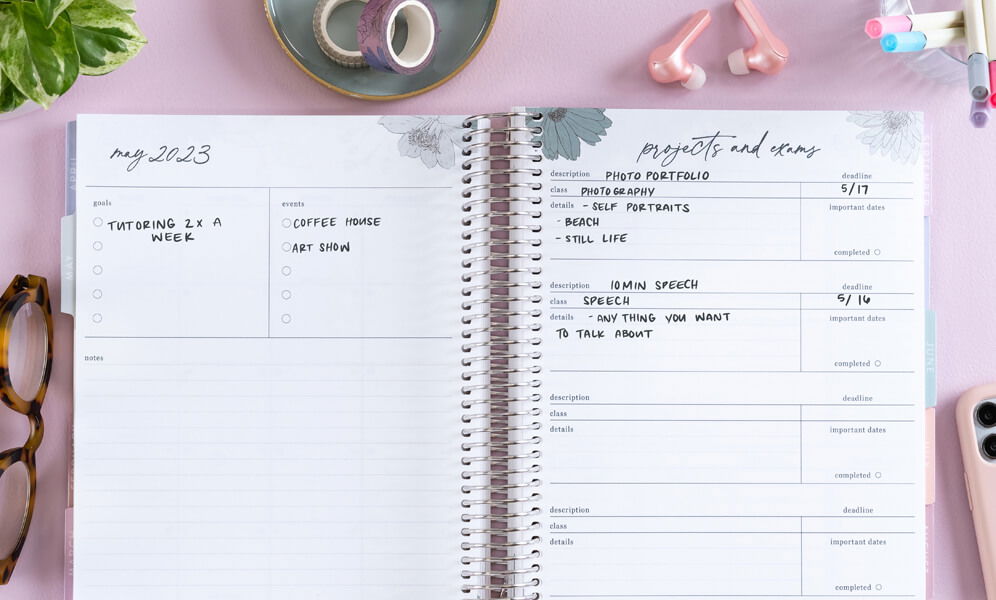 5. Keep assignments, to-dos, and deadlines in the same place.
Students, teachers, bloggers, and a lot of us collect notes, to-dos, important dates, and more on random slips of paper. To avoid anything slipping through the cracks, track all of this info in one place: your Academic Planner. That way, you can see it all at a glance, stay organized, and stress less about forgetting something. Organization often leads to relaxation.
6. Plan to study with friends!
Schedule study group times in the monthly spreads of your planner. Nothing beats combining great minds and learning together. It's more fun and keeps you accountable and on track.
7. Tap into motivation through personalization!
Stay motivated all year long with your favorite motivational quotes, colors, and designs. If you have a famous quote, saying, or song lyric you love, add it to an interchangeable cover for your coiled school planner. Switch it out whenever for a new look for your book!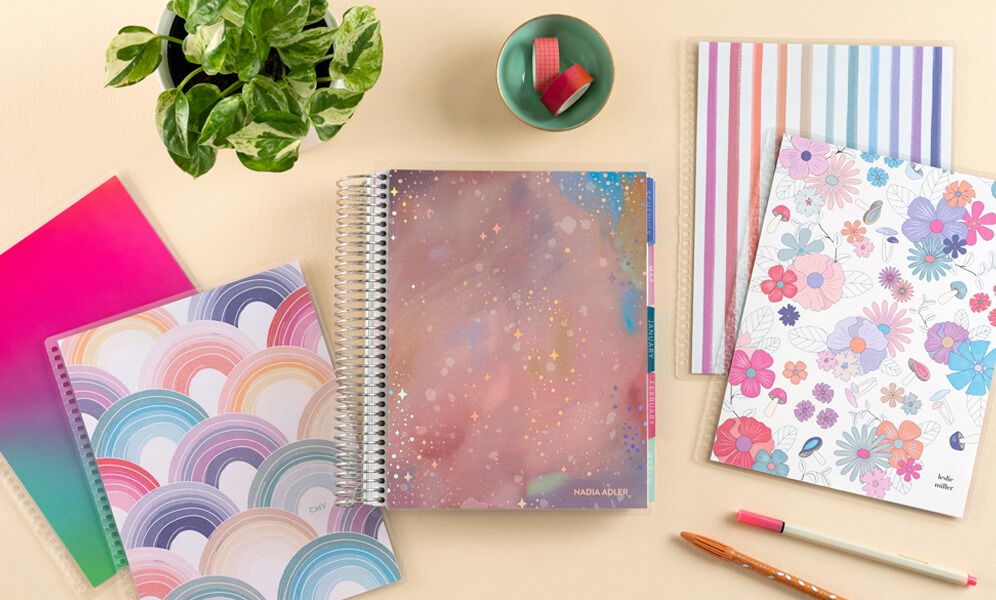 8. Write down your goals. Make a plan. Follow through.
From high school to college and grad school, there's a lot to keep track of! That's where the power of planning comes in; without it, things can feel overwhelming. Break your goals down by quarter or semester; make a realistic plan to meet those goals; then, get organized to make it easier to follow your plan.
Ready to make organization easier, reduce stress, and reach your academic goals? Start with the best-selling student planner with proven layouts designed to do just that!