How to Stay Organized in College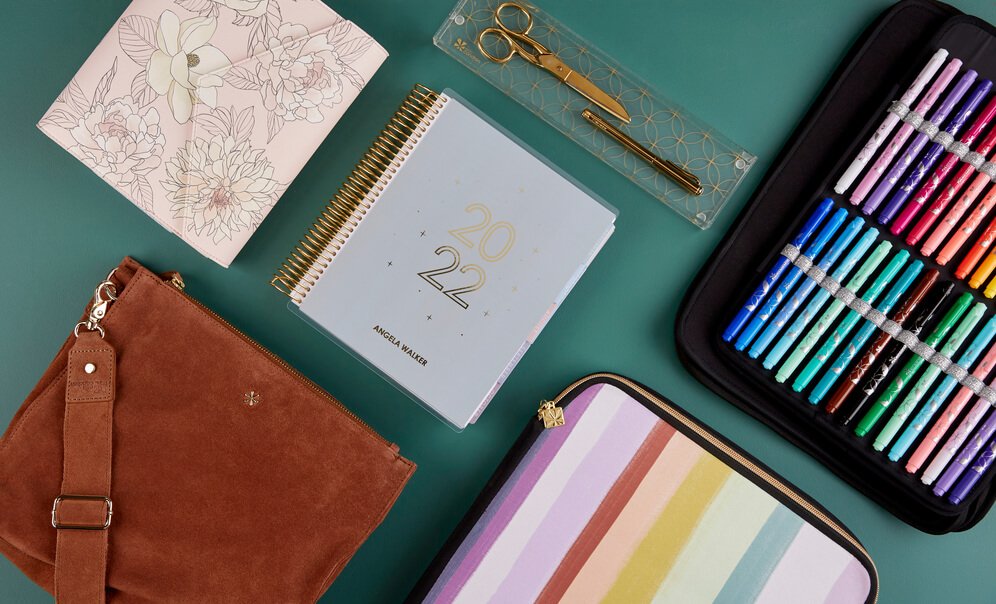 Whether you're a first-year college student or a seasoned academic, learning how to stay organized in college is essential. Developing strong college organization skills is key to academic, personal, and professional success, in part because developing organizational skills can reduce stress and improve performance.
Adjusting to College Life
For First-Time College Students
While many young people look forward to greater independence when entering college, the reality is that the transition from high school to college isn't always easy. Some students quickly adapt to their new routines and responsibilities in a less-structured college environment, but others may experience challenges. Organization is key to making it easier to remember campus layouts, schedules, club meetings, homework assignments, and deadlines.
This may be the first time in your life that you've been fully responsible for every aspect of your schedule. Your parents and teachers won't be around to remind you to get to class, study, or wake up on time. Staying on track means using organizational tools that keep every area of your life in check.
For Graduate, Continuing Studies, and Older Students
Whether you're a graduate student who just finished up your undergrad years or a full-time professional continuing higher learning, you'll likely experience an adjustment period upon returning to school. Adult students have to re-adjust to a classroom learning environment while also juggling family and work responsibilities. The same holds true for graduate students who may live off-campus and work full- or part-time. If you can tap into organizational techniques that work for you, you'll set yourself up for a more successful, enjoyable, and stress-free return to school.
Organize Offline
Getting and staying organized means developing effective routines that support your mental health and academic performance. While there are mobile apps and websites dedicated to time management, there's also evidence that offline organizational tools can be more effective at reducing stress and helping you achieve your goals.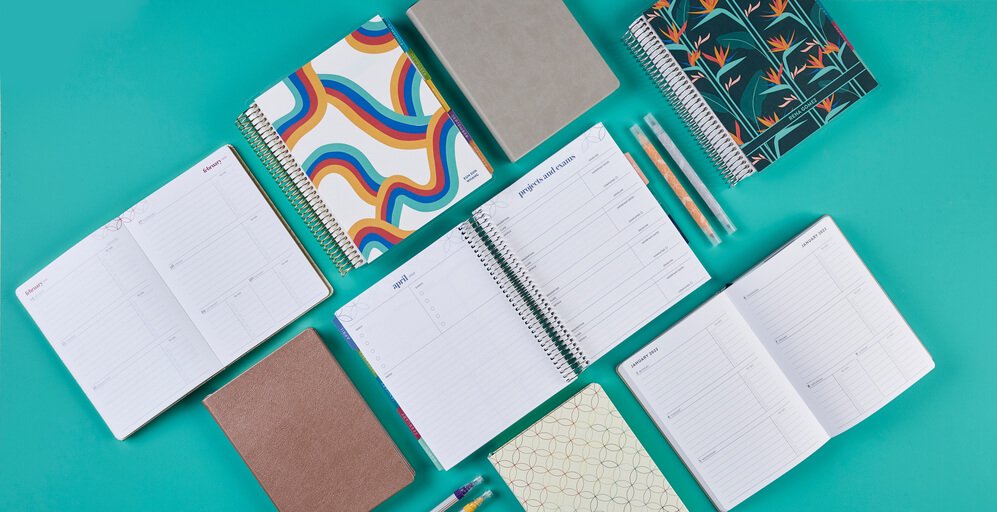 Invest in a Paper College Planner
Evidence shows that paper college planners can be incredibly effective at helping you manage your time and meet deadlines. There are a few reasons for this:
Physically writing something down, rather than typing it or speaking it into a phone, activates neural circuits that help you learn, according to psychologist Stanislas Dehaene.
Because the paper planner requires more attention while adding entries, you are likely to be more effective at processing the information and distilling it into the essentials you want to write down. This also helps improve information retention, comprehension, and recall.
Mobile devices are loaded with distractions, including multiple apps and incoming notifications that can disrupt your focus while adding events or reminders. This can cause you to leave out key details or forget to save your entry entirely.
Not sure which college planner is right for you? Take the planner quiz to find out!
Designate a Notebook for Each of Your Classes or Projects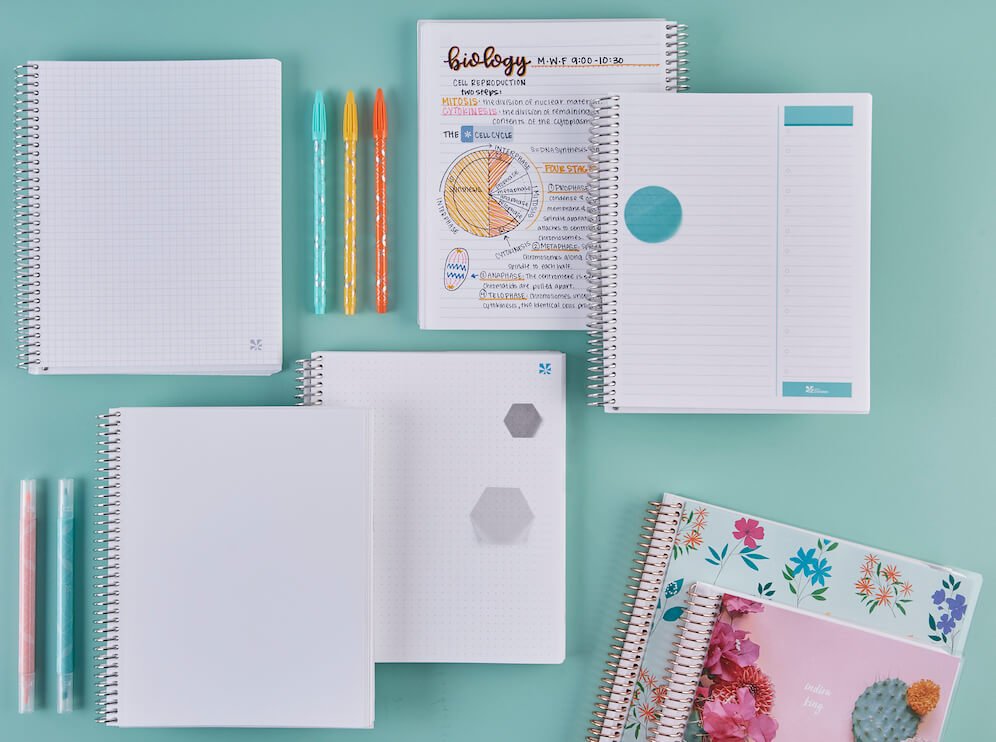 In addition to a college planner, you'll also want notebooks. Planners and notebooks serve two different functions: The planner helps keep your day-to-day activities on track, while notebooks keep you focused on a particular class, project, or activity.
Use your notebook to take notes, keep records of group projects, or write down thoughts and inspiration as you study. Erin Condren notebooks come in a range of colors, patterns, and bindings, so you are sure to find notebooks that meet your needs. You'll also have the option of selecting your page layout: graph, grid, college-ruled, productivity (lined sections + checklists), or sketchbook.
Organize Your Living and Study Spaces
It's important to have a study area that is clean and free of distractions. Your study area should make it easy for you to view and use organizational tools, such as calendars, notebooks, and your Academic Planner. Use a desk organizer to keep desk accessories and school supplies, such as pens, staples, paper clips, and sticky notes in one place, ensuring your desk stays clutter-free while allowing you easy access to these items. Organized desk, organized mind.
Carry Your Supplies in One Bag
Backpacks for college students often top "back to school" lists, and for good reason. College classes can take place anywhere on campus, which means that you may not have time to stop off at your dorm room or car to switch out textbooks or charge your tablet. You can make life easier for yourself by having one dedicated backpack or crossbody tote for books and supplies.
Dorm Room Organization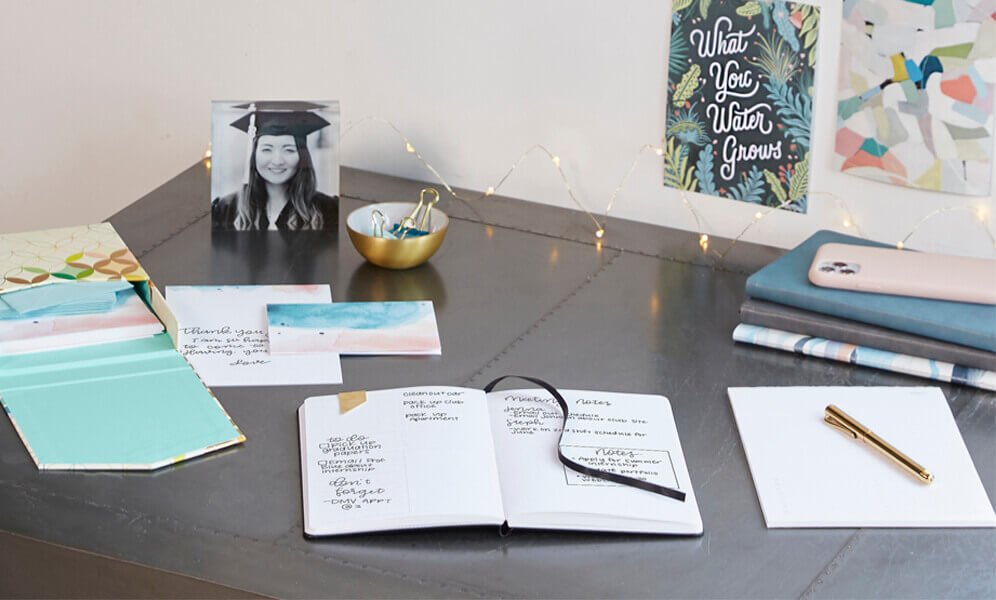 If you're living on campus, learning how to organize your dorm room will reduce stress and make it easier to sleep, study, and relax. All three are necessary for a successful college experience! While it's important to focus on desk organization, you'll also want to ensure that you make the most of your storage space. This can be limited, so don't overpack for school unless you have to. Organize your drawers, closet space, and shelves so that you have easy access to your books, supplies, and other possessions while keeping clutter to a minimum.
Invest in Daily Organization
Organizational tools are helpful, but only if you use them. Take a few minutes each day to make these tools work for you, see how much time it saves you day after day, week after week! For example, you might set aside 15 minutes every evening to review planner notes and, possibly, transfer important dates and times to a mobile calendar or scheduling app. You'll also want to take time to tidy your desk, switch out textbooks in your tote or backpack, and refresh your school supplies.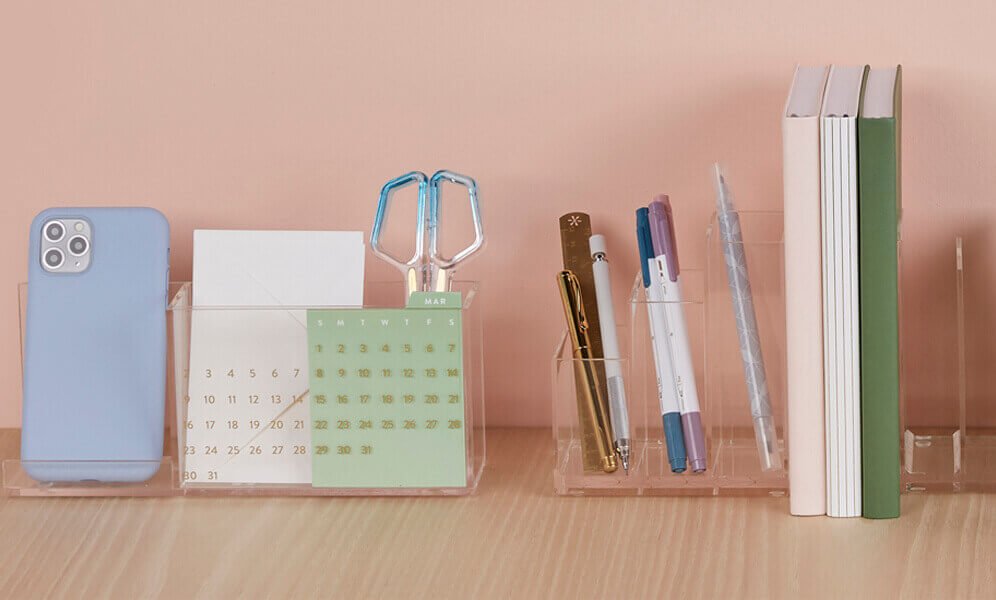 Restocking your desk or reorganizing your study space? Explore college organization best sellers , including college planners, desk accessories, calendars, and more to keep you organized and on track during the academic year.