Daily, Weekly, Monthly Planning Tips
Planning can help you reduce stress, stay focused, improve organization, and increase productivity. That's why we've compiled our top daily, weekly, and monthly planning tips to help you find the best planner for your style and schedule.
Daily Planning Tips
If you need an everything planner that covers big-picture monthly planning, daily planning, and hourly scheduling, our daily planners were made for you! Best-selling Erin Condren daily planners include the Daily LifePlanner™ Duo (set of two 6-month spiral planners) and A5 Daily LifePlanner™ Ring Agenda (vegan leather ring system and folio in one). Both options enable you to plan every day your way, without having to carry a whole year at once.
Follow these daily planner tips to make the most your Daily LifePlanner™:
1. Be consistent.
The key to daily planning is consistency and visibility. At the same time every weekday, set aside 10 minutes to write your daily to-dos and MUST-dos in the checklist section on the right side of each daily spread and set up your daily schedule using the hourly section on the left.
2. Keep big-picture planning top of mind.
The best part about the Daily LifePlanner™ is you can also manage monthly schedules, projects, and take advantage of big-picture planning using the 12 calendar spreads.
3. Use the full range of your daily planner.
We recommend using the note pages of your Daily LifePlanner™ for more than note-taking and expand the functionality of your planner with goal-setting, habit-tracking, bullet-journaling, reflections, and more.
Check out How to Use a Daily Planner for more daily planning tips!
Weekly Planning Tips
Our weekly planners are favorites among planner pros and planner beginners alike because they allow you to organize your daily plans while seeing the entire week at a glance (and also include monthly and yearly calendars). Best-selling weekly planners include the spiral LifePlanner™, A5 LifePlanner™ Ring Agenda, Softbound Planners, and more.
Here are a few tips to help you win at weekly planning, no matter which weekly planner you choose.
1. Start with your monthly spreads.
Kickstart weekly planning by transferring important monthly dates to the two-page calendar spreads.
2. Develop the habit of planning one week ahead.
Take 20 minutes one day a week to reflect on the current week and plan out the following week. Not only can planning ahead make you feel more confident and productive but taking just 20 minutes to plan each week can help you feel more prepared and less stressed.
3. Schedule time buffers and self-care in your planner.
Leave a little room each day so you can add or adjust items in your schedule. And be sure to block off time each day for some productivity-boosting self-care like a walk outside, talking with a friend or colleague, a little deep breathing, etc.
For more planning tips, we recommend How to Start Planning.
Monthly Planning Tips
Whether you're monthly planning for work, project planning, or light planning, the Erin Condren Monthly Planner is a powerful addition to the LifePlanner™ for every type of project, from personal to professional. There are so many ways to plan in the Monthly Planner.
Here are a few monthly planning tips to help you use our Monthly Planner for your special projects.
1. Use your Monthly Planner for side hustles.
The monthly spreads and note pages are ideal for setting monthly goals, budgeting, and to-dos for your side hustle. No matter what your side hustle is, it's great for managing your schedule, tracking gigs, and more.
2. Use your Monthly Planner as your work planner.
Monthly planners are great for planning work projects, calendaring deadlines, meetings and team schedules, setting professional goals, and logging wins.
3. Use your Monthly Planner for home projects.
You can use this planner as a master planner for your household to coordinate everyone's schedules, vacation days, appointments, chores, even meal planning, and home renovations all in one place.
School Planning Tips
While our daily, weekly, and monthly planners can be used for school, we recommend using a dedicated organizer formatted for either educators or students.
1. Teachers, use a lesson planner to enhance your school's digital planning tools.
Plan lessons, set goals, manage teacher-parent and teacher-student communications, and more with the teacher-approved Lesson Planner. It's the ultimate organization tool for teachers, tutors, and homeschooling parents, with proven lesson planning layouts, checklists, communication logs, and so much more. Get more tips for using digital and paper teacher planners.
For more lesson planning tips, we recommend How to Use Digital and Paper Teacher Planners.
2. Students, use a paper school planner to reduce stress and achieve scholastic success.
With a paper Academic Planner, you can also keep track of your classes, assignments, projects, and exams. There are even sections for note-taking and managing your weekly and monthly to-dos, events, school breaks, and more. Explore more Academic Planner Tips and see why students, teachers, and parents love this popular school agenda.
For more planning tips for students, we recommend How to Use a Planner for School
3. Customize your school planner to fit your unique style and needs.
Our school planners (for teachers and students) offer personalization and customization options so you can choose your binding preference, cover and interior design, add your name, school name, or initials, even select your start month (on select agendas). Customizing your school planner can make planning in it more efficient, fun, and functional! Build your perfect school planner so it makes your life easier.
How to Use Multiple Planners
If you've found yourself busier than ever, you're not alone (it's definitely a trend)! Many have found organization heaven by exploring different planner combos and using multiple planners to manage multiple projects and goals and separating plans for work, school, home, and more.
We were lucky enough to have a few organization mavens share how they use multiple Erin Condren planners to customize unique planning systems for their busy (and productive!) lives.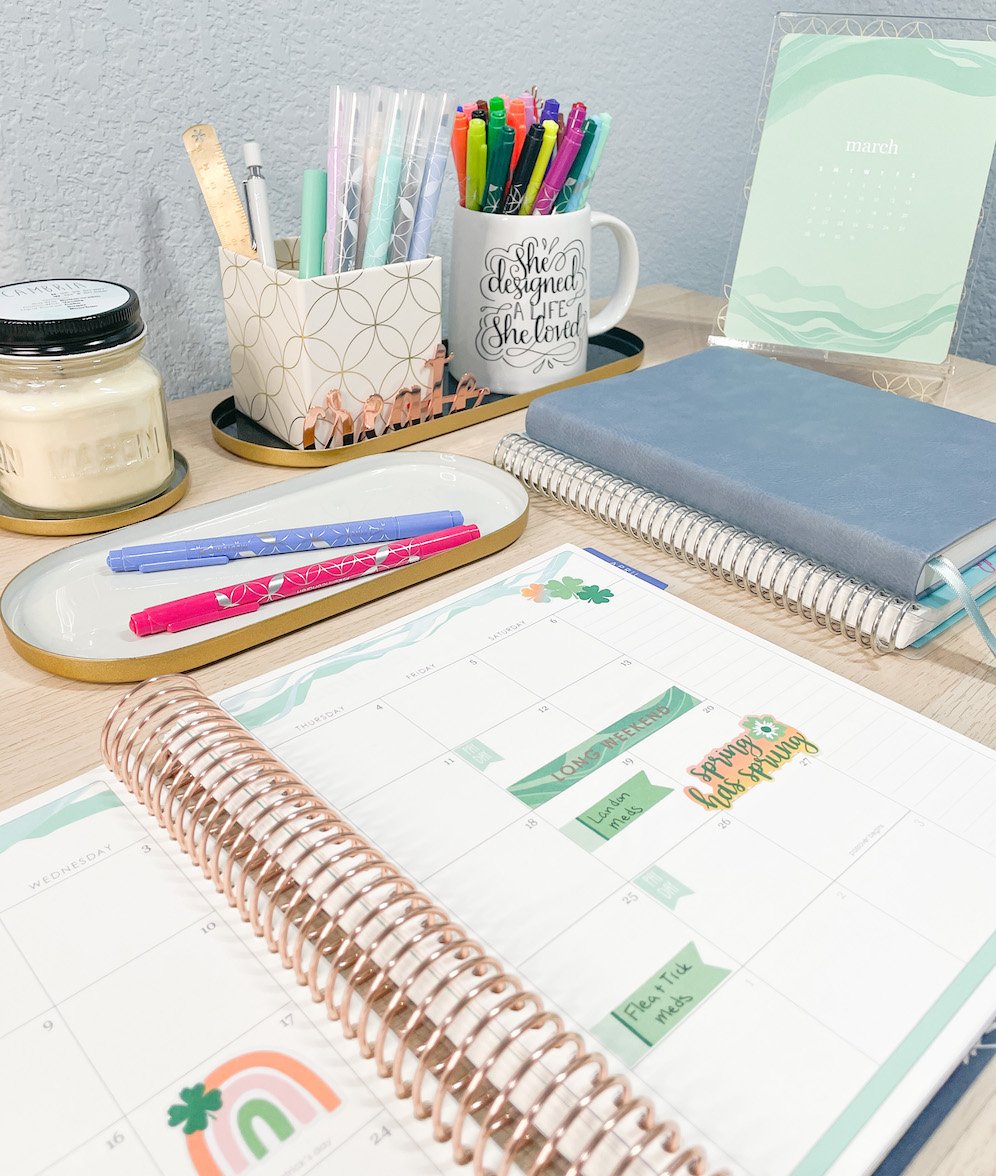 Sherri Felix @sherris_plans shares how she stays productive using a multiple-planner system.
I use a LifePlanner™ with a vertical layout for my weekly planning, a Monthly Planner for content planning, and an A5 Softbound Focused Planner for work. Using multiple planners helps me keep all the different areas of my life organized, and I feel more productive by giving each the space it needs. - Sherri Felix @sherris_plans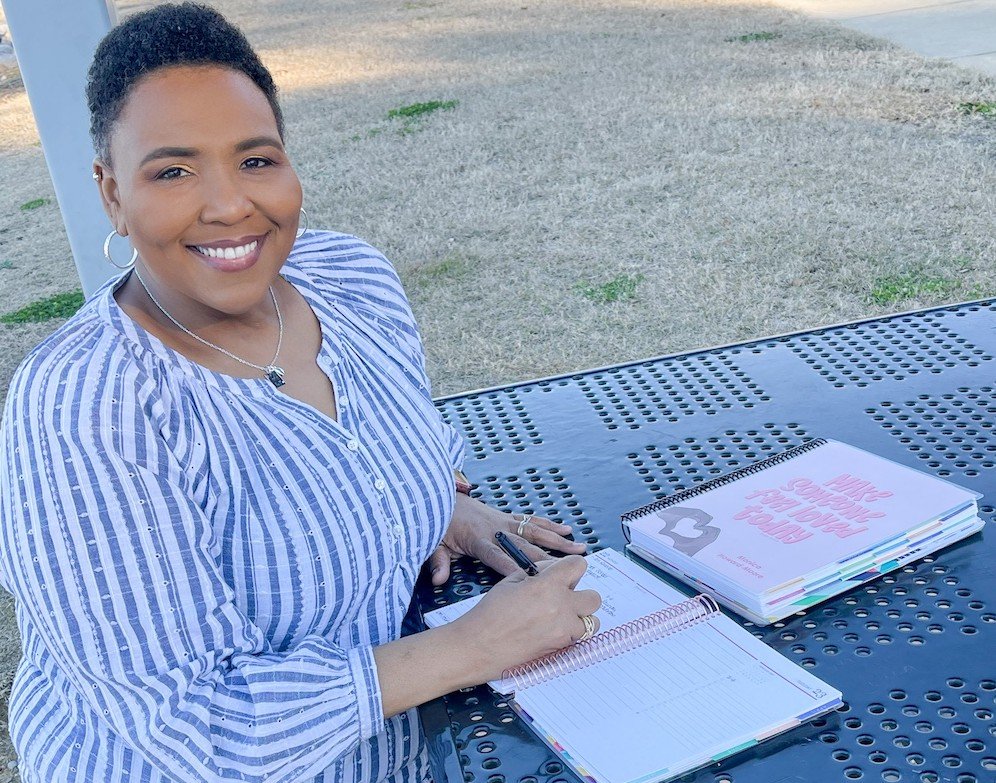 Monica Howard-Moore, @planningwithmonicas shares how she organizes family, school, and more using three planners.
I use three planners to organize my family, weekly scheduling, and classroom. I love using my Daily LifePlanner™ Duo for my household daily tasks and keeping my family on track. My weekly LifePlanner™(with a horizontal layout) is ideal for my overall weekly view. My Teacher Lesson Planner is the heart and soul of my classroom. It helps me keep up with lesson plans and activities all in one place. - Monica Howard-Moore, @planningwithmonicas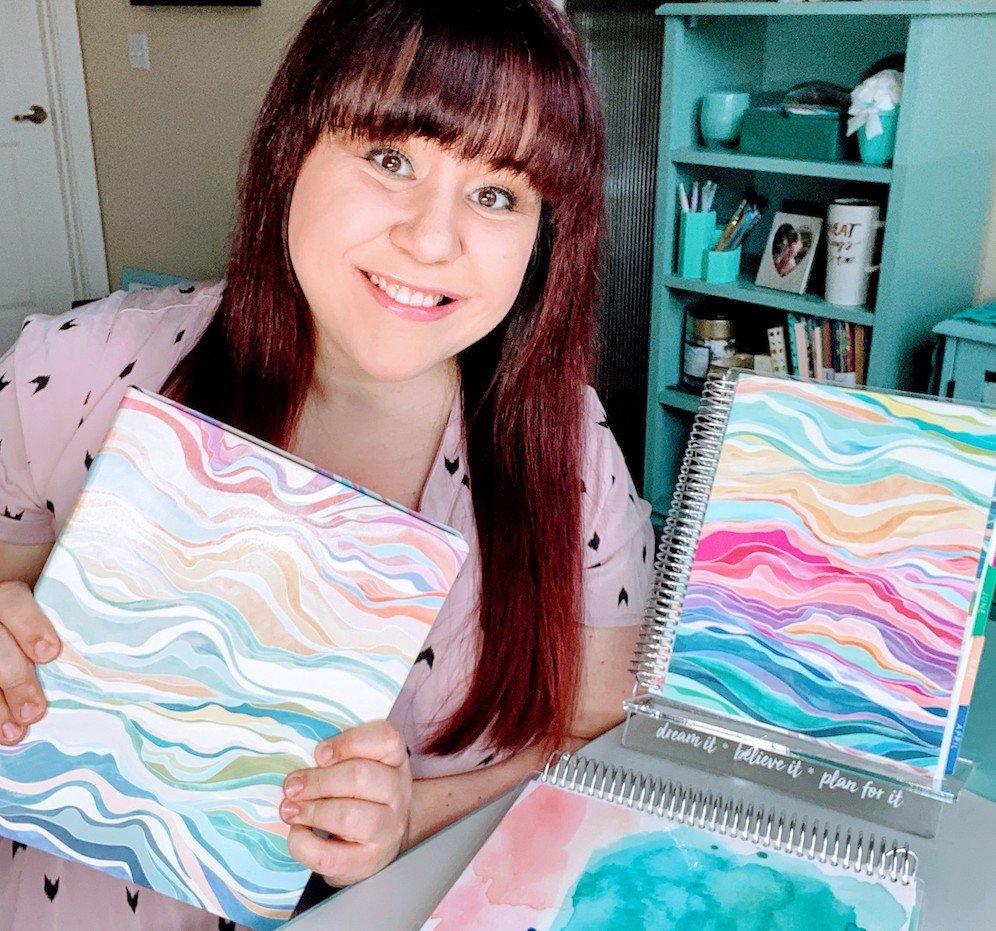 Nikki J @nikkijplans shares how she uses multiple planners to manage her podcast, work, and personal life.
Whatever your planning needs are, there's an Erin Condren organizer designed to make your life easier. Explore our full planner collection to find your perfect planner (or planners)!