Teaching Tips: How to Use Digital & Paper Teacher Planners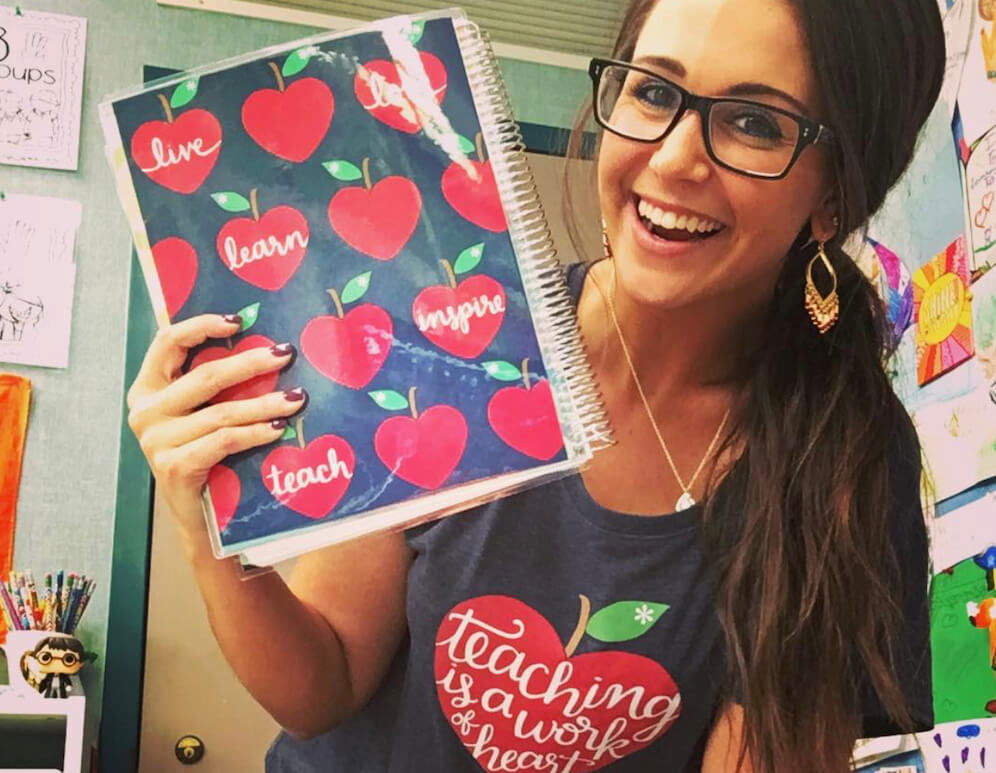 Guest Article by Mechaela Vardoulakis, M.A.Ed, Erin Condren Retail Manager
Before Mechaela joined the Erin Condren team, she was a full-time elementary school teacher. With a Master's in Education (M.A.Ed) from Pepperdine, she taught in the Southern California public school system for 4.5 years and led several district-level committees. Also an avid planner, Mechaela's sharing her teacher planning tips with us in her guest article below.
​
How To Find Planner Peace with Both Digital and Paper Teacher Planners
I used the EC Teacher Lesson Planner for five years (in grad school and while teaching) and thought it would be helpful to share some tips on how I personally used my paper lesson planner along with required digital lesson plans.
We all live in a predominantly digital world where teachers and students alike are expected to streamline their lives through digital avenues to maximize efficiency. Personally speaking, I was a teacher who loved implementing technology into my classroom, but at the primary levels, I really emphasized the importance of putting pen to paper as well.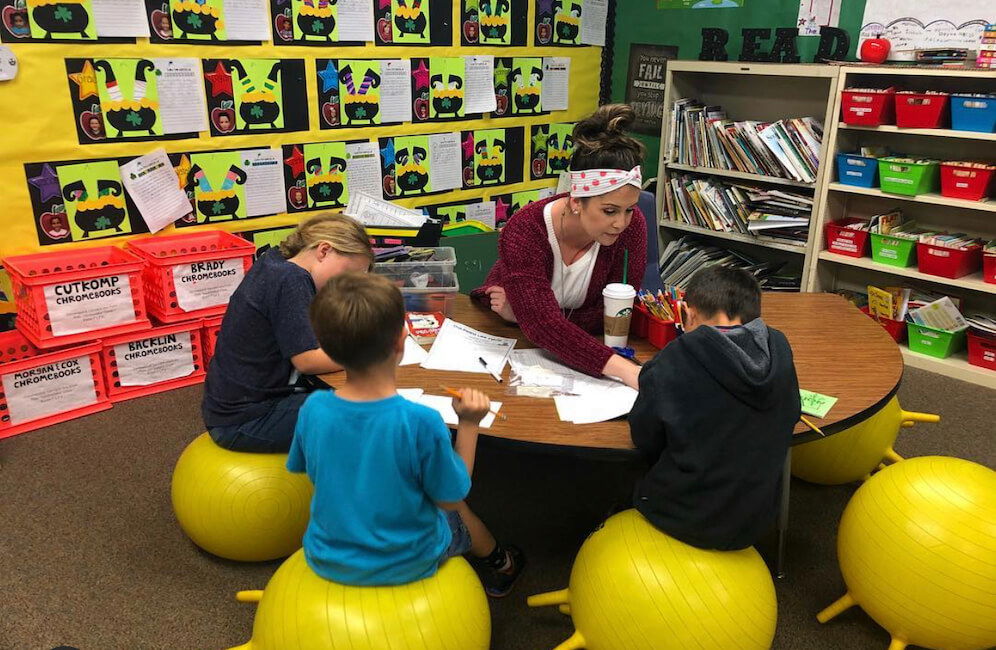 Identify which digital planning tools and paper planner features work best for you.
During my time as a teacher, I utilized both digital lesson plans and hand-written daily lesson plans (organized week by week) when I was in the classroom. I didn't use just one or the other. I referred to my paper teacher planner every day of the week for daily lesson planning. I personally didn't refer to my weekly or monthly digital lesson plans on a daily basis in my classroom; rather, I would use them to map out pacing for certain units I needed to cover during the course of a school year.
Those digital plans I had to submit allowed me and administrators to make sure I was adhering to all Common Core State Standards and N.G.S.S (Next Generation Science Standards). My grade-level team typically mapped out our weekly/monthly digital lesson plans together during grade-level meetings.
Example of what a week of lesson planning would look like in my paper teacher planner when I taught 5th grade.
Use a paper planner to reduce stress daily.
The digital lesson plans were helpful, but I found that my Teacher Lesson Planner helped me truly map out my day-to-day planning. I would write out what copies needed to be made and what pages corresponded to certain lessons. Honestly, my EC Teacher Lesson Planner helped me not feel as overwhelmed when looking at what I was covering on a daily basis with my 32-36 students (who were all at varying levels).
Lean in to what motivates you to stay organized.
My Teacher Lesson Planner was very colorful and filled with stickers as well. I loved using the Dual-Tip Markers for planning and grading papers. You'll see some examples of what my weekly spreads looked like in my paper teacher planner in some of the photos. Planning in this colorful, vibrant way made me feel more excited to tackle the week ahead.
Color-code.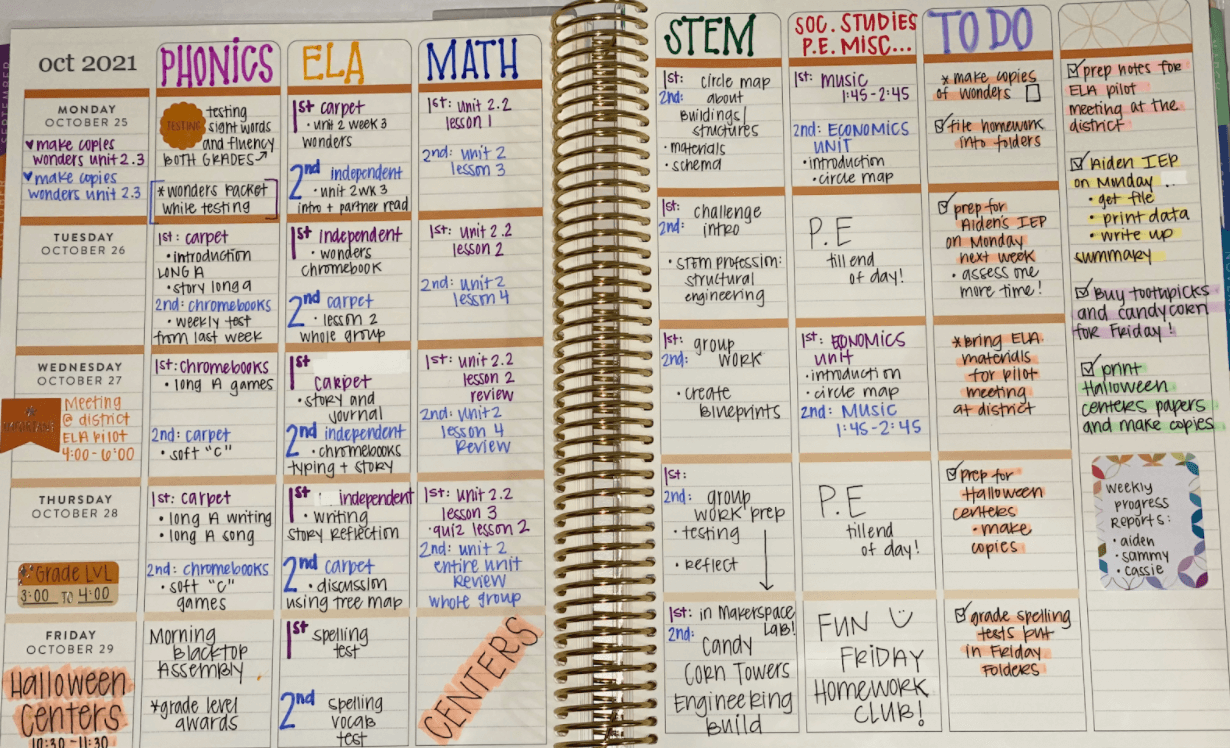 This is for all my combo teachers out there; I used two different colors (blue and purple), my two favorite colors, to differentiate lessons I had to teach to the two different grade levels. I color-coded everything that year, and it was a GAME-CHANGER! Teaching one grade, let alone two at the same time, requires an extra layer of organization and planning. If you are a middle school or high school teacher who teaches different periods and subject areas, color-coding your different classes/periods might be helpful in organizing and planning your lessons for the school year.
How To Make the Most of Your Teacher Lesson Planner
Customize your planner.
First things first, THE COVERS! The customizable covers are hands-down my favorite part about the teacher lesson planner. I loved that it had my last name on the cover and I would change out my covers throughout the school year. I would usually change my covers once a month to match whatever holidays were in that specific month (i.e., Halloween, winter—the snowflakes cover was my favorite—Fourth of July, and more).
Map out the school year with the yearly planning section.
The beginning of the planner has 12 boxes spread across two pages. I found they were useful for writing down important dates: school holidays, report card deadlines, big meetings, deadlines for committees I was on at the district, and anything else to help me gauge what my school year would look like. One of my colleagues used those 12 boxes to map out the curriculum for the year or special units she liked doing every month. The point is you can customize this section to map out your school year, your way.
Manage your schedule with the monthly planning spreads.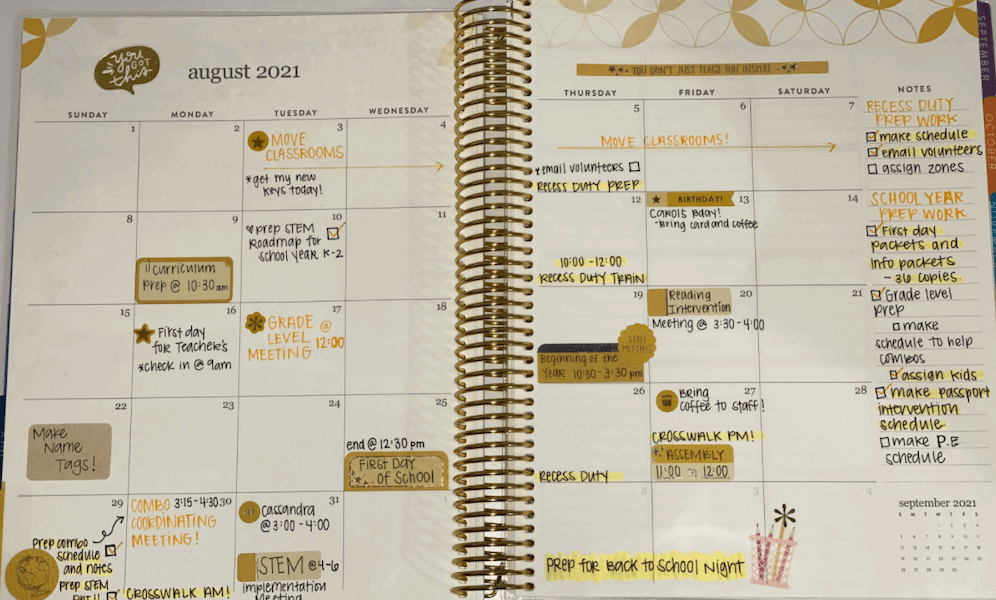 The monthly spreads in my Teacher Lesson Planner helped me map out various meetings I would have at the district or at school.
I would also write out important dates and school functions going on. On the note pages following the monthly planning spread, I would take notes during our monthly staff meeting.
Use digital tracking and paper checklists for grading.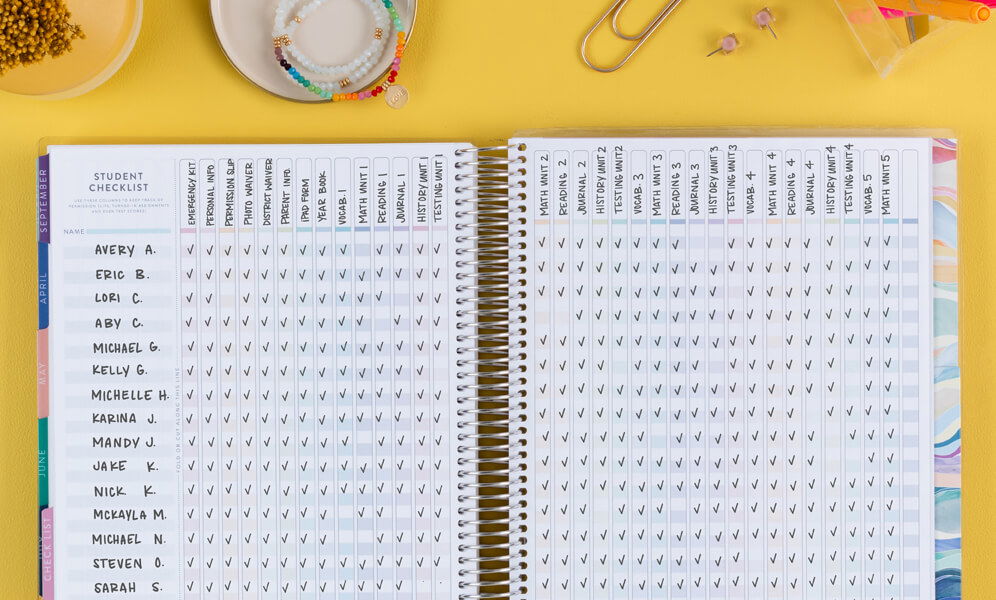 When it came to grading and tracking scores in my classroom, I used a combination of digital tracking and the checklist pages found in the back of the Teacher Lesson Planner. Those checklist pages came in clutch when it came time to track ongoing weekly assignments my students would turn in. I used these checklist pages mostly for checking and tracking their progress and completion in their learning centers. I would also use these record pages to track weekly spelling tests and sight word tests. Most of the formal assessments were input digitally into various websites we used.
Tip for teachers with over 30 students: since the Teacher Lesson Planner checklist pages have 30 lines each, you may want to do like I did (I had 32-36 students every year) and put half on one page and the other half on the next.
Planning is such a personal practice and you have to find what works FOR YOU. Your planner doesn't need to be perfect and beautiful every single week; you want your planning routine to be functional and sustainable. Also, don't forget to find a planning routine that helps spark JOY for you! Whether it's digital or paper or a happy combo, whatever works best for you and your students.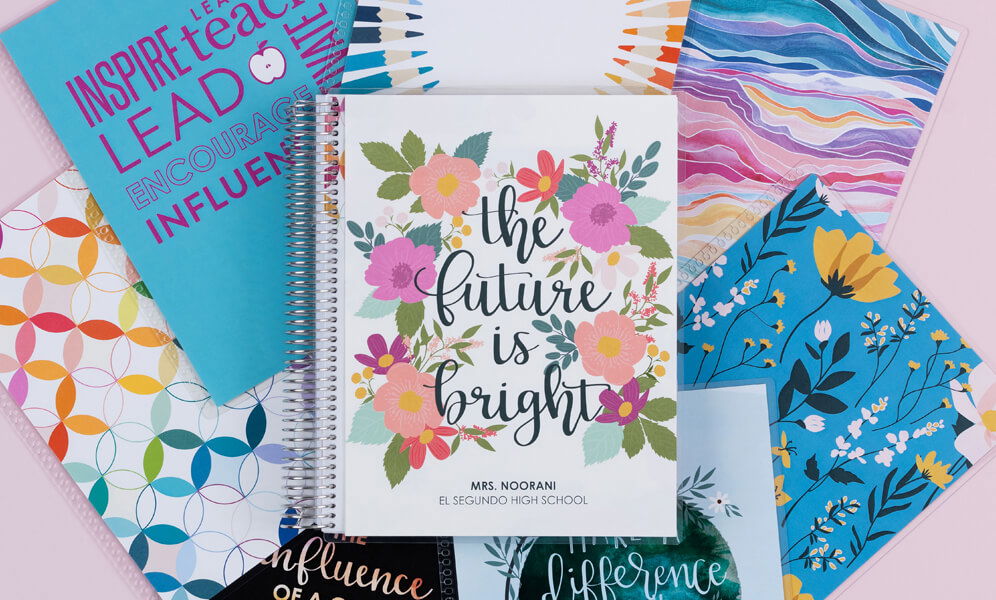 Build your custom Teacher Lesson Planner and please share how you use them for planning your lessons this school year. Make sure to tag @erincondren in your posts on Instagram so I can see them all!