Teacher Lesson Planner 101
The Teacher Lesson Planner is the ultimate school agenda for teachers, tutors, and homeschooling parents. No matter where your classroom is, it's designed to help you get organized, reduce stress, and help your students achieve scholastic success.
How to Build Your Teacher Planner
Select Your Planner Binding
Teacher Lesson Planners are available with multiple binding options so you can choose what's best for you.
Spiral Teacher Lesson Planner
Our most customizable option, with interchangeable functionality. Most teachers like the ability to add on snap-in accessories like bookmarks, dashboards, swappable or vegan leather covers, and sticky notes.
Softbound Teacher Lesson Planner
For those who prefer lay-flat, lefty-friendly lesson planners. These are slim, portable, and feature smooth, scratch-resistant vegan leather covers.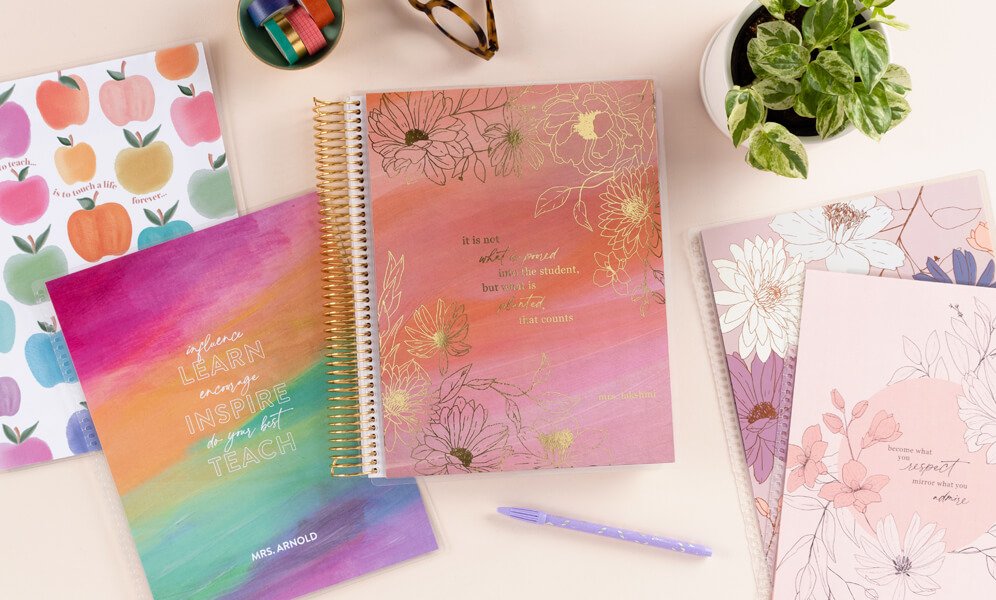 Choose Your Cover Design
For our best-selling spiral Teacher Lesson Planner, there are so many new interchangeable cover designs to explore. The best thing about our interchangeable covers is that you don't have to choose just one. Get as many as you like and switch and swap covers as often as you like!
For our spiral Focused Teacher Lesson Planners and softbound planners, you have stylish permanent vegan leather covers options.
Choose Your Interior Design
Every year, our teacher planner collection offers a variety of fresh interior design themes for you to choose for your planning pages. There's something for everyone! See this year's Teacher Lesson Planner design options.
Start building your new teacher planner!
Teaching Tips: How To Create a Lesson Plan
Get ready to get (lesson) planning! We've got everything you need to add color to your classroom AND succeed at lesson planning! Here are five ways to create a lesson plan.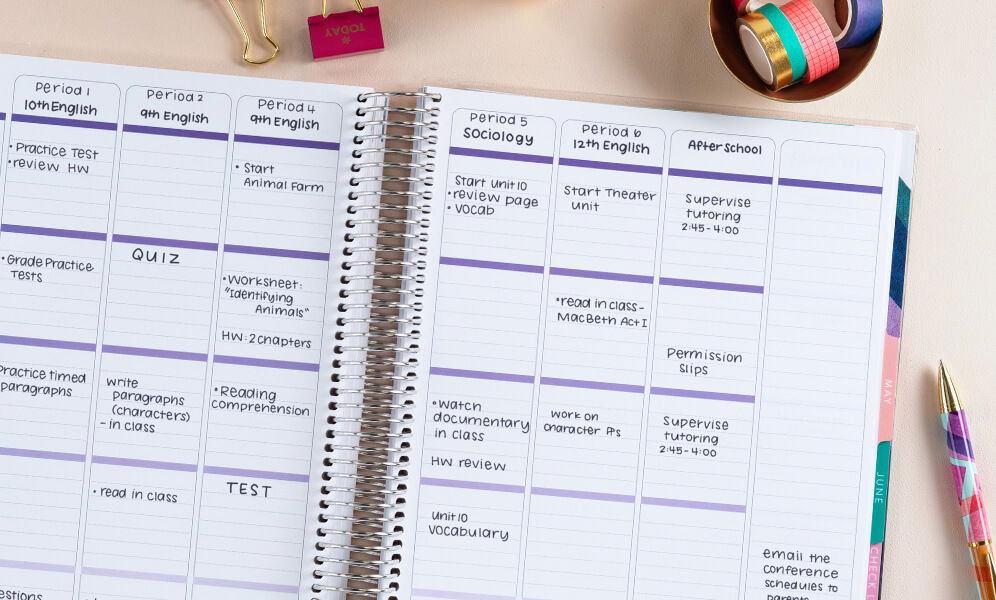 Write it down.
Even though many teachers make digital lesson plans, Eric Condren customers like Devan Bremm Livesay use the Teacher Lesson Planner to create lesson plan outlines for easy reference.
Start at the end.
Ask yourself: What are the end results you want for each lesson? Set clear and measurable goals for each lesson. Then, start writing a lesson plan to meet that goal.
Plan ahead in the summer.
Some teachers, like Lauren Elizabeth Keavney, recommend planning ahead in the Teacher Lesson Planner during the summer. Planning ahead is a productive activity that can reduce stress and save you time in the fall. It's also a great way to get the most out of your planner!
Plan it ALL out, then edit it down.
When lesson planning, it's better to over-plan at first, then streamline and trim it down as you finalize your plans (rather than the other way around).
Plan for all kinds of learning styles.
Students learn in many different ways. Whether they're visual learners, auditory learners, social learners, or solitary learners, it helps to include ways to address multiple learning styles in your lesson plans so you can reach your students on their level!
You may also like Effective Lesson Planning for Teaching and How to Use an Erin Condren Teacher Lesson Planner.
Explore our latest collection of teacher planners, including more binding options and designs to choose from than ever before!