The Science Behind the LifePlanner™
A good planner can help you stay organized, but a great planner can do so much more. From helping you focus on what matters most to enabling you to achieve goals — both big and small — a great planner is there with you every step of the way and can even help you improve your life. Studies have shown that using a planner helps with stress management and time management.
The good news is we don't have to accept stress as something that's out of our control. In fact, there's a simple and effective solution within reach to help manage stress: using a planner. It may seem too good to be true, but planning is scientifically proven to help prevent stress before it even starts. By keeping track of your life in a planner, you can stay on track, set healthy boundaries, and alleviate stress.
That's why we've spent 15 years honing and improving our signature Erin Condren LifePlanner™ to be the best everything planner. It's specifically designed to help you keep everyday tasks, goals, and projects manageable. With the proper planner, you can keep your life organized and live every moment to the fullest — and not miss the important details along the way.
​
Why is organization important?
As the adage goes, a cluttered desk is a sign of a cluttered mind. While this may not always be the case, it's certainly easier to keep your days running smoothly when you know where your keys, phone, and wallet are at all times.
Impacts Your Mental Health
Evidence suggests that disorganization negatively impacts your stress levels and, consequently, your mental health. One study found that disorganization and unfinished projects led to increased negative moods and fatigue among women. If disorganization leads to more stressful, tiring days, it only makes sense that staying organized has the opposite effect.
Gives You Control Over Your Days — and Your Life
Dana Gionta, Ph.D., notes that organization helps you optimize your time, giving you control over your schedule — rather than your schedule controlling you. By prioritizing and planning out your days, you waste less mental energy worrying if you're forgetting something or putting off an important task. That's why it's so beneficial to keep a planner on hand to keep your life organized.
When it comes to studying, reference your planner for notes, dates, source materials, and other helpful items to help you pass with flying colors. Have a paper due? Jot down topics and ideas in your planner as they come to you to help reduce stress before it begins, giving you a head start on the project.
What are the benefits of organization?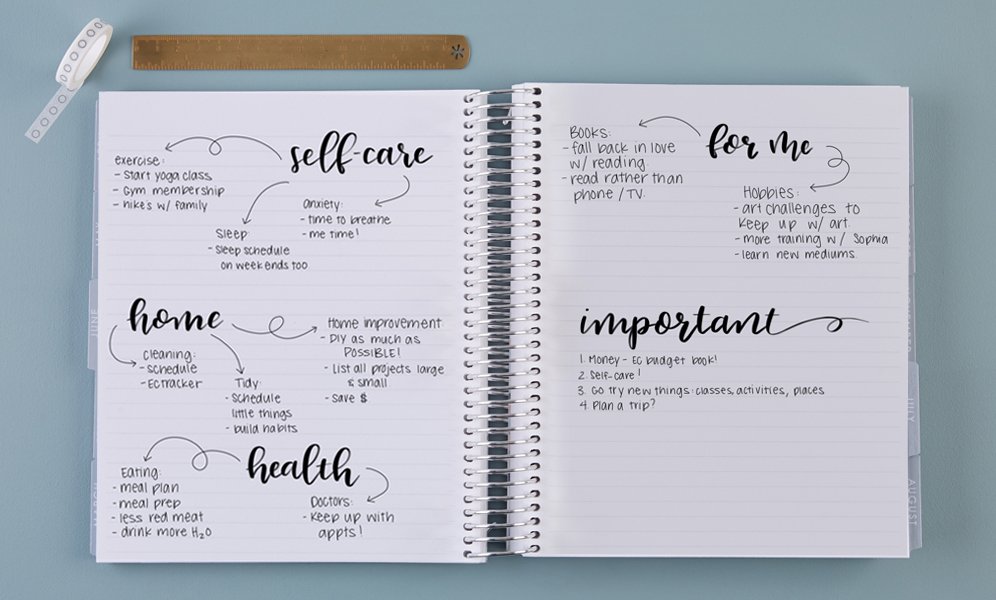 When organization frees up your mental energy, you suddenly free up space to enjoy your day rather than stress over what's coming next. Nowhere is this more true than when you've organized your day by marking everything in a planner.
Reduces Your Mental Checklist
According to Barbara Markway, Ph.D., a planner allows you to "seamlessly go from one responsibility to the next without having to worry about missing something, being late, or having to back out at the last minute." That alone is a huge weight off your mind and one of the most significant benefits of organization.
Improves Your Physical Health
Staying organized can also positively impact your physical health. Research has shown that a more organized lifestyle often leads to healthier choices. When you're organized, you can set aside time to meal prep and exercise, rather than leaving those activities to chance. You may even find that you sleep better since you're more likely to feel accomplished each day, and getting a good night's rest is no small part of improving stress management.
Keeps You Motivated
The healthier and more well-rested you are, the more likely you are to feel motivated to get things done. By staying organized, you'll have more energy to be productive and tackle challenging tasks.
Ready to get organized? Start with the best-selling LifePlanner™.
The LifePlanner™ approach to planning sets you up for success.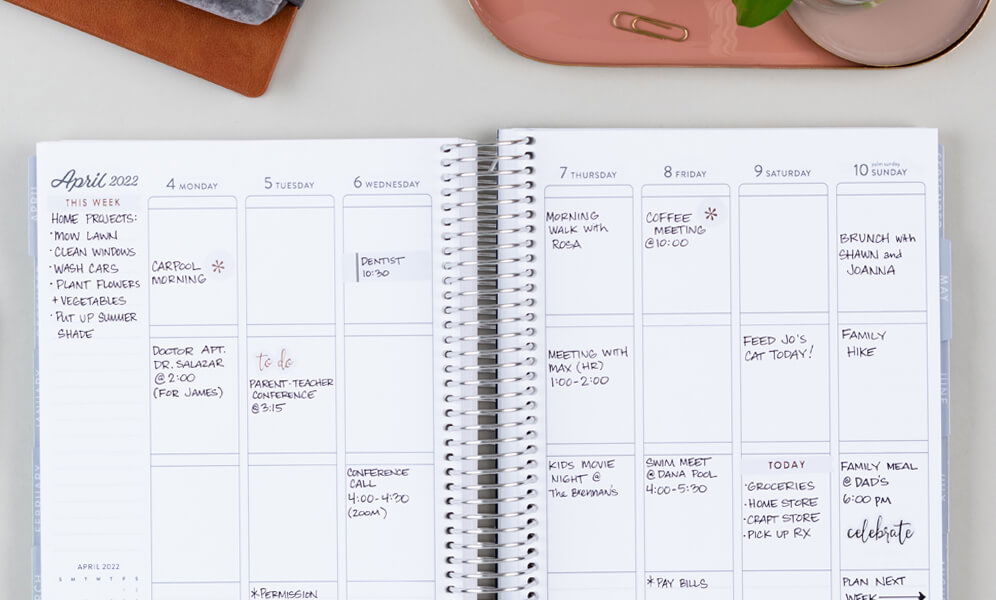 While staying organized can enrich our day-to-day lives, it may be difficult to determine what to start organizing first. If you want to get organized and reduce stress quickly, the best first step is to get in the habit of using a planner. According to psychologist Robert Epstein, planning is the best way to prevent stress. By planning ahead, Epstein says you're "fighting stress before it even starts, planning things rather than letting them happen."
Your Erin Condren LifePlanner™ can help you effectively manage your stress level and increase happiness. Our LifePlanner's extensive features are what set it apart and make you more apt to use it in your daily life. A recent Erin Condren customer survey found that over 90% of customers reported that the LifePlanner™ helped them get organized, reduce stress, increase productivity, and improve their life.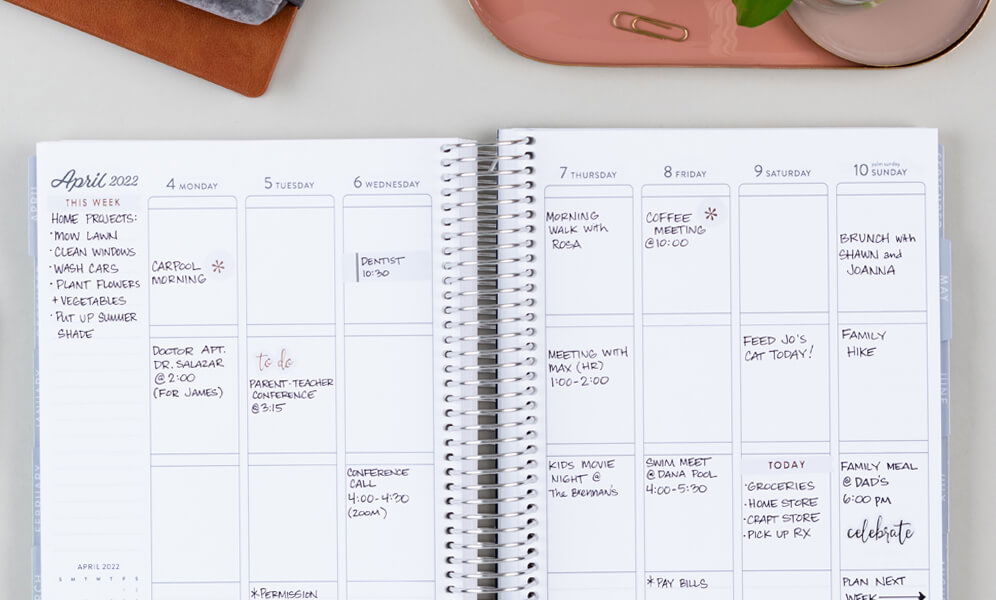 "The LifePlanner™ helps me to keep all of the roles where I lead organized and easier to follow and manage. As an educator, I can track classes and meetings by the hour; as an artist, I can design creative journaling spreads and entries; as an advocate, I can plan and track important deadlines and fundraisers; as a wife, sister, and friend, I can celebrate life, accomplishments and victories. "
– Laquisha Hall, Artist & Advocate,@confidentcanvas
LifePlanner™ Features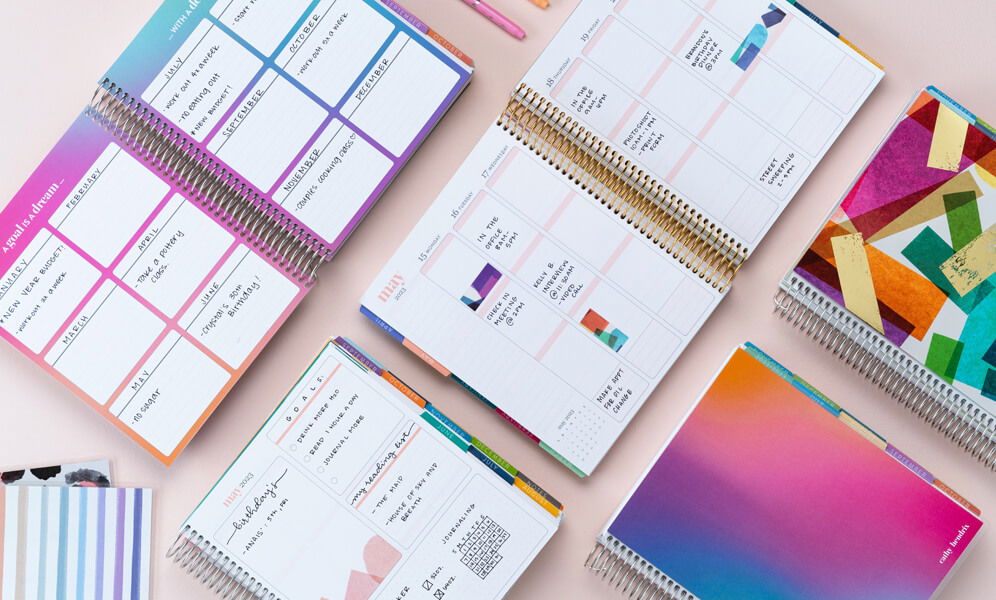 The Erin Condren LifePlanner™ will help you stay organized thanks to the following unique features:
Customizable Design: We let you choose your design, cover, colors, size, layout, and even binding option, including coil, ring, and binder. By selecting the design elements that speak to you, you'll make your planner your own. Match your planner to your office, classroom, or personal style. The more "you" it feels, the more likely you are to use it. 75% of Erin Condren customers agree that their planner has helped them be more creative. Embrace your artistic side with our help!
Yearly Overview: The 12-box monthly calendar spread allows you to plan for the entire year ahead. It's easier to set goals and plan vacations when you can quickly see every month at once. This format makes it simple to see just how much time you set aside for family and personal events. 95% of LifePlanner™ users say it has helped them organize their life and their family, which is why we ensure every LifePlanner™ includes this calendar option.
Weekly or Daily Layout (Your Choice!): Whether you prefer to plan hour by hour or day by day, we have the layout option that works best for you. With the daily layout, you can plan each hour of your day from morning till night. If you're more of a big picture planner, our weekly option lets you divvy up your day into manageable windows of time where you can plan to get multiple things done. With either option, you'll use your time more wisely and learn what you can and can't get done in a day. In fact, 83% of LifePlanner™ users told us their planner has helped them save time in the long run!
Monthly Quotes: Your planner's monthly quotes provide an opportunity to pause and reflect on the month ahead. What do you hope to achieve? How do you want to feel at the month's end? Inspirational quotes have been shown to increase confidence, motivate, and empower. Sometimes you need an extra push to stay motivated, and your planner's monthly quotes can inspire you to stay on target and achieve your goals.
Productivity Pages: Once you start planning, it's natural for other ideas and goals to form. Use the monthly productivity pages for bullet journaling when inspiration strikes, or stay organized when building tomorrow's to-do list with a snap-in dashboard or notes page inserts . Studies have shown that journaling can help you stay mindful, which keeps you clear-headed when it comes time to prioritize tasks and get work done. It's no wonder that 94% of LifePlanner agree that their planner has helped them be more productive.

Learn more about the benefits and features of our LifePlanner™, along with additional productivity tips, to help you live and plan your best life.
Setting aside the time to plan allows you to find the right balance in your life. Erin Condren LifePlanners make planning a personalized experience, allowing you to invest in your happiness and make more time for yourself. The more organized your days, weeks, and months become, the more time you'll have for the things that matter most to you. A planner is so much than just a way to keep track of your to-do list; it can make your life a more rewarding, stress-free experience.
Customize an Erin Condren LifePlanner™ that fits your schedule and style so you can minimize stress and maximize the time spent on personal and professional goals.