LifePlanner™ 101: Key Features & Benefits
Get organized, reduce stress, and fall in love with your plans again with the best-selling LifePlanner™ designed to increase productivity, time management, and joy.
With each new LifePlanner™ launch, you can expect an enormous assortment of new designs and matching planner accessories along with a vast variety of planner layouts, binding options, sizes, and more. No matter what you're planning or how busy your schedule, there's a LifePlanner™ that can make your life easier.
"The LifePlanner™ collection has something no matter what type of planner you are. Daily or weekly. Functional or decorative. Colorful or neutral. 7x9 or A5. There truly is a planner in this collection for you no matter what your plans look like!" – Jennifer Cabrera, @iamjencabrera
Find your planner peace, explore the full LifePlanner™ collection.
Why The LifePlanner™?
The Erin Condren LifePlanner™️ is a best seller (over 3 million sold) because it works. 99% of LifePlanner™️ customers report that it helps them organize their life; 97% report it brings them joy; and 95% report it helps them plan ahead and see the bigger picture (Erin Condren LifePlanner™ Survey 2022, N = 6,548). Customers all around the world use this leading organizer to start a business, buy a home, excel in school, land a better job, and so much more.

Available as a daily planner or weekly planner, the LifePlanner™ also includes monthly and yearly planning pages and is perfect for those new to planning and planner pros alike. It's easy to use, tabbed for added organization, and comes with either colorful designs or beautiful neutral ones, stickers, inspirational quotes, and more.
Try it for yourself and see why customers around the world use the Erin Condren LifePlanner™️ to lead more meaningful, joyful lives through organization.
Create your custom LifePlanner™!
LifePlanner™ Key Features
We understand that everyone's schedule—and personal style—is different. While we have extended our LifePlanner™ collection to include daily and weekly planners, more layouts, more sizes, more design options, and more formats so there's something for everyone, our spiral weekly LifePlanner™ is the one that inspired it all and continues to dominate the organization space worldwide. So, for this article, we'll focus on the original LifePlanner™.
Check out all LifePlanners, including daily planners, ring agenda planners, softbound planners, and more!
Planner Accessories and Interchangeable Covers
Each LifePlanner™ comes with a secure and stylish wet-erase, interchangeable cover so you can switch and swap designs as often as you like. Give your book a fresh new look anytime with add-on interchangeable covers. Want more? From bookmarks to productivity dashboards to sticky notes, add extra organization to your planner with a snap using snap-in planner accessories.
Highly Customizable Planner
The best part is you can customize your LifePlanner™ to fit your schedule and style. Choose your planner size (7" x 9" or A5), your exterior and interior design and personalize it with your name or initials, choose the length and start month of your calendar, select the weekly layout you like best (horizontal, vertical, hourly, or compact vertical), and build a planner that works for you!
Weekly, Monthly, and Yearly Planning Pages
Plan each day, week, month, and year your way using the weekly, monthly, and yearly planning spreads. Whether you're juggling school assignments, work projects, family schedules, personal commitments, or all of the above, this full-scale planner makes it easier to manage the chaos, reduce stress, and plan for success.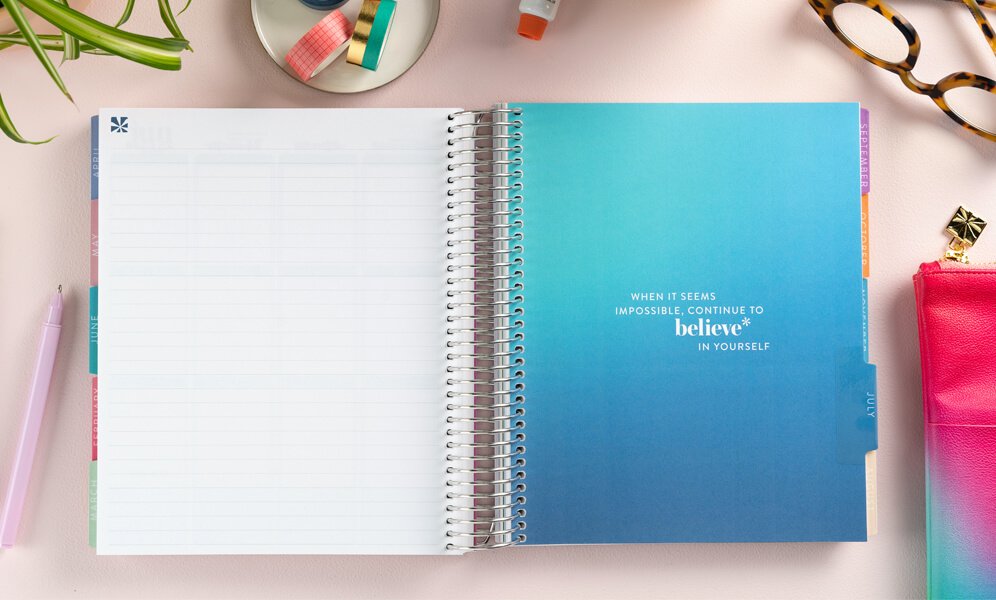 Beautiful Notes and Quotes
Extras like lined note pages, productivity pages, and inspirational quotes in each monthly section make for motivated planning!
Planner Stickers and Extras Included
We include extra surprises with each LifePlanner™, including colorful and mixed metallic stickers, snap-in ruler bookmark, and more!
Made in the USA
We're so proud to say that the LifePlanner™ is designed, printed, and hand-coiled in the USA! We use the highest quality materials, including durable, premium coils and thick 80-pound Mohawk Paper (resists ink bleeding) for a truly luxurious planning experience.
Learn about more LifePlanner™ key features here.
Which LifePlanner™ Weekly Layout Is Right For You?
The weekly LifePlanner™ offers four unique weekly planning layouts for a style that fits your schedule: vertical columns, horizontal rows with lines, hourly appointments, and a compact vertical option for our A5 weekly LifePlanners.
Compact Vertical A5 LifePlanner™ Layout
Those who love our A5 weekly LifePlanner™ will love having the option of the compact vertical layout. This planning option combines the best of vertical and horizontal planning and is specially designed for our most popular compact weekly organizer.
Vertical, Horizontal, and Hourly LifePlanner™ Layouts
We love how @katiesteiner shares the benefits of each weekly layout of the LifePlanner™ (7" x 9" and larger).
VERTICAL: I love this layout for someone who juggles a lot! Some use the boxes for morning/afternoon/evening, while others use them for different categories of their life: work/kids/school/content/to-dos.
HOURLY: This layout is ideal for people who need to manage their time! You can block off your schedule and add to-dos into your white space.
HORIZONTAL: I love this layout for people whose schedules are more fluid. One of the things I love most about this layout is that I have plenty of space for hand-lettering, and it's versatile enough that I can use the boxes however I need. There is also a blank box on the bottom-right page to organize your week.
Each layout has its own pros/cons, and it really is about what works best for your life right now. Maybe you used one layout in the past, but your life has changed and it's no longer working for you. Don't be afraid to try something new! - Katie Steiner
If you'd like to explore the Daily LifePlanner™ too, check it out in the full collection.
Benefits of Using the LifePlanner™
With over 3 million sold and featured on Good Morning America, The Today Show, Ellen, The New York Times, and many other outlets, the word is out about the many benefits of using the Erin Condren LifePlanner™ for living a productive, fulfilling, balanced life.
Reduce stress, unplug, and live well.
Time.com reports that planning is the most effective stress management technique. Our LifePlanner™ uses proven layouts you can customize to fit your planning needs so you can live more intentionally.
Improve your memory.
NPR reports that writing by hand helps improve learning and memory. Writing your plans, schedules, notes and more in a LifePlanner™ is a great way to keep everything together in one place while creating a memory book of a year in your life.
Achieve your goals.
People who write down their goals are more likely to accomplish them. The LifePlanner™ is a leading organizer with 15+ industry experience in helping customers set and achieve their goals.
Save time.
The planning pages, productivity spreads, and customizable format of the LifePlanner™ are all carefully crafted to help you manage your time and get more done so you can focus on what matters most.
Ready to plan (and live!) your best life? Choose your perfect LifePlanner™ and make it happen.