Fun Ways to Use a Blank Notebook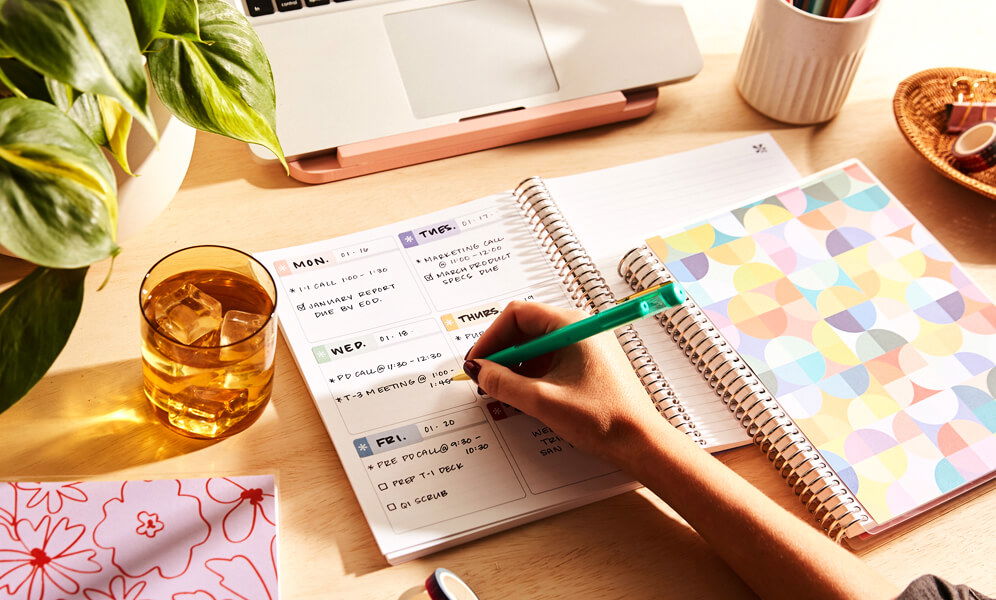 If you love collecting notebooks and journals, you aren't alone. There are so many beautiful designs available, and it's easy to feel inspired when a fresh, blank notebook catches your eye. The trouble is following through on that inspiration and figuring out what to do with an empty notebook. You don't want the notebook to go unused, except for a short, one-off journal entry, holiday wish list, or a few doodles.
Fortunately, there are many ways to use your new notebook (or notebooks, if you've gathered a collection). From cooking and developing recipes to tracking projects and trips, a blank notebook or journal is the first step to a rewarding journey.
Get Started with Your Favorite Notebook Design
Notebooks have come a long way from your school days. While standard-lined notebooks are still good for note-taking, modern notebooks are multi-purpose. Made from thick paper, Erin Condren notebook pages hold up to having recipes, article clippings, photographs, and even fabric samples taped or pasted onto them.
These open layout notebooks and journals also come with a choice of page designs: standard college-ruled, lines + checklists for productivity tracking, dot grid pages for bullet journaling, graph pages for math and charts, and a new layout called "priorities and notes" that you can use just for that or anything you like. These options make it easy to use new notebooks in creative ways. Plus, there are so many benefits of writing things down. So, grab a notebook and tap into the power of writing!
Journal as Often as You Can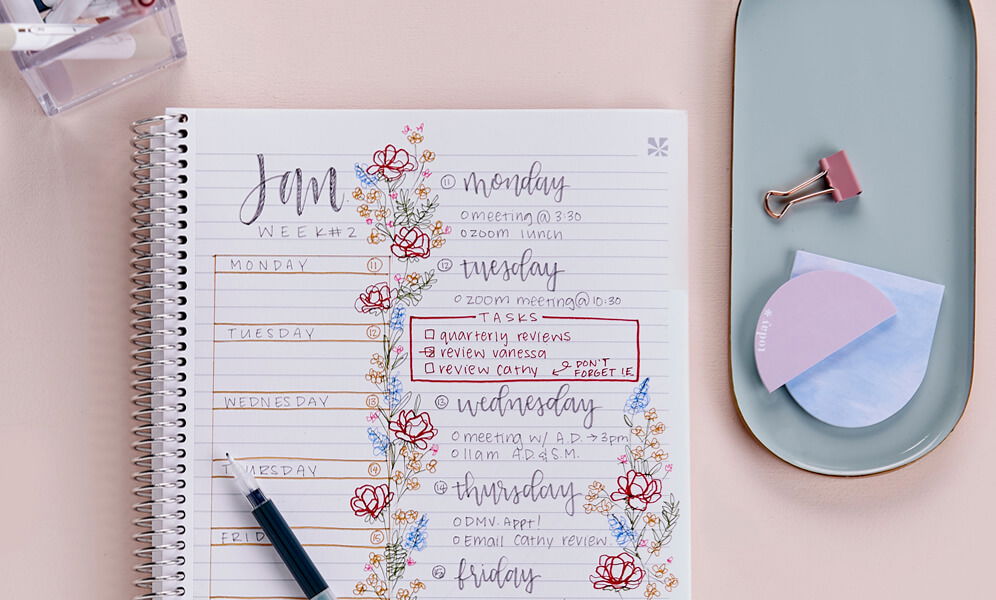 Learning how to journal can be incredibly rewarding. It's one thing to post about your life on social media, but it's quite another to provide yourself with a record of your private thoughts and daily experiences. Use college-ruled pages for prose or opt for grid-style journaling that allows you to combine written word with sketches that express your mood.
Explore five ways journaling can help you be more calm, mindful, and resilient.
Set Priorities and Take Notes
The new Erin Condren notebook layout option called "Priorities and Notes" is the perfect way to help you stay organized. On one side of each two-page notebook spread, six sections are included to help you break down your priorities like work projects, home projects, health goals, content ideas, and more. Jot down a list of what needs to get done for each section, so that every day when you look at it you can visualize how everything fits together. If a project happens to take up multiple days due to its complexity, split up the objectives and categorize them as needed.
On the other side of this innovative notebook format are college-ruled lines that are just begging to be filled with notes and ideas! This area is great for jotting down quick reminders or observations — whatever information you need that doesn't necessarily need its own priority section in your planner. With the handy Priorities and Notes two-sided notebook format, it's easier than ever to stay organized, focused, and productive.
Cook and Develop Family Recipes
Cooking at home is an adventure, and a cooking journal can help you take your meals to the next level. Use a lay-flat or spiral notebook (or a dedicated recipe notebook and write out (or print out and paste) a recipe on a page. Record your observations as you prepare your food, making note of adjustments, substitutions, and changes in temperatures or times.
You can also record your impressions of the finished dish. Or if you're cooking for kids, ask them to draw or write "reviews" in the notebook. It's a great way to get the whole family involved and engaged in meal planning.
Over time, you'll have a handy, personalized recipe book suited to your kitchen and your tastes. It could even become a treasured keepsake that lets you pass family recipes onto the next generation.
Track Important Projects and Goals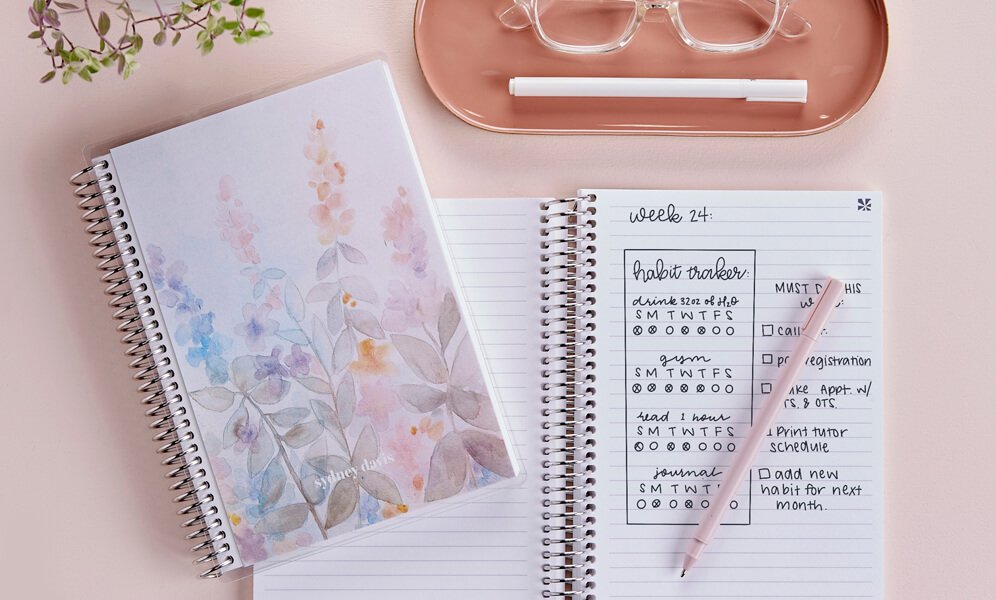 Standard planners are excellent for managing your day-to-day activities, but some projects require focused attention. Using a separate notebook for major endeavors reinforces the project's priority and allows you to customize in-depth notes, to-do lists, and goal trackers. You can use sticker sheets and sticky notes to highlight milestones and remind you of important tasks on the horizon.
If you're having trouble figuring out what to write in a notebook, here's a suggestion: Stop worrying about writing! Instead, use your notebook to complete your next art, craft, or hobby project. Use markers and pens to doodle, sketch out designs, or create inspiration collages from fabric and other materials.
You can also use your craft and hobby journal to make supply wish lists or create to-do lists so that you can start — and complete — your next project within a timeline that works for you.
Plan Trips and Record Your Travel Memories
Planning a big trip? Use a new, blank notebook to create a travel checklist so you don't forget necessary tasks, such as applying for passports, booking flights, or reserving a rental car. Don't stop there! Include lists of attractions and activities that interest you, a day-by-day trip schedule, and reflections on each day of your trip in your travel journal.
If you're feeling inspired, check out our extensive collection of personalizable notebooks to get started on your next journaling adventure!