Top 20 Travel Tips: How to Pack Like a Pro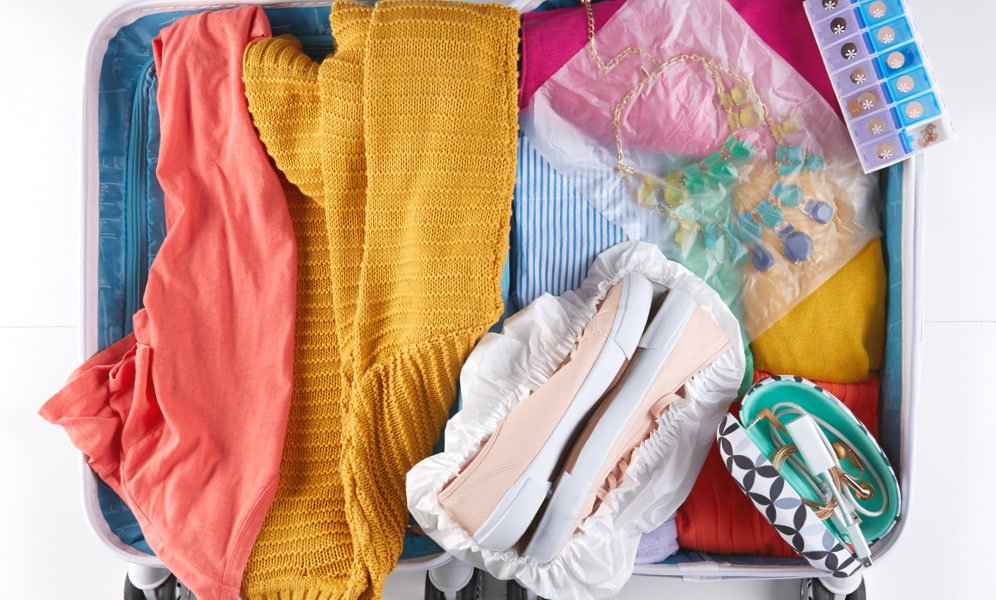 Traveling can be exciting! It can also be stressful when things don't go as planned. Forgotten essentials, suitcase spills, lost luggage … we've all been there! Plan to start your next trip right by packing like a pro with these time-saving, stress-busting (and just plain cool) travel tips.
Plan it out before you pack it up with a packing list notepad or a travel planner.
Lay items on your list out two days before packing them away.
Use packing cubes and roll your clothes instead of folding them for more space.
Store necklaces in paper straws or in plastic cling wrap to avoid tangling.
Pack multi-outfit shoes, instead of one pair for every outfit.
Organize chargers and cords in a hard sunglasses case.
Pack a waterproof phone case (chances are, you'll need it!).
Store earrings in a pill box.
Bring extra resealable bags for wet swimsuits.
Keep your suitcase fresh with dryer sheets.
Use a contact lens case as a travel-sized lotion container.
Put a cotton pad in your compact to keep it from breaking.
Carry hairpins in a mints box.
Store curling irons and flat irons in oven mitts.
Store extra shoes in shower caps.
Carry essentials in your carry-on, in case your checked bags are delayed or lost.
Bring an extra, collapsible bag for carrying travel treats back home.
Ask for samples of your favorite cosmetics instead of packing full-size products.
Group all the items you'll need to remove for airport security in the same bag.
Pack compression socks for more comfort during long flights.
Explore our collection of bags and totes for more ways to stay organized on the go. Now you're ready to travel with less stress and MORE space in your suitcase! Have an amazing trip and don't forget to take the scenic route!
You may also like How to Plan a Vacation with a LifePlanner™.