How to Plan a Vacation With Your LifePlanner™
Vacations and staycations are meant to be times of relaxation for you and your entire family. They're necessary for unplugging, unwinding, and reconnecting. According to one research study, just planning your trip can make you happier than actually taking it. Make both the planning process and the vacation itself a source of happiness by staying organized. The Erin Condren LifePlanner™ can help make preparing for a trip a smooth experience. Here are five tips to stay organized using your LifePlanner™.
​
1. Use your planner layout to pick the best vacation dates.
Utilize the layout of your LifePlanner™ to glance at the months ahead. Think about the notice you will need to give your work or the time you will need to budget and begin narrowing down dates from there. Make notes of off-season months or highlight dates when rates are cheaper to help you stay within your planned vacation budget. The spiral LifePlanner™ makes it easy to add snap-in accessories like a to-do list dashboard to make planning your vacation easier.
​
2. Use sticky notes for important checklists and tasks.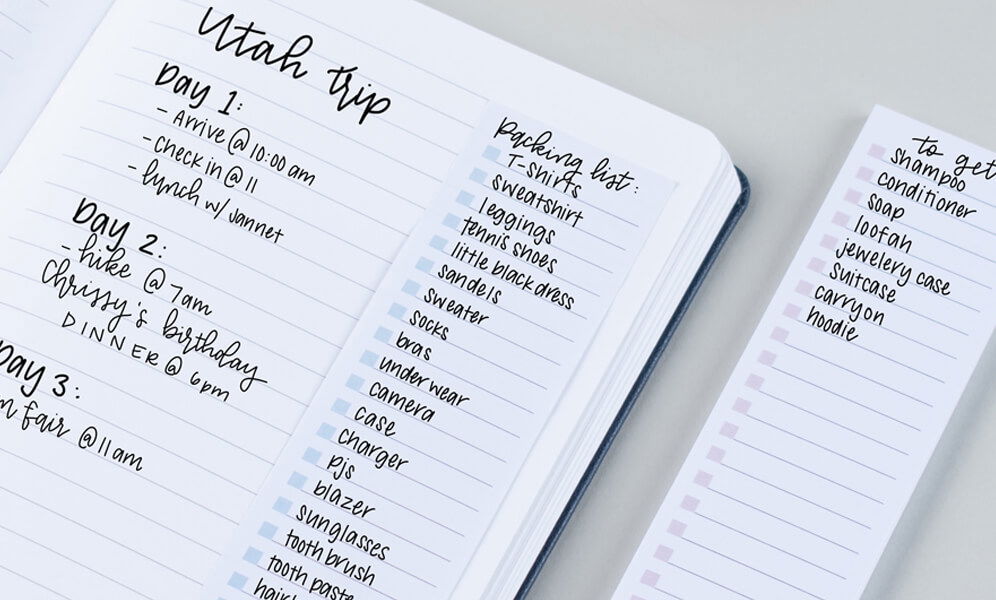 Planning a vacation checklist is easy to do with a checklist notepad. Use your notepad to create packing lists and prioritize tasks at work before going out of town. Place colorful, versatile sticky notes in your planner to grab your attention to ensure you don't forget to finalize arrangements. Stick notes on key calendar dates to mark deadlines for deposits and promotional deals.
3. Stay organized by keeping loose, important paperwork in your planner.
Use your LifePlanner™'s pocket folders to store all the necessary items for your trip. File reservation confirmations, boarding passes, directions, maps, and any other paperwork you may need. Use Sticky Pockets to store additional items, including photos, tickets, and receipts. By keeping everything in your planner along with your schedule, you won't risk forgetting anything. Pack your vacation planner in your purse or carry-on luggage so all your important documents and schedules are close at hand.
4. Use the mini-months section to get excited about your vacation.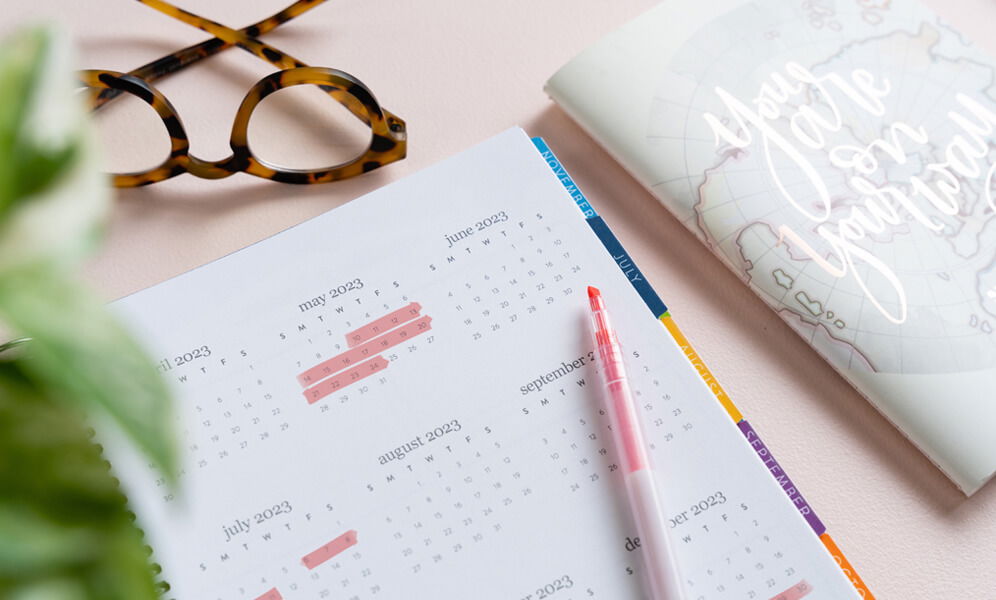 Once your plans have been finalized, add your vacation to your planner's mini-months section. When you open this section, you will be reminded of your plans, which can supply both motivation and a positive outlook. Studies show that having a trip planned as far out as six months can increase your energy levels! You can use the mini-months section to add in additional monthly goals leading up to vacation. For example, note when to apply for your passport to ensure you get it in time. The act of completing this task will get you vacation-focused while giving you peace of mind.
5. Snap in a wellness planner to stay on track.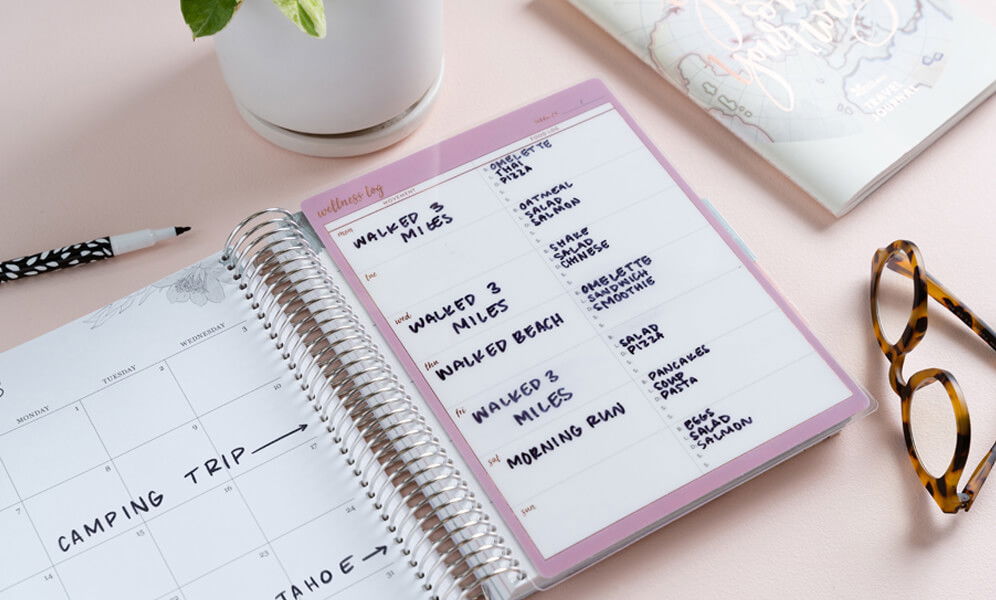 Vacations are a time to relax and unwind, but that shouldn't mean you can't take good care of yourself during your travels. By using our Snap-In Wellness Dashboard to schedule exercise, meditation, hydration, and healthy eating, you can set — and keep — wellness goals throughout your trip, ensuring that you return home refreshed and even healthier than before!
BONUS TIP: Pack travel games for the family so every minute is fun.
Traveling to and from a destination can be time-consuming. Prevent boredom by planning ahead and investing in on-the-go gifts like playing cards and puzzles. Pack these items in your carry-on or purse, and pass them out to the kids for long car rides or before a flight. These games encourage the family to unplug and spend quality time together, providing a shortcut to instant relaxation and family bonding.
These vacation planning tips reduce the stress of vacation prep by helping you track the time, budget, and tasks necessary to make your dream getaway happen. Reward yourself for the hard work you've put into planning by taking time off and enjoying the fruit of your labors. All the thought you've put into your trip using your LifePlanner™ will pay off when you don't need to worry about anything while away. You'll be more than prepared to enjoy all your vacation activities stress-free, so you can focus on what's most important.