How to Start a Business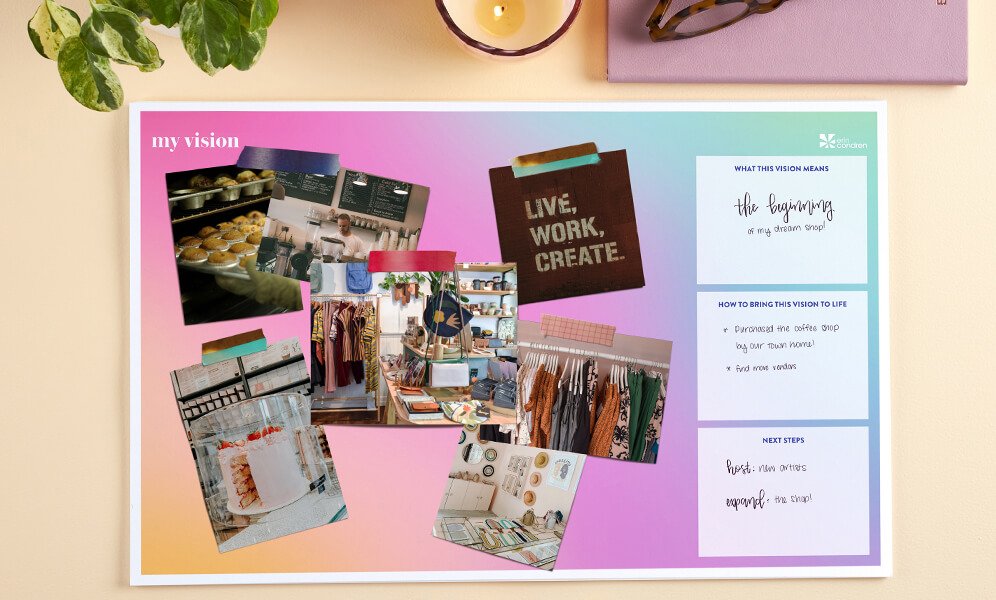 If you've been thinking about starting your own business, there's a lot you'll need to do before your grand opening. Whether you're planning a part-time side hustle, a small, home-based business, or launching a multi-million dollar enterprise, we can help you get started!
Imagine Your Business
You probably already have a good idea of the product or service you'll sell and may even have ideas about branding and your business model. Now is the time to take those ideas a step further and develop them into your brand and business plan. Our Vision Journal can help you harness your thoughts and ideas and craft an action plan to make your dream a reality.
Research Your Industry
To succeed as an entrepreneur, you'll need to understand your industry. Review industry journals, blogs, and discussion forums to get a feel for trends and possible pitfalls. You'll also want to read up on licensing requirements, which may include both professional licenses as well as general business licenses and permits.
Develop a Plan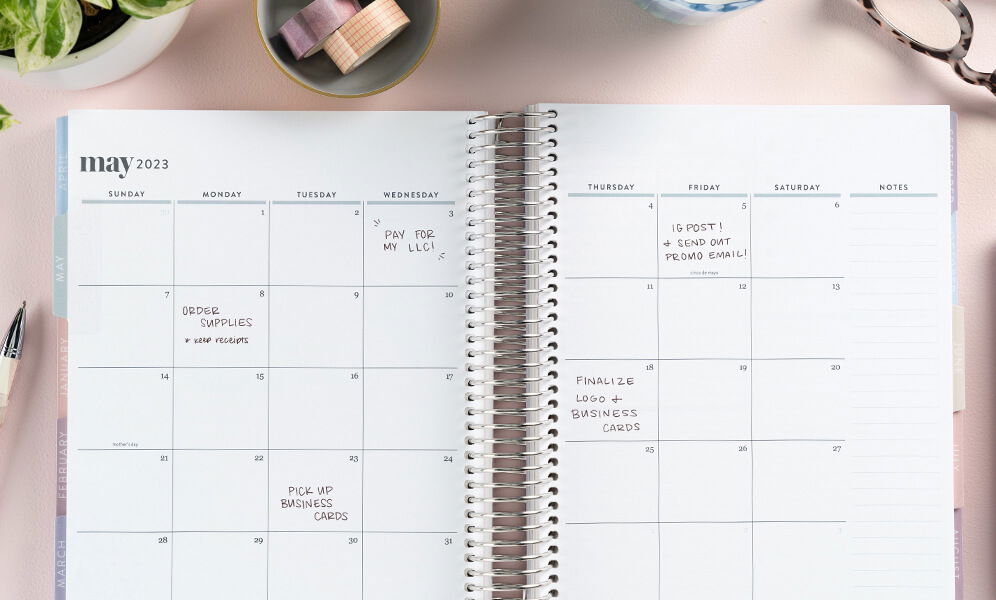 Once you've solidified your vision through solid industry research, it's time to work on a business plan. This part of starting a business can be daunting, so it's a good idea to read business plans developed by other entrepreneurs to get a sense of what you'll need to do. Other sources of help include your local Chamber of Commerce and business mentorship programs such as SCORE.
During the business planning phase, you may find that you're feeling overwhelmed with all the tasks before you. Investing in a detailed planner like a LifePlanner™ or using a checklist to get things done are great ways to stay on top of your responsibilities.
Find Your Funding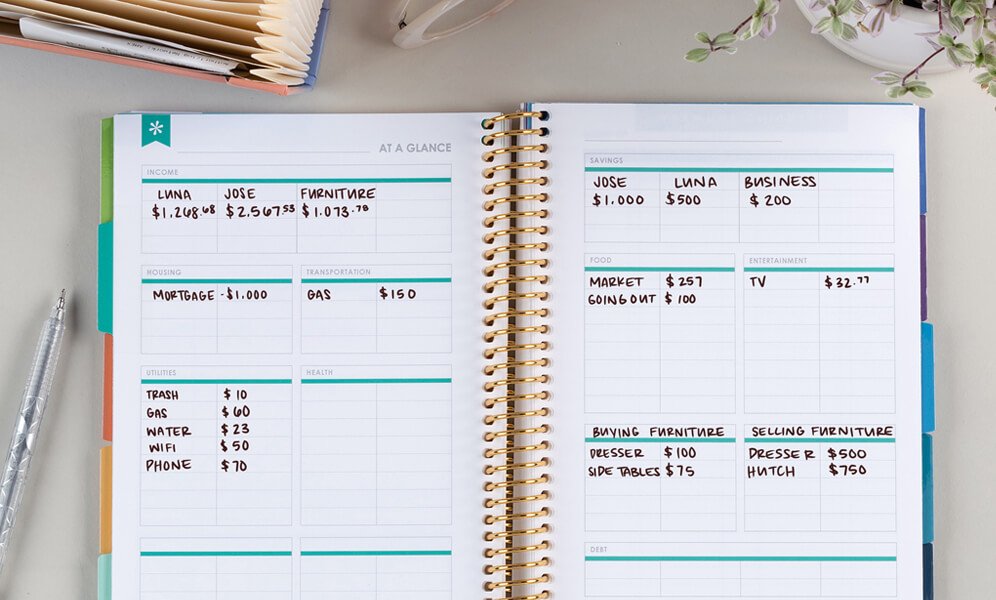 While there are some businesses that can be launched on a shoestring, having some start-up capital not only helps to ensure your success but also helps reduce a lot of stress.
If you plan to seek out investors, a business loan, or apply for a line of credit, you'll want to get your own finances in order. Creating a budget, and sticking to it, is critical at this time.
Put a Support Team Together
Even if you don't plan to hire employees right away, you'll still need a team to support your entrepreneurial efforts. Now is a good time to choose an attorney, an accountant or a bookkeeper (particularly one that can help you understand small business tax deductions), an insurance agent, and branding professionals who can help with things like graphic design, website development, and copywriting.
Choose a Business Structure
You'll need to decide on a legal structure for your business. Many small business owners opt to start out as a sole proprietorship, which may make sense for you. But it's worth exploring other options, such as becoming a corporation or forming a limited liability company (LLC). Each option has its advantages and drawbacks, so it's important to get good legal advice to determine the organization type that works best for you.
Protect Your Business With Insurance
Even if you're starting a business from home, insurance coverage is important. Many people don't realize that even a small business can have liability issues, which can be even more complex if you're working out of your house. Standard homeowner's policies often exclude accidents and other issues that involve your business, your business property, or clients who visit your home.
Another type of insurance that you might need is errors and omissions coverage. This policy can provide protection if you're sued by a client or customer due to a mistake. Talk to your attorney and your insurance agent about appropriate coverage for your business.
Set Up Your Workspace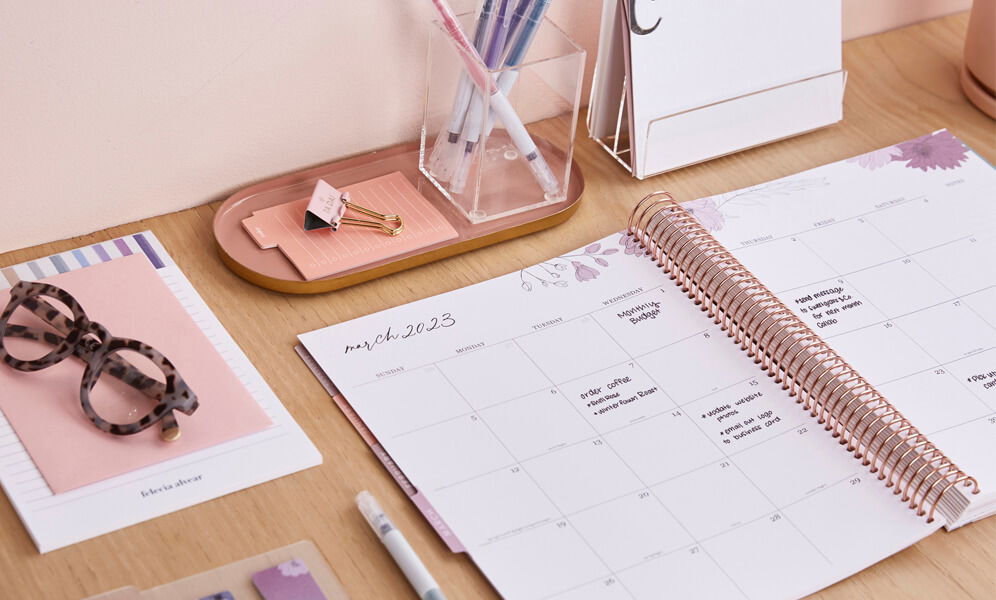 Whether you're working from home, setting up shop in a retail space, or renting an office, you'll want to set up a functional, attractive workspace that allows you to be productive. It doesn't hurt if it also reinforces your brand and personality! Our desk accessories range from classic and focused to colorful and vibrant, and they're all incredibly functional. Plan out your day using a simple, personalizable desk pad that lets you know your plans for the day at a glance.
Promote Yourself
When you feel ready to launch your business, let everyone know! Get business cards printed and pass them out to friends and associates. Use social media to connect with potential clients and your community, or reach out to podcast hosts in your industry about scheduling an interview or ad for their program. Be sure to thank others for their time with a handwritten thank you note on personalized stationery that reflects your professionalism.
Starting a business takes a lot of work, but if done right, you'll reap huge rewards. A thorough preparation process is essential, as is staying the course and not being deterred by the inevitable challenges. We offer tools for creativity, goal setting, and other planning needs that can help you navigate this exciting time.
Shop now. Pay in 4.
Always interest-free.
You must be over 18, a resident of the U.S. and meet additional eligibility criteria to qualify. Late fees may apply. Estimated payment amounts shown on product pages exclude taxes and shipping charges, which are added at checkout. Click here for complete terms. Loans to California residents made or arranged pursuant to a California Finance Lenders Law license.
© 2020 Afterpay
Pay in 4 interest-free payments
No impact on credit score and no late fees.
Available for purchases of $30 to $1,500.
Choose PayPal at checkout to pay later with Pay in 4.
Complete your purchase with a 25% down payment.
Use autopay for the rest of your payments. It's easy!
Pay in 4 is available to consumers upon approval for purchases of $30 to $1,500. Pay in 4 is currently not available to residents of MO or NVMissouri or Nevada. Offer availability depends on the merchant and also may not be available for certain recurring, subscription services. When applying, a soft credit check may be needed, but will not affect your credit score. You must be 18 years old or older to apply. PayPal, Inc.: Loans to CACalifornia residents are made or arranged pursuant to a CACalifornia Financing Law License. GAGeorgia Installment Lender Licensee, NMLS #910457. RIRhode Island Small Loan Lender Licensee. NMNew Mexico residents:
Find more disclosures related to Pay in 4.