Back to School Supplies One-Stop Shopping Guide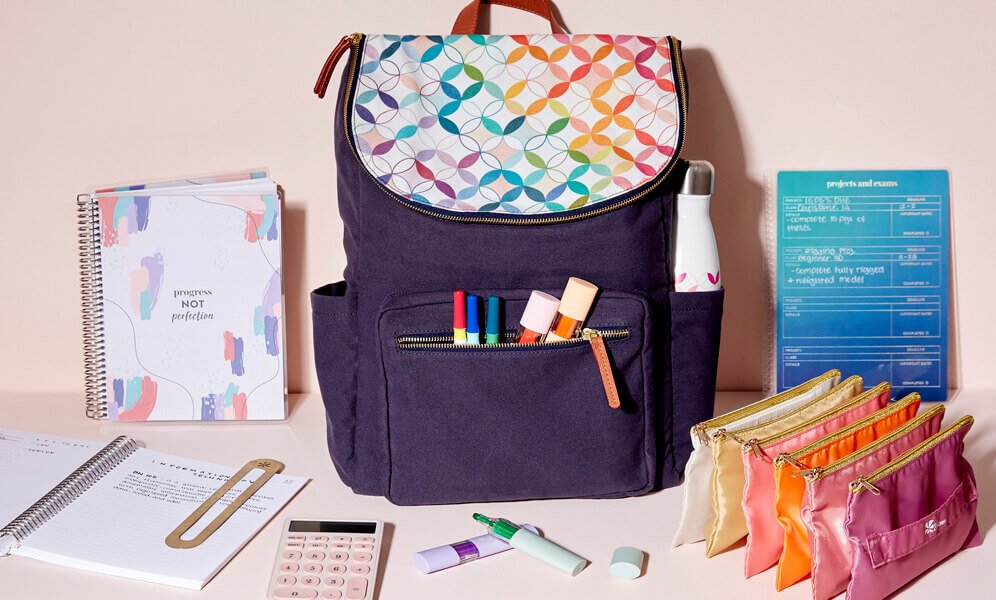 Discover new must-haves and best-selling school supplies, planners, notebooks, bags, accessories, and more for students of all ages (in class and online). Designed to inspire, designed to last all school year!
Desk Organizers, Writing Tools, Pencil Cases, and Accessories
This new collection of durable, fun, and functional school supplies like markers, highlighters, bookmarks, sticky notes, pencil cases, and more adds more joy and organization to each school day!
School Backpacks, Bags, and Totes
Keep it all together with functional, versatile, high-quality bags, totes, and laptop sleeves. Stay organized from home to school to the gym, work, games, and beyond. Switch and swap our interchangeable straps to change up the look of your bag.
School Notebooks and Notepads
Best-selling notebooks and notepads made with high-quality, 80 lb. text weight paper (resists ink bleeding) and must-have designs are perfect for all your writing needs—note-taking, list-making, bullet journaling, scheduling, anything. Choose your favorite page layout and personalize your notebooks and notepads!
School Agendas and Student Planners
Top school planners for students of all ages. Designed in the USA with proven layouts and high-quality materials so you get the most out of every page, all school year long.
The Academic Planner
The A+ planner for students to organize class schedules, projects and exams, and plan for success!
The LifePlanner™
The EVERYTHING planner for planning and achieving goals, from academic to personal to professional.
The Monthly Planner
A clever Academic Planner or LifePlanner™ companion for planning special projects for school, sports, clubs, volunteering, anything!
Star Wars School Supplies
Jurassic World School Supplies
Go back to school with your favorite Jurassic World dinosaurs, featuring new and nostalgic designs for students of all ages.
Hello Kitty School Supplies
Infuse each school day with more kindness, happiness, and organization with supercute Hello Kitty school supplies, organizers, and stationery!
There's so much more to explore, including school supplies for teachers and homeschooling parents, too! Shop the full Back to School .

SHOP NOW. ENJOY NOW. PAY LATER!
SHOP NOW. ENJOY NOW. PAY LATER!
4 EQUAL INSTALLMENTS, EVERY 2 WEEKS, AVAILABLE AT CHECKOUT