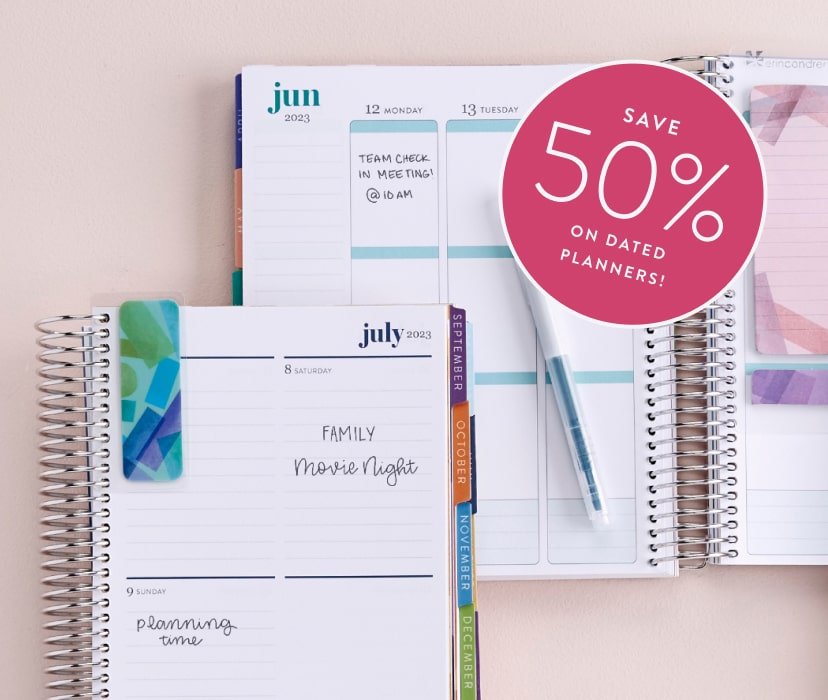 Coiled Weekly LifePlanner™
Our ultra-customizable, best-selling WEEKLY PLANNER with monthly calendars just got better! Now with new designs, layouts, stickers, and more customization options to create your perfect all-in-one calendar, planner, and journal! Featuring proven layouts perfect for productivity, goal setting, time management, and everyday organization.
•

Everything Organizer: Monthly Calendar, Weekly Planner & Journal

•

Thick 80 lb. Mohawk Paper (Resists Ink Bleeding)

•

12-Month 2023 Dated Monthly Calendars

•

Includes Stickers, Notes & Productivity Pages with To-Do Lists & More
BUILD YOUR PERFECT LIFEPLANNER™:
•

4 Weekly Planner Layouts & 4 Interior Design Options

•

2 Size Options: A5 or 7" x 9"

•

Personalize Your Planner Cover & Choose Your Coil Color
Filters
Frequently Asked Questions
The LifePlanner™ is the best weekly planner, monthly calendar, and journal in one. And every year it gets better! This everything weekly planner offers all the features you've come to love, along with multiple upgrades and customization options, including:

New, interchangeable cover choices in a range of patterns, colors, and themes. Weekly planner layout options in vertical, compact vertical, horizontal, or hourly. Multiple interior design options. Choice of 7" x 9" desktop planner or portable A5 ring-binder. Choice of coil color. Personalizable cover, 12-month calendar, planner stickers, note pages for journaling, productivity pages with goal setting and to-do lists, and more!

We offer so many weekly planner options because we know that planning is highly personal. Whether you need an hourly planner, an easy-to-scan monthly calendar, or a more comprehensive whole life planner, we have you covered. Our planners feature thick, sturdy paper that resists tears and ink bleeds, allowing you to use the writing tools of your choice to customize and embellish your LifePlanner™ pages. These custom planners also include multiple extras, such as monthly tabs, stickers, a snap-in ruler, and a storage folder, letting you make your life planning practice as easy as possible. Plus, our personalizable covers allow you to change up the look of your planner whenever you want something new.

For those who prefer minimal planners focused on function without the extras, try our Focused Planner™, the perfect weekly planner, monthly calendar, and journal or professionals, men, and stylish minimalists.