teacher

LESSON PLANNER

Bring color to the classroom! Simplify and stylize each week of the school year with our new Teacher Lesson Planner, with an updated layout and refreshed design!
– Two-Page Monthly Calendar Spreads
– Weekly Pages for Lesson Planning
– Monthly Notes Pages, Inspirational Quotes & More
– Printed Dates in Two 12-Month Calendar Options
– Included Coiled-in Stickers
A+ Style Ahead
From must-have new cover designs to subtle designer touches printed inside the planner, this Teacher Lesson Planner is making the (style) grade!
custom covers
FOR A CUSTOM LESSON PLANNER
what's inside the
TEACHER LESSON PLANNER
the personalized
TEACHER LESSON PLANNER EXPERIENCE
We LOVE Teachers! Our new & improved Teacher Lesson Planner was designed largely based on customer feedback and extensive research. We're so excited to share the stunning details of our updates & improvements as we provide the premium lesson planning experience!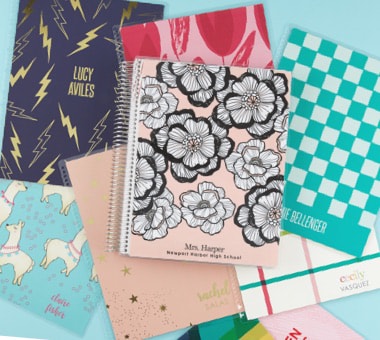 INTERCHANGEABLE COVERS
Each Teacher Lesson Planner comes with a secure & stylish removable interchangeable cover so you can switch & swap designs as often as you like. Give your book a fresh new look anytime!
New Teacher-Approved Layout
Redesigned based on customer feedback, our new Teacher Lesson Planner features monthly planning spreads, weekly lesson plans & useful info pages for a cohesive and stylish layout!
Printed Dates & 2 Calendar Options
Say goodbye to placing date dots & hello to permanently printed dates! Choose between two 12-month calendar options: July to June 2019 or January to December 2019!
BEAUTIFUL NOTES & QUOTES
Extras like lined note pages and motivational quotes make for happy lesson planning! The 2018-2019 Teacher Lesson Planner is more than just a classroom essential, it's a life essential!
STICKERS & EXTRAS INCLUDED
We coil in extra surprises so our customers can celebrate each day in the classroom! Our Teacher Lesson Planner includes four pages of coiled in stickers (some metallic!) & a dual-sided folder!
Customize Your Lesson Planner
While each Teacher Lesson Planner is built with the basics, upgrade your experience with more checklist pages, page protectors and accessories for a truly personalized planning experience!
inspirational
TEACHER STORIES
"I'm so excited about the extra planning space, the weekly lesson planning pages behind the months, and the dated planner."
– Jennifer Mackintosh
Wildflowers & Marbles
"While every teacher plans differently, they all plan for the best school year ever! The ECTP has everything a busy teacher needs to stay organized!"
– Ashley Magee
@firstgradebrain
"My Teacher Lesson Planner keeps me organized, focused, and feeling inspired. I can't imagine a school year without the TLP by my side!"
– Theresa Copeland
truelifeimateacher.com
"The ECTLP truly makes lesson planning enjoyable! The lesson planner and accessories inspire me to add that extra splash of color into my teaching."
– Sarah Fuchs
Sarah Fuchs on YouTube
"The teacher planner literally has it all to keep teachers organized throughout the year. The contact log and checklists are my absolute favorite!!!"
– Megan Harris
keepingupwithmrsharris.com
upgrade your
PRODUCTIVITY
compare
OUR PLANNERS
Coiled
LifePlanner™
Hardbound
LifePlanner™
Deluxe
Monthly Planner
Focused Planner
Academic Planner
Wedding Planner
Teacher's Planner
Monthly Spreads
Weekly Spreads
 
 
 
Tabs
 
 
 
Binding
Coil
Hardbound
Coil
Coil
Coil
Coil
Coil
Color Theme
Colorful or Neutral
Colorful or Neutral
Colorful or Neutral
Neutral
Colorful
Colorful
Colorful
Note Pages
 
Size
7x9
5x8 or 8x10
7x9 or 8.5x11
5x7 or 7x9
7x9
7x9
8.5x11
Extras
Folder
Storage Pouch
4 Sticker Sheets
Bookmark
Placeholder Ribbon
Folder
2 Sticker Sheets
Notches
1 Sticker Sheet
Date Dots
Date Dots
4 Sticker Sheets
Checklists
Folder
Bookmark
Storage Pouch
4 Sticker Sheets
Sheet Protector
Checklists
Bookmark
Folder