academic

PLANNER

This must-have academic planner features 12 months of customized planning with a coiled, undated calendar! Lined pages, inspirational quotes and rich, luxurious paper ensure an optimum planning experience!
– 12 Two Page Undated Calendar Spreads
– Refreshed Designs, Notes & Quotes
– Weekly Spreads for Assignment Tracking & Due Dates
– Coiled-in Stickers and Added Extras
Scholastic Success Starts Here!
Plan for the most organized year of your life and see scholastic success come to life from the pages of your planner!
custom covers
FOR A CUSTOM ACADEMIC PLANNER
what's inside the
ACADEMIC PLANNER
the personalized
ACADEMIC PLANNER EXPERIENCE
Perfect for staying on track with due dates, group projects, exams and more, this must-have book will be the colorful cornerstone of your academic experience!
COMPLETELY CUSTOMIZABLE
Our secure & stylish removable interchangeable covers allow you to switch & swap designs by subject, semester or season! Mix or match a coil color for the perfect finishing touch.
PROJECTS & EXAMS
Dedicated pages for projects and exams are ideal for tracking project due dates, assignments and components needed to complete them!
WEEKLY SPREADS
Each Academic Planner features weekly spreads for you to plan in, from to-do lists to study schedules, after-school activities and more!
MONTHLY SPREADS
Two-page undated calendar spreads allow you to note big deadlines or events and see the bigger picture as you reach your planning potential!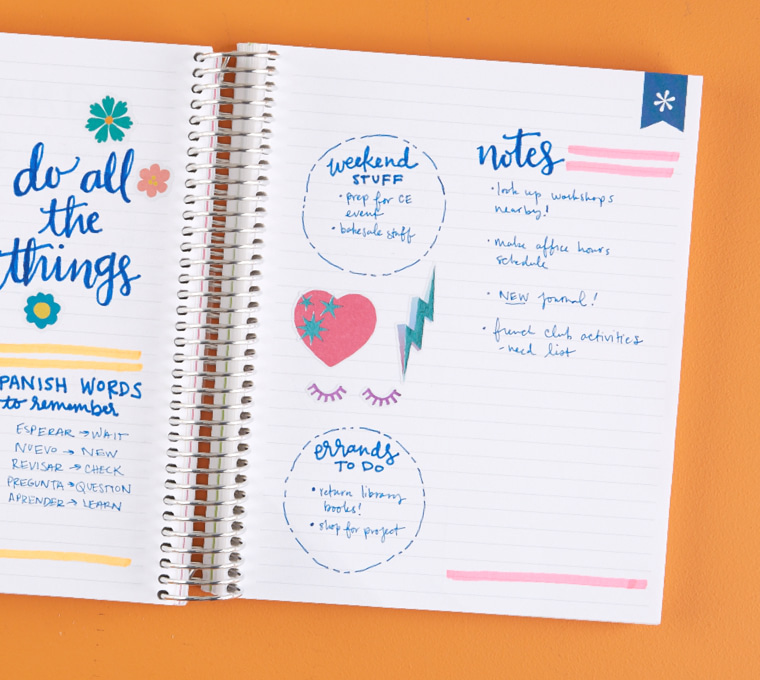 NOTES & QUOTES
Extras like lined pages before each month and bold, motivational quotes make for happy planning! The Academic Planner is way more than just a planner, it's a dose of inspiration!
INCLUDED EXTRAS
We coil in extra surprises so our customers can celebrate each day in the classroom! Our Academic Planner includes 2 sheets of coiled in stickers.
inspirational
SUCCESS STORIES
"My Daughter loves her academic planner! It's a great way for her to stay organized and manage all of her college classes and assignments."
– Julie Garza
@julies_plans
"I cherish the time I spend organizing my academic planner every week. It makes even the most mundane homework assignments a little extra fun!"
– Gabby Lange
High School Senior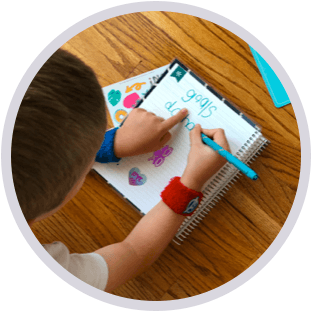 "Our kids love having their own spaces to write down goals, to-do lists, and memories! My 6 year-old is learning good habits early on in a way that's fun for him!"
– Jen DuFore
@jen_plans
upgrade your
PRODUCTIVITY
compare
OUR PLANNERS
Coiled
LifePlanner™
Hardbound
LifePlanner™
Deluxe
Monthly Planner
Focused Planner
Academic Planner
Wedding Planner
Teacher's Planner
Monthly Spreads
Weekly Spreads
 
 
 
Tabs
 
 
 
Binding
Coil
Hardbound
Coil
Coil
Coil
Coil
Coil
Color Theme
Colorful or Neutral
Colorful or Neutral
Colorful or Neutral
Neutral
Colorful
Colorful
Colorful
Note Pages
 
Size
7x9
5x8 or 8x10
7x9 or 8.5x11
5x7 or 7x9
7x9
7x9
8.5x11
Extras
Folder
Storage Pouch
4 Sticker Sheets
Bookmark
Placeholder Ribbon
Folder
2 Sticker Sheets
Notches
1 Sticker Sheet
Date Dots
Date Dots
4 Sticker Sheets
Checklists
Folder
Bookmark
Storage Pouch
4 Sticker Sheets
Sheet Protector
Checklists
Bookmark
Folder