wedding

PLANNER

There's so much to do before you say "I do!" Plan your big day with less stress and more style, with the help of handy checklists that fuse function with fun!
– 12 or 24 Month Calendar Options
– Durable Tabs for Easy Organization
– Checklists, Notes Pages, Memory Logs & More!
– Stunning Inspirational Quotes Throughout
– Customizable Interchangeable Cover Options
Plan in Style Before You Walk Down the Aisle
This best-selling planner is the ultimate wedding planning tool! With monthly checklists, notes pages & more, it's your must-have companion on this life journey!
custom covers
FOR A CUSTOM WEDDING PLANNER
what's inside the
WEDDING PLANNER
the personalized
WEDDING PLANNER EXPERIENCE
Customize the Wedding Planner to fit your needs! Whether you're planning for a long engagement or rushing to check off your to-dos, make this a personalized experience!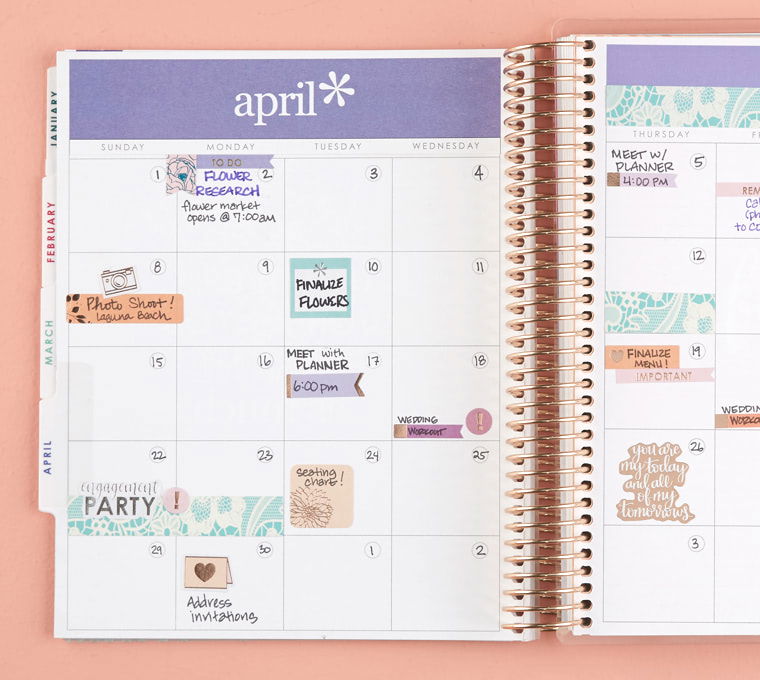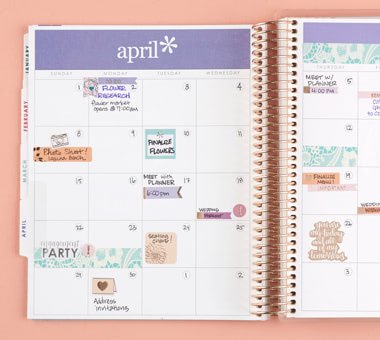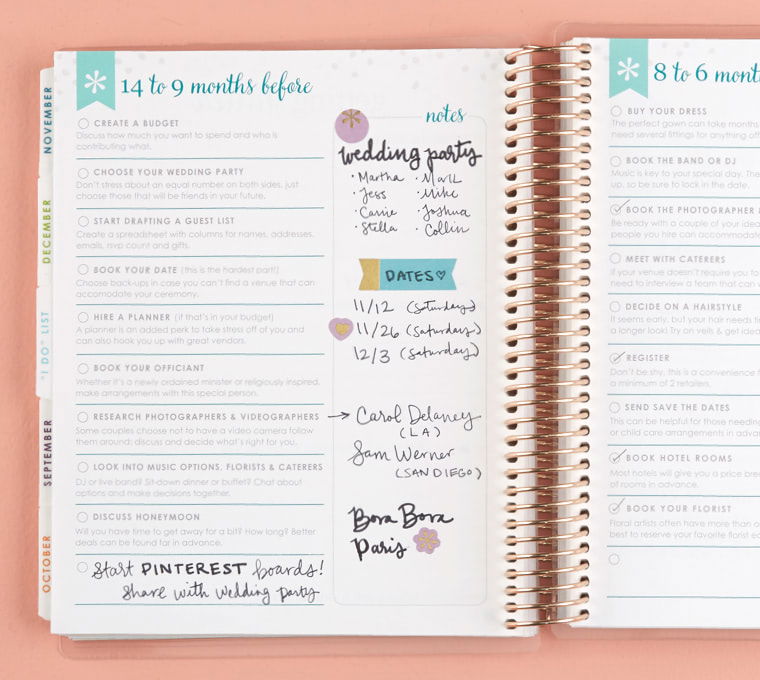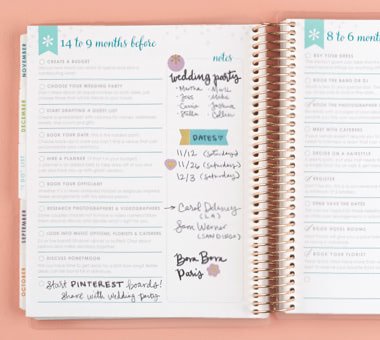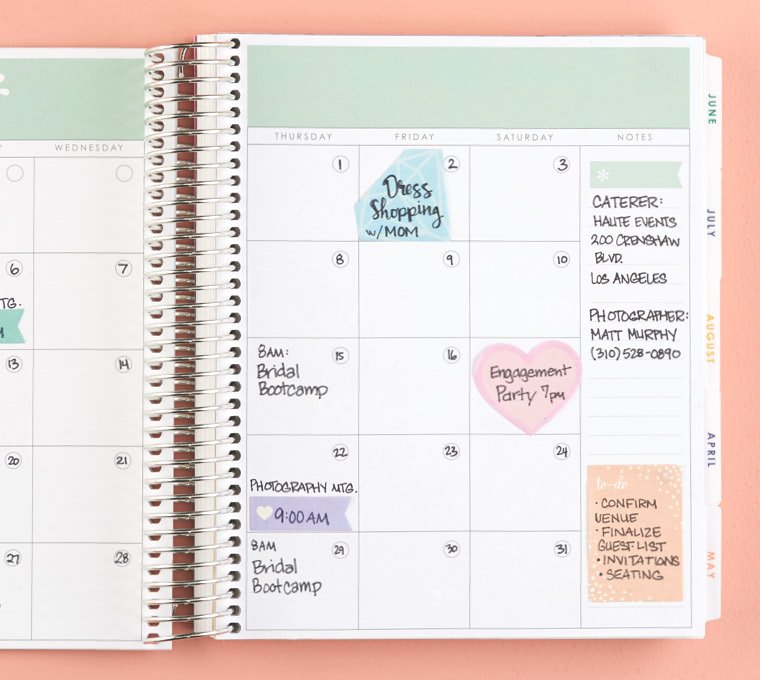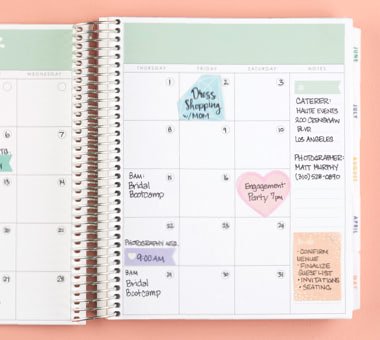 MONTHLY PLANNING
Never miss a step with monthly checklists that easily outline to-dos from 14 months before, all the way to your big day!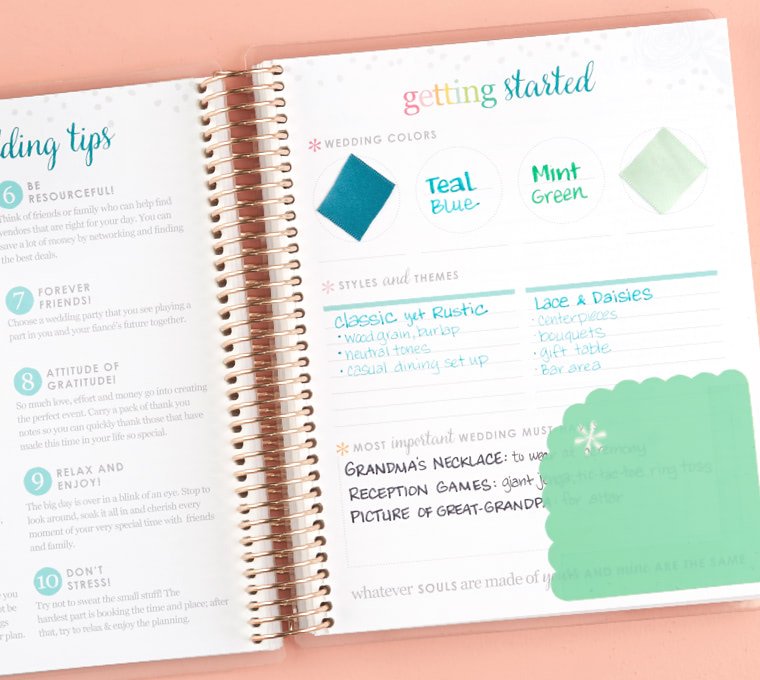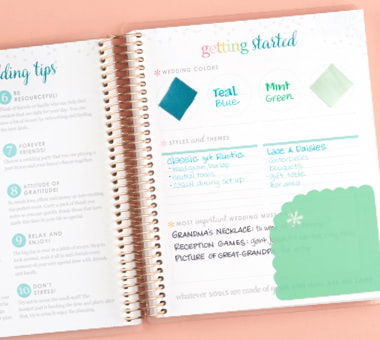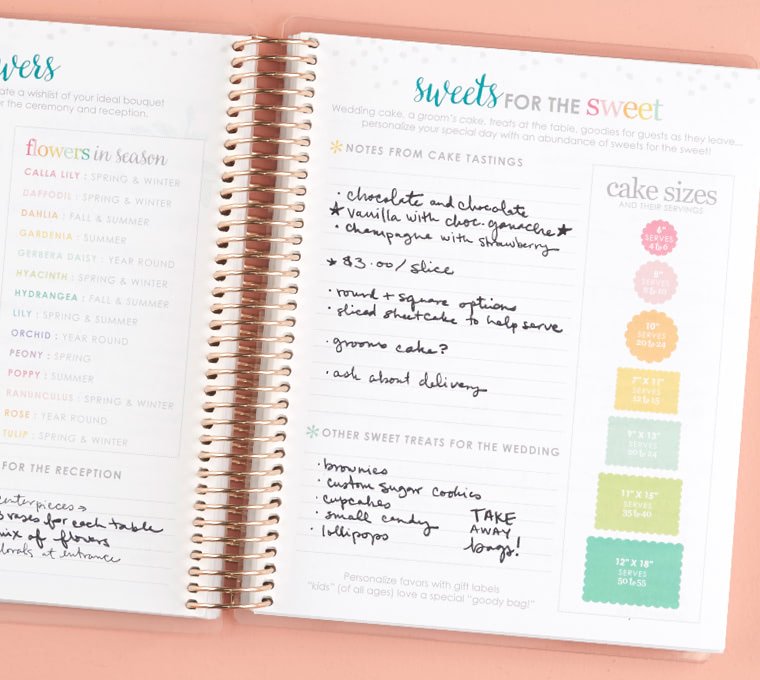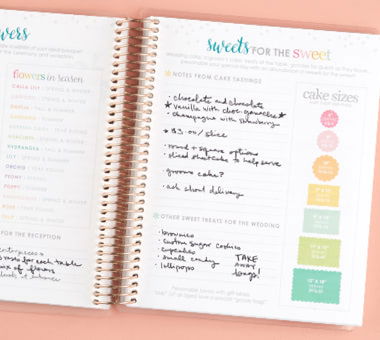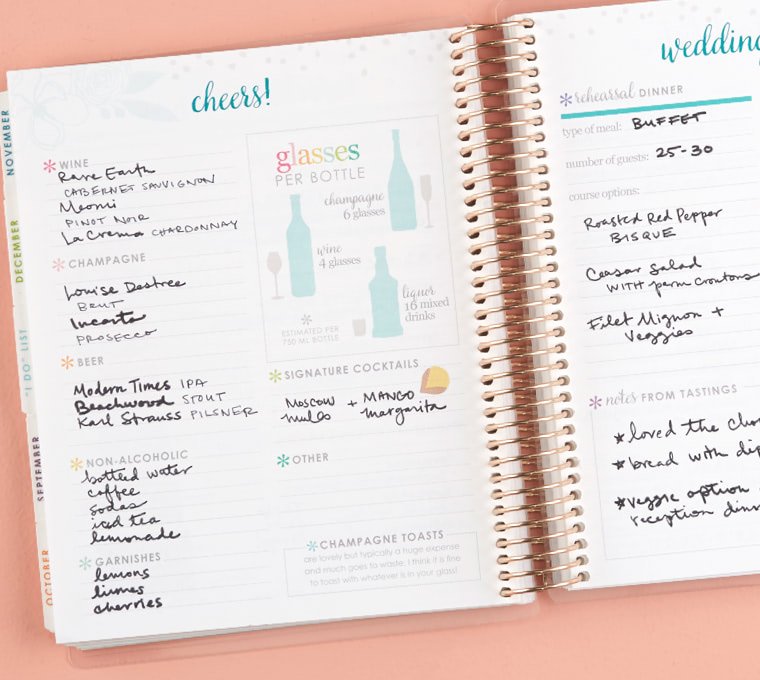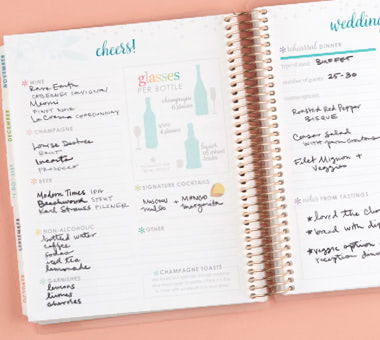 WEDDING TIPS
Plan in style for your walk down the aisle with a little help from the EC team! Stay on track with Erin's top 10 wedding tips & brainstorm your wedding-must haves.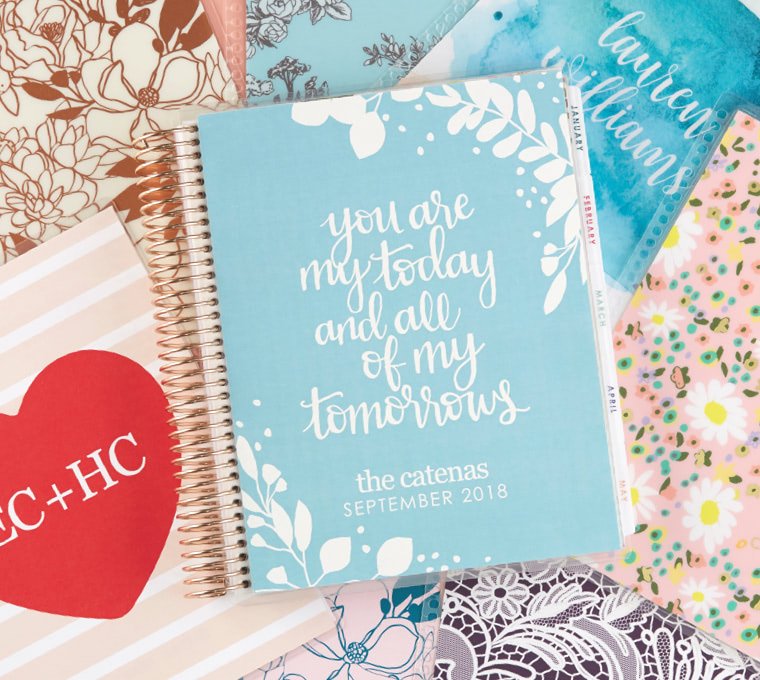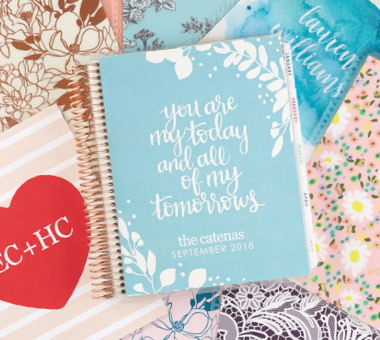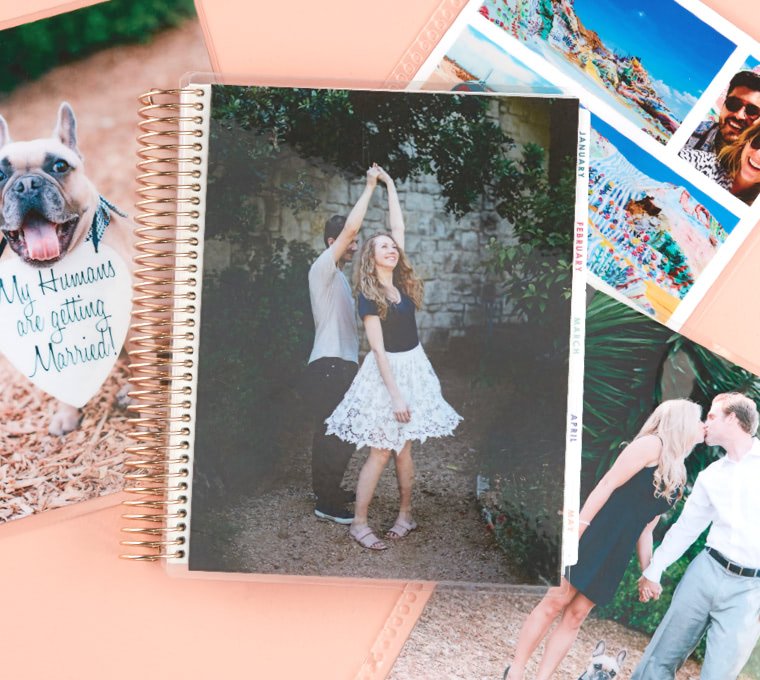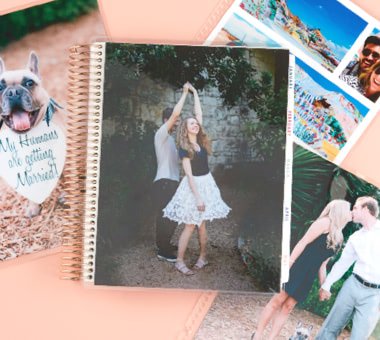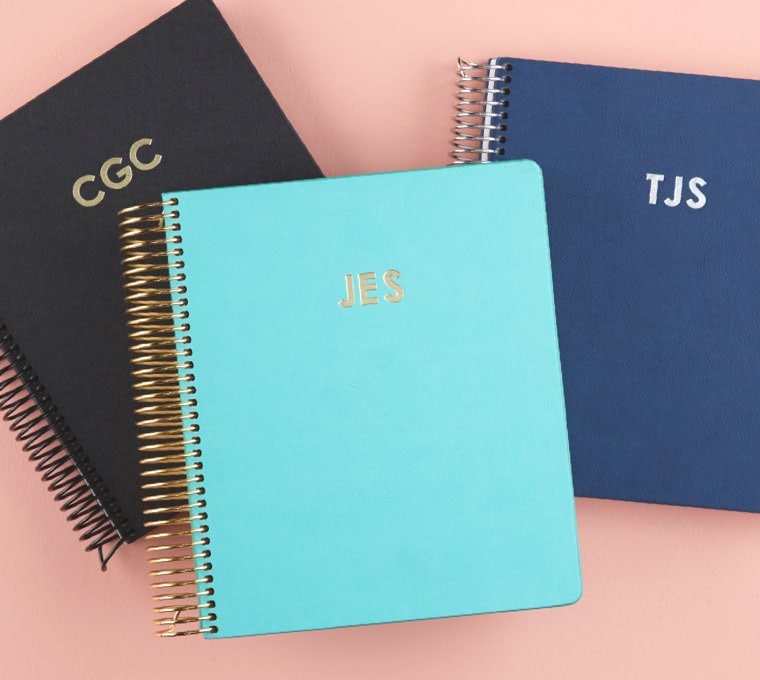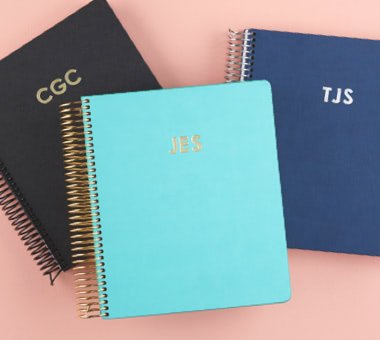 INTERCHANGEABLE COVERS
Each Wedding Planner comes with a secure and stylish removable interchangeable cover. Refresh your design whenever, wherever, or update when those engagement photos come in!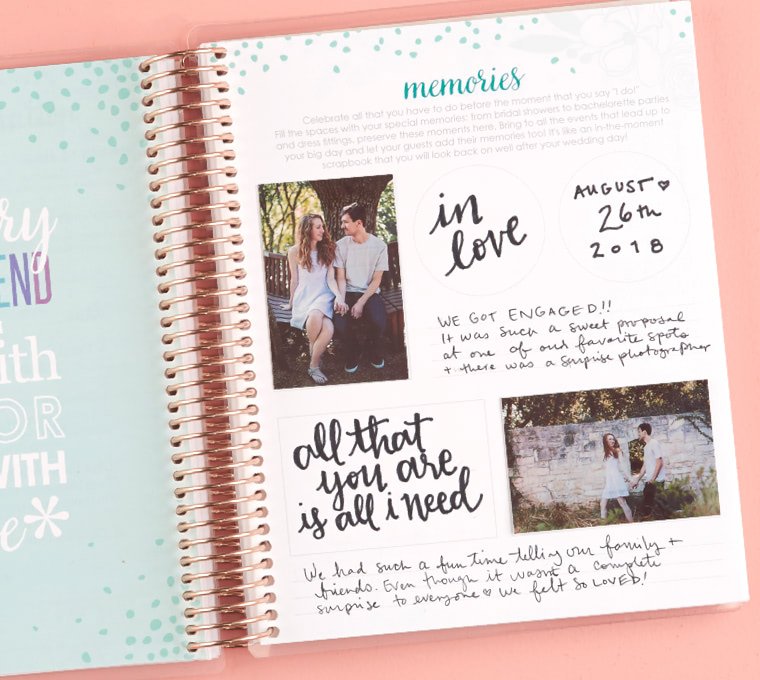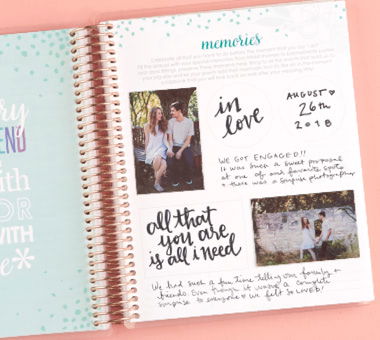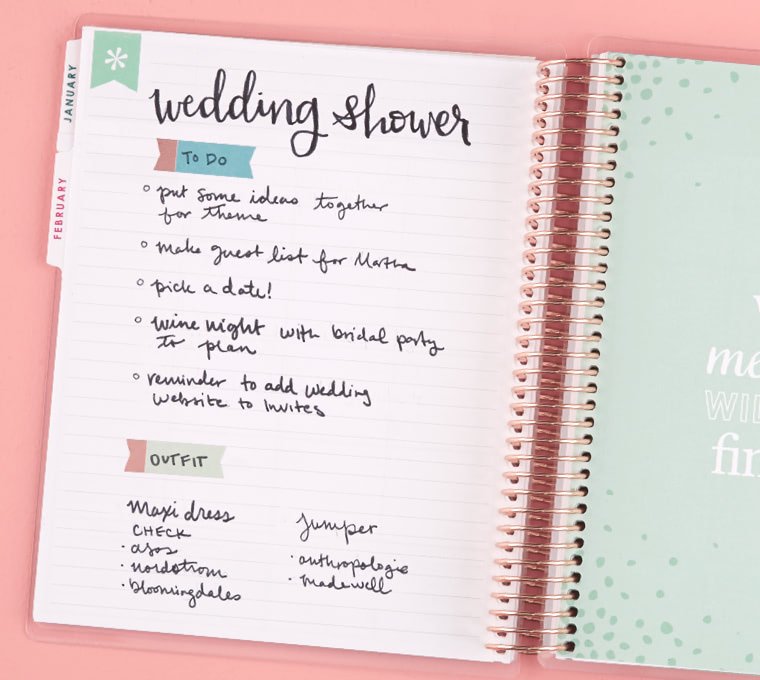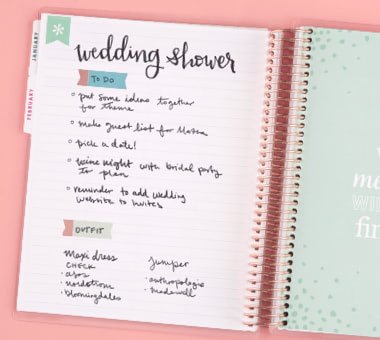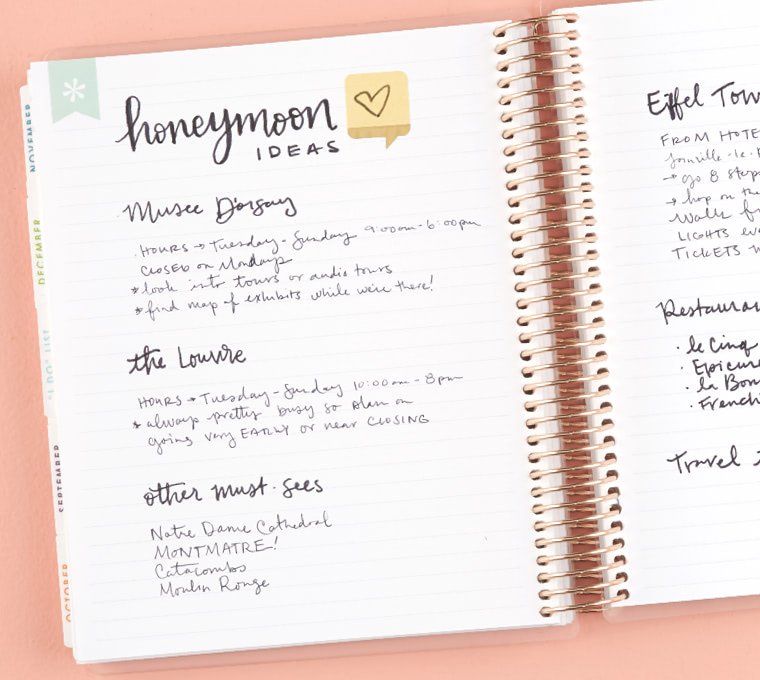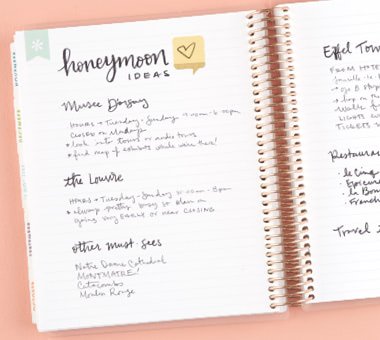 NOTES, YOUR WAY!
A full 70-page notebook with a mixture of lined and blank pages is perfect for everything from sketching your dream dress to collecting ideas for the big day!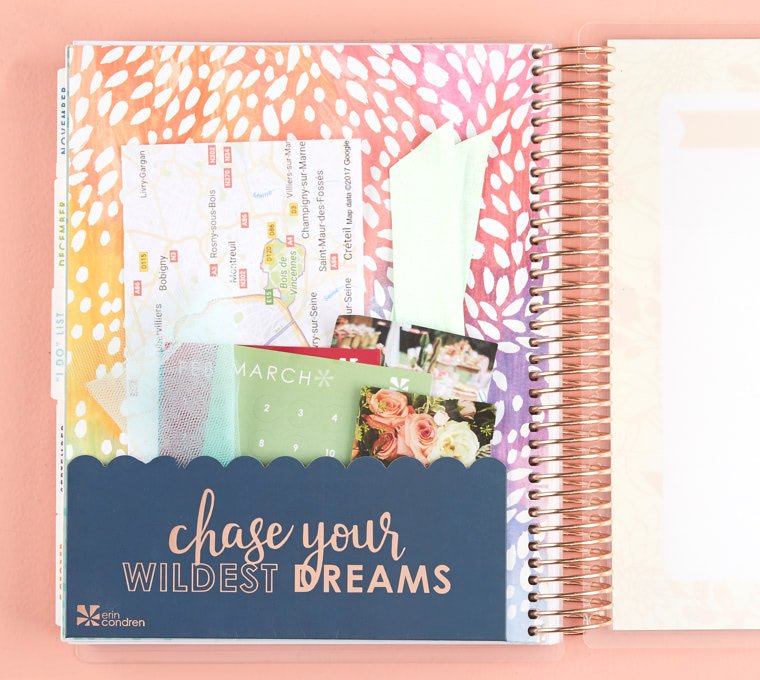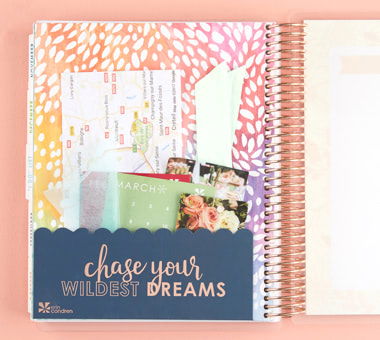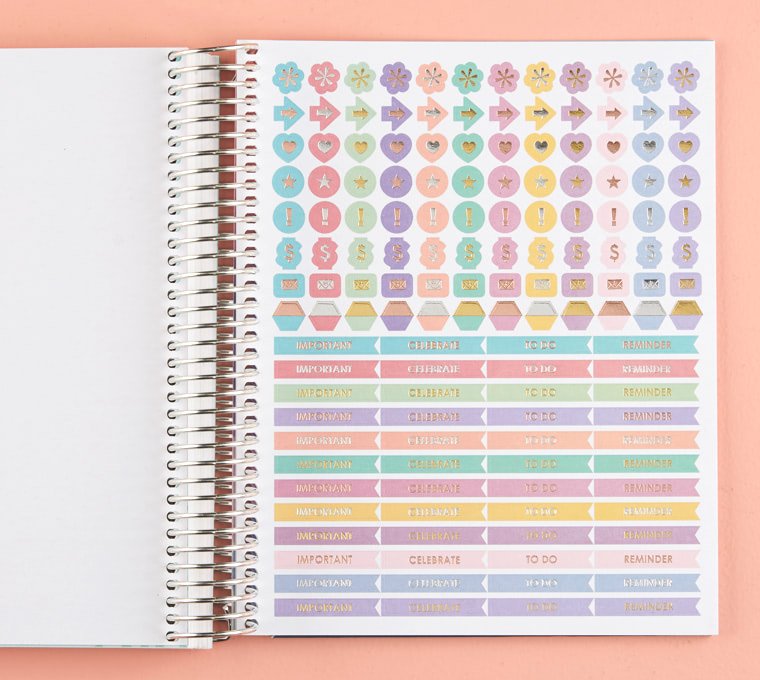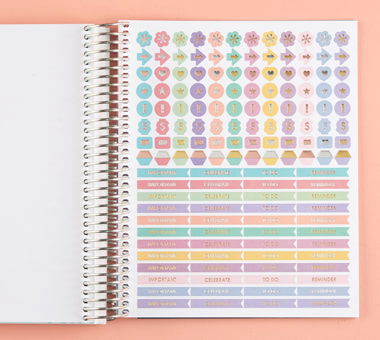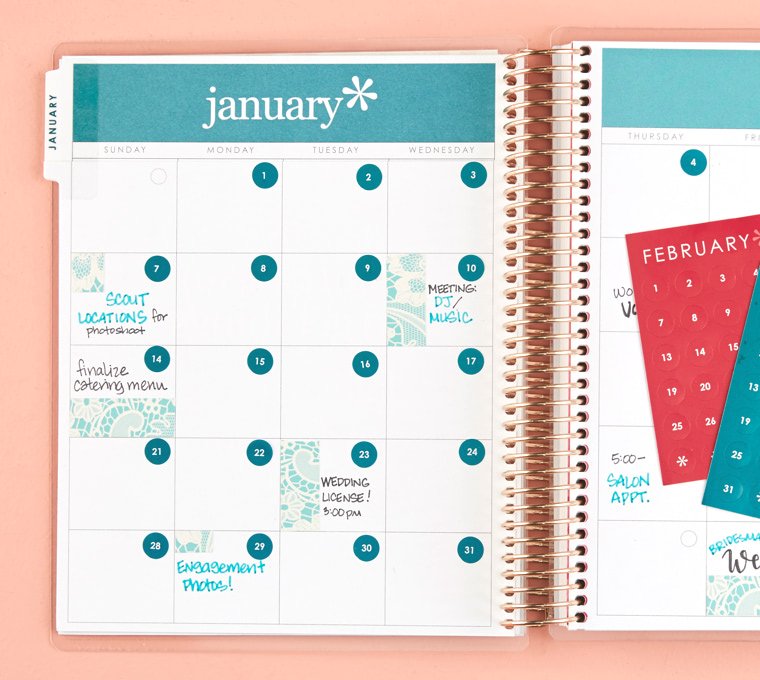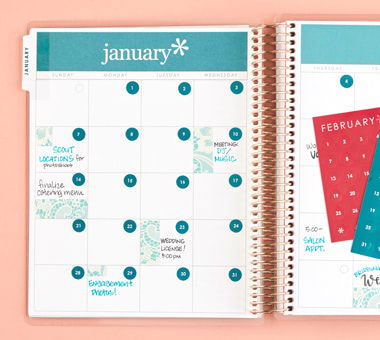 STICKERS & EXTRAS INCLUDED
Each Wedding Planner includes four sheets of colorful stickers: two blank and two pre-typed sticker sheets with wedding must-dos!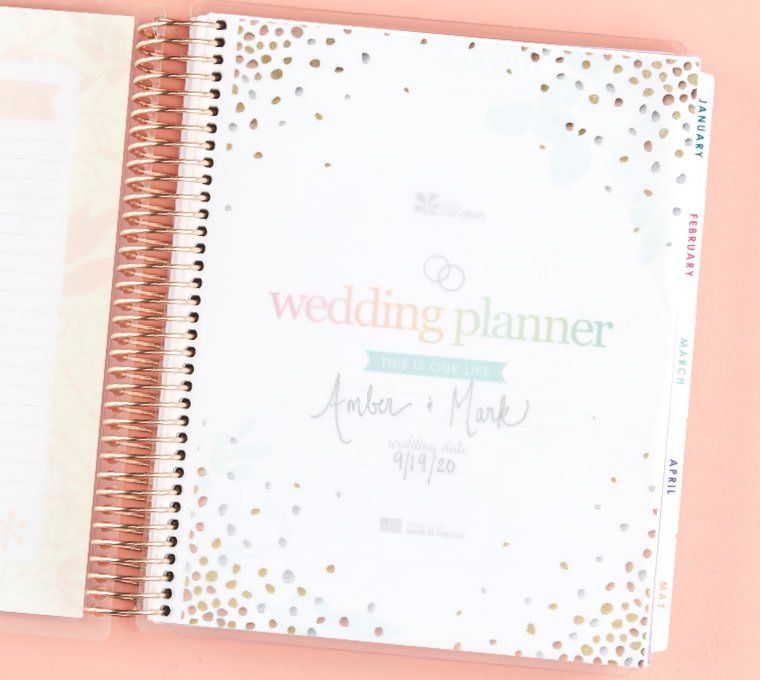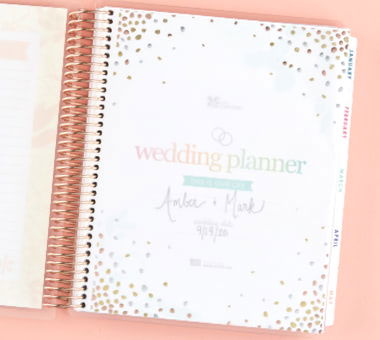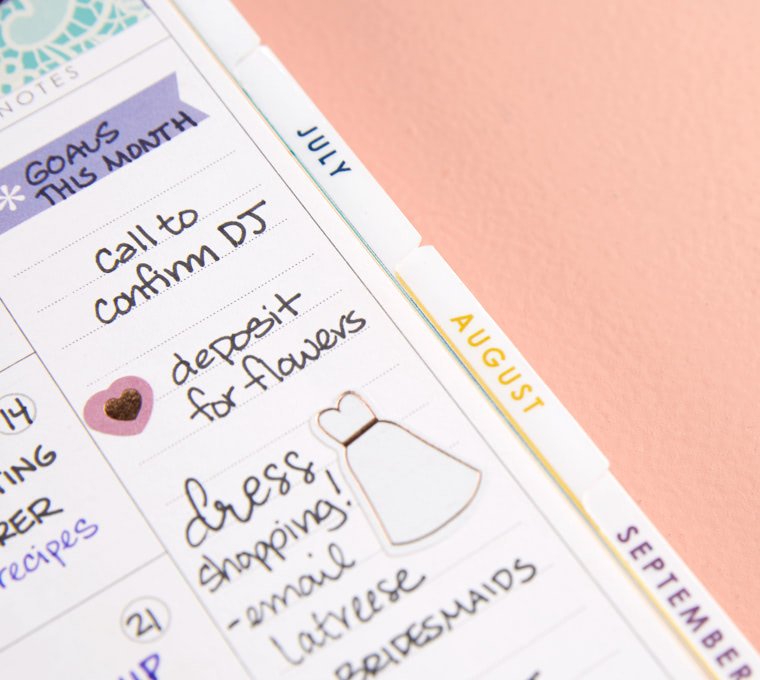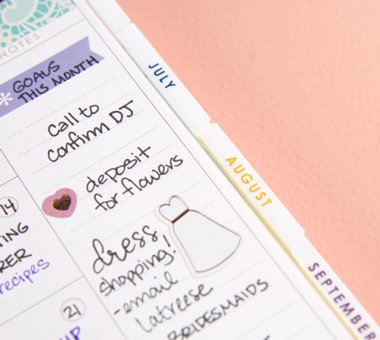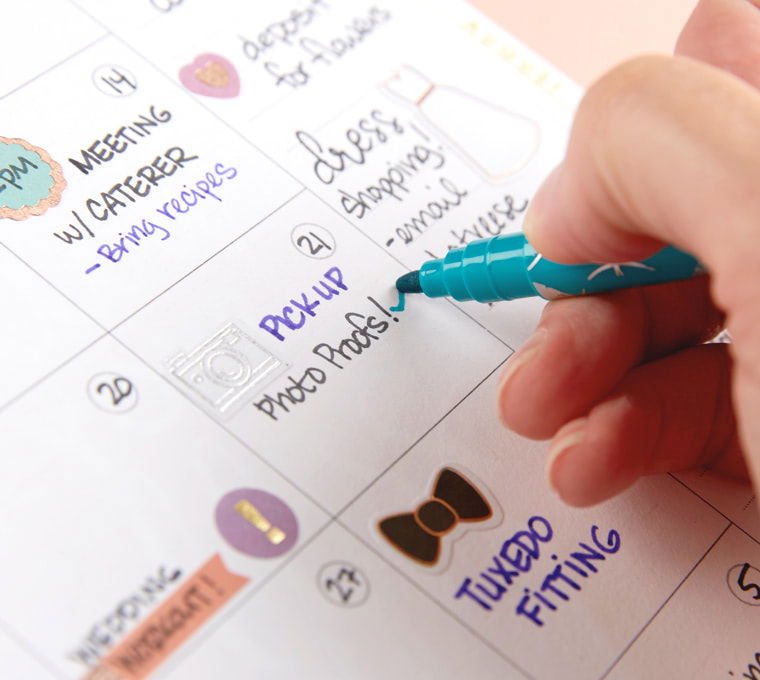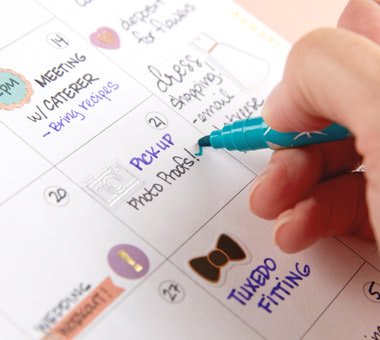 THE HIGHEST QUALITY
Our wedding planner is made of the highest quality paper so it will last a lifetime as a scrapbook to preserve those special memories!
inspirational
WEDDING PLANNERS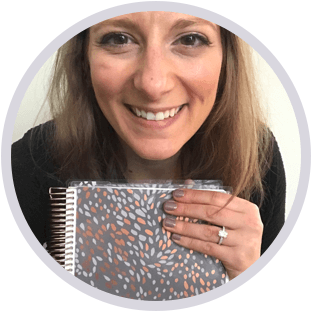 "Planning a wedding can be extremely overwhelming but with the Erin Condren Wedding Planner, not a single detail will be left unattended!"
– Brooke Perlman
@plansbybrooke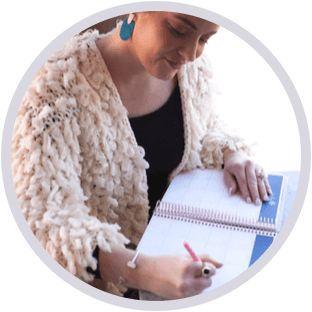 "The Erin Condren Wedding planner was a lifesaver! Once I started jotting down things-to-do and making lists, I immediately felt a sense of relief!"
– Stephanie Knox
thebohemiancrown.com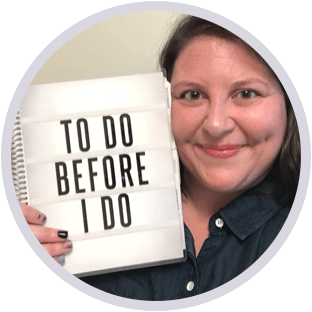 "Whether you've got a little or a lot do for your wedding, the Wedding Planner has everything you need to make your big day stress free!"
– Jen Leeson
@thebrooklynplanner
upgrade your
WEDDING PLANNING