DIYS, HOW TO'S & PRODUCTIVITY TIPS
5 Stress-Free Meal Planning Tips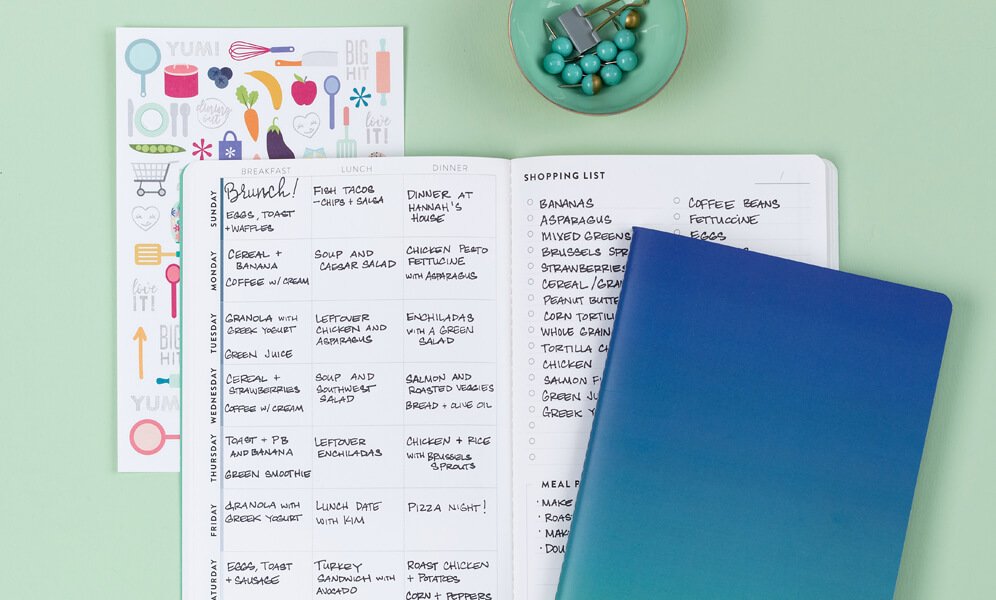 Meal Planner Productivity Tips for Families, Parties, and Healthy Living
Did you know that effective meal planning can save you money, help establish healthy eating habits, minimize food waste, and save loads of time? Here are 5 tips (and nifty tools) for stress-free meal planning anyone can use for enjoyable eating, savory savings, and tasty time management.
1. Gather your meal planning resources.
The difference between aspiration and achievement is preparation. Gather your coupons, recipes or recipe notebook, and favorite planner —if you have the Erin Condren LifePlanner™, there are helpful snap-in dashboards for meal planning, budgeting, and wellness. Collecting your organization tools first helps focus and direct the meal planning process, saving you time and frustration down the line.
Cooking with Kids Pro Tip
If you have kids, get them involved. They'll love using the Star Wars Snap-In Meal Planner Dashboard to help make the family menu! This is a great exercise for picky eaters, who are more likely to eat meals they helped create!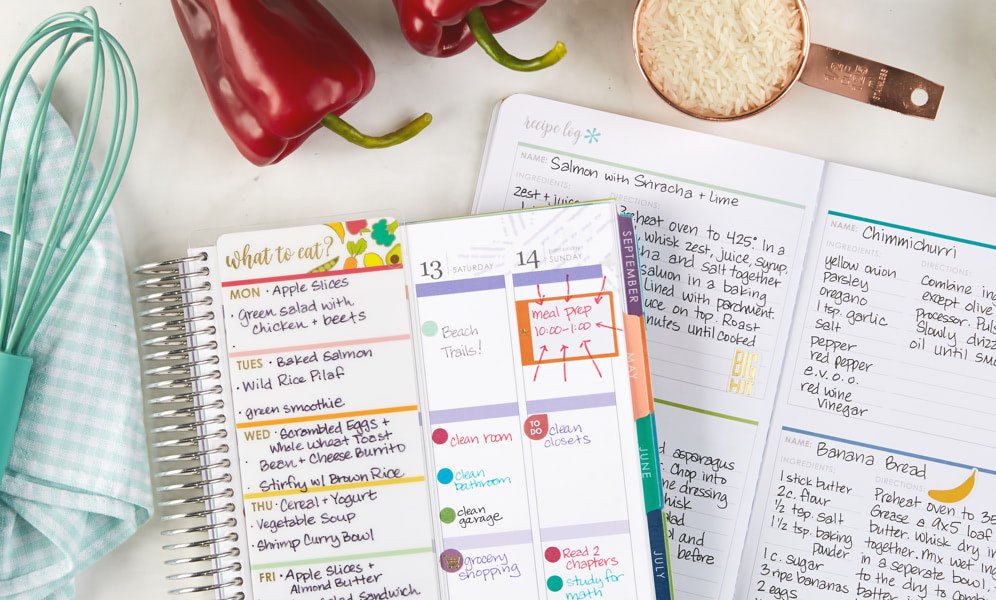 2. Create your weekly menu.
Have fun creating your menu! Deck it out with washi tape, use colorful writing tools, and stickers, or draw in your personal touches. However you design it, keep in mind these things when writing in your food choices:
Food Allergies
Always list food allergies when cooking for families and dinner parties. Nothing spoils a feast faster than anaphylactic shock!
Strong Food Preferences
If you're cooking for other people, you may want to list this too to boost the chances of menu success.
Food Budget
Consider your budget when adding your food selection (more on this later).
Time
Be realistic about the time it takes to prepare and cook the meals.
Meal Planning Pro Tip
Careful you're not hungry while creating your menu, or you might include less healthy food with greater portions. Try munching on healthy snacks like fresh fruit or veggies dipped in hummus while you plan it out. This is a way to both hack your hunger and help create a menu with healthier options!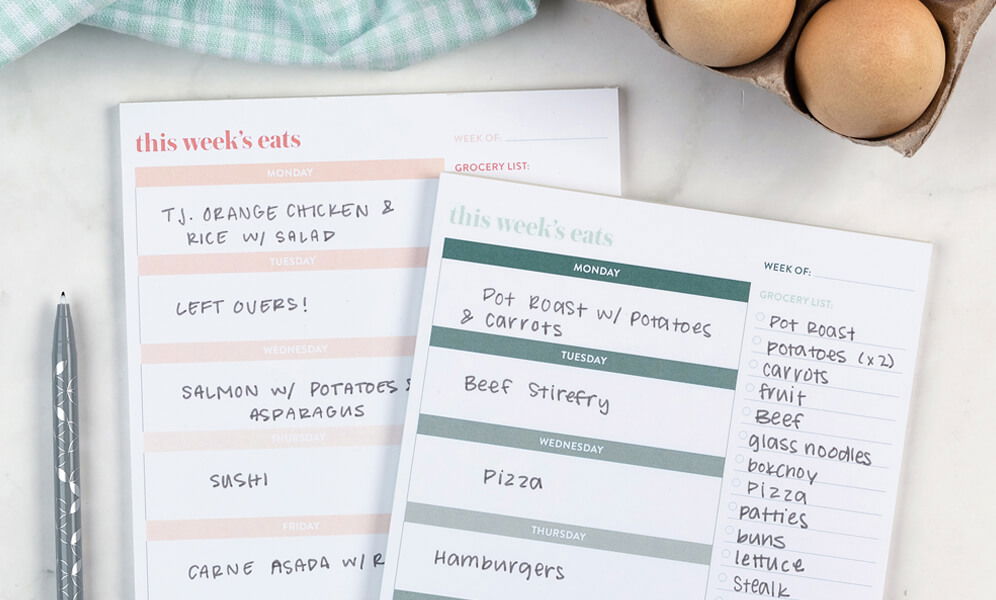 3. Make a budget-savvy grocery shopping list.
Take stock of the food you have before you list the food you need. Most jump straight to the grocery list, but this can lead to unnecessary waste, of both food and money. Once you take inventory of what you have, create a streamlined shopping list that helps you stay on budget. Your wallet will thank you later.
Grocery Budget Pro Tip
Don't forget those coupons and try tracking the price of the food items with a shopping list dashboard or use a meal planner price tracker. Those savings really add up with simple tools for budget-friendly grocery shopping!
4. Plan the week's cooking schedule.
Once you have your menu and groceries, block out time in your schedule for meal prep. Whether it's more convenient to cook a week's worth of meals over the weekend or to cook a fresh meal every day, using a cooking schedule in a dedicated meal planning tool, or simply including it in your planner, will help you follow through on those meal planning goals.
No more wondering what's for dinner or having to cook when you can't spare the time or, worse, eating fast food for the fifth day in a row. Don't stress; respect your schedule and plan cooking time at the right time, every time.
Meal Prep Pro Tip
Make meal prep and cooking entertaining and relaxing with comfy clothes and a mood-boosting playlist or favorite podcast. Combine kitchen time with unwinding time. Now that's smart, stress-free meal planning!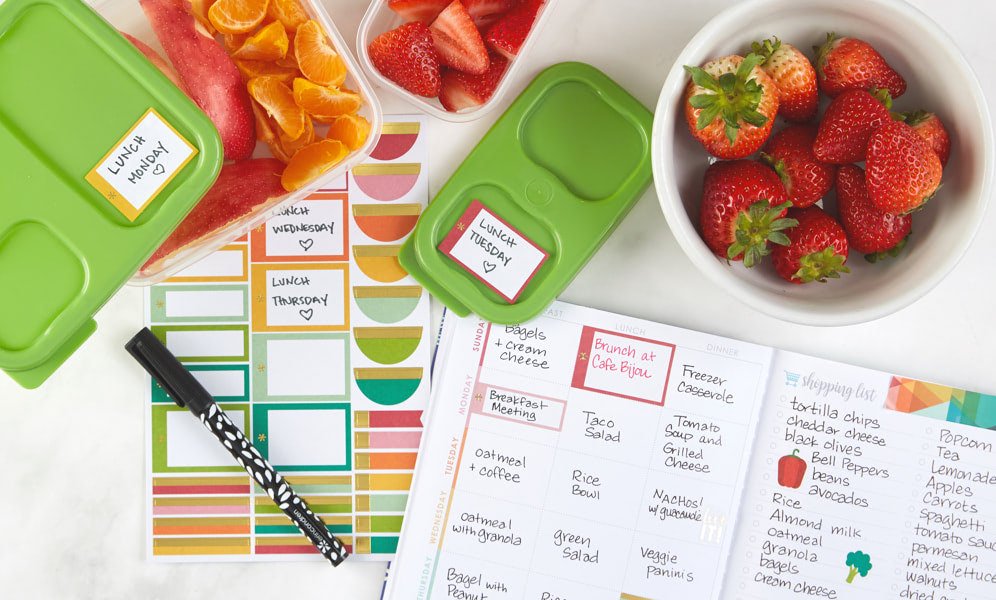 5. Organize and store meals like a pro.
Now that you've gathered all your meal planning resources, made your menu and budget-friendly shopping list, and stuck to your cooking schedule, bring it all home with proper food storage and organization. Use transparent containers, preferably glass, to store both prepared and fully-cooked meals.
Meal Storage Pro Tip
Label your food storage containers with color-coded stickers for easy identification and mark them with the date cooked (or the date to cook). Then, neatly stack them in the fridge according to food groups, dates or to-cook vs. ready-to-eat, whichever organization makes the most sense to you. Then whip them out according to your meal plan and enjoy!
Discover more organization best sellers for the home, office, and everything in between!