The power of planning is undeniable. Proactive planning, instead of passive living, is proven to reduce stress, increase productivity, save time and improve your quality of life.
Did you know that the act of planning, particularly using a paper planner, has lots of hidden benefits, including improving learning, memory, mindfulness and more?!
Read on to get top planning tips from our planner community & EC Team for how to harness the power of planning to finish out the year strong and plan ahead for your best year yet!
The power of paper persists. Always write down your goals.
"Before I used my LifePlanner™, I felt like days passed me by so quickly in a blur of tasks. Now, I am focused, goal-oriented, productive and I live my life with so much more intention. Putting my goals on paper makes them tangible and helps to keep me accountable."
– Melinda, Instagram @planner.rn
Make your health and wellness resolutions more attainable by planning with friends!
"If you're like me, you're more likely to exercise, choose healthier food and prioritize self-care when you're accountable to someone with the same goals. Plus, friends just make everything more fun, and when you're enjoying something, you're definitely more likely to keep it up!"
– Candice, Sr. Content Mgr., Erin Condren Design
Tackle financial goals with a budget planner built for you.
"Try customizing a Deluxe Monthly Planner to function as your own dedicated budget planner to set financial goals, track bills, savings & spending. You can even use the notes pages between each month for weekly budget planning or whatever works best for you!"
– Jodi Steinbeck, Instagram @lifesorganizedchaos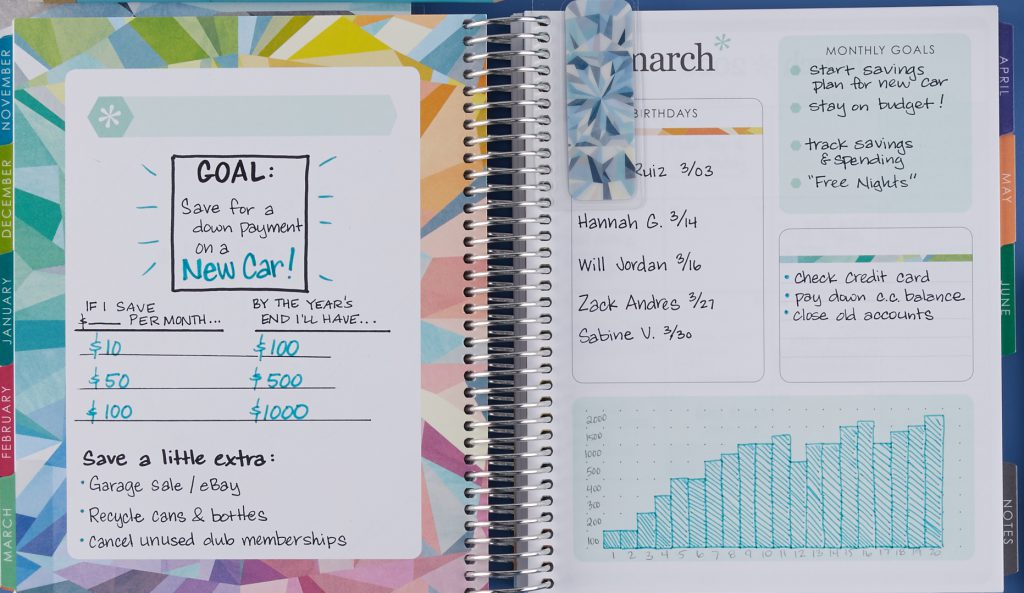 Keep your resolutions top-of-mind by checking in with your planner throughout the day.
I check in with my planner a few times a day to add, adjust or reschedule as my plans evolve. My friend cancels dinner plans last-minute, and I can see I haven't hit my weekly workout goal? Time to squeeze in a run! By tracking & checking in often, you increase your chance of reaching your goals!
– Blair, Director of Digital Marketing, Erin Condren Design
Use a habit tracker to take back control of your health.
"I'm using a simple, color-coded habit tracker to take actionable steps towards fulfilling my health goals. The best part is that you can use it any way you want, which makes it the perfect tool for sticking to 2020 resolutions. Before getting started, commit to giving it your BEST!"
– Jen Mackintosh, Instagram @jenmackintosh
Reduce anxiety and spark more joy by planning in gratitude.
"Through using my Erin Condren planner as a gratitude journal and memory book, I have been able to dramatically reduce my anxiety. Since recording my daily gratitudes and focusing on what sparks joy each day, I have been more positive, successful, and happy than ever before!"
-Crissy Victoria, Instagram @crissy.victoria
When it gets tough, write down all the reasons why you started.
"I've learned that there are so many ups and downs when striving to reach a long-term goal. When you have setbacks, you will need support and encouragement. Remember why you started. And if your method of motivation is no longer working, don't give up—it's simply time to find a new way to motivate yourself. "
-Katie Steiner, Instagram @katiecsteiner
Change your life one goal at a time.
"Whatever it is you want in life, start with one, measurable goal; make a plan and pursue it until you achieve it!"
-Sarah O'Brien, Plan Sarah Plan
Ready to get organized, set your goals & embrace the power of planning? Start here!