Phone Accessories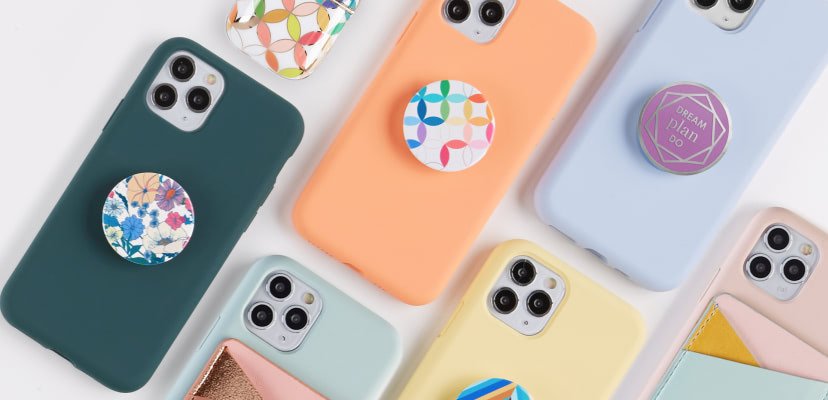 Elevate your phone fashion & function with best-selling phone accessories.
STYLIZE ON THE GO
•

New AirPods Cases (2 Sizes: Standard & AirPods Pro)

•

Phone Card Holders (3 Stylish Color Options)

•

Acrylic Desk Stand & Phone Stand in One (With Room For Your Charger)

•

Swappable PopGrips (6 Signature Designs)
Accessorize your phone style with matching bags and pouches, planners, notebooks, stickers, and more!
LEARN MORE
Our phones have become indispensable, so much so that we carry them with us wherever we go. Why not add some fun, color, and functionality with Erin Condren phone accessories Whether you're looking for a phone stand, pop-grip holder, or a phone card holder, we've got you covered. Make your phone fully functional with a pop-grip holder or a card phone case. Our pop-grip holders double as phone stands and grips that make taking selfies and one-handed texting a lot easier. A credit card holder for your phone helps lighten your load as you go about your day. Insert your ID, credit or debit card, and even your door key card into this convenient case and you're ready to go. No need to carry a purse or wallet, making this a great option for running short errands or heading to the gym. Phone accessories also make great gifts for friends and family of any age. Teens and tweens will love the pop-grip handle, making it easier to take selfies or film their latest viral video. And a stick-on phone wallet is perfect for high school or college students walking around campus with already-full bookbags and totes. Many of our cell phone accessories are even designed to coordinate with your planners, notebooks, and desk accessories. Browse our collection and treat yourself or someone you care about today!