Budgeting Tips: How To Create a Holiday Budget & Stick to It!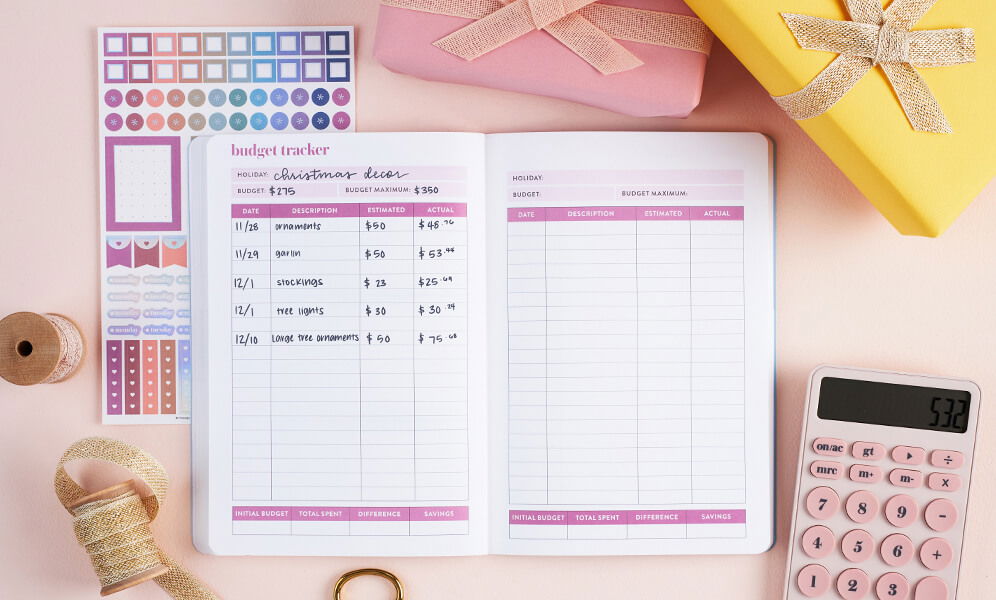 Stay on budget while enjoying the holiday season with these holiday budgeting tips! Balancing smart financial decisions with seasonal fun is possible (and simple with the right budgeting tools)! Keep reading to learn how to create a realistic holiday budget so you can finish out the year strong.
Set your financial goals for the holidays and intentions for the new year.
Every successful budget begins with a goal. Before beginning your holiday budget, ask yourself what financial goals do you want to meet by the end of the year—do you want to end the year in the black; do you want to pay down that credit card; do you want to enjoy spending money you set aside for the holidays…?
After writing down your end-of-year financial goals, consider what your financial intentions are for the new year. Ask yourself: what major expenses do you have; what are your top priorities; do you want to improve your credit score…?
Setting financial goals and intentions becomes the foundation of building a budget that can help you improve your financial situation, and it's a great reminder of why you created a budget in the first place. Financial mindfulness makes it much easier to stay on budget during the holidays (trust)!
Write down your current and pending bills and expenses.
The holiday season is the perfect time to finish the year out strong and in control of your finances.
Before jumping into holiday gifting mode, we recommend using a planner, notebook, or dedicated Budget Book or Budget Planner to log and track all your current and pending bills and expenses. Then, use the amount you have left for planning out your holiday budget for meals, events, gifts, and more.
Make a simple, realistic holiday budget plan.
Sounds easy, but most don't even know where to start … so they don't. Start where you left off with your bills and expenses summary and build your holiday budget plan from that. This will help you keep it simple, realistic, and attainable while avoiding the not-so-wonderful credit trap so many fall into during this time of year.
A starter budget book is perfect for projects like this. The color-coding, pre-printed shopping logs, and expense trackers make creating your holiday budget easy and organized. We're all about whatever saves time, effort, and money! You may also want to check out Budgeting for Beginners.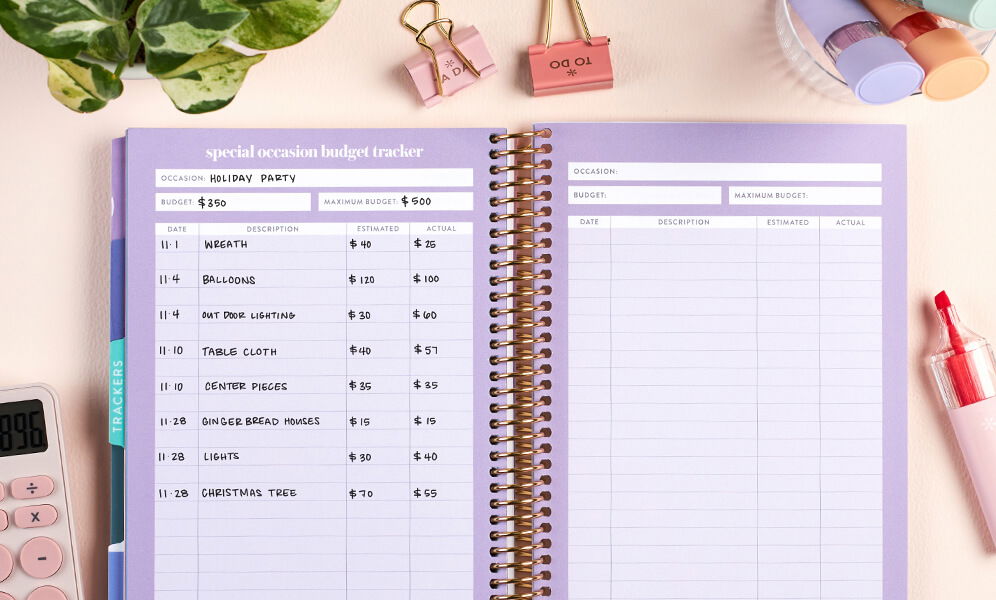 Have a budget-friendly gifting strategy.
A holiday gift plan can be as basic or elaborate as you like—as long as you make a plan that makes sense for you and your budget. From a gift list based on thoughtful inexpensive gift ideas to cozy at-home holiday fun with family to keeping gifting on budget, make sure you have a strategy in place before plunging into holiday shopping!
Organize those coupons and calendar those sales!
A simple-but-effective way to stay on budget during the holidays, and grab the best budget-friendly gifts, is to practice smart shopping habits. There is no shame in collecting coupons, discount codes, and it's just plain smart to pop sales dates in your calendar.
Refer to your budget-friendly gifting strategy and holiday budget plan you created, and scope out applicable coupons and sales for those thoughtful inexpensive holiday gifts. Be sure to organize it all in your planner so you can follow through on smart holiday shopping and stick to your budget. (The thrill of saving so much money replaces the stress of holiday shopping with sheer fun!)
Save money and time with holiday meal planning.
Okay, the holidays are for enjoying rich and delicious food, drink, and sweets. No need to give that up! But why not have your cake and stick to your budget too?
The magic is all in holiday meal planning. A dedicated meal planner is great for making grocery lists, menus, guest lists, noting allergy requirements and recipes, meal prep planning, and, most importantly, staying on budget!
Just imagine how much food is so easy to waste by not knowing what you already have before getting those groceries! Try making a list of what you have first, then move on to your grocery list. You can save a surprising amount of money by using what you've got and only buying what you need!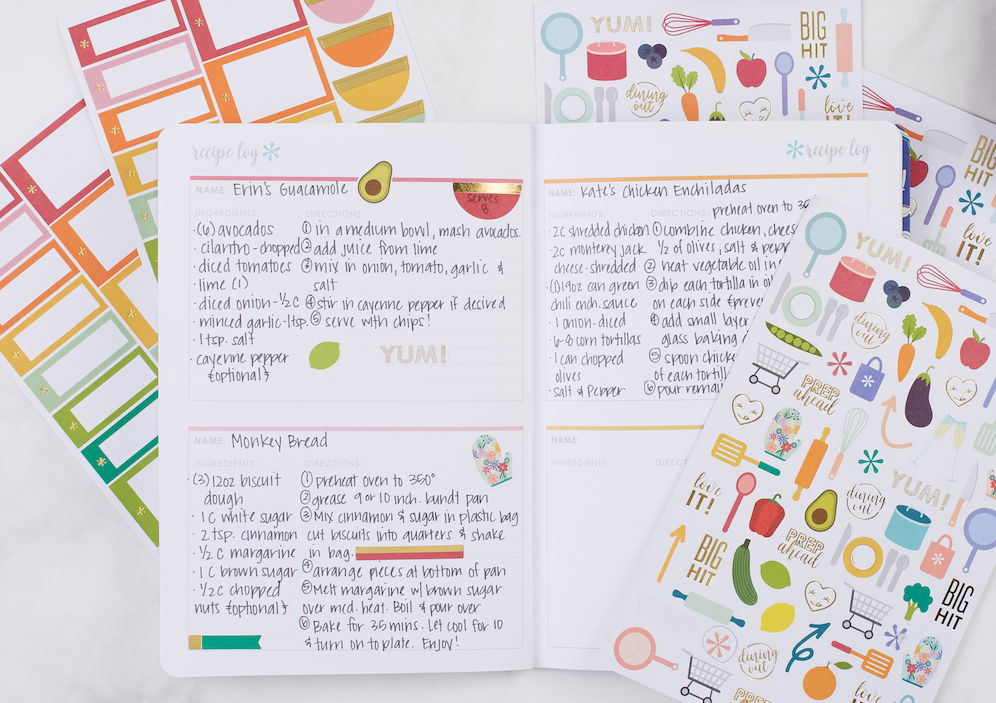 Organize what you have at home before holiday shopping for your family.
If you want to save even more while wasting even less, set aside time with your family or roomies to organize your closets, garage, drawers, etc. It not only feels great to declutter, but you'll also be amazed at how much more mindful you'll be of what you have, need, don't need, and what you can start using again. This is an especially good exercise for families with kids who may get so excited about all the holiday loot they'll get that they forget to be grateful for the abundance they already have.
So, before getting into any serious family holiday shopping, try taking inventory of what you already have. Imagine how much money you'll save by not buying things you definitely don't need!
Save time, money & reduce holiday travel stress with a travel planner.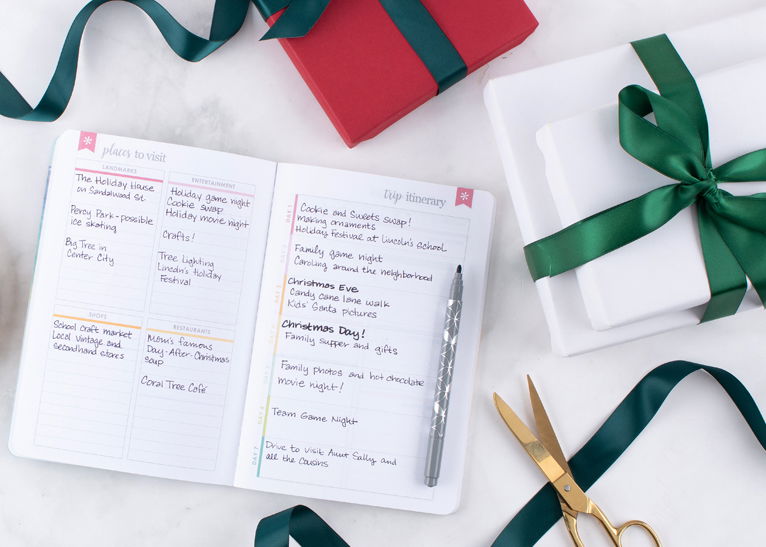 We all know too well how overwhelming and budget-breaking holiday travel (and any travel) can be! That's why we recommend planning any and all road trips, overnight events, and vacations in a travel planner. Keep it all organized in one place to stay on top of your travel budget, which totally takes the stress out of traveling.
With a travel planner, you can also eliminate over-packing and excess baggage fees, forgetting essentials, and having to buy them during your trip. Plan it out and travel smart (with more vacation money in your pocket)!