How Teachers Can Transition Back To The
Classroom For In-Person Learning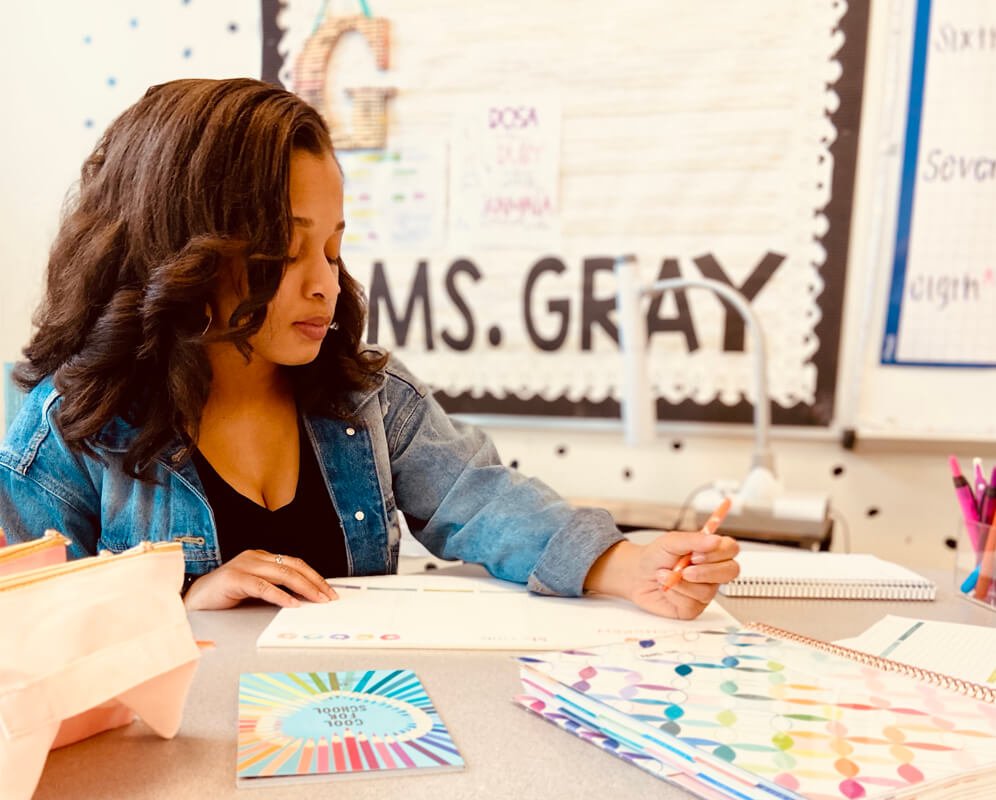 Photo: Ms. Gray, @graysplan
For the past year, most classrooms have been a virtual space. As educators begin the move back to in-person learning, organization and flexible planning are essential for a safe and successful transition (for teachers and students). Here are seven ideas to help handle the move back to in-person or hybrid learning with grace.
1. Plan for both online and in-person learning.
Teachers are planners by profession. When making a big move such as this one, it's important to create lesson plans that are adaptable for either in-person or remote learning. Plan out how to deliver each lesson in the classroom as well as the online components needed to absorb the lesson remotely. If there's a need to shift back to distance learning again, you'll already be prepared. Creating a lesson plan utilizing both online calendars and a traditional teacher planner can help you navigate the same balance as your students while visualizing your new routine.
2. Work student communication into each lesson.
It's also important to plan for extra time throughout the day to communicate. Now, more than ever, teachers need to speak with students to assess their needs and answer any questions that may be bubbling over from distance learning. Plan instruction for a brief amount of time, then incorporate opportunities for practice, feedback, and discussion. Using a teacher lesson planner with built-in communications logs is a great way to keep track of meaningful dialogue with students.
3. Prepare students for the return to the classroom by establishing a predictable routine.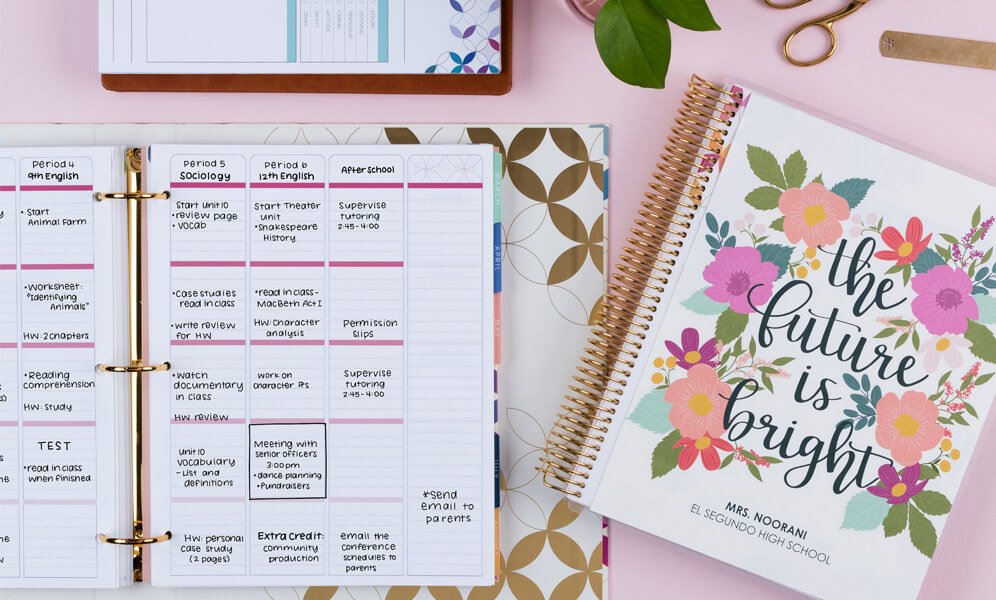 Now that you've planned the transition to in-class or hybrid learning, prepare for the shift by thinking of it from a student's perspective and tailoring your plans accordingly. Ease into the transition gradually to give everyone time to adjust. According to clinical psychologist Debra Reicher, Ph.D., this can mean rethinking your approach to that of the developmental level of a child.
Reicher also recommends establishing a new and predictable routine to help students (and yourself) get comfortable and mitigate anxiety. Send photographs and/or provide a video tour of the way the school will look, including pictures of the hallways, the classrooms (desks far apart, dividers), etc. Explain the procedures at school, such as temperature checks, so that there are no surprises..
4. Organize and declutter the classroom to reduce stress.
Author Heidi Hanna, Ph.D., says that stress can be a stimulus for change. It's when we don't have the energy we need to deal with change that chronic stress response is initiated. Enter, organization. The act of decluttering helps combat stress in that it gives us a sense of control. Going back to a classroom environment means tackling and taming those areas that have previously been unkempt. Look at these organizational projects as opportunities to ease the stress that comes with this change.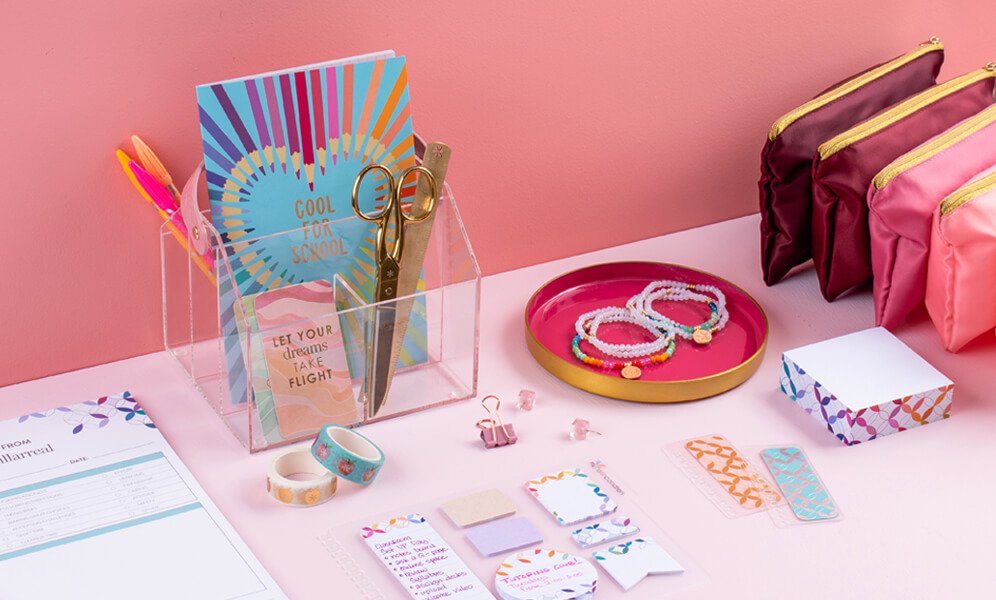 Begin by focusing on your space. Teacher desk organization is a chance to set yourself up for instant success by keeping necessities close at hand. It's also a welcome change from your home office, allowing you to spread out and find balance between the two. Make sure you have the accessories on hand to manage your space effectively. Beyond your desk, ensure your teaching bag has all the supplies you need to make going to and from work an easy adjustment. Leave room for a teacher lesson planner and laptop so that you always have a way to stay on schedule and be in touch.
5. Adjust your teaching methods to meet the students where they are.
Teaching methods have had to change over the past year, so don't be afraid to reevaluate the way you teach as well as the needs of your students. Breaking up lessons, especially when constantly working on a device, can maintain engagement and focus for students returning to the classroom.
Just as you've taken stock of your own teaching space and supplies, reevaluate where your students are academically and what they may need to get back on track. Observing and documenting these evaluations and updated processes can help in the planning of future curriculum.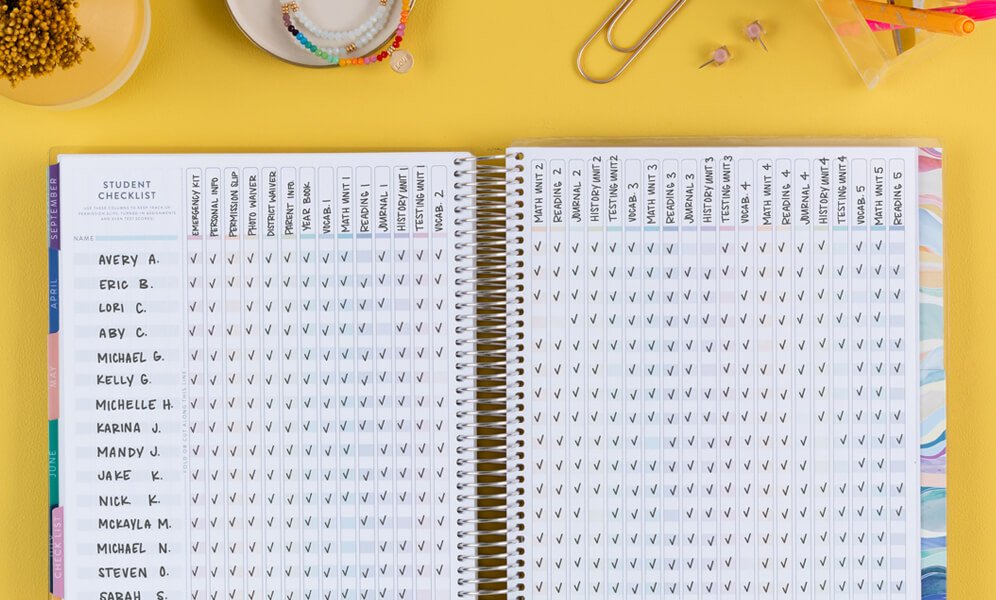 6. Encourage more student collaboration in your teacher lesson plans.
Encourage collaboration between students so they no longer feel isolated and can get used to the classroom setting again. One strategy is to pair in-person and at-home students together, so students working at home will have an anchor to the physical classroom. Students can work together in shared documents, presentations, and files.
The Cornell Center for Teaching Innovation says that research shows educational experiences that are active, social, contextual, engaging, and student-owned lead to deeper learning. Take advantage of the collaborative capabilities offered online and use them to re-acquaint students with one another.
7. Use mindfulness activities to help students cope.
Each student had a unique experience during the pandemic, and many may still be suffering from the stresses of the experience. Implementing mindfulness activities such as discussing positives and assigning culturally relevant texts and prompts can help students cope. Working with mental health professionals on campus can help identify students who are struggling. Making mental health a priority will help everyone get through this transition at a comfortable pace.
As a teacher, your ability to think and plan ahead can help you stay organized, reduce stress, and set you and your students up for scholastic success. So, lean into your creativity, leverage the tips and tools above, and trust your ability to ease your students back into an in-person learning routine. Browse our Teacher Favorites to discover the supplies we have available to help and inspire you, so you can continue to inspire them.