How to Create a Weight-Loss Tracker That Works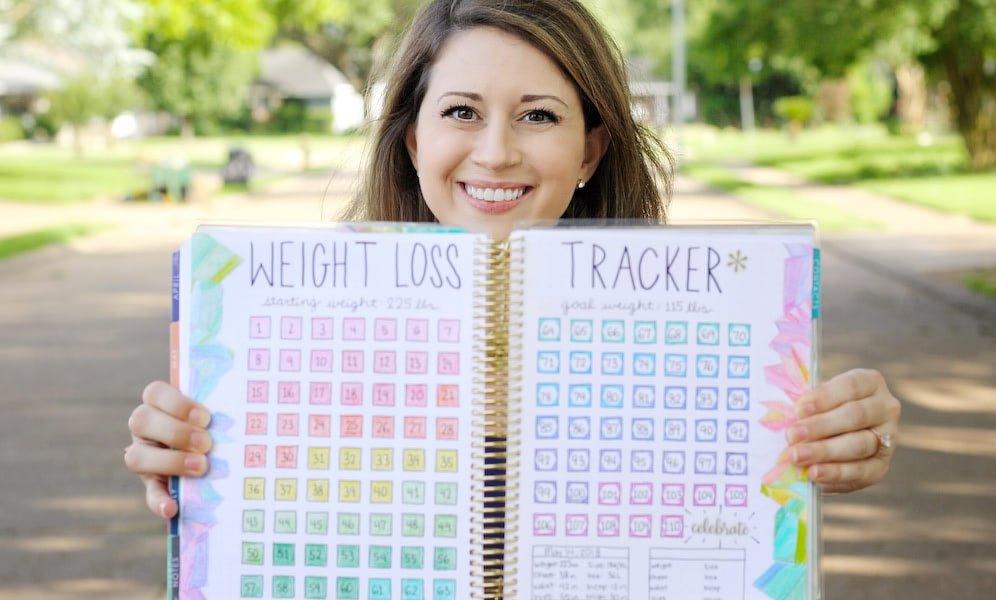 Hey, planner community! My name is Katie Steiner, and I have a body that is absolutely amazing! It's been alive and working for 32 years. It has carried and breastfed five babies (including a set of full-term twins). This body that has done all of these amazing things also loves to eat pizza.
I'm fortunate to be surrounded by family and friends who love and support me no matter my shape or size. But just over a year ago, I had been suffering from weight-related back and knee pain as well as chronic fatigue. I decided it was time to focus on taking care of my body, and I began a journey to better health through weight loss. I'm proud to say that so far I've lost 63 lbs! This has alleviated my back and knee pain, and my energy levels have also greatly improved!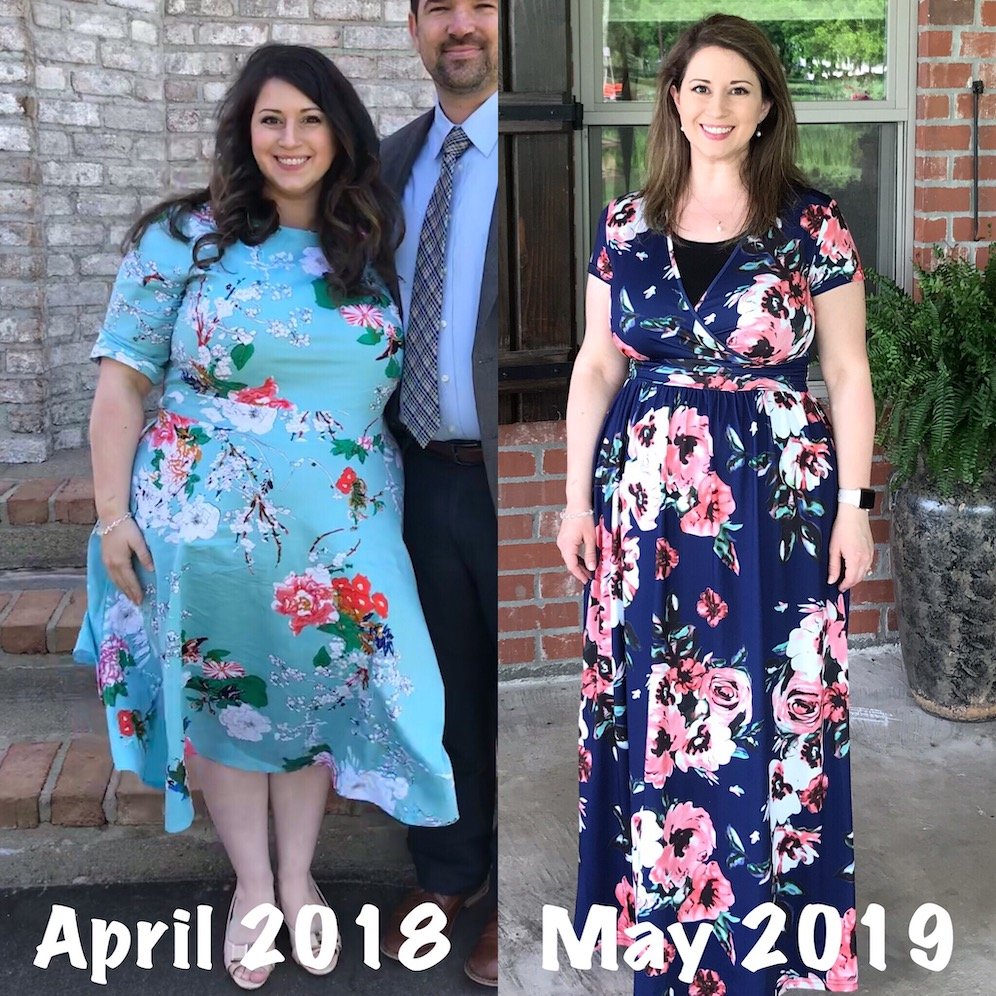 How did I do it?
Using my LifePlanner™, I created a weight-loss tracker—a visual representation of my journey that shows me how far I've come and how far I have to go. When I look at it, I feel proud of my progress and determined to reach my next goal.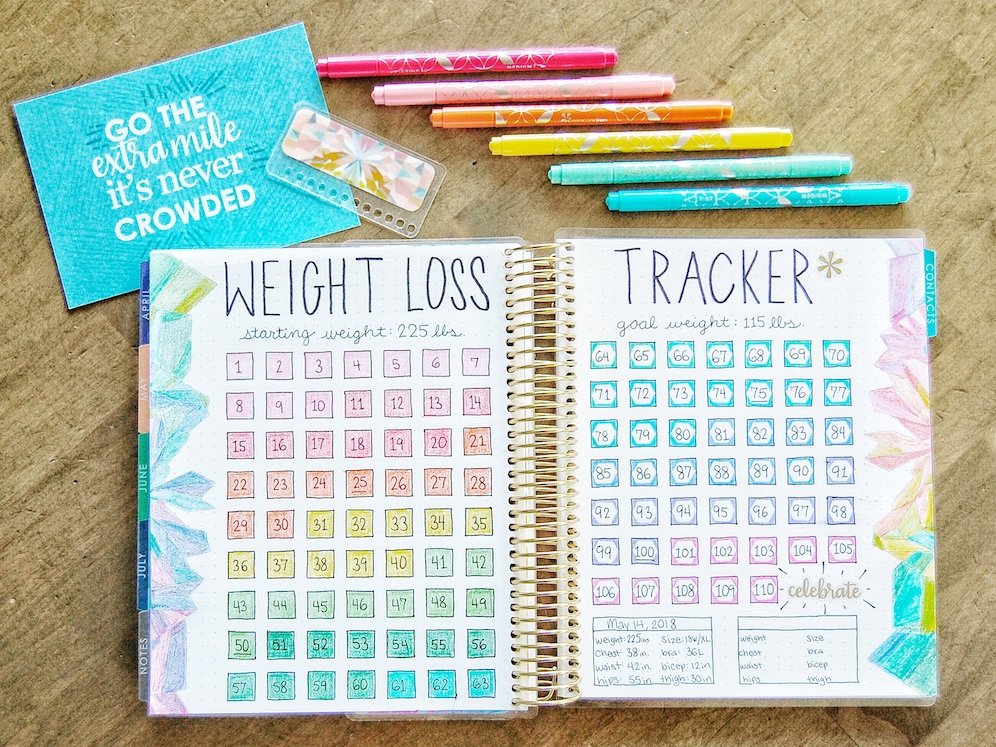 The LifePlanner™ was a natural choice to track my progress since I already used it to track and plan everything else. Its dot-grid note pages are particularly perfect for projects like this! Today, I want to share with you some tips on how to create your own weight-loss tracker that WORKS!
1. Seek inspiration from others.
If you want to make a tracker but don't know where to start, search for inspiration on Pinterest and Instagram. There are SO many creative and talented people who have shared their own different styles of trackers. Maybe one of them will resonate with you and give you the inspiration you need to create your own!
3. Trial and error is part of the process.
Designing a tracker may take some trial and error, and that's okay. An earlier version of my tracker was actually a line graph on which I would record my weight each week. But weight can fluctuate, and I found myself feeling discouraged whenever that line shifted in an upward direction. This current version of my weight loss tracker allows me to focus only on working towards my next goal. A tracker should be something that motivates you and makes you feel proud of your accomplishments. Keep experimenting until you find a method of tracking that does this for you!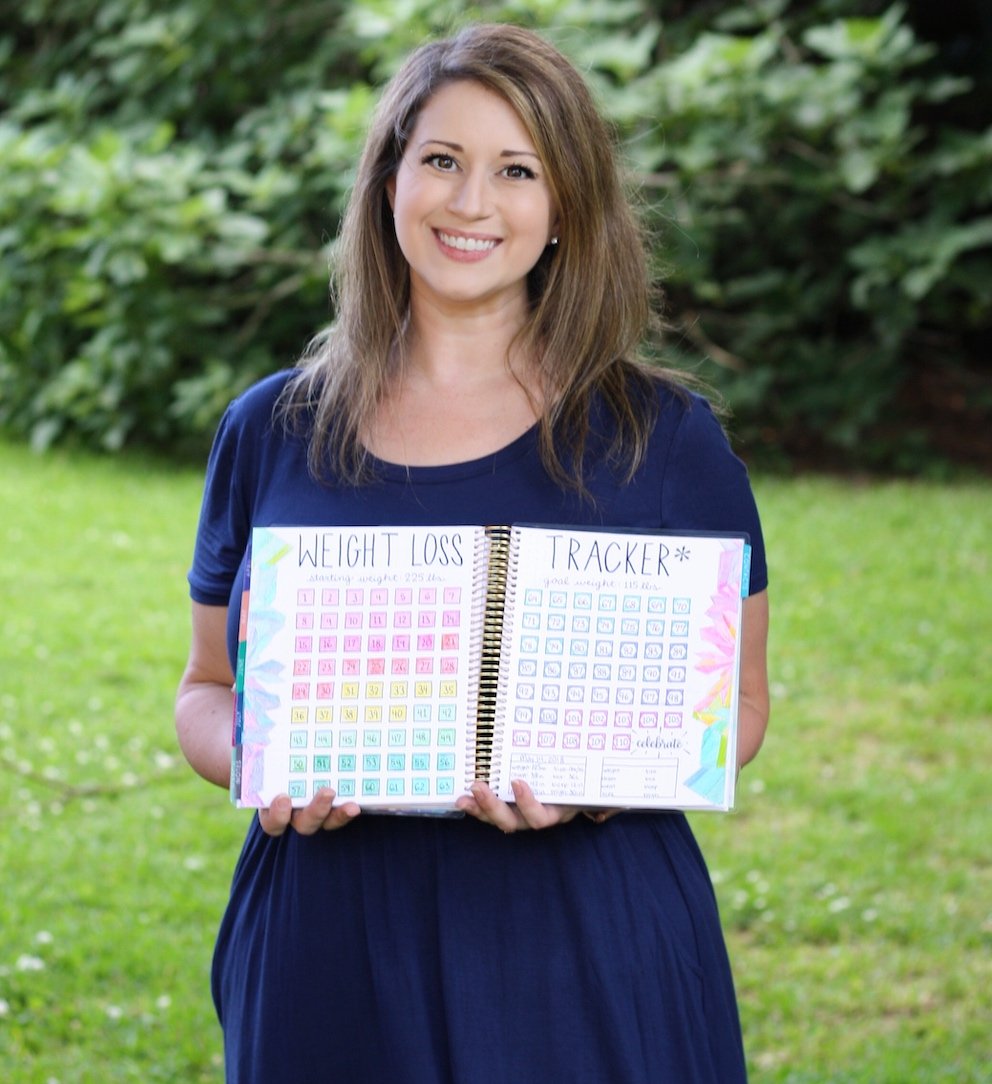 4. Make your tracker colorful and beautiful.
Have some fun with personalizing your tracker. Decorate it with your favorite markers or colored pencils. Hand-letter your title or doodle in some cute pictures. Add stickers, stamps or washi tape! Whatever is going to make you smile every time you see it.
5. Reward yourself for your hard work!
Lots of trackers include rewards for mini-goals reached. I love using this as an opportunity to practice some self-care. Get a mani-pedi. Go to a movie with a friend. Buy a new outfit. Treat yourself to a bubble bath (or that new EC sticker book that's been sitting in your cart—or is that just me?). Whatever motivates you and makes you happy—just make sure your rewards are healthy ones that won't interfere with your progress.
6. When it gets tough, write down all the reasons why you started.
This journey has taught me so much about motivation and myself. I've learned that there are so many ups and downs when striving to reach a long-term goal. When you have setbacks, you will need support and encouragement. Remember why you started your weight-loss journey. And if your method of motivation is no longer working, don't give up—it's simply time to find a new way to motivate yourself.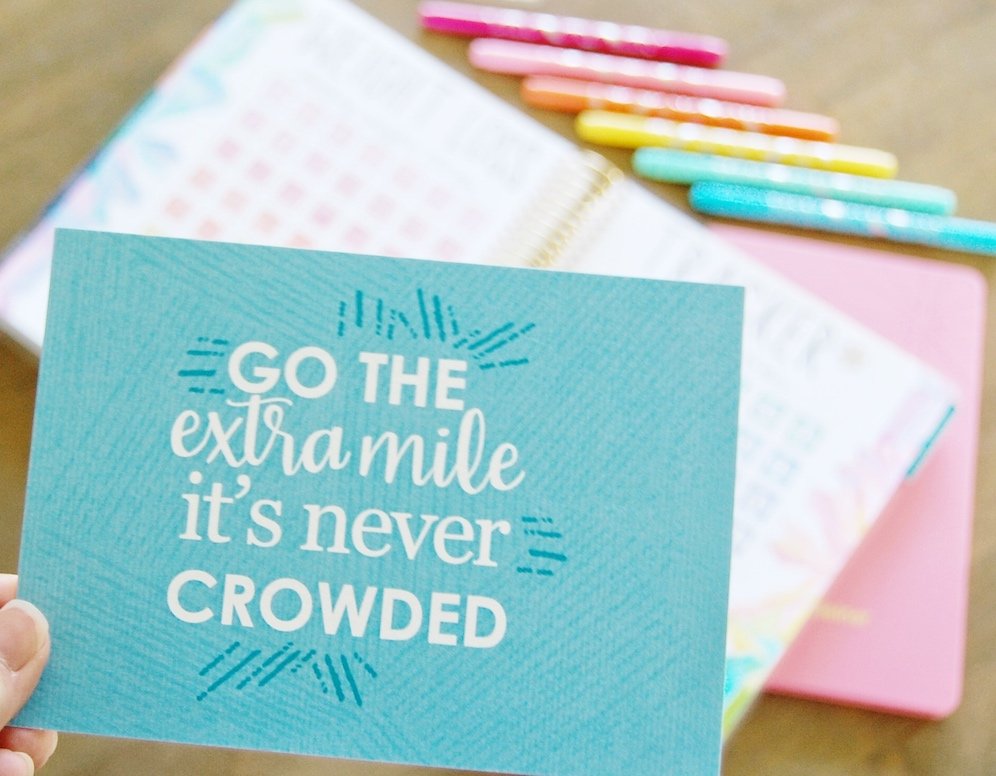 I hope that this post has inspired you to reach your personal goals. I would LOVE to hear about them and how you are tracking them! Find me on Instagram @katiecsteiner!
I wish you the best of luck on your journey to a healthier and more organized life.
Visit the Inspiration Center for more organization DIY, How-Tos, tips & tricks!
Photos courtesy of Amanda Gauthier and Katie Steiner