Combine both flexibility and structure with the best-selling LifePlanner™ Binder! Find out how to use it, and our top ten favorites ways to plan.
You asked, and we answered! Explore all there is to LOVE about the new binder system with creative planning enthusiast Meka Allen! Plus, get extra binder planner tips from the EC Team!
1) The rings accommodate Erin Condren snap-in accessories.
The LifePlanner™ Binder ring configuration is designed to fit the existing collection of coil-punched accessories! Snap-in dashboards, trackers, to-do lists, bookmarks, StylizedSticky™ Notes—all of our favorites clip or slide right onto the binder rings.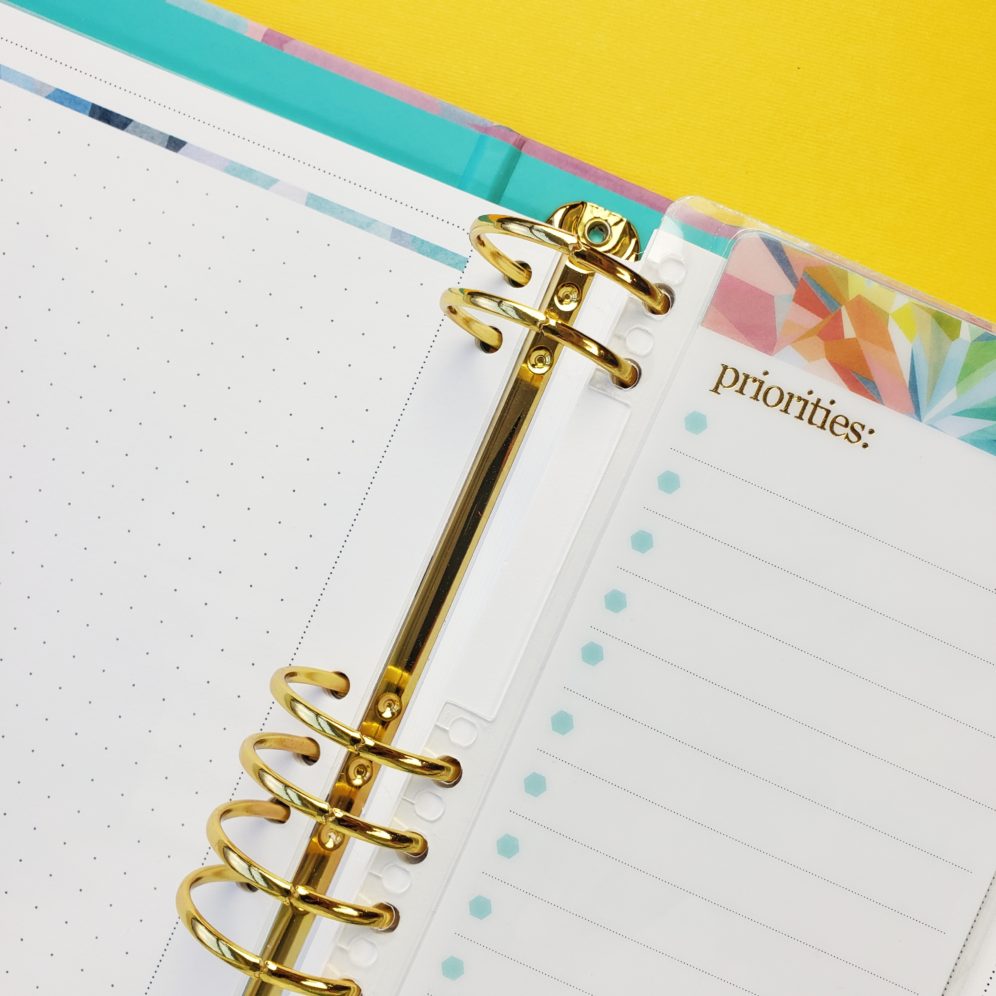 2) The rings are also a great fit for coil-punched Erin Condren planner and notebook pages.
I love having a place for new and old EC planner pages! With just a few minutes of effort, I can uncoil unused sticker sheets, blank notes pages, or filled-in reference pages and slip them right into my new binder.
3) Flexibility is the name of the game!
I can't rave enough about the versatility that a ring system offers. You can use as many or as few months at a time as you want, re-arrange the page order to suit your needs, and use CoilClip™ Connectors to add in an extra folder, Perpetual Calendar, or a vinyl pouch from previous year LifePlanners.
4) Fit all your plans in its roomy rings!
The LifePlanner™ Binder rings are wide enough to fit a full 18 months. This is perfect for those who need to plan far ahead for school, work, and major life projects.
5) There are five LifePlanner™ Binder covers to choose from.
Kaleidoscope Colorful is my personal favorite, but there's something for everyone. Kaleidoscope Neutral is more subtle, while the solid color book cloth options Sapphire, Charcoal, and Blush are clean and sophisticated.
6) Build your binder how you want it.
You get to select your binder cover, LifePlanner™ weekly layout, and the color scheme that works best for you. I chose a colorful binder to match my office, but a neutral layout for more control over my weekly color scheme.
7) Write, plan or decorate the pages, unobstructed.
Pages can be removed from the LifePlanner™ Binder so you can move freely—no coil to stand in your way. Write to the edge, doodle in the margins, get creative with decorative paper tape, and take your planning to the cutting-edge.
8) Add in flyers and invitations.
Use a simple single-hole punch to make non-planner pages slide in anywhere, or just stick on a CoilClip™ Connector. Flyers, invitations, and postcards can be placed in the front, between weeks, or next to the monthly overview so you'll be sure to see it.
9) LifePlanner™ Binder long-term storage hack.
Each year I've uncoiled my classic Coiled LifePlanner™ and kept only certain pages for reference or for memory keeping. I'm excited about having two new options for stylish storage this year. I can either use the beautiful LifePlanner™ Binder for all of my treasured coiled planner pages when the year is up; or use the decorative Planner Storage Box to store my planner pages so I can actively plan in my binder!
10) Personalize all the things!
Just like with Interchangeable Covers and so many other EC products we love, we can personalize the LifePlanner™ Binder cover. We get up to four characters in our choice of metallic rose gold, plantinum, or gold.
Bonus: Creative Binder Planning Tips from the EC Team
Recipe Book: Use the note pages and the vertical weekly layout in your binder as a meal planner (morning, noon, night) and recipe book.
Appointment Log & Scheduler: Use the hourly planning layout at work as a client appointment log or employee scheduler. Use the extra note pages as communication logs or take them out and create a new binder notebook!
Expanded Planner: Add Binder Inserts like extra productivity pages or daily planning pages to your planner to expand its functionality (e.g., track you progress on special projects, enjoy goal-specific or daily granular planning, productivity tracking, even use it to log & track the progress of multiple members of your team, family, club, and more)!
Meka Allen is a planner enthusiast and small business owner. Find her on Instagram and YouTube, where she shares both productivity- and creativity-based planning methods.