As we get settled into the second quarter of the year, the EC Team is proud to share a few key Q1 updates, starting with our giveback initiatives.
Giving Back
To date, EC has donated over $1M, and we started 2023 by launching two amazing initiatives:
2023 Black History Month Collection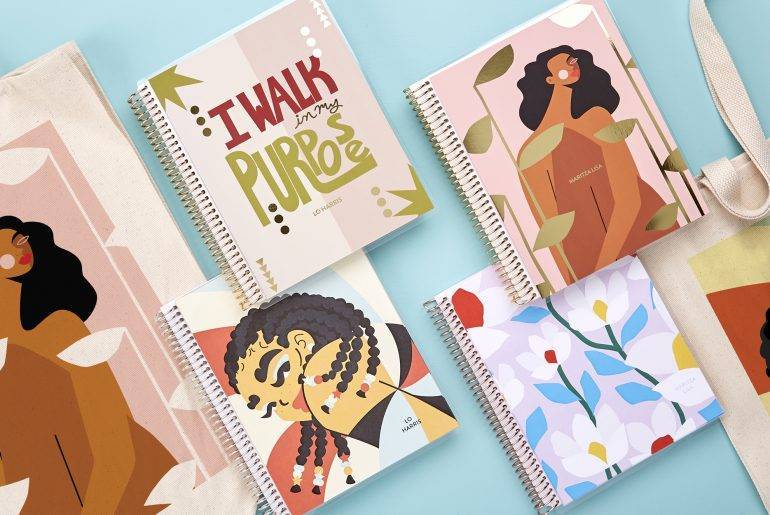 Our third annual Black History Month collection launched in mid-January as a part of our ongoing Heritage and Awareness Months series that has enabled us to donate over $225K back to charities that support social justice, education, equitable healthcare, and more.   
This gorgeous collection gave back 35% of the net proceeds through the end of February 2023 to the nonprofit GirlTrek. 
GirlTrek is one of the most effective public health interventions in the country for Black women walking towards healing and liberation.
While Black History Month and the donation period have ended, this inspiring collection is still available and continues to support the featured artists for a full year.
You can shop the full collection at erincondren.com/featured-artists.
Erin Condren GO Wild Entrepreneur Grant
We're ever-inspired by our planner community and how they use our products to live more fulfilling lives through the joy of organization. That's why we're so proud to host our second annual Erin Condren Small Business Grant at the 2023 GO Wild planner conference! Here's what the Grand Prize Winner, Dutchess Maye, and the Runner-Up Prize Winner, Amanda Stein, had to say:
Winning first prize in the Erin Condren Small Business Grant is a thrilling validation of all the energy, ingenuity, and enthusiasm that goes into a single eduCrate! eduConsulting will use the grant to fund innovation: we will scout for eduSwag and design a custom planner that caters specifically to teaching and learning!

Dutchess Maye – Edu Consulting Firm
I am so grateful to have won the runner-up prize! My main goal as a small business is to be a zero-debt business, so this prize money will help tremendously with getting new budgeting tools manufactured sooner than I normally would have been able to. I plan on investing in getting Savings Challenge books created to help make saving money fun and attainable for everyone! Thank you, Erin Condren for playing a part in my small business!

Amanda Stein – Debt Free Panda
You can learn more about the good work Dutchess and Amanda are doing by clicking their linked businesses above.
New Events
In addition to hosting our Small Business Grant at the 2023 Go Wild planner conference, we also launched our second annual EC Insider Week. This was seven days full of exclusive products, offers, giveaways, and more celebrating the valued members of our loyalty program.
Notable New Product Launches
Q1 was also full of many new product launches, including an epic Notebooks and Writing Tools collection, our Spring Seasonal Surprise Box, and an early launch of our 2023-2024 Academic Planner collection (so good we couldn't wait!). We also launched a new travel collection, expanded our customer-favorite Star Wars, EttaVee, and Hello Kitty collections, and introduced a new assortment of fun and functional desk accessories. And we have so much more in store for you for Q2!
Next Steps
More Giveback Collections
As Asian American, Native Hawaiian, and Pacific Islander (AANHPI) Heritage Month and Pride Month approach, our team is preparing inspiring, new giveback collections in collaboration with immensely talented AAPI and LGBTQ+ artists, respectively. We can't wait to introduce you to them!
2023-2024 LifePlanner™ Launch
We're also in full planner season prep mode and can't wait to drop our most robust LifePlanner™ collection yet, including enhanced features, new designs, and more ways to customize your perfect organization system (see sneak peeks here). Mark your calendars: LifePlanner™ launch is April 25th (or sign up for EC Insider to enjoy Early Access on the 24th)!
2023 – 2024 Teacher Lesson Planner Launch
We're launching a brand-new collection of Teacher Lesson Planners, accessories, and more classroom organizational essentials in May. So stay tuned for more information and sneak peeks as we get closer to launch!
Tonia Misvaer, CEO