Happy fall, National Hispanic Heritage Month, Breast Cancer Awareness Month, and LGBTQIA+ History Month! There's a lot going on in the world, thank you for making time for our quarterly updates.
Giving Back
National Hispanic Institute
In celebration of National Hispanic Heritage Month, we collaborated with two phenomenally talented Latina artists (Nicole Medina and Michelle Muñoz) to create the eighth collection in our Heritage and Awareness Months series. It gives back 35% of the net proceeds to the nonprofit the National Hispanic Institute through October 15, 2022 (and supports the artists behind the incredible designs for a year).
Not only are we so proud of this amazing collection but we're also honored that the National Hispanic Institute wrote a feature article on it in its magazine, which you can view here: NHI partners with Erin Condren for colorful, vibrant Hispanic Heritage Month series.
Breast Cancer Research Foundation
In honor of the millions affected by Breast Cancer, we launched a new, inspirational BCRF Collection and we're donating 35% of the retail price to the Breast Cancer Research Foundation through the end of October.
This uplifting collection features a special edition Emerge In Bloom design across everyday essentials like our best-selling LifePlanner™, notebooks, personalizable blankets, and gifts. It also includes a Breast Cancer Treatment Journal and Medical Treatment Planner that make thoughtful, practical gifts for anyone diagnosed with Breast Cancer or undergoing any type of medical treatment.
I also encourage you to check out a guest blog our Affiliate Manager Samantha Kuhr wrote on how breast cancer early detection saves lives, including her own. In it, Sam also shares helpful info on warning signs of breast cancer to look out for and useful tools for organizing a path to recovery.
Community Outreach
This quarter, our DEI Community Outreach Team facilitated product donations to seven more nonprofit organizations and schools in underserved communities. One of them was Crete Academy, to which we donated our Emoji A5 Kids Diaries after a representative shared, "the Emoji A5 Kids Diary [helped] a 4th grader who lost her mother to Covid this past summer, and I have personally seen a lot of emotional and behavioral growth since she started writing out her feelings."
Crete Academy also shared this video about the work they're doing, and we wanted to share it with you.
If you would like to learn more and/or donate to Crete Academy, please visit CreteAcademy.org/support.
Supporting Women Entrepreneurs
Earlier this year, we shared an update about our Go Wild! Entrepreneur Grant. I'm happy to share that our retail stores now carry select products from some of our grant winners and finalists, including those from Kristina and Kayla Goosby of GoosbyTwins Stationery, Erion Goins of Cookie Sticker Co., and Claudia Ramos of Hola Mijas Bonitas.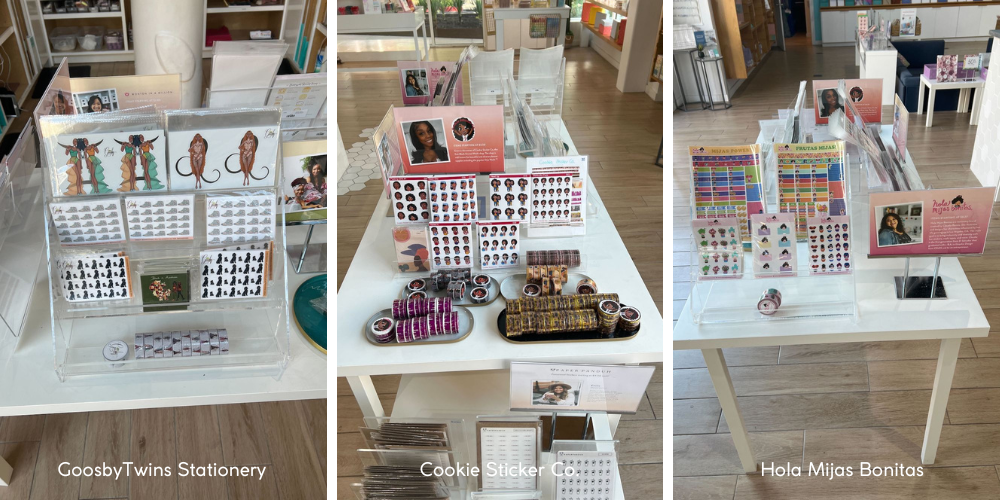 Our stores also still carry products from entrepreneur Cynthia Koo of Wanton In A Million–a featured artist in our 2022 Asian Pacific American Heritage Month collection. So, if you live near any of our retail locations (in Austin, Fairfax, or Irvine), please stop by and check them out. Or, you can click their companies linked above to support these amazing women entrepreneurs online.
Calendar Season Launch
2023 is around the corner! And, as promised, we just launched our 2023 Planners and Calendars collection, including our first ever Special Edition Hello Kitty LifePlanner™, featuring Hello Kitty artwork throughout! We also launched our much-anticipated Softbound Planner collection, featuring new Pocket Planners, LifePlanners, Focused Planners, and another EC-first: an all-new collaboration Softbound LifePlanner™ with EttaVee (featuring iconic artwork of Jessi Raulet from cover to cover)!
If you love the bright, vibrant colors and hand-painted designs EttaVee is famous for, you'll be happy to hear that we've not only expanded our EttaVee X Erin Condren collection but it now ships internationally!
EC in More Stores
This holiday season, you'll be able to shop more of your favorite Erin Condren products in more stores, including Barnes & Noble, The Container Store, and Target.
Next Steps
It's hard to believe the holiday season is almost here again. But our team is preparing to launch beautiful, thoughtful, fun, and functional products and holiday promotions designed to bring you more joy and less stress so you can finish out the year strong and set yourself up for a more organized 2023. I look forward to sharing more in our Q4 update!
-Tonia Misvaer, CEO