Hi there! I'm Kayse, wife of a musician and mom of 2 extremely loud children. I stay home with my kiddos & work from home during naptimes. I write mainly to moms, sharing Biblical encouragement and practical resources over on my blog, called The Only Hope I've Got. I'm so excited to be hanging out with you today!
Things you should know about me… I'm fully addicted to Chick Fil A's Sweet Tea, I love a good fiction novel, and I'm an organizing junkie. I could talk to you about those first couple of things all day long, but today, let's talk about getting organized!
I've been called "organized and responsible" for as long as I can remember (I live on the wild side, folks!), but becoming a mom kind of turned my organized life on it's head. Our two kiddos are anything BUT organized, and they seem to bring a tornado with them wherever they go. Life isn't as "plannable" as it used to be, and I'm doing a lot more flying by the seat of my pants than I ever expected to.
Still, I'm passionate this stuff, because I really believe that getting organized brings a sense of peace and calm into your home. And a peaceful home is good for the soul. (And the family.) So today, I'd love to share with you the 3 organizing tools that I just can't live without!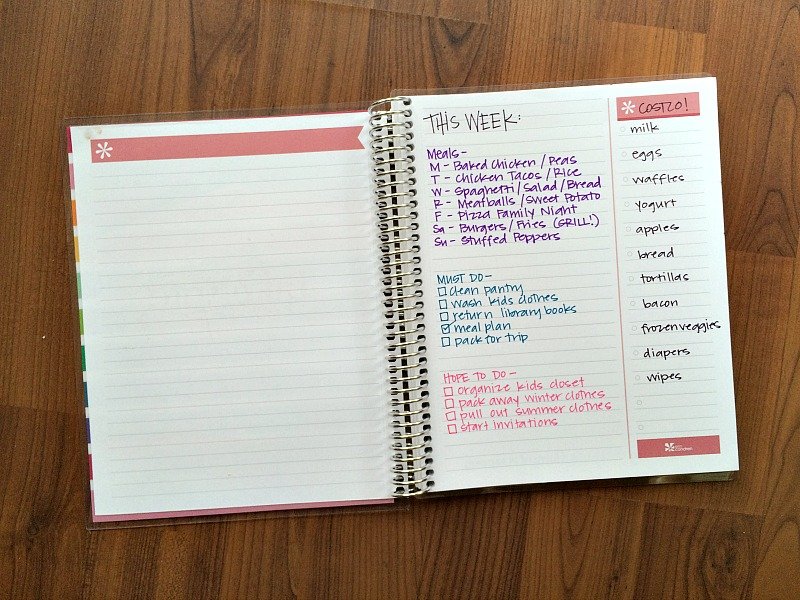 1. My Home Journal
I'm a list maker, and while I love a good planner, I've always got a notebook full of lists going somewhere. I've got one notebook where I just brain dump everything – my meal plans, my to-do lists, my shopping lists – all of it! I keep everything somewhat organized by week, and then I can transfer necessary items into my daily planner, or keep tabs on lists that are more ongoing. I LOVE using the new EC notebooks for this, especially because I can use that little section on the side for my grocery list! Keeping a Home Journal has been revolutionary for me in keeping all of my important information in one place. Instead of writing lists on scraps of paper, or post-its that just get lost, I've got everything in one spot, and can stay much more organized in the day-to-day projects of being a homemaker.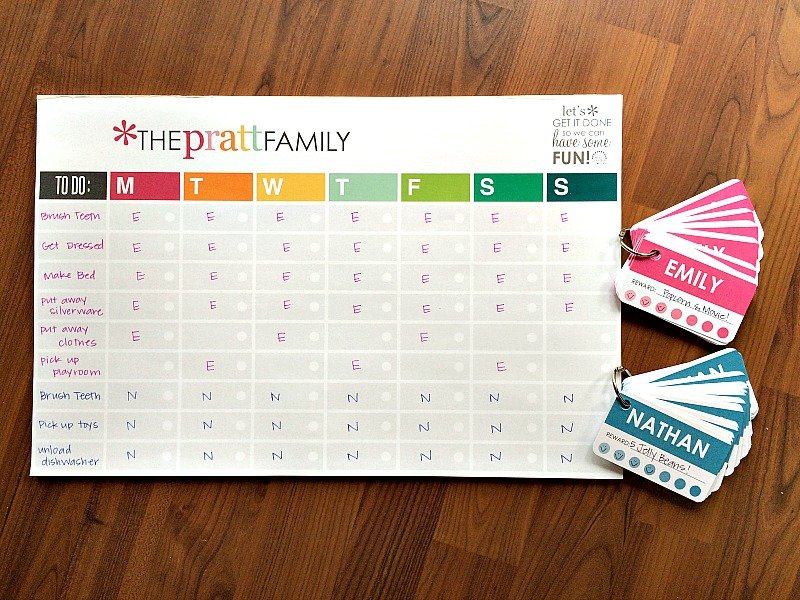 2. Our Chore Chart
I love my children, but there are no free rides in our house! We are determined to raise our kids into responsible citizens who know the value of hard work. We have a lot of fun too, don't get me wrong, but as they get older, I'm happy to pass more responsibilities onto them, as they become appropriate.
We use the FUNctional Family Chore Chart each day so the kids can see exactly what they need to do & check off their tasks as they complete them. They are just 5- and 2-years-old right now, so chores are still exciting! They have so much fun drawing their checkmarks in their boxes, and bringing me their reward cards to fill in with happy faces.
The chore chart is great for teaching responsibility, but it's also a vital tool for keeping our home running smoothly & staying organized. Everyone shares the load!
As a work-from-home mom, I've found that it's easy to get really overwhelmed by life. Managing the house, the kids, the food, and my business? I tend to hit a wall every six months or so where I just feel like I CANNOT DO ALL THE THINGS ANYMORE.
When that happens, I stop, take a step back, and seriously look at everything that's overwhelming me. I evaluate what season of life I'm in, and what I can realistically handle. I make hard decisions, say no to things that have slipped into our lives that maybe weren't all that important, and create a routine that actually works for us in the season we're in – keeping the important things important.
This process helps me find focus and organization every. single. time. And at this point in my life, it's what I keep coming back to when I get overwhelmed. It's like my reset button! So, I wrote down my entire process, and turned it into a course for overwhelmed women. In 10 days, we work together to create a routine that actually works, for the exact season of life you're in right now. (You can read more about the course here, if you're interested!)
I use it myself, at least twice a year. It's a staple for me!
Being a mom is such a huge blessing and also an enormous responsibility. It's such a huge job! Staying organized is one of the only ways I stay sane, and I'm so grateful for anything that makes life a little easier!
Thanks so much for letting me crash the EC blog today! I'd love to connect with all of you over at my place, or on Facebook, Pinterest, or Instagram!