How To Achieve Your Career Goals With A Vision Statement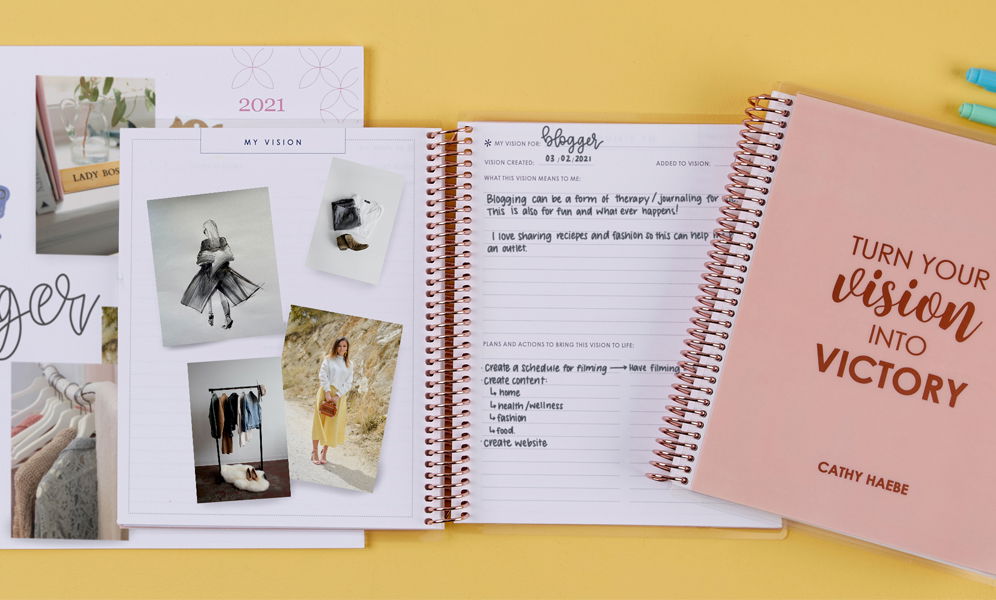 Whether you are starting a new career or trying to find a new job, organizing your goals and writing a career vision statement can help your professional advancement. Here's how it's done.
Studies have shown that writing down your goals significantly improves your chances of achieving your dreams. Follow these simple steps to organize your work life and set your professional goals.
What Is a Vision Statement?
A vision statement is a simple paragraph that expresses your values and goals regarding your career, academics, or personal life in positive, actionable terms. For the purposes of this article, we'll focus on your career vision statement, which is a handy tool you can use to focus on your professional goals and values during a job search.
According to a Berkeley human resource expert, anyone looking for a job needs to create a career vision statement because "having a clear vision of the end state we are trying to achieve before we take action to reach our goals is the key factor in accomplishing any goals that we set."
When Do You Need a Career Vision Statement?
You'll want to create your career vision statement at the beginning of your job search, when you're updating your resume, before starting the job interview process.
Career Vision Statement Examples
Explore the following career vision statement examples to get an idea of how to write yours. While they're itemized by job title position or profession, you can still use the example that most closely fits your professional goals to help you craft your own vision statement.
Leadership Vision Statement Example
"I will become a leader in my organization, helping transform it into an organization that respects all its stakeholders — while at the same time being the best wife and mother I can be." (Dan Moran, Career Management Expert)
Project Leader Vision Statement Example
"My vision is to be an honest, empathetic and impactful project leader and to be recognized internationally within my industry. I am committed to growing as a leader and delivering value-added projects." -(Susanne Madsen, Project Manager Coach)
Academic Vision Statement Example
"My vision is to earn my doctorate degree and become the kind of teacher that changes the lives of students for the better, educating them not only about English but about the joys and meaning of life."(LiveCareer)
HR & Diversity Vision Statement Example
"My vision is to share my knowledge and passion for human resources through work and volunteering to create a more inclusive world. I will lead by example and inspire a love of diversity in those I work with and my children."(Padraig Coaching & Consulting)
How To Create a Vision Statement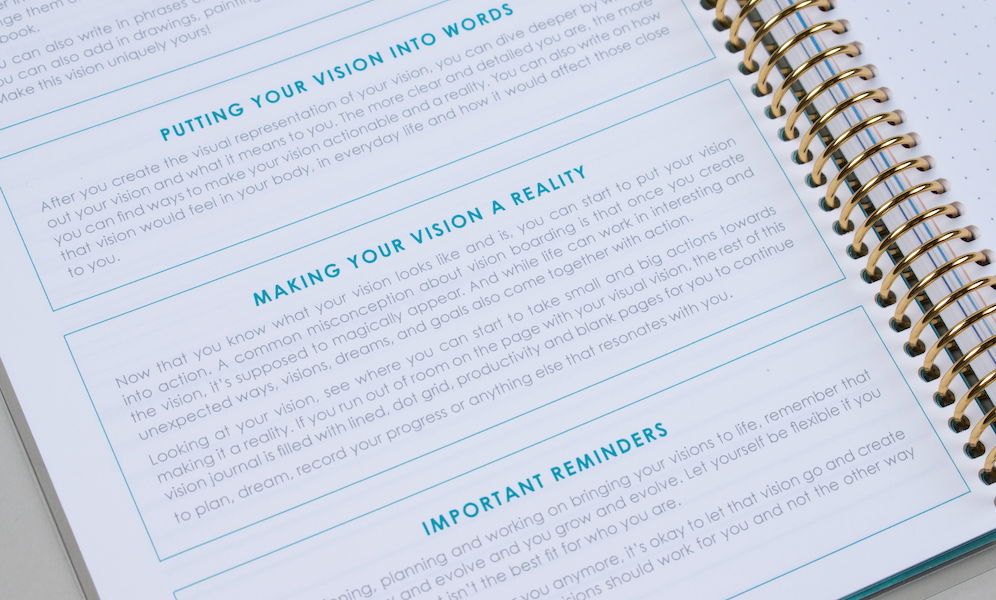 1. Start by envisioning your future.
An effective vision statement begins by setting your vision of your career aspirations and clearly defining your goals. Try writing your answer to the hypothetical question: If you could have any job in the world, and money was not a factor, what job would you choose? Really think about it and answer freely.
2. Set realistic goals based on your professional aspirations.
It's okay to dream big as long as you break up ambitious goals into smaller ones you can actually achieve. If your goal is "start my own business," turn it into actionable, achievable steps like "earn my MBA degree via courses after work; draft a business plan; and create my website."
3. Identify your work values.
Once you have your aspirations and goals on paper, you're ready to identify your work values, which will be the heart and soul of your career vision statement. These are your core beliefs and values that you hold dear and are reflected in your personal and professional choices. If you need help figuring out your work values, you can take this free work values test.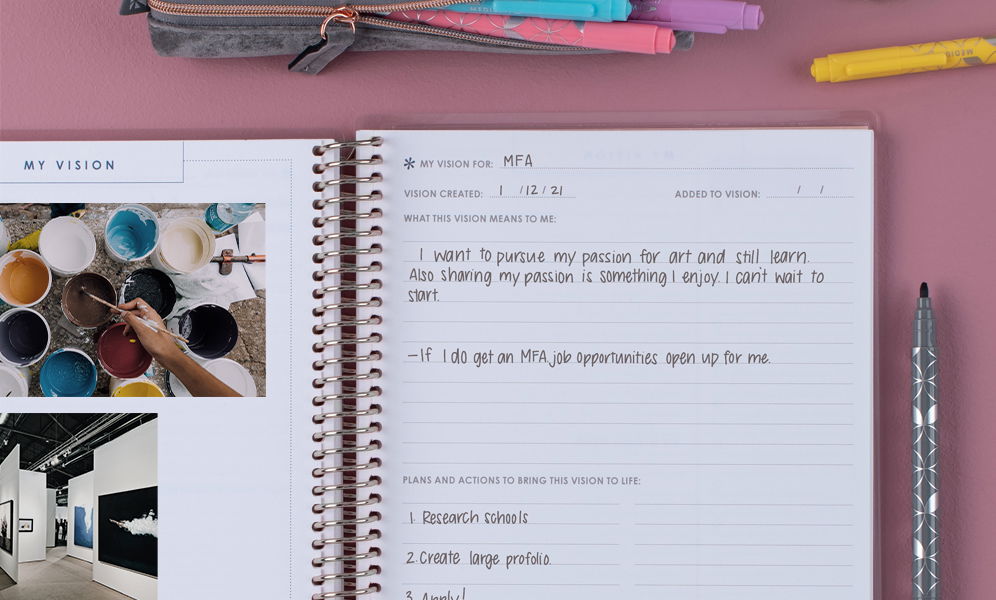 4. Use positive statements to optimize your work values.
After writing down your work values, you're ready to optimize them by rewriting them as positive statements. If, for example, you wrote a negative statement like "don't lose my current job before finding a better one," try rewording it like this: "continue to prove my value at my current job while searching for my dream job."
5. Express your career goals and work values in a single paragraph.
Once you have written down your goals as actionable steps and your work values as positive statementss, combine them into a distilled, yet powerful, paragraph. Remember to stay positive, practical, and keep the future top of mind when writing your vision statement! For example, "By earning my MBA degree via evening courses, I will increase my value at my current job and have the skills and education to draft a business plan and build a website for my own company."
How to Use Your Career Vision Statement
Congrats on creating your career vision statement! Now it's time to put it to work for you!
First, write it in a prominent place in your planner, wall organizer, or wherever you'll see it daily. This helps keep you focused and on target. Then, add your career vision statement to cover letters when applying for jobs and include it in your LinkedIn profile. Most importantly, share it (verbally) during job interviews and with your professional network, friends, and family (to get the word out and to hold yourself accountable to your goals). Here's to turning your vision statement into victory!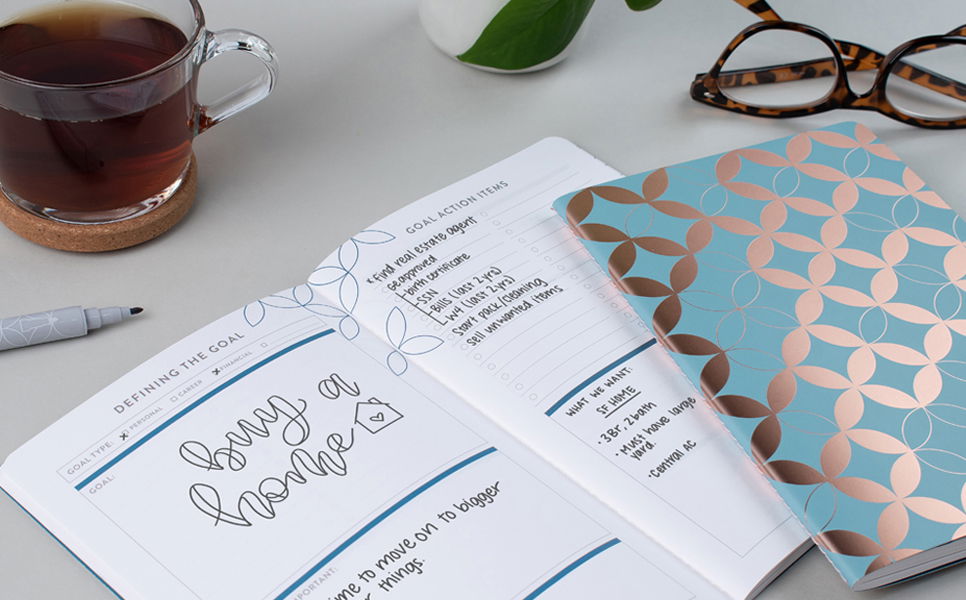 Discover best-selling goal-setting and visioning tools here.