Norah Pritchard of Willowcrest Lane started blogging as a way to share her life and loves, to stay connected to a community, and to always continue to learn from others. Her blog focuses on ways to make life more organized, more beautiful, and more fun!
******
When I first started my blog, Willowcrest Lane, some of my very first posts were about planning. I wrote about the planners I use and why planning has brought me peace. Let me tell you about some of the crazy looks I got about that. People were like, "Out of all the things to write about, you wrote about your planner?"
But as I stood in front of a sold out crowd of 66 kick butt planner women, I thought, "I have found my people!"
Using my paper planner is one way that I actively try to live a purposeful, balanced life, and I wanted to share that message and meet other women with similar visions.
With that thought, I decided to host a Planner Workshop to gather a community of women in Rochester, NY, the new planners and the pro-planners alike, to share what using a paper planner can do for our lives.
I shared an Instagram recap of the event here, where you can see all the fun candid photos of the day under the hashtag #willowcrestlaneplans.
We met on a sunny Sunday afternoon at the bright, airy Rochester Brainery, where my friend, Jocelyn, from Lemonjam Photography, captured what it looks like to plan, create, and inspire.
So often, women can get a little lost in the daily grind of working and taking care of those we love, which we do so well, almost too well. It can be easy to become so busy in our roles that we forget to celebrate ourselves for the amazing women that we are.  My goals for planning the workshop were to bring a roomful of inspiring planner ladies together, spoil us all a little, and have a beautiful time celebrating the peace that comes from planning a purposeful life.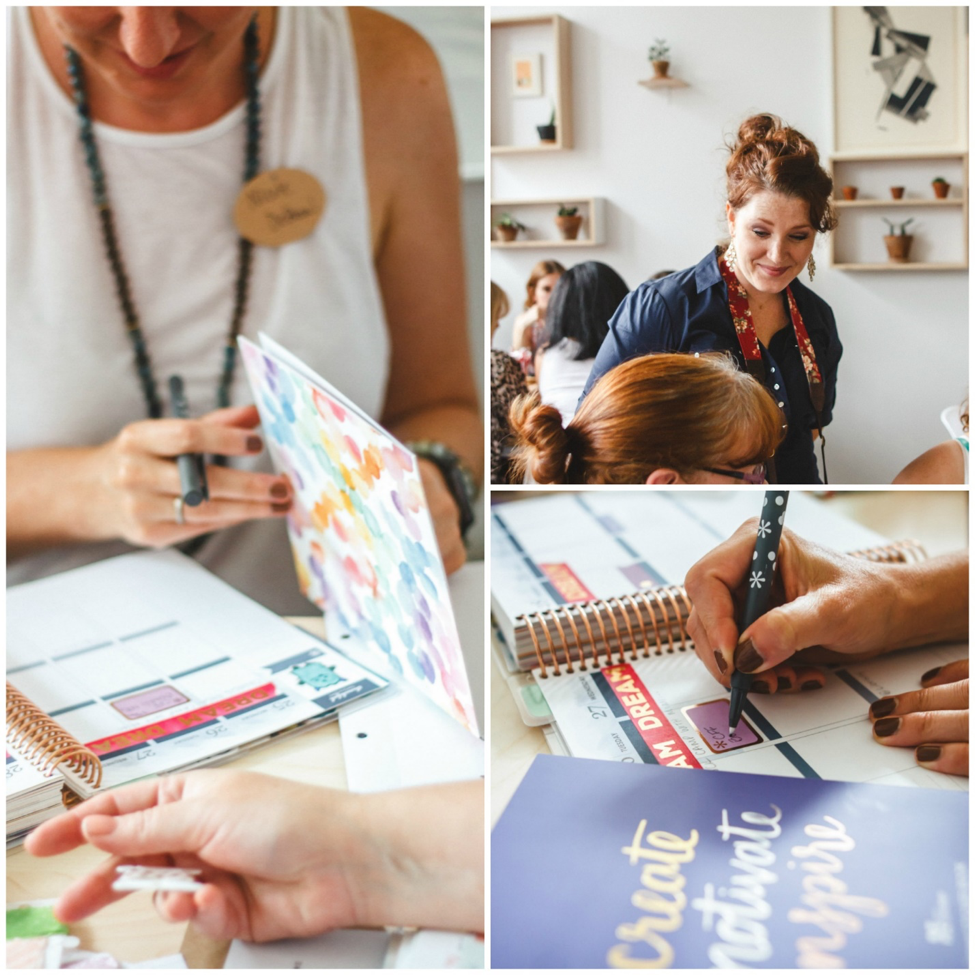 Planning an event like this was so much fun! I wanted to make sure that our time together made everyone feel appreciated, so I put some extra fun details like the name tag board, the planner inspiration board, and the paper flower backdrop together to make our time together special.
The excited buzz when the doors opened could be felt throughout the afternoon. As the planner ladies came in, my guest speakers and I welcomed them with big hugs and even bigger swag bags! We had some amazingly generous sponsors that made us all feel the planner love. I've been sharing about them all month on my Instagram, so everyone had an idea of how amazing they were. We couldn't wait to get them and start planning! They were stuffed full of stickers and beautiful washi tapes from 12 different shops!
We mingled and showed off planners and our favorite supplies, and then it was time for the guest panel to talk for a few minutes about what planning means to them. My friends, Rachel, Claudia, and Katie are planner pros, and I couldn't wait for them to share their stories and tips. We covered things like memory keeping, planning for peace of mind, and how to overcome the fear of a blank page. I am so thankful to have met each of these ladies, and share the day with them.
Then, it was time for some serious fun with our planners. But first, pastries!  We noshed and talked, before settling down to the workshop tables to plan.
Each of the workshop tables held a farmhouse centerpiece that my husband makes in our Etsy shop. We loaded it full of sweet treats for the ladies to snack on while they planned. Next to the centerpieces was a very special surprise package from none other than Erin Condren!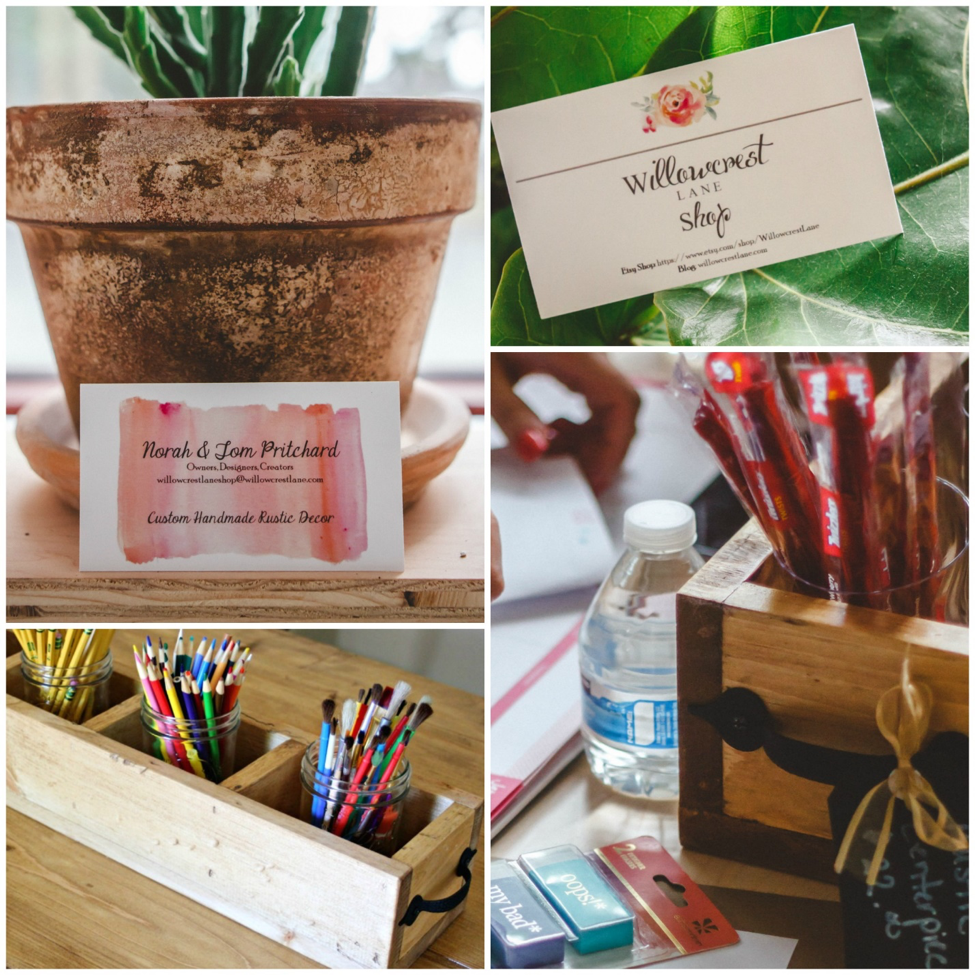 The Erin Condren team sent each table a bundle of their most fun planner accessories and some pieces from their brand new back-to-school line. Each guest got to try out the beautiful new watercolor sticker books, washi, and colored pens, as well as some of her brand new back-to-school line!
Each table oohed and aahed over the pretty supplies, and started planning right away with the stickers, washi, and pens. I chatted with the teachers at the event about how cute the new pencils, erasers, and journals were. I think I know what to get my boys' teachers for gifts this year!
I am so thankful to the Erin Condren team for supporting this event and spoiling us all with so many of her products.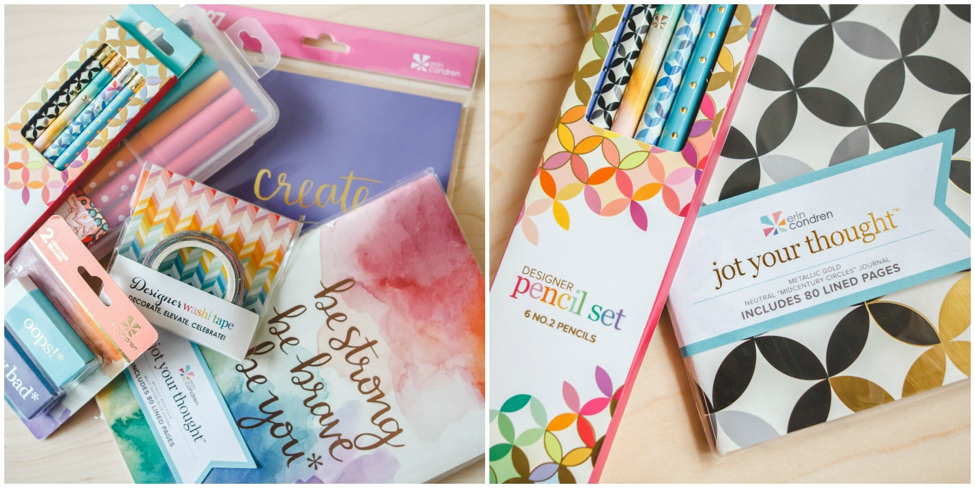 Along with all the swag bags and table accessories, the raffle tables were loaded with amazing raffle prizes. I worked for weeks with different brands to offer some fabulous raffle prizes. It was so much fun to watch my husband, Tom, and my best planner friend, Rachel, picking the winners.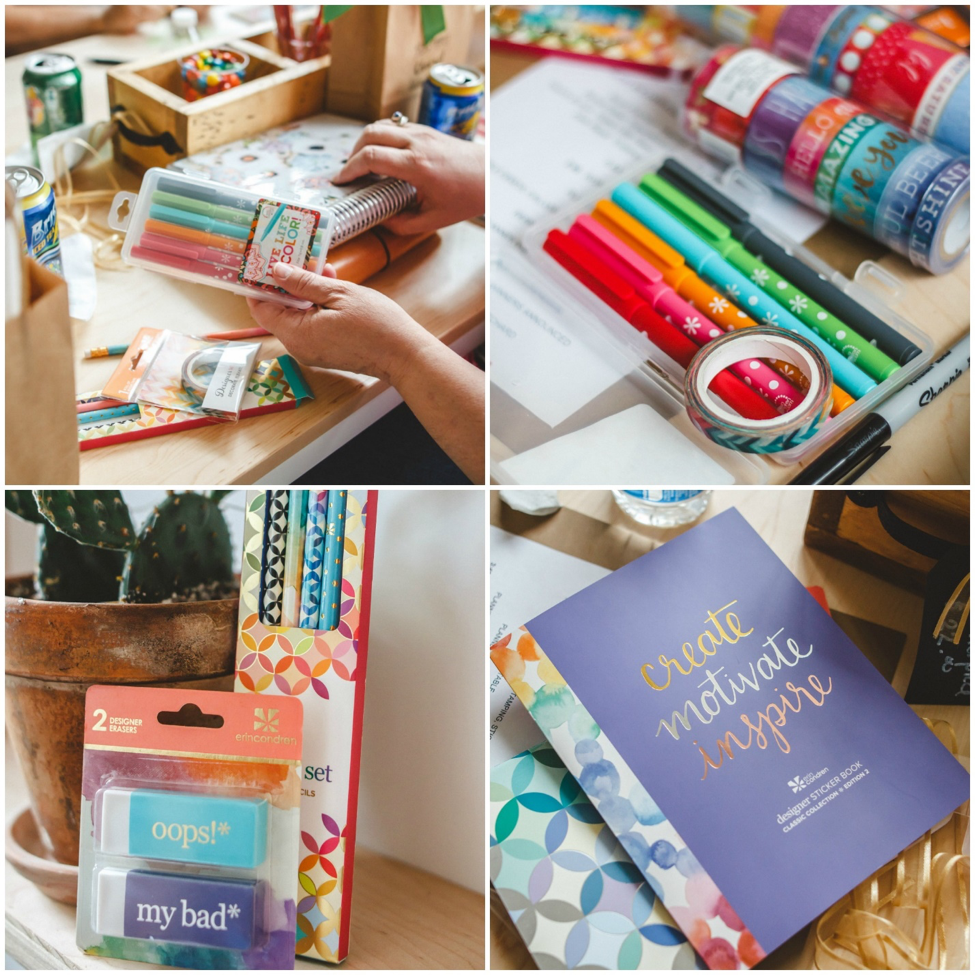 The door prize, the highly coveted Erin Condren luxe LifePlanner™, was the last drawing. The room got quiet with anticipation, and I could feel the thrill when I pulled the ticket. The room erupted into cheers and clapping when the winner was called! How lucky!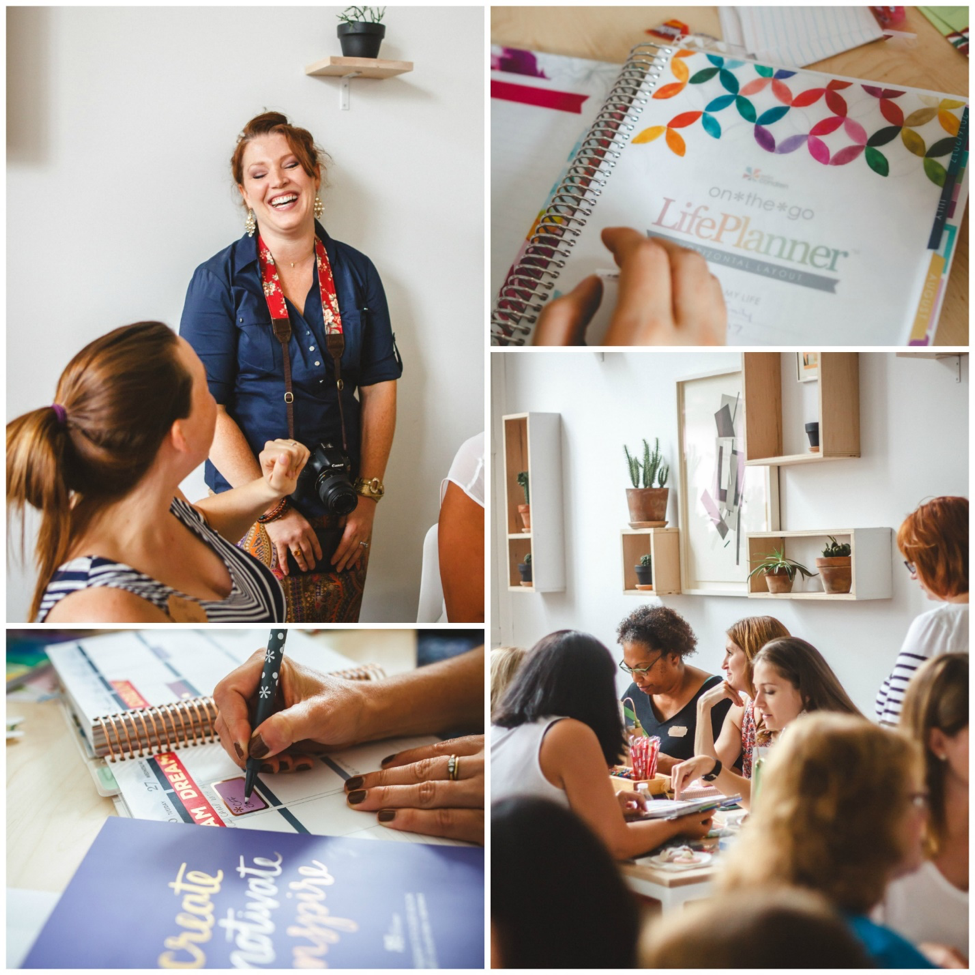 I am thankful to be surrounded by such inspirational, motivated ladies. I plan for many reasons: to be more productive, a way for myself and my family to stay organized and find balance, as a creative outlet, and now as a way to connect with my community in this journey to living the best life we can. I can't wait to plan the next one!
Looking for more about planning and events? Follow Erin Condren on Facebook for more info on workshops & conferences!