This dynamic binder planning system truly offers the style and design of the coiled LifePlanner™ you love with the customization you crave! So many incredible options available to customize the best binder planner for you, including new, must-have accessories!!
Choose between book cloth in stylish solids–blush, charcoal & sapphire–with subtle pattern interiors, or a sleek, Kaleidoscope exterior–in beautiful neutral or vibrant colorful options.
LifePlanner™ Binder Fun Fact
You can personalize your binder with up to four letters, in your choice of platinum, gold or rose gold metallic foil!
Choose Your Interior Page Colors
Like the 2019-2020 Coiled LifePlanner™, the LifePlanner™ Binder pages come in two color layouts: colorful or neutral Kaleidoscope.
LifePlanner™ Binder Fun Fact
Each LifePlanner™ comes with four sticker sheets, with metallic accents, that match the interior page color layout you choose! If you're all about that vibrant COLOR, then your sticker sheets will be too! And likewise for beautiful, natural neutral. So cool!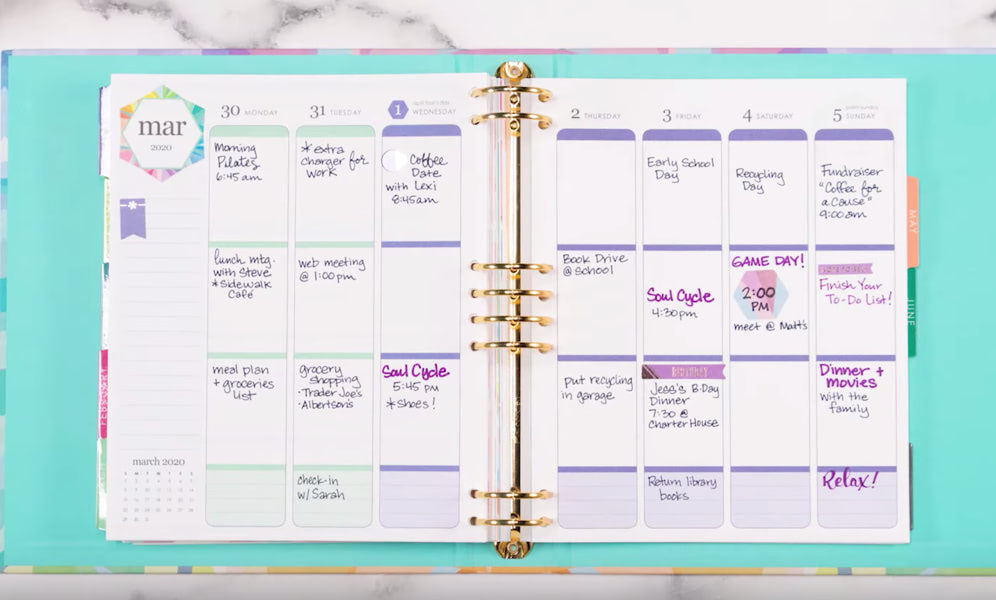 Choose Your Weekly Layout
Vertical, horizontal or hourly … whichever way you like to plan week by week, there's a layout for that!
Choose the month you want your planner to start (any month after July 2019) and load your binder up to 18 months of planning pages! Don't want to carry them all around at once? You don't have to! Store future months away and only carry the months you're actively planning in your binder. As the year progresses, pop out past months and pop in new ones. Now that's agile planning!
Choose Your Fave Snap-In Accessories
Organize while you accessorize your planner with snap-in dividers, bookmarks and functional dashboards–from checklists to wellness logs to habit trackers, meal planners, sticky notes & more! So many ways to stylize your LifePlanner™ Binder to fit your unique planning needs. Like to changes things up & freshen your book with a new look from time to time? Go for it! Our new binder system gives you virtually ENDLESS ways to build your book your way, anywhere, any day!
LifePlanner™ Binder Fun Fact
There are so many creative, new features in the new LifePlanner™, including a colorful, hexagon inspiration board. What will you be inspired to use it for?!
More Fun & Functional Features
Luxurious vellum overlay
Inspirational quotes throughout
Color-coded & laminated tabs
Mini months for long-term planning
Monthly goal spreads
Monthly lined pages for lists, notes, drawing, journaling!
New monthly productivity page
2-page monthly planning spreads
Additional lined & dot grid pages
Coloring pages in new designs
Perpetual calendar
Reinforced, snap-in bookmark & ruler
Double-sided pocket folder
Have fun building your own LifePlanner™ Binder & start planning today!